MEET YOUR NEW FAVORITE HOLIDAY SIDE – ROASTED DELICATA SQUASH
If you are looking for an interesting and exciting new vegetable side to try this year, you have come to the right place! My Roasted Delicata Squash with a pecan & meyer lemon dressing is absolutely divine. Once the squash is roasted to perfection, it's drizzled with a bright and creamy dressing and garnished with sweet and juicy pomegranate seeds, toasted pecans, flaky salt and fresh thyme and parsley. Not only does it look gorgeous but it tastes incredible. An explosion of flavors and textures that are sure to brighten up any holiday spread.
INGREDIENTS OVERVIEW FOR ROASTED DELICATA SQUASH
For the ingredients, we will be using a festive spread of produce and some pantry staples. For the squash, I like to use rings of delicata as I think they look pretty and I really don't mind the skin on them (they become tender once cooked!). You can also cut them into half moons, if you'd like. For the dressing, we will be combining some pecan and cashew butter for richness, whole grain mustard for zip, and meyer lemon zest and juice for a big punch of acidity. I adore the earthy flavor of meyer lemons, so I do suggest you search for them in particular but you could certainly use traditional lemons or even limes.
For the toppings, we'll be showering the roasted squash with ruby jewels also known as pomegranate seeds. These offer such a lovely variation in texture and contrast to the succulent squash. The toasted pecans add some crunch and echo the flavor of the dressing and the fresh thyme and parsley add an herbal hit. To finish, a hefty sprinkling of flaky salt brings out all of the flavors.
---
---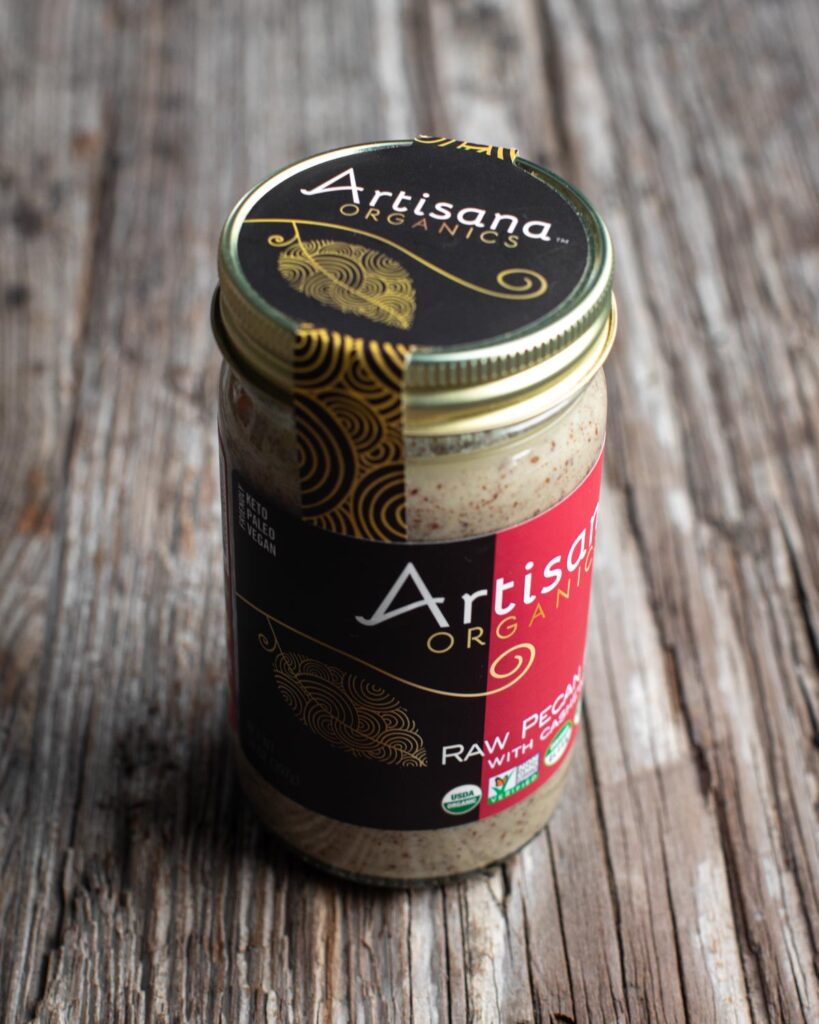 MY FAVORITE NUT & SEED BUTTERS
I am also thrilled to let y'all know that I am teaming up with my favorite nut & seed butter company, Artisana Organics, to bring you this fabulous recipe. I adore their lineup of products because of the quality and the flavor. For this recipe, we will be using their raw pecan and cashew butter. And guess what the ingredients are: raw organic pecans and raw organic cashews. That's all- LOVE IT! The flavor is buttery and nutty from the pecans while the cashews offer a beautiful sweetness. Lucky for you, I have a discount code so that you can try some of their products for yourself! Take a nice 15% off anything site wide using my code MVEGAN. Some of my favorite picks are this pecan butter, the hazelnut cacao spread, the raw tahini, and the walnut butter. Check out their site here.
PECAN & MEYER LEMON DRESSING
The dressing for this dish could not be any simpler. Throw everything into a bowl and mix! Once it is creamy and smooth, I like to add a few splashes of water to thin it out. You can add as much or as little until you achieve the desired consistency. Do remember, goal here is to make a dressing that can easily be drizzled over top of the squash while also being thick enough to act as a glue to hold the pomegranate seeds, toasted pecans, fresh herbs, and flaky salt.
---
---
THE KEY TO ROASTING DELICIOUS DELICATA SQUASH
One key tip worth mentioning here is to use enough fat when roasting the squash. This really helps to encourage the browning of the flesh which makes the squash taste toasty and delicious. For this recipe, my top pick is using unrefined coconut oil, which means it still has a strong coconutty flavor. I love this about unrefined coconut oil and I think it adds an interesting depth of flavor to the dish. You can also used refined coconut oil (which is completely neutral in flavor) or olive oil. But once you smell the squash roasting with unrefined coconut oil- you'll know exactly why it's my top pick.
In addition to the squash and fat, I do think a sprinkling of herbs and spices helps to liven things up. Because this is a holiday dish, I went for some warming spices like cinnamon and nutmeg, along with the classic flavor of dried thyme. A little pinch of red pepper flakes offers some nice heat while a drizzling of maple syrup helps to bring out the sweetness of the squash.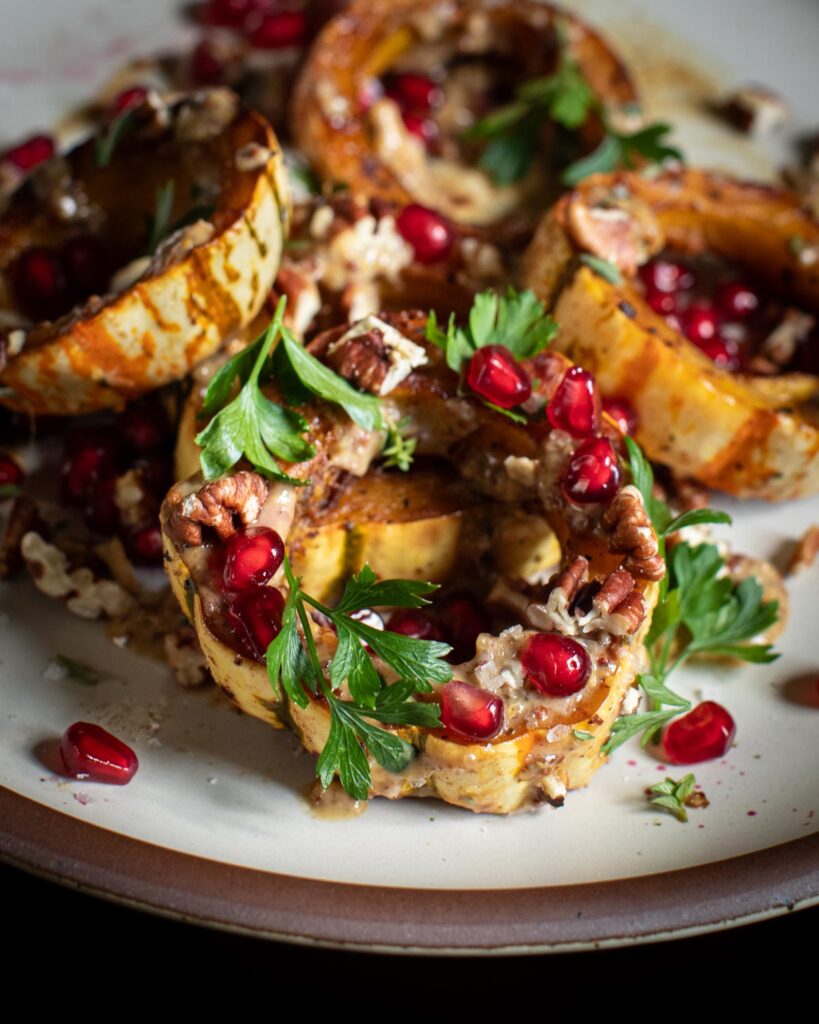 ADD YOUR TOPPINGS & ENJOY!
Once the squash is roasted and the dressing is combined, now it's time for the fun part: assembly! Grab a beautiful plate or platter and stack the roasted squash rings in a cluster, leaving room for each piece to be coated with everything. Then drizzle over the dressing (you will have some left over that you can use for whatever! Don't feel the need to use it all...) and shower over the pomegranate seeds. Then add the toasted pecans and finish it all with the fresh herbs and flaky salt. The best part about this dish is it can totally sit on a table for an hour or two and still be delicious! I actually think it is better when it is room temperature rather than piping hot, so you are very welcome for creating a fuss-free side dish.
---
---
WANT TO TRY SOME OTHER FUN VEGETABLE SIDES?
I hope that you enjoy this Roasted Delicata Squash! Please let me know if you make it in the comments below. And, of course, I always love to see any pictures or videos on social media- so tag me please. And lastly, I would love to thank Artisana Organics again for sponsoring this post. Happy cooking, y'all!
-Timothy
Ingredients
Roasted Squash

2 large delicata squash
3 tablespoons unrefined coconut oil
1 tablespoon maple syrup
½ teaspoon ground cinnamon
½ teaspoon dried thyme
½ teaspoon red pepper flakes
½ teaspoon sea salt
½ teaspoon freshly cracked black pepper
¼ teaspoon nutmeg  

Toppings

½ cup raw pecans
½ cup fresh pomegranate seeds
Fresh thyme leaves and/or parsley

Pecan Meyer Lemon Dressing

⅓ cup Artisana Raw Pecan Butter
2 tablespoons whole grain mustard
2 tablespoons tamari
¼ teaspoon freshly cracked black pepper
1 meyer lemon, zested and juiced
2 tablespoons water (plus more , if desired)

 
Instructions
Preheat the oven to 425°F and line a large baking sheet with parchment paper.

Leaving the skin on the squash, carefully slice into ¾ inch thick rings. Using a spoon, scrape the seeds and stringy flesh out of each ring and transfer them to the baking sheet. Add coconut oil, maple syrup, cinnamon, thyme, red pepper, sea salt, black pepper, and nutmeg.  Using your hands, massage the oil and spices into the squash rings.

Roast in the oven for 15 minutes. Flip and continue roasting for an additional 10 minutes, until the rings are golden brown and tender. While the squash is roasting, toast the pecans in a small nonstick skillet over medium-high heat for 5 minutes, stirring every so often. Let cool and roughly chop. Set aside.

For the dressing, combine the pecan butter, mustard, tamari, black pepper, meyer lemon zest and juice. Whisk until thick and creamy. To loosen, add a splash of water and continue to whisk until smooth. Set aside. To plate, beautifully arrange the roasted squash rings to a serving platter. Spoon over the dressing, sprinkle over the chopped pecans and pomegranate seeds, and garnish with fresh thyme, parsley, and a hefty sprinkling of flaky salt.
notes
If you're limited with space on your baking sheet, you can cut the squash in half, scrape out the seeds, and cut them into half moons. This way you can arrange more of them on a smaller tray with less space in between.
---
---