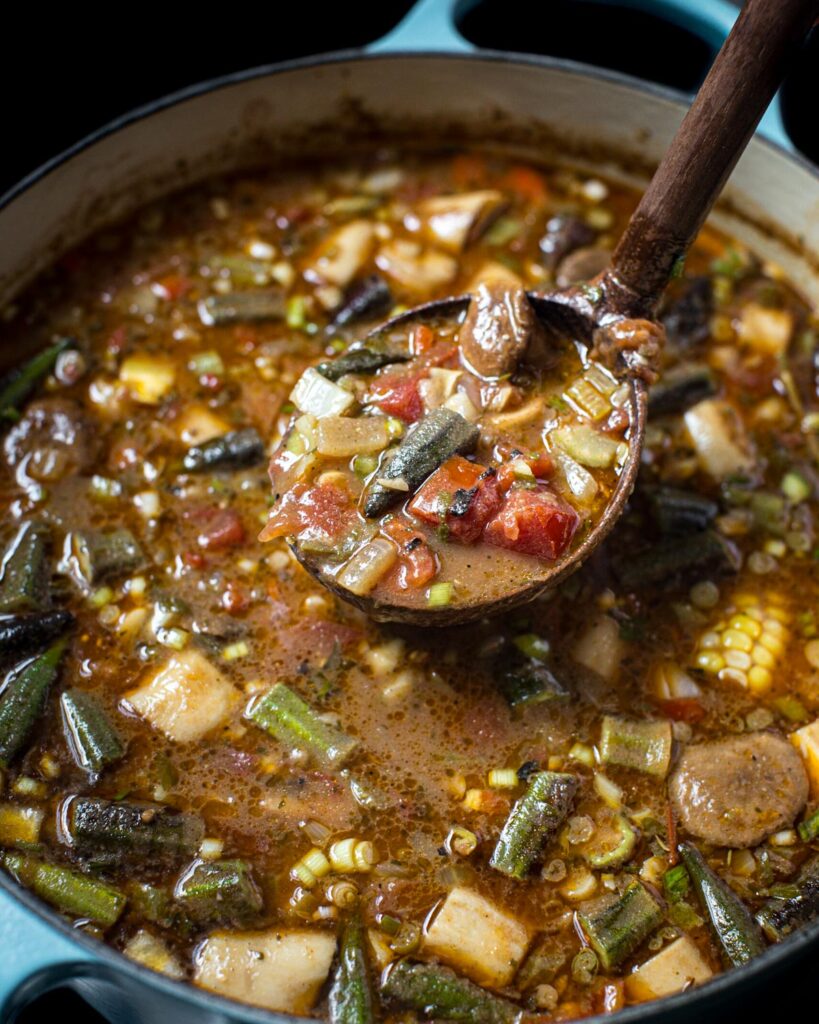 Hello my lovely readers! The time has come for me to share my classic vegan gumbo recipe with all of you! This recipe comes from my debut cookbook, Mississippi Vegan, and it is one of the most, if not the most, popular recipes from the book. I have had so many readers send me sweet messages telling me how much they love the recipe. I've even had people tell me that they never thought they would be able to enjoy vegan gumbo that tasted like their uncle's or grandmother's. When they tried this recipe, they confirmed that it tasted just like how they remembered it and sometimes even better. Now that's what I like to hear!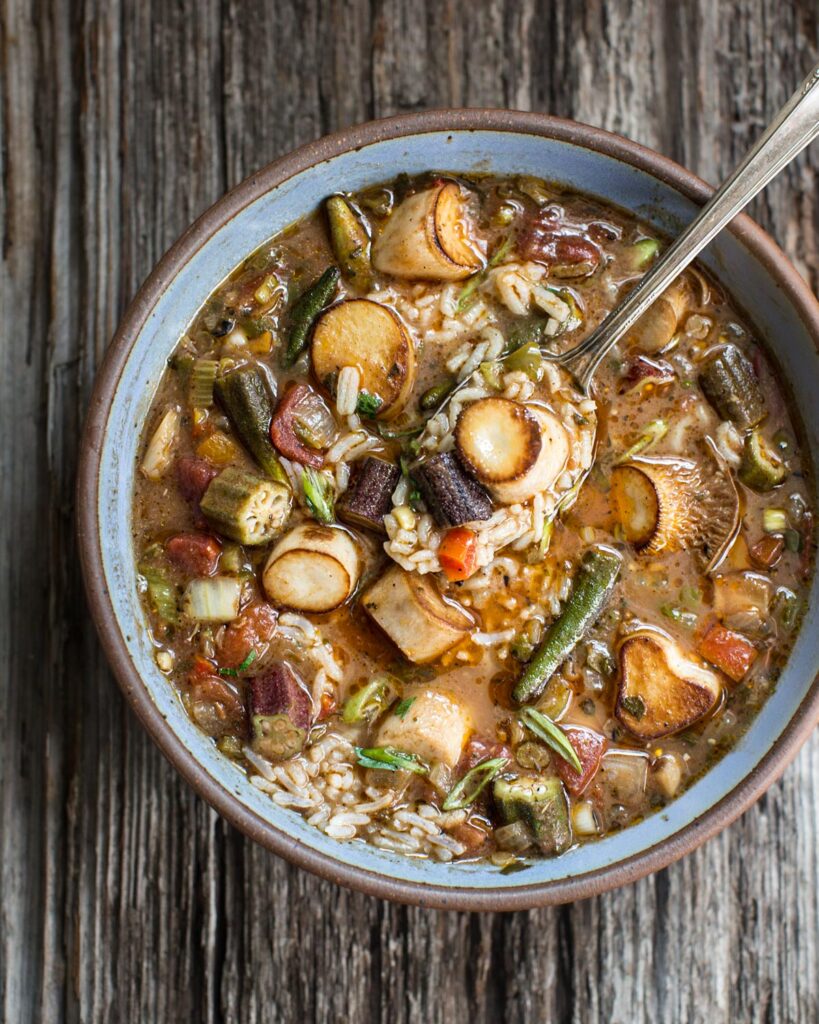 WHAT IS GUMBO?
For those of you who are unfamiliar with gumbo, it is basically a hearty and incredibly savory stew that is made with the foundation of a roux (flour that is toasted with a fat- usually oil) which is then mixed with the trinity which is celery, green bell peppers, and onions. This is combined with loads of spices and garlic. From there, a stock is added along with protein and some aromatics. Traditionally chicken, sausage, and seafood are the most commonly used forms of protein along with specific ingredients like okra, bay leaves, cayenne pepper, and oftentimes filé powder (ground sassafrass leaves). To serve, it is always accompanied with fluffy white rice and garnished with sliced green onions and chopped parsley with a side of crusty french bread.
To make this vegan gumbo translation, we will actually be using many of the same ingredients as a traditional version. Most of the time the roux is already vegan, as well as the trinity and spices used. The swaps we will make instead of a meat-based stock will be a vegetable bouillon paste with optional add-ins like mushroom stock and corn cobs. For protein, I go over a list of fantastic plant and mushroom offerings, including my favorite which you see in the image above: trumpet mushroom scallops. Before we dive in to the final recipe, I do have some notes worth mentioning that will better help you to understand how the recipe works. Once you master this recipe, it will become a heavy-hitter in your repertoire that you will want to make again and again.
Before we go any further, I did want to point out that this recipe makes a very large amount of vegan gumbo. I personally think that if you are going to go to all the effort, you might as well make a huge batch. This way you can freeze some, have plenty for leftovers, and feed lots of people. But you can certainly halve the recipe if you'd like.
---
---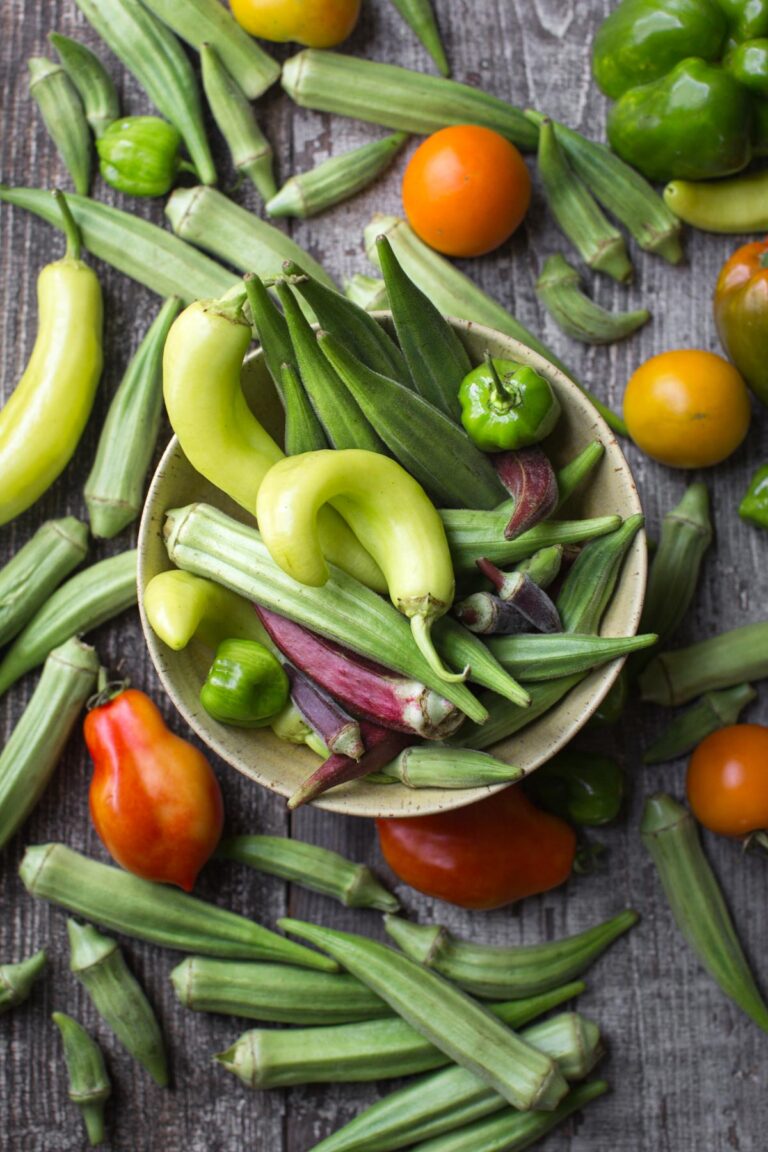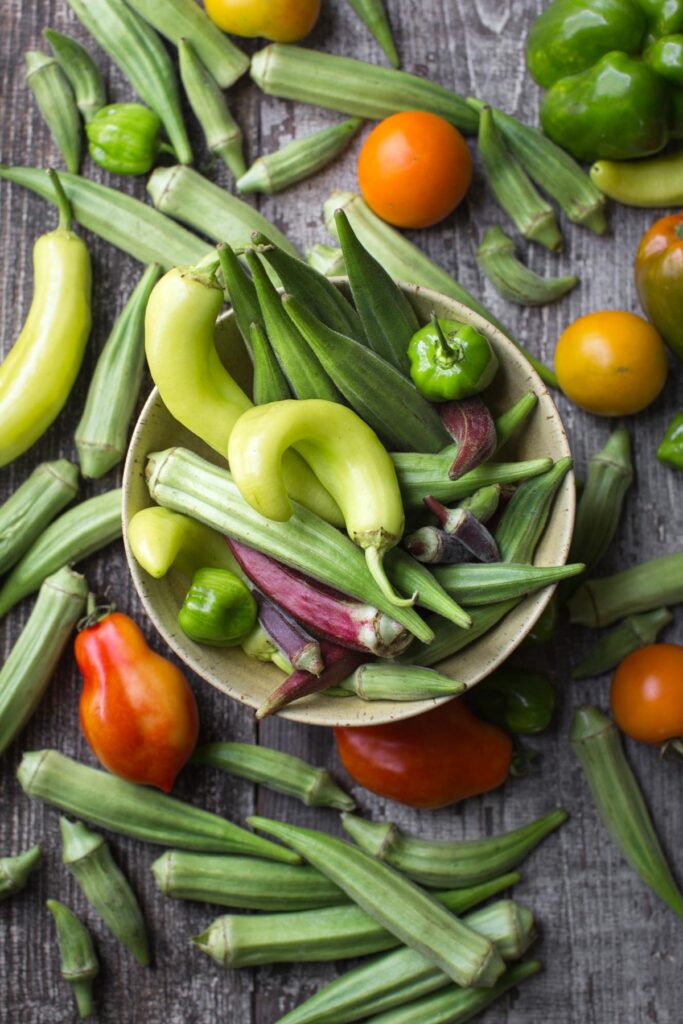 LAYERING FLAVORS
I first learned how to make gumbo from my mama when I was about 15 years old. The main thing she taught me for making the most delicious gumbo was to layer the flavors. This means to add ingredients in stages making the results complex and interesting. It was the great, late cajun chef Paul Prudhomme that taught me that using multiple spices, in particular dried peppers, really makes a dish pop. Because each spice offers a different effect on the tongue, it is important to use multiple varieties. For instance, in this case, by using black pepper, cayenne pepper, white pepper, and paprika all together it creates a powerhouse combination of flavor that explodes in the mouth.
The foundation of this vegan gumbo is composed of a medley of vegetables called the trinity. This consists of celery, green bell pepper, and onions which are cooked until soft and caramelized. These will continue to cook until they are very tender, offering a rich flavor. I like to set some of the trinity mixture aside to add towards the end of the gumbo. This provides a fresh pop of flavor that echoes the existing flavors but in a different way. As you can imagine, fresh green bell pepper and celery tastes quite different when they are more fresh and crisp. By adding these ingredients early on and later on, you get both qualities which makes for a well-rounded dish!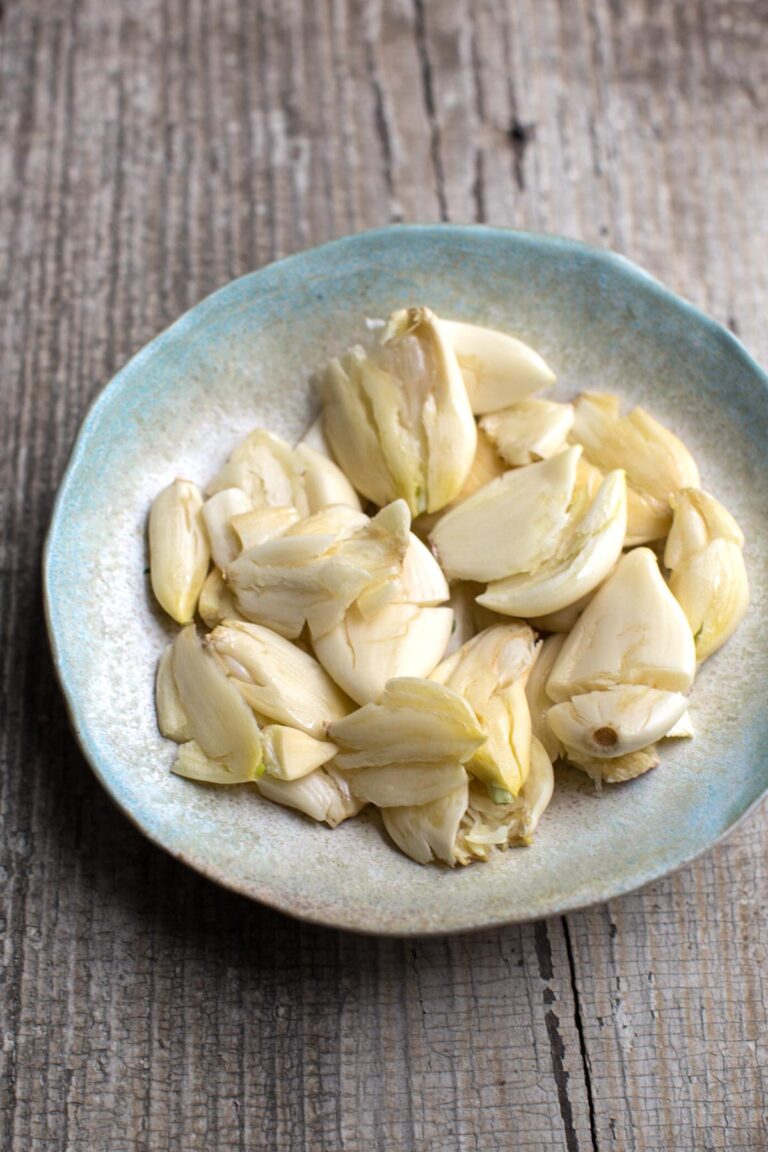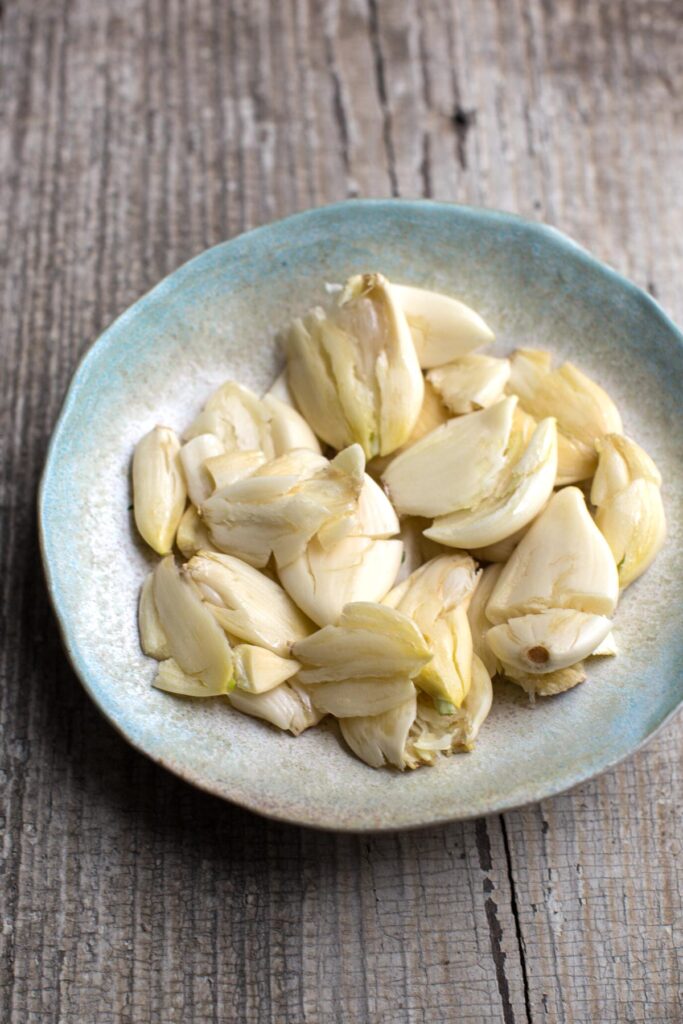 MISE EN PLACE
Mise en place is a French culinary phrase which means "putting in place" or "gather". This is absolutely essential in making this recipe. Once you begin the roux, you will not have time to search for ingredients or to start chopping vegetables. This is because once the oil and flour are toasted to perfection, you will immediately add the trinity. After that is cooked for a few minutes, you will add the spice blend to toast. This all happens very quickly! I have organized the recipe to have all of the components ready to go (vegetable blend, spice blend, and wet ingredients) so please don't skip this step. Having everything beautifully arranged before you begin will allow your gumbo making process to be smooth and lovely.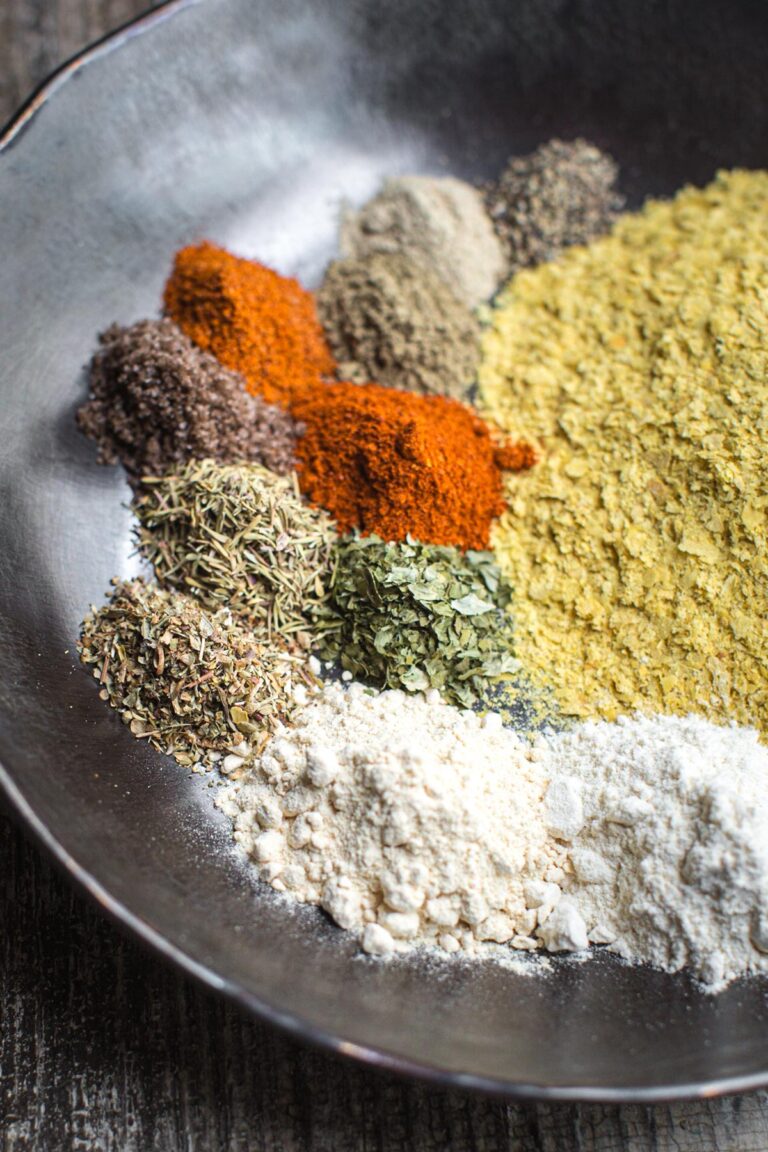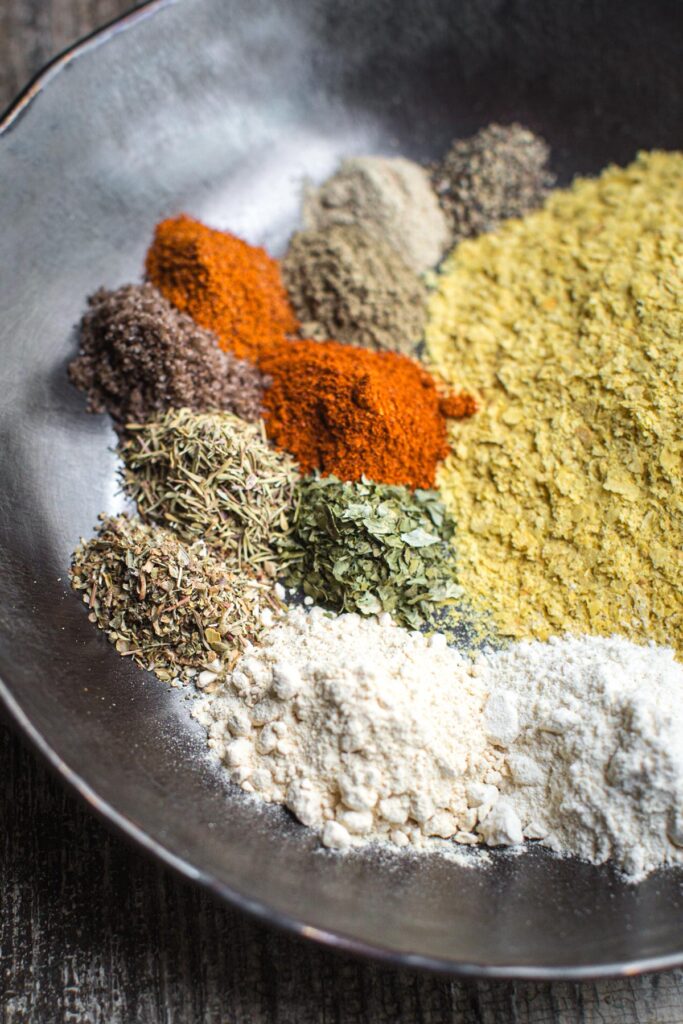 CREOLE SPICE BLEND
Heads up! This dish has A LOT of spices. And for good reason! First off, this recipe makes a huge pot than can feed a crowd. Secondly, all of these spices work together to offer a big punch of savory deliciousness. Dried thyme, oregano, and parsley offer a classic herbal hit, while smoked sea salt offers a nice background flavor that helps to mimic smoked meat. Nutritional yeast offers umami while garlic powder and onion powder turn up the savory volume. Once again, using the dried versions AND the fresh versions of ingredients like onions, garlic, and the herbs provides maximum complexity.
---
---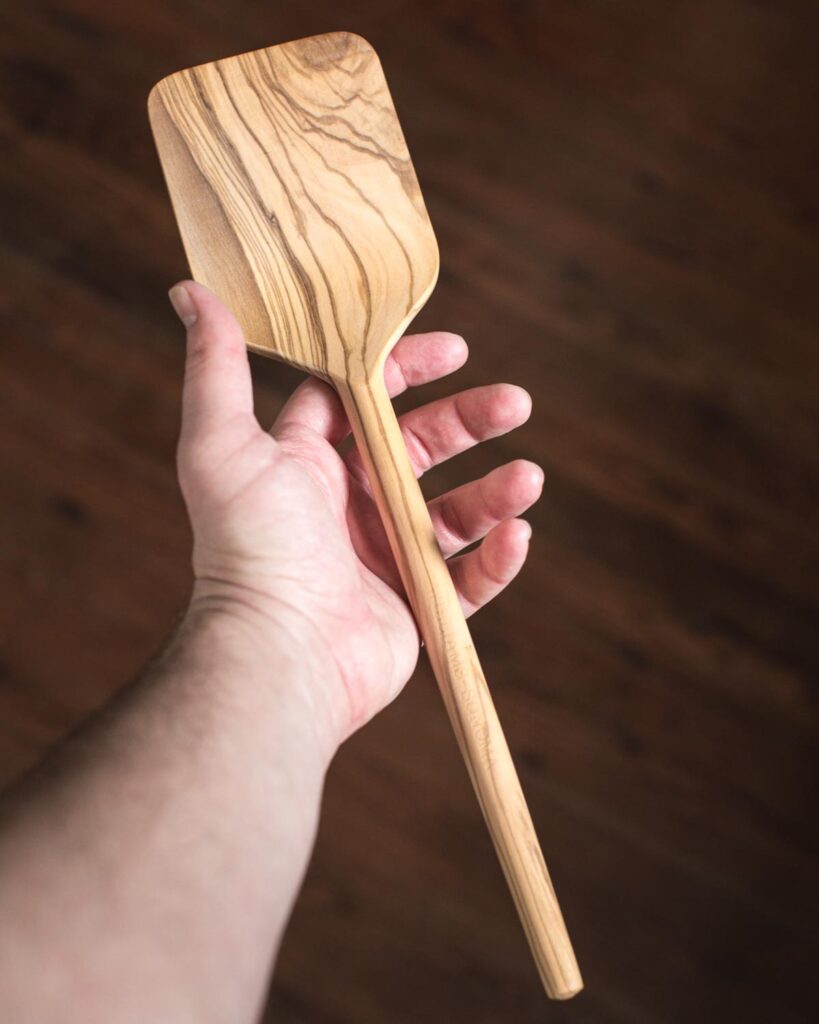 HOW TO MAKE A ROUX
Now let's talk about how to successfully make a roux. First off, you will need to decide what oil you would like to use. I recommend a vegetable oil that is used for frying. Something like olive oil will become super smoky and using a plant-based butter could burn, so I recommend using sunflower oil, corn oil, avocado oil, or peanut oil. I quite like the nutty and rich flavor of peanut oil but if you do decide to use that, just make sure to use the refined kind that is used for frying, not a speciality roasted peanut oil as the flavor will take over the dish.
Next up is the flour! Traditionally, an all-purpose wheat flour is most commonly used. For my gluten-free readers, I recommend using a fine sweet sorghum flour to make the roux completely gluten free. Of course, the texture is not quite the same as the all-purpose flour one but final results are still delicious.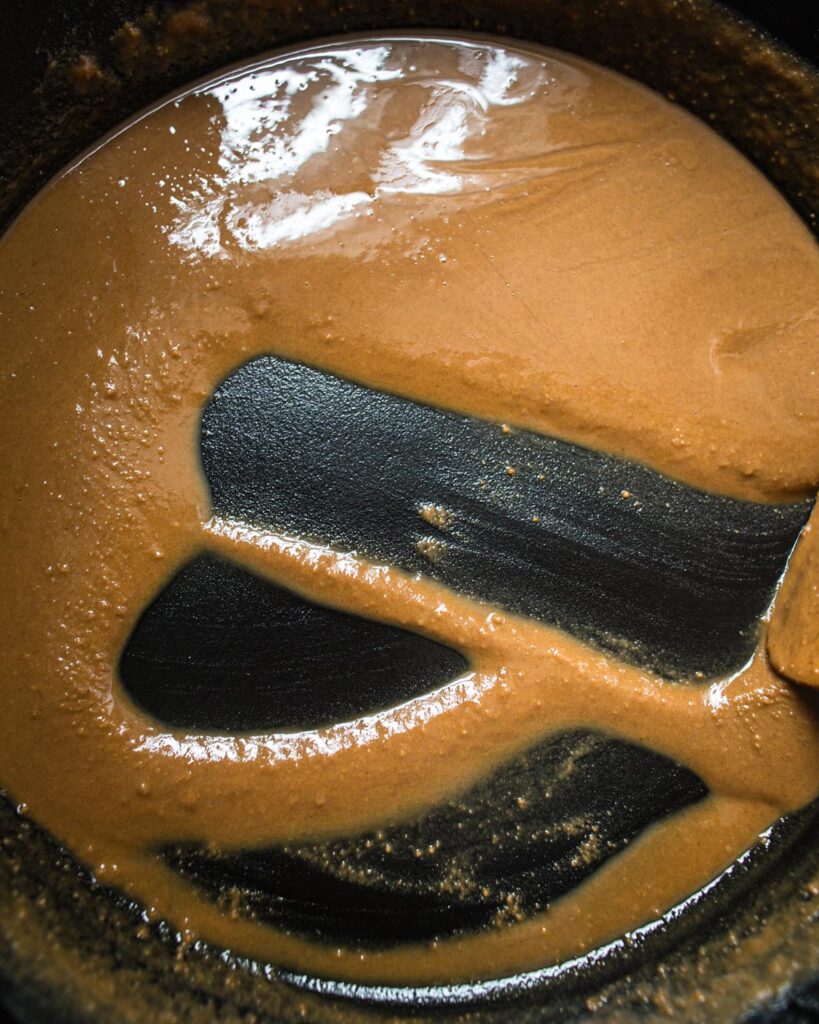 COOKING TIPS
For the roux, I HIGHLY recommend using a large cast iron skillet. This allows you to heat the roux evenly and makes for a beautiful deep color. The next tool that I recommend is a roux spoon or a flat wooden spatula. The longer the edge the better because this will allow you to move the mixture of flour and oil around easily. The goal with making the roux is to cook the mixture, which toasts the flour, while stirring it constantly so it doesn't burn. This allows for the flour to become golden and nutty which gives the gumbo that classic flavor.
Also, before starting, make sure the cast iron skillet is nice and clean. If there are any little tidbits in the pan before making the roux, they will burn. Of course, if this happens you can fish them out but please make your life easier and wipe out the pan well before starting.
Once the oil and flour are combined in the skillet, you will cook it until the color is nice and dark. My mama taught me to get it to the color of a cup of coffee with a splash of cream. But many people like to push it even further. It's honestly a personal preference so I would say if you are new to gumbo, try to get it to the color you see in the image above and as you make it again and again, you can try for a darker color if you'd like.
---
---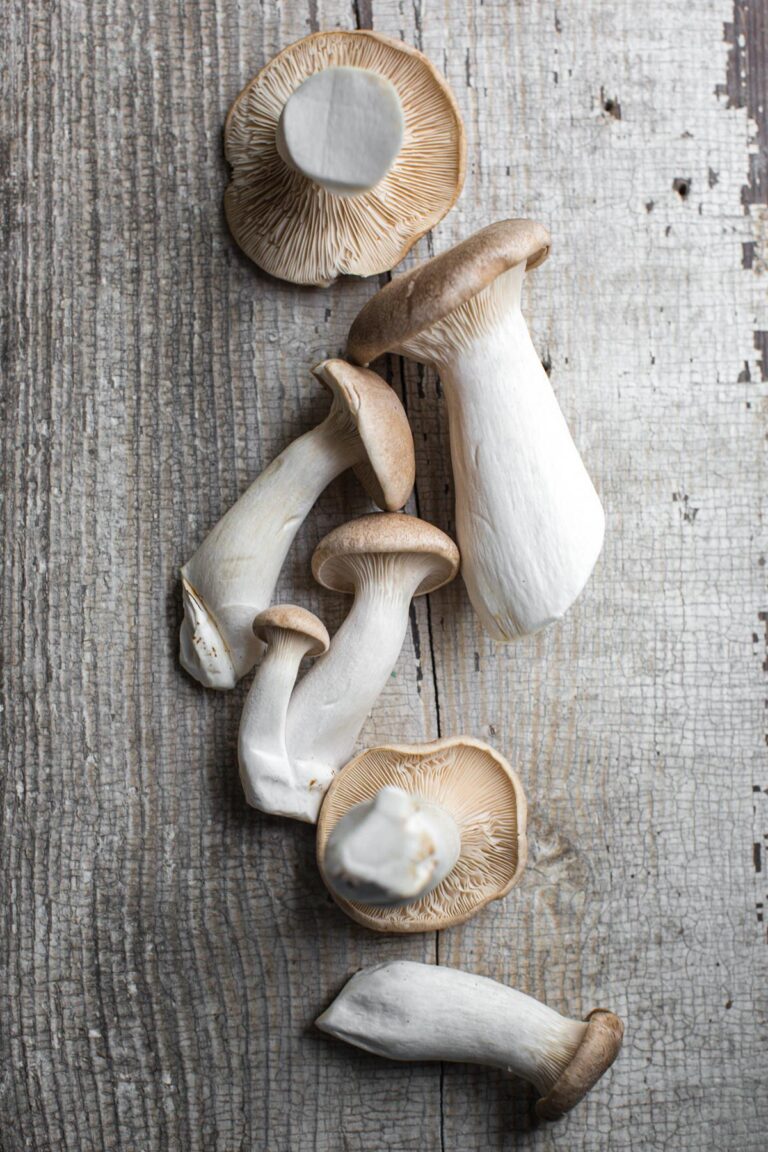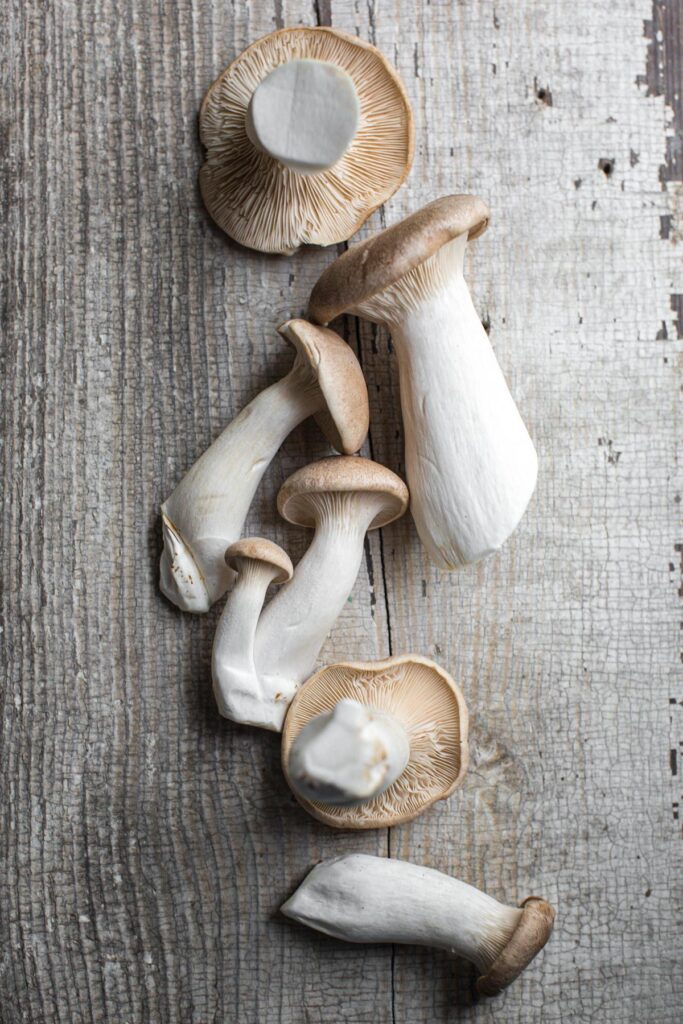 VEGAN PROTEIN OPTIONS FOR GUMBO
Here we have a nice selection of options for you to choose from for your vegan gumbo. You can double up (or even triple up!) on any of these. Have fun mixing and matching. There are no rules here so do whatever feels right to YOU!
Trumpet Mushroom Scallops
I love to use these scallops in this recipe. They have a fantastic texture that mimics seafood and they are visually stunning in the dish. To make them, simply slice into thick rounds and pan fry them in a hot skillet with some olive oil, salt and pepper. Cook them on each side for a few minutes, until the edges are golden brown. A splash of tamari or soy sauce is very welcome to these scallops, adding some extra umami. You can add these 30 minutes before serving or you can garnish the gumbo with them.
Shredded Trumpet Mushrooms
Instead of creating scallops with these mushrooms, you can use a fork to shred them into the texture of shredded chicken. I grew up eating gumbo this way so this texture is nostalgic for me. I would recommend browning the shreds in a small skillet with some olive oil, salt, and pepper until golden before adding to the gumbo for maximum flavor. Add this right before serving.
Maitake Mushrooms
This is an incredibly delicious mushroom that has become more and more popular. I like to tear it into big chunks so you can really see it in the gumbo. Once again, I like to pan-fry the chunks in a hot skillet with some olive oil, salt and pepper. Cook them on each side for a few minutes, until the edges are golden brown. Add them to the gumbo about 20 minutes before serving or reserve to garnish on top.
Whole Shiitake Caps
Shiitake mushrooms are probably my favorite mushroom. They have a meaty and chewy texture and they offer a nice savoriness. I like to keep the mushrooms as whole as possible. To do this, cut off the woody bottom half of the stems and then throw the cap and connected tender half of the stems into a hot skillet with a drizzling of olive oil, salt and pepper. Cook for a few minutes, until golden on the edges before adding.
Shiitake Bacon
If you have my first cookbook, you might be familiar with my 'Shiitake Bacon'. It works amazingly as a garnish to finish the gumbo before serving. Simply sprinkle on top.
Artichoke Hearts
Although it's not incredibly high in protein, this is a nice vegetable option. You can used pre-grilled artichoke hearts. Throw them right into the gumbo with the stock. If you want to use a canned or jarred variety, drain them well and pan-fry them in some olive oil for a few minutes to get some nice browning. This will help remove the canned taste while also giving them more flavor. You can also use a knife to thinly slice the artichoke hearts, creating a shredded texture. Add towards the very end.
Field Roast Italian Sausage
In the vegan meat department, I quite like using this sausage. Made with simple ingredients and having a nice texture, it's even better if you brown it with some olive oil in a skillet before adding it to the gumbo. I would wait to add this about 10 minutes before serving so it doesn't fall apart.
---
---
ADDITIONAL VEGETABLE ADD-INS
I love throwing in a few handfuls of greens such as torn curly kale and/or freshly chopped turnip greens towards the very end. Zucchini or yellow squash cut into chunks is also a nice way to bulk up the veggies. Add them when there is about 15 minutes left of cook time. Lastly, I find that for a fall variation, chunks of carrots or winter squash can be quite lovely. Cut them into bite-sized chunks and add them with at least 30 minutes left of cook time. This way they can become soft and tender.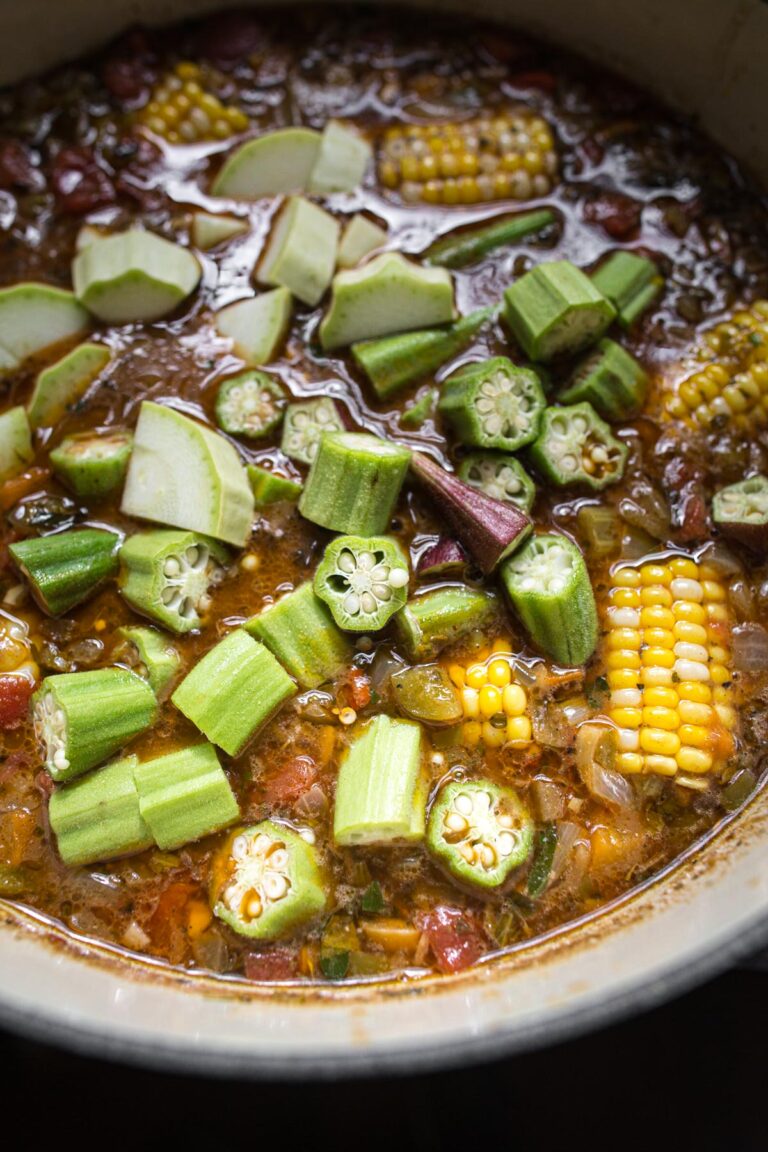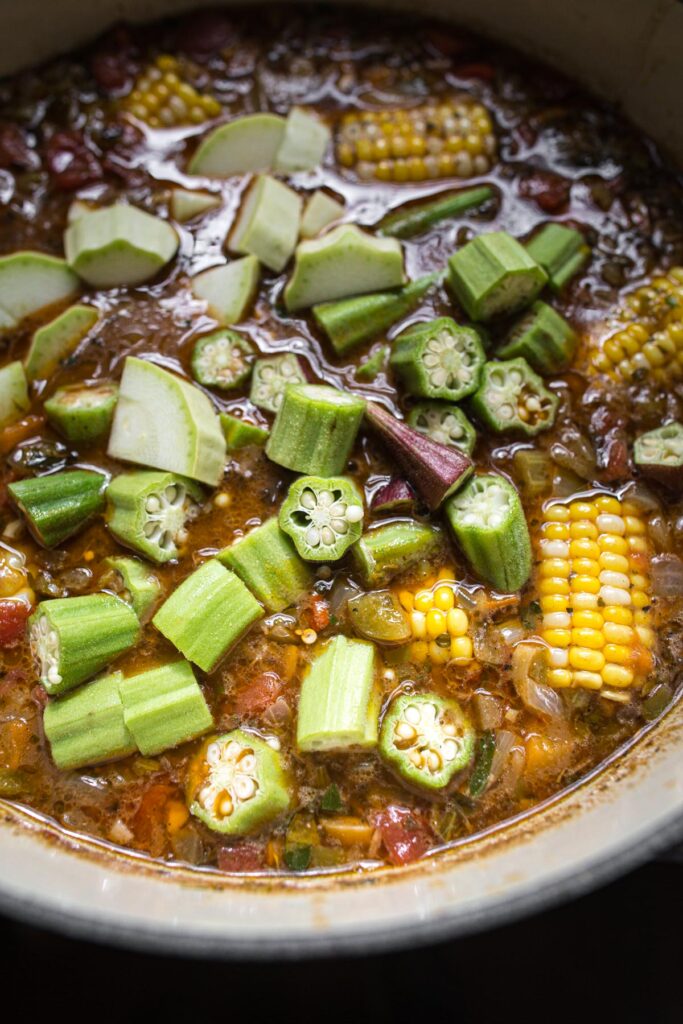 RICE
For gumbo, a long-grain white rice is traditional. I really don't think this is the time or place to use brown rice or to experiment with other grains like quinoa. It just doesn't feel right to me but do what you will! Below are some of my favorite brands to use and here is my favorite method for cooking rice.
Women-owned, Louisiana grown rice. They have a great line-up and offer organic options!
This rice is DIVINE. It has a fragrant, buttery aroma and when you cook it, the whole house smells outrageous.
This heirloom rice is from the late 1700's and early 1800's. It has a prized texture and nutty flavor.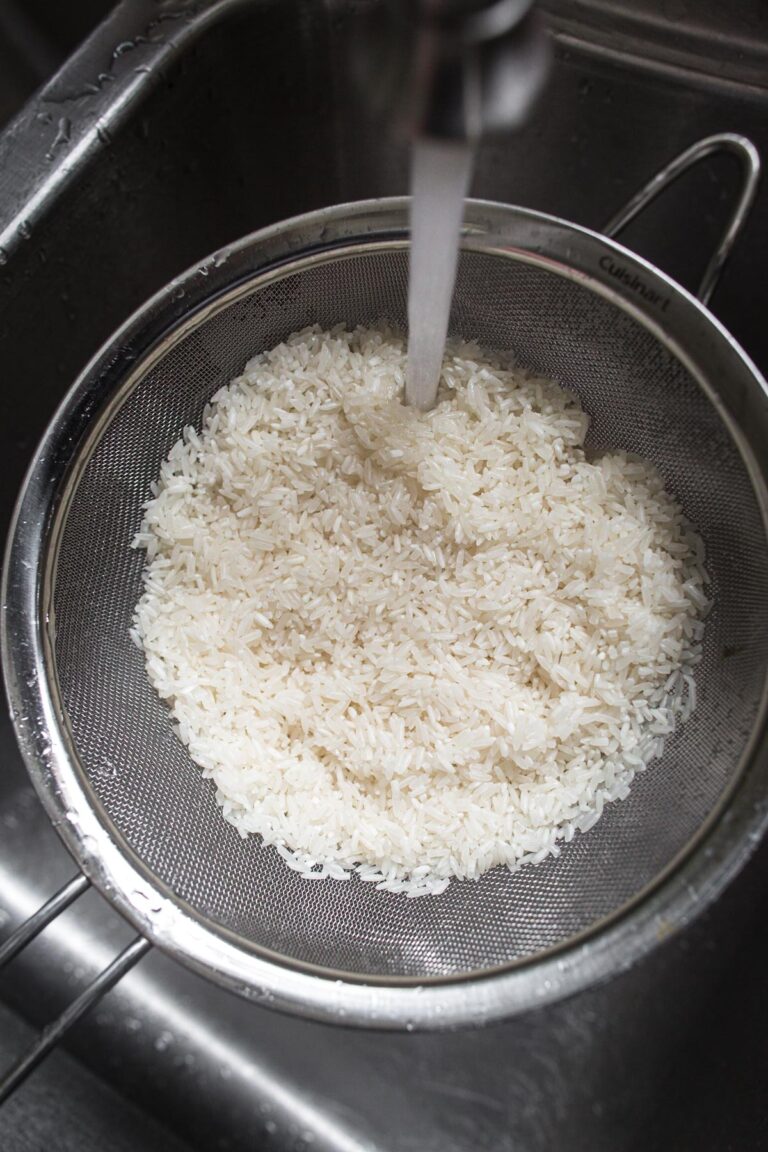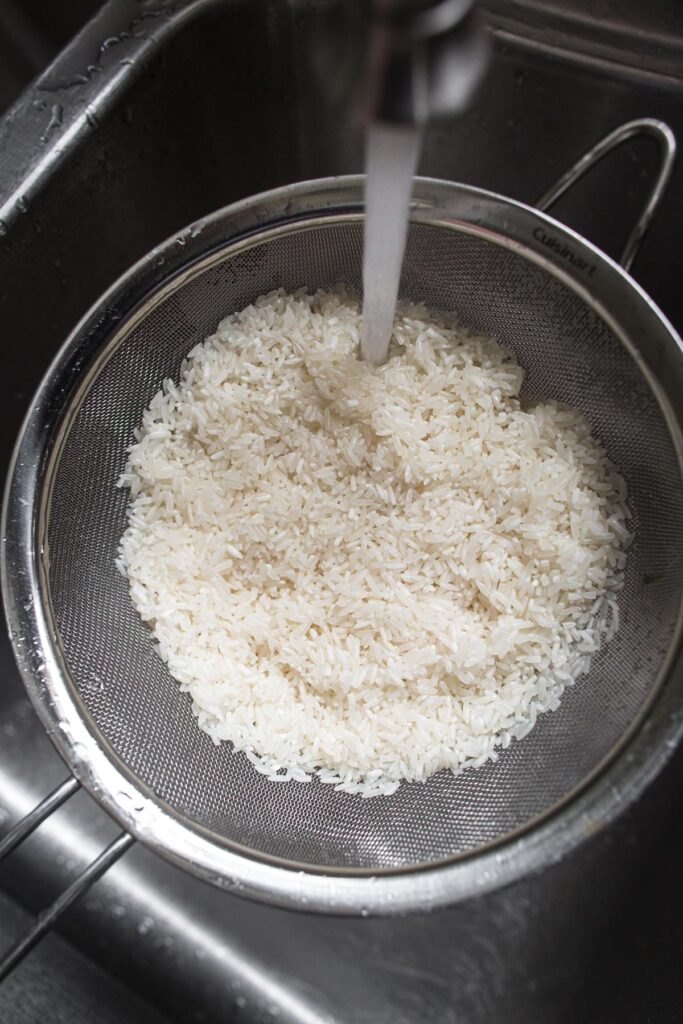 STOCK
For this vegan gumbo, I absolutely LOVE this no-chicken bouillon base as it has a rich and meaty flavor. (I also love their roasted garlic variety.) For even more flavor, you can also make a mushroom broth by steeping a handful of dried shiitake mushrooms in a few cups of boiling water, for about 10 minutes, to add to the pot. Lastly, sometimes I also like to add one to two cobs of fresh corn cut into small pieces with the wet ingredients. This adds a buttery sweetness and the pieces of corn absorb the gumbo flavor which makes for a nice treat.
---
---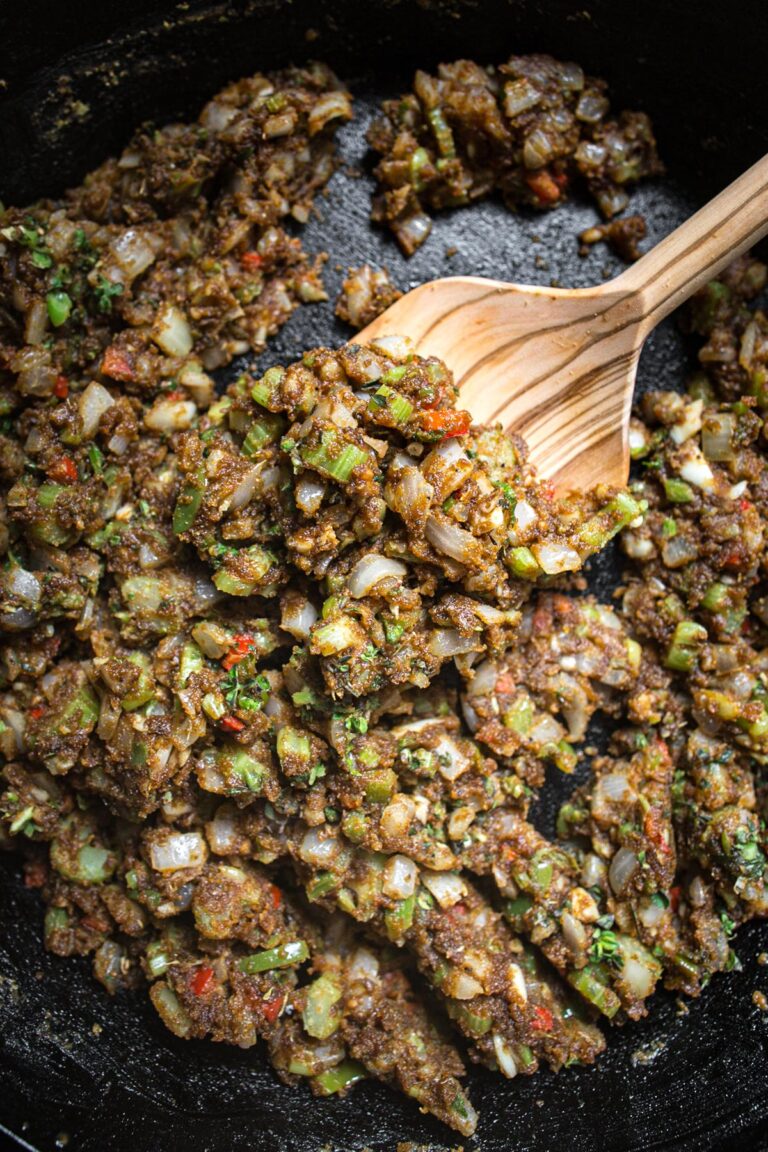 MAKE IN ADVANCE + TRAVEL HACK
One trick that I wanted to let you know about is that you can totally make the base of this gumbo in advance to be finished later on. By making the roux to cook with the trinity with all of the spices in advance (which is the most labor intensive part), you'll have the foundation of your vegan gumbo ready to go. You can store this base in a tightly sealed container in the fridge for a few days or you can freeze it. It also travels well and can then be finished at the final destination. Simply add the roux base to a large stockpot and continue on with the recipe (step 6). This way you don't have to travel with a massive pot of gumbo!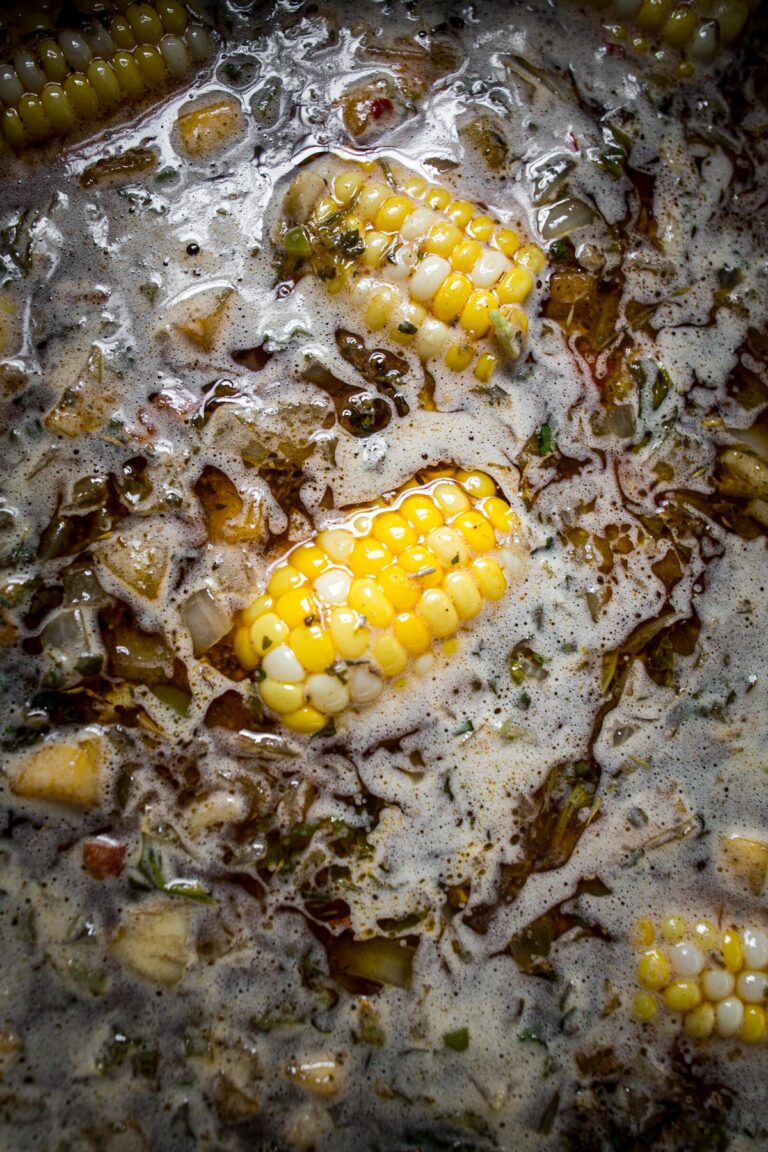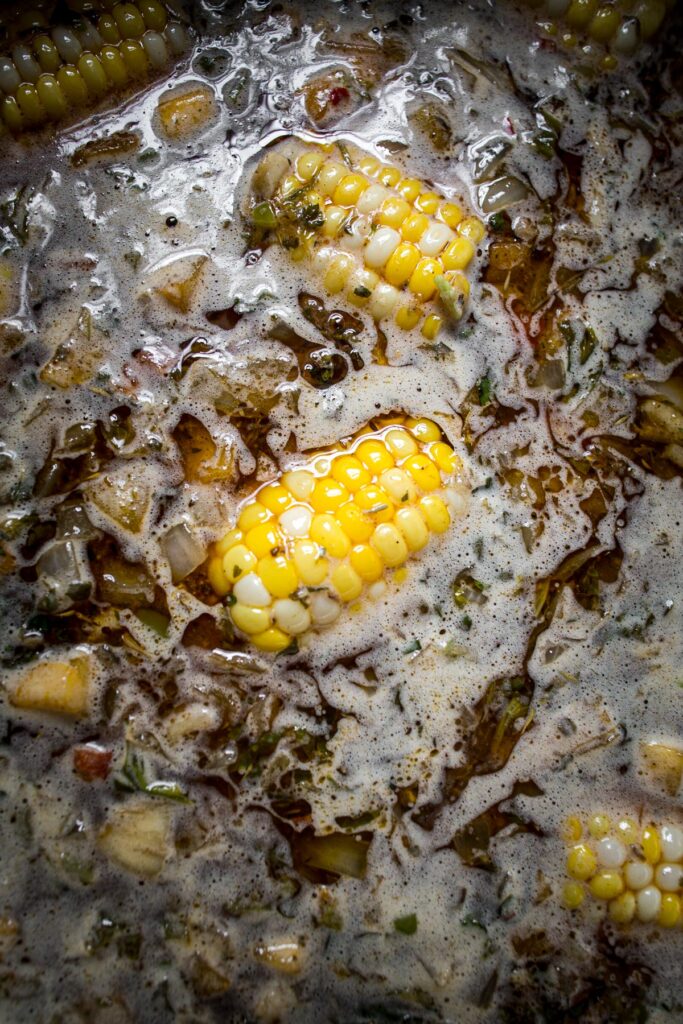 LET THE GUMBO SIMMER & REDUCE
Once you combine the vegan gumbo base with the stock, it's time to add the remaining wet ingredients. It's worth mentioning here that some people do not like to add tomatoes to their gumbo (and they can get very heated about it!). But that's how my mama makes it so that's what I do! I honestly can't imagine gumbo without them. In this recipe, I like to use canned fire-roasted tomatoes AND some fresh tomato. Once again, double the flavor by using two different forms. To round everything out, I like to add this vegan Worcestershire sauce, some liquid smoke, red wine and a little bit of creole mustard. Some of these may seem odd to you but I promise you it all works!
HOW TO SERVE
To serve, ladle the gumbo into desired bowls and add a scoop of easy baked rice. Garnish with sliced green onions and freshly chopped parsley. Serve with crusty french bread (lighter and fluffier is ideal) and a bottle of Crystal hot sauce on the side. It's always nice to make a roasted vegetable side or a salad to go with everything making it a full meal (I like roasted cauliflower or potatoes).
And there you have it folks! My classic vegan gumbo. I know that this was a lengthy post but I wanted to make sure I provided as much insight and information as possible. Below you will find some frequently asked questions, so make sure to check those out. If you do make this gumbo, please make sure to give it a rating and comment below. And if you post it to social media, tag me so I can see it. That really warms my heart! Thank you for being here and happy cooking.
-Timothy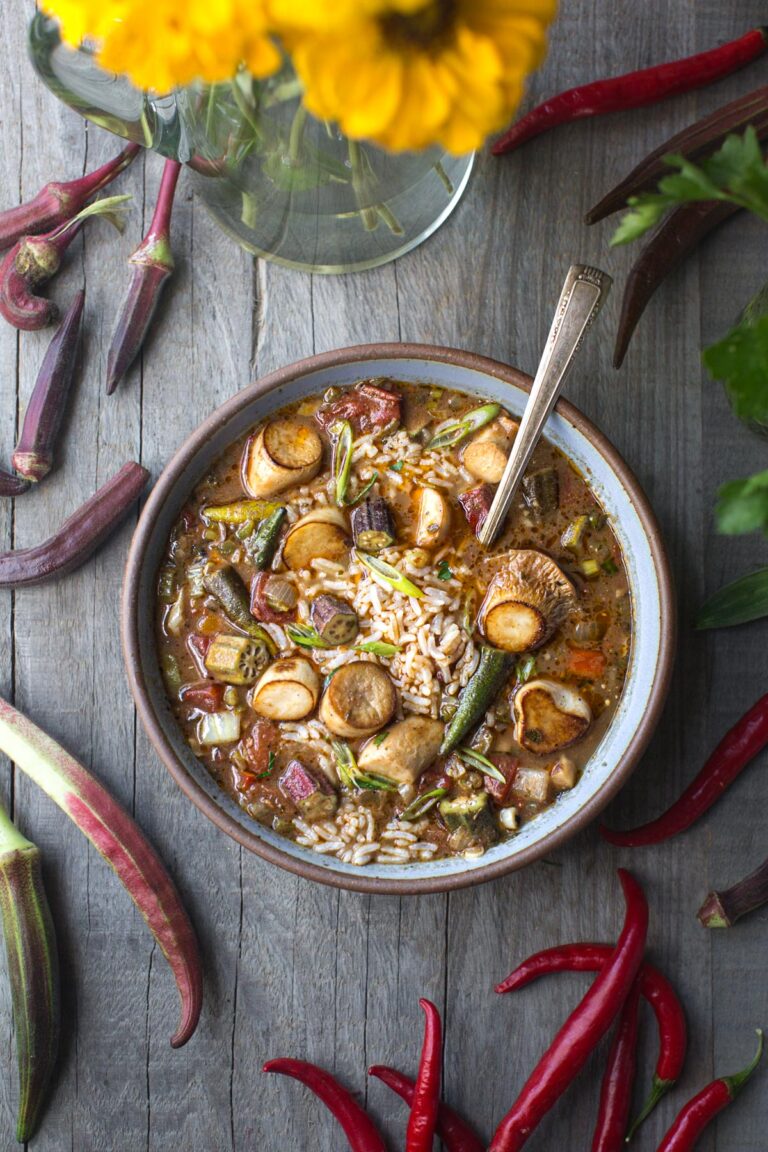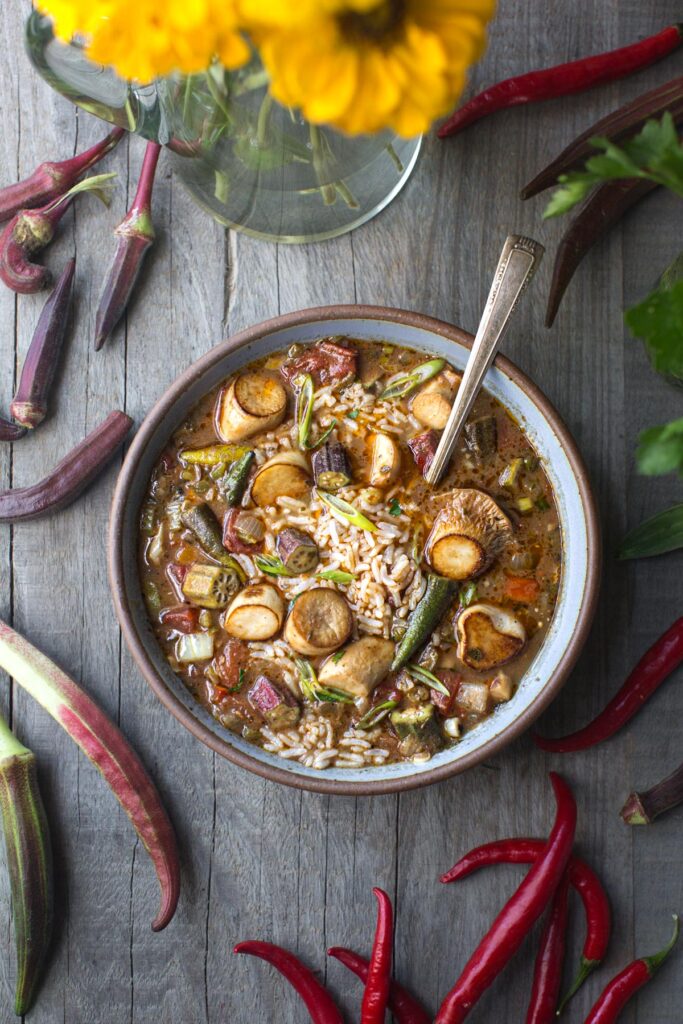 ---
---
GUMBO FAQs
Can you make this gluten free?
Yes! I have tested this recipe with sweet sorghum flour. This has a fine enough texture that will work for making the roux. Simply swap this out with the regular flour. The texture will be slightly different but it is still delicious and it will provide that toasty flavor while also helping to thicken the gumbo.
Can you freeze it?
Yes! This vegan gumbo freezes beautifully! I would say 4-5 months is the max I would freeze it before it starts to taste stale. I like to use quart containers to freeze but you could use whatever you'd like. To re-heat, simply defrost and transfer to a pot and bring to a simmer. Whenever I do this, I will usually add a few splashes of water when reheating, as it will be thick. Once re-heated, add a pinch or two of salt, to taste, before serving. This is a great recipe to have in the freezer for when you need a quick dinner.
Can I use less oil?
You can but I do not recommend it. I know this recipe calls for a lot of oil but it also makes a very large amount and serves a crowd. When testing this recipe, I settled for this amount because it provides the right amount of richness that I think is necessary.
Do I have to use okra?
You do not have to use okra but it pains me to say that. I think okra is an integral part of gumbo and if you look up the history of this dish, you will understand why. But, if you do not like okra and you are stubborn about it, you can omit it and replace it with chopped zucchini or squash.
Can I use frozen okra?
Although fresh, young, and tender okra is best for this, you can use frozen and it works quite well! My mother would oftentimes use frozen okra growing up and it always tasted good to me! If using frozen, I do recommend cooking it in a separate skillet with some olive oil, salt and pepper until golden brown. This helps to get rid of the frozen taste.
What if I don't want to use wine?
You can substitute the red wine with 2 teaspoons of red wine vinegar or balsamic vinegar.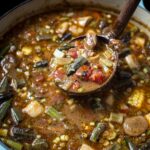 Ingredients
Trinity + garlic


2 cups onion, chopped (1 medium)
2 cups celery, chopped (about 4 large stalks)
1 ½ cups green bell pepper, chopped (about 1 large)
½ cups red bell pepper, chopped (about 1 small)
½ cups garlic, minced

Gumbo ingredients

8 cups water
3 tablespoons no-chicken bouillon base
1 (14.5 oz) can fire-roasted tomatoes 
1 cup fresh tomato, diced
½ cup red wine
1 tablespoon tamari
1 tablespoon tomato paste
1 tablespoon ume plum vinegar (or red wine vinegar)
1 tablespoon vegan Worcestershire sauce
2 tablespoons plus ½ cup chopped fresh parsley, plus more for garnish
2 tablespoons fresh oregano, chopped 
1 tablespoon fresh thyme, chopped
1 tablespoon minced hot pepper (optional)
1 teaspoon stone-ground or Creole mustard
1 teaspoon liquid smoke
1 cup neutral vegetable oil
1 ¼ cups all-purpose flour
6 to 8 bay leaves
2 ears of corn, shucked and cut into 4 pieces each (optional)
½ cups green onions, chopped, plus more for garnish
3 cups fresh okra, chopped
1 cup to 2 cups filtered water (optional)
4 cups cooked rice, for serving

Creole Spice Blend

½ cup nutritional yeast
1 tablespoon onion powder
1 tablespoon garlic powder
1 teaspoon dried oregano
1 teaspoon dried parsley
1 teaspoon dried thyme
1 teaspoon smoked paprika
1 teaspoon smoked or plain sea salt
½ teaspoon cayenne pepper
½ teaspoon dried ground sage
½ teaspoon ground white pepper
½ teaspoon freshly cracked black pepper

Protein Add-ins (see blog post)
Instructions
In a bowl, make the 'trinity + garlic' mixture by combining the onion, celery, bell peppers and garlic. Mix well. Remove 1 ½ cups of this mixture and transfer to a separate bowl (you'll add this to the gumbo towards the end). Set both bowls aside.
In a large bowl, mix together the water, bouillon base, fire-roasted tomatoes, fresh tomatoes, wine, tamari, vinegar, Worcestershire sauce, 2 tablespoons of fresh parsley, fresh oregano, fresh thyme, hot pepper (if using), mustard and liquid smoke. Set aside.
Now you are ready to make the roux! In a large, clean, well-greased cast-iron skillet (be sure to wipe out any residue), heat the vegetable oil over medium-high heat. Once it's hot, add the flour and stir constantly with a large wooden spatula, until it is well combined. Reduce the heat to medium and continue stirring until the roux is dark brown, 15 to 20 minutes. The goal here is to toast the flour and oil while preventing the mixture from burning. You do this by moving the flour and oil mixture constantly. If you stop for only a moment, the roux will burn and you will have to start over.
Reduce the heat to medium-low and add the larger amount of the trinity mixture (not the reserved 1 ½ cups). Continue cooking, stirring constantly, until the vegetables are soft, 5 to 7 minutes.
Make the Creole spice blend; mix all of the ingredients together in a small bowl until well combined. Then add the whole spice blend to the vegetables and mix well. Cook for another 5 minutes, stirring frequently, toasting all of the spices. Now you have the base of your gumbo!
Transfer the base to a large stockpot. Add the stock mixture, fresh corn (if using), and bay leaves. Mix well, cover and bring to a boil. Stir every so often to prevent the bottom from burning. Once at a boil, reduce the heat to low and simmer for 40 minutes, stirring occasionally, to reduce and thicken the gumbo.
Add the green onions, okra, the remaining ½ cup parsley, desired proteins, and the reserved 1 ½ cups trinity garlic mixture. If desired, add 1 to 2 cups of water to loosen the gumbo. Simmer for another 20 minutes. Give the gumbo a taste and season with salt and pepper as needed. Feel free to add more cayenne pepper at this point to make it more spicy, if desired.
To serve, ladle gumbo into serving bowls, removing bay leaves. Add a scoop of cooked rice on top and sprinkle with the chopped parsley and green onions.