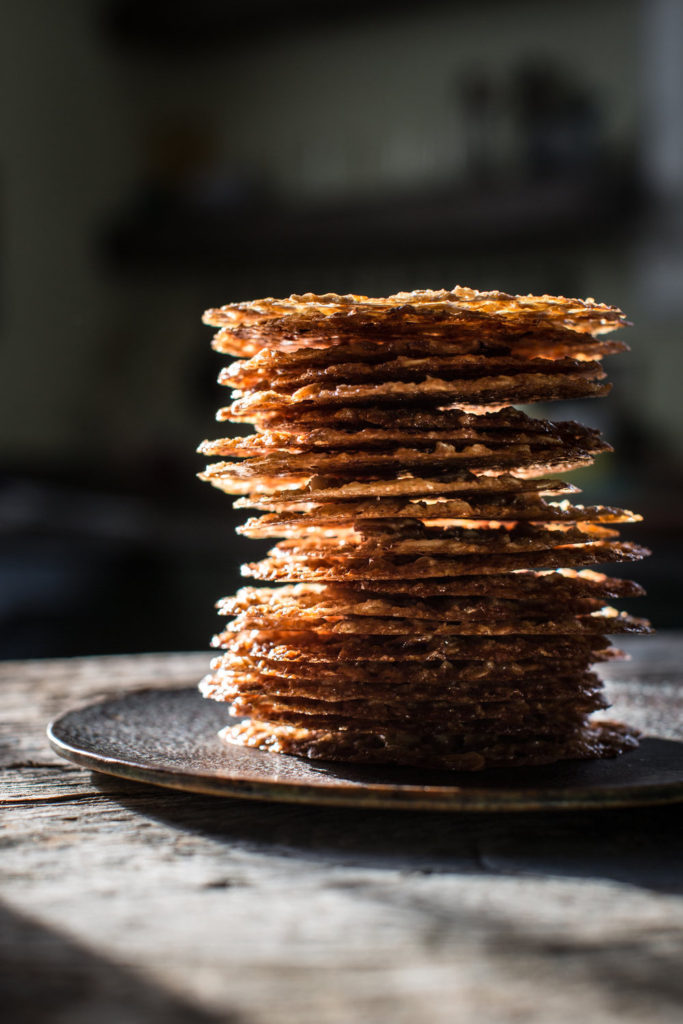 The first time I ever had a lace cookie was because of my friend Linda Lomelino. I was actually living in Jackson, MS at the time, working on my cookbook, and she sent out an email with a new recipe she had created, which was a thin oat cookie dipped in chocolate and sprinkled with sea salt. This old school Swedish recipe is also know as Havreflarn. You can check out her recipe here and make sure to peruse around her site as she is one of my absolute favorite food photographers and has inspired me greatly throughout the years. I knew I had to make these vegan lace cookies.
After scanning through the recipe and realizing that I could easily veganize some of the ingredients and that I had everything on hand- I made them immediately. This rarely happens but when it does, nothing will stop me from making this vegan lace cookie recipe. The excitement takes over and I drop everything to make it. (Check out the instagram post from way back when I made her variation and posted about it!)
After talking about these vegan lace cookies and doing some research, I came to realize that here in America we have a similar cookie known as 'Lace Cookies' which implies that because the cookies are so thin, the texture looks like lace!
Fast forward to about a month ago, I decided to make them again but this time with almonds. Traditionally, these cookies are made around the holidays but this is my blog and I do what I want. I knew deep down in my heart that the texture of thinly sliced toasted almonds would take this recipe to the next level and so I added them in. Duh, it worked. Not to mention, because these cookies are so light and thin- they are perfect for the summer! Not too heavy- crispy, delightful, buttery, and crunchy.
Veganizing
I looked at quite a few recipes out there and this one stuck out to me from Add a Pinch blog. So that, in combination with Linda's recipe, me veganizing a few things, and, of course, adding my own twist like nutmeg, almonds and almond extract- these cookies were born! Before moving on, let me address a few important notes.


Because these vegan lace cookies are going to spread out to be very thin, we need to encourage their shape to be round and even. By pressing the dough down with your fingers (like in the 2 images above) this will ensure that the cookies come out thin and pretty. Hot tip! Wet your fingers with a little water before pressing as this will prevent them from sticking. Do note, they surely don't need to look perfect! If the shape is slightly odd it merely implies that it is homemade! Also, they spread out A LOT, so make sure to leave plenty of space in between the mounds.
Attention
Now, this step is important so listen up! The cookies bake off best one sheet at a time. I tried cooking two at a time and the top sheet was perfect but the bottom sheet needed more time and I had to keep fiddling with them to finish baking. It's much easier to bake off one sheet at a time. While one sheet is in the oven, you can start loading up the second one. Once the cooled cookies are removed from the first tray, simply load it back up with more dough and bake them off like before.
Once removed from the oven, the cookies will need to hang out on the baking sheet for a couple of minutes. Then, using the thinnest spatula you can get your hands on, transfer the cookies to a cooling rack. Let the cookies cool until the middle sets. You'll know they are done once you can pick them up!
Full Disclosure:
These vegan lace cookies do not last long (especially in the summertime!). They're delicate. They don't store well, as they become soft and super sticky. They should be consumed within the first 2 to 3 hours of baking but they are best enjoyed immediately. Check out more tips and ideas on how to transport below, after the recipe. This might have something to do with the fact that I live in the hottest, most humid city in America. If these were baked in the winter (which traditionally they are), they might last a bit longer (or if in a dry, desert environment like Las Vegas). Either way, for best results- eat immediately!
Ingredients
1 tablespoon golden flaxseed meal 
1 tablespoon water
½ cup vegan butter
1 cup light brown sugar
1 cup rolled oats
½ cup sliced almonds
1 ½ tablespoons all purpose flour
¼ teaspoon sea salt
⅛ teaspoon nutmeg
1 teaspoon vanilla
⅛ teaspoon almond extract 
Maldon salt, to garnish, if desired
Instructions
1. Preheat oven to 375º F and line 2 large baking sheets with parchment paper. In a small bowl, combine flaxseed meal and water. Mix well and set aside.
2. In a small pot, add the butter and light brown sugar. Bring to medium-low heat, mixing every so often, until the mixture is melted and smooth. Remove from heat and add oats, almonds, flour, sea salt, vanilla, nutmeg, almond extract and flaxseed mixture. Mix well. 
3. Drop one tablespoon of cookie batter onto lined baking sheets, leaving at least 5 inches between. These cookies will spread out! Next, wet your fingers with a little water and press down on each mound to flatten them, encouraging a circular shape. If desired, sprinkle on a small amount of Maldon salt.
4. Bake, one tray at a time, in the middle of your oven, for 7 minutes unless your oven is known for being too hot. Then cut it back to 6. You want the edges of the cookie to be golden brown. If you think they could bake a little bit longer, you can pop them back in for a minute. After the first sheet is done, repeat this step with the next sheet. Once the cookies are removed from the first sheet to cool, use the same lined baking sheet to bake off more cookie dough until all the cookies are baked.
5. Remove from oven and let cool for about 5 to 7 minutes. Once the cookies have firmed up, using a thin spatula, transfer to a cooling rack. Once the middle sets and you can pick a cookie up- they're ready! Gobble up!
notes
Once the cookies are cooled, if you notice the middle has not set, you can add them back to the oven for another minute or two. This final push will set the center. The best tool to transfer these cookies with is a very thin spatula. I highly recommend it!

Traditionally, these cookies are much smaller. But I quite like them bigger because they have a chewy center and a crunchy outside so I like the fact that you get more bites out of it makes it much more satisfying. Feel free to make these cookies smaller- you'll just need to reduce the cooking time to make sure they don't burn.

These can be tricky to transport because they are sticky! The best way to move them around is to line an old pizza box or large serving platter with parchment paper. If you must stack them, make sure to use pieces of parchment paper to stack them.

If you'd like to make the dough in advance, you can store it in an airtight container for a few days in the fridge! I tried this out and they came out just fine.

If you like this recipe, please check out my cookbook, Mississippi Vegan.