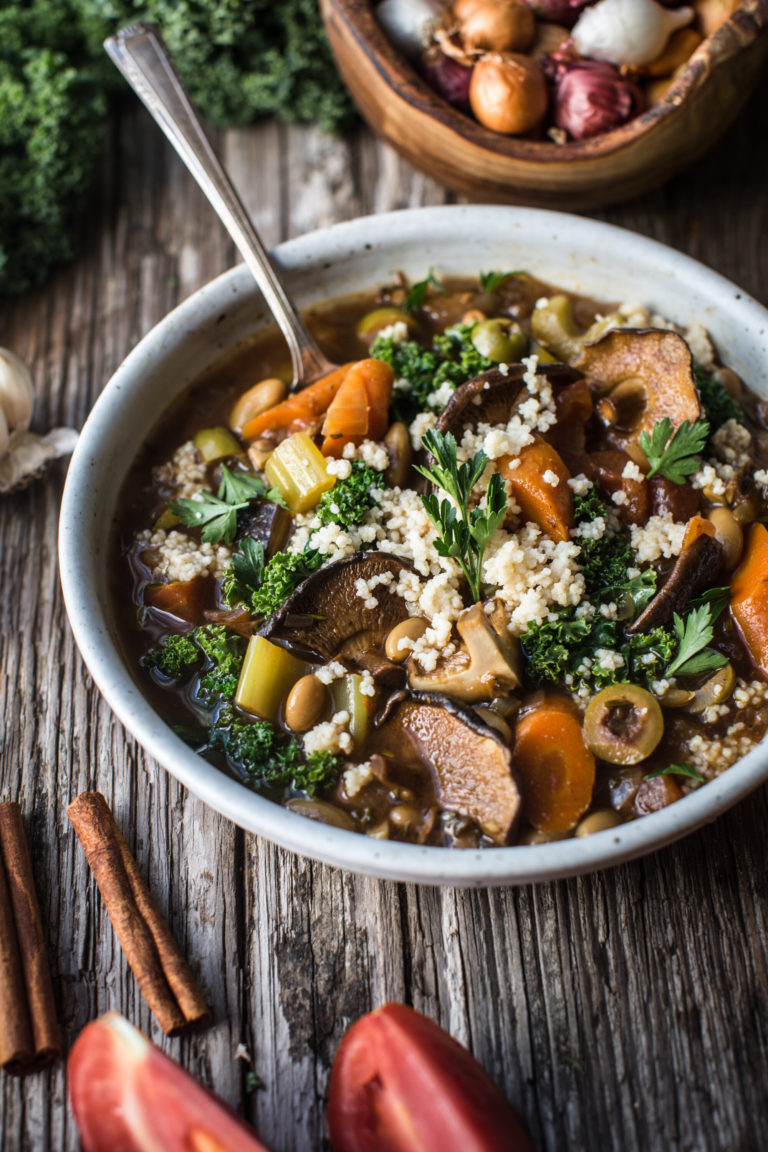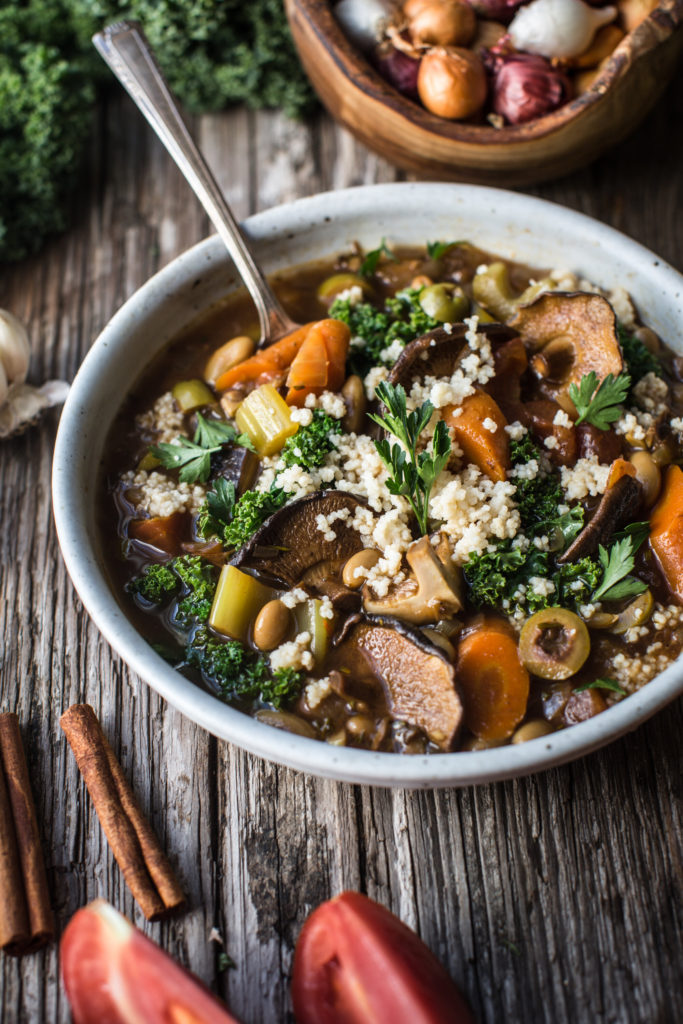 This blog post is sponsored by California Prunes. All opinions are my own.
It is officially fall and I couldn't be more thrilled. It's time for roasting pumpkin seeds (after carving, of course), baking apples, and making hearty stews that warm your soul. That's precisely why I created this recipe to share with all of you. My very own version of Moroccan Stew. This savory dish is layered with a multitude of complex flavors like cinnamon, allspice, star anise, nutmeg, ginger and cumin. Of course, there are loads of classic vegetables like carrots, celery, and kale. But there are also some unique ingredients like green olives and shiitake mushrooms. But what's the secret weapon you ask? California Prunes.
Prunes
Yes, I said it: Prunes! With their beautifully sweet, savory and tangy flavor profile they provide a lovely depth of flavor to a hearty stew as such. By adding in just half a cup of chopped prunes, the dried fruit pieces melt away in the broth, providing a subtle sweetness. This creates an overall balanced flavor, making one exceptional Moroccan stew.
The idea to use prunes in this recipe was inspired by my recent trip to California, where I was able to explore the cities of Sacramento, Sonoma and Winters. I was lucky enough to be invited by the California Prune Board to come visit and learn all about this amazing fruit. I also had the pleasure of visiting a prune orchard where I was able to taste fresh plums, right off the tree. Can we talk about sweet? That they were!
Prune Plums
What I found most interesting about these plums is that they are a specific variety known as 'Prune Plums,' an improved French variety. They are intentionally grown for their 'Brix' value, a term that farmers use to measure the sweetness of their fruit. Because these plums are sun ripened on the tree and harvested at the perfect stage, the results are incredibly delicious prunes that California is known for. And while they boast nutrients like calcium, potassium, and vitamin K, I quickly realized that prunes are an accessible, affordable, and delicious superfood.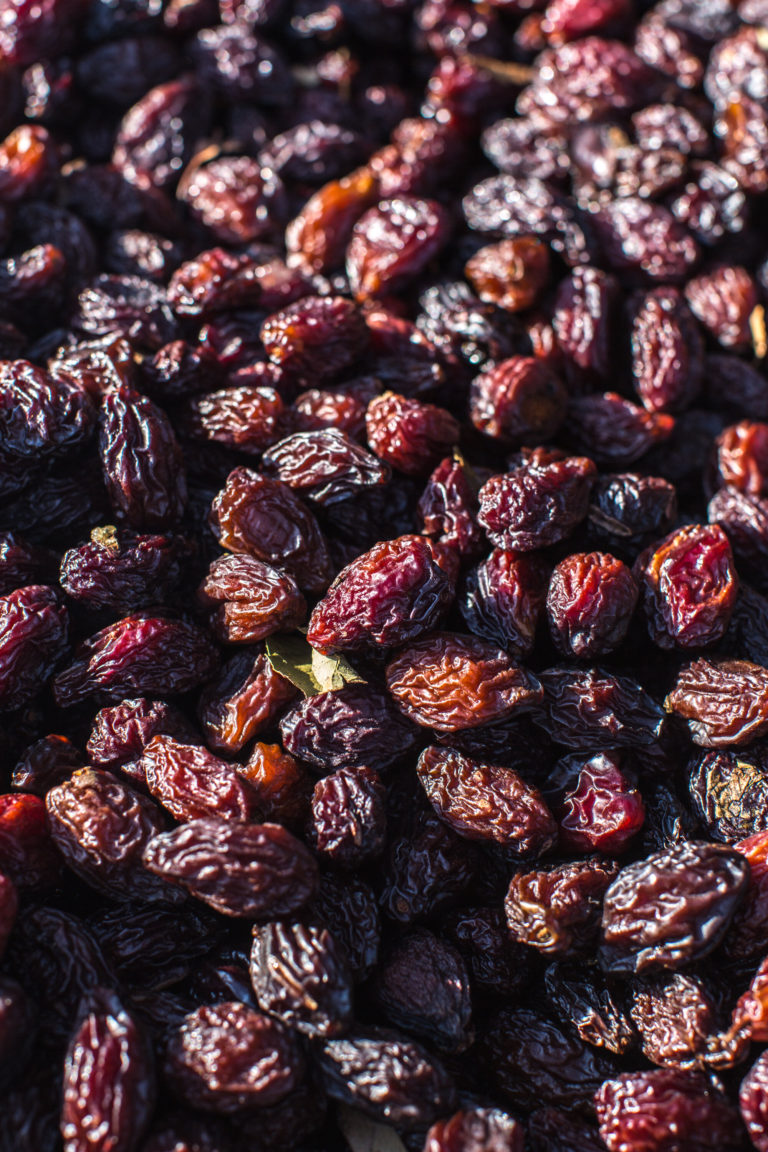 Once I saw all of these California prunes in action, I started thinking about what kind of recipe I wanted to make. Long known for aiding with digestive issues, in my mind, I was used to simply enjoying prunes on their own. They happen to be the perfect travel companion as they provide fiber, nutrients, and calories in a convenient vessel form. On the trip, we were able to try energy balls, using dried coconut, nuts and seeds, cocoa powder, and California prunes. They were fantastic.
Savory Prunes
But, of course, whenever I think of food, my mind goes straight to savory. That's just the kind of guy I am. After much investigation, I realized that prunes have actually been used in savory cooking for ages! My wheels started spinning and I thought to myself: what about a hearty stew? Not to my surprise, I came to learn that this was an age-old trick used in cooking for centuries. All of a sudden I was ready to cook: let me show you.
Spices
First up, for the foundation backbone of the soup we are starting off with a power-house combination of spices. Here we have star anise, cinnamon, ground turmeric, ground ginger, cumin, coriander, clove, allspice, and nutmeg. Talk about flavor people- this is the ticket! Now to wake up all of these dried ingredients, we are first going to fry a chopped onion in some oil. Once the onion is caramelized as all get out, we throw in the spices and toast them. That's when you'll roll your eyes in the back of your head and scream, "Delicious!"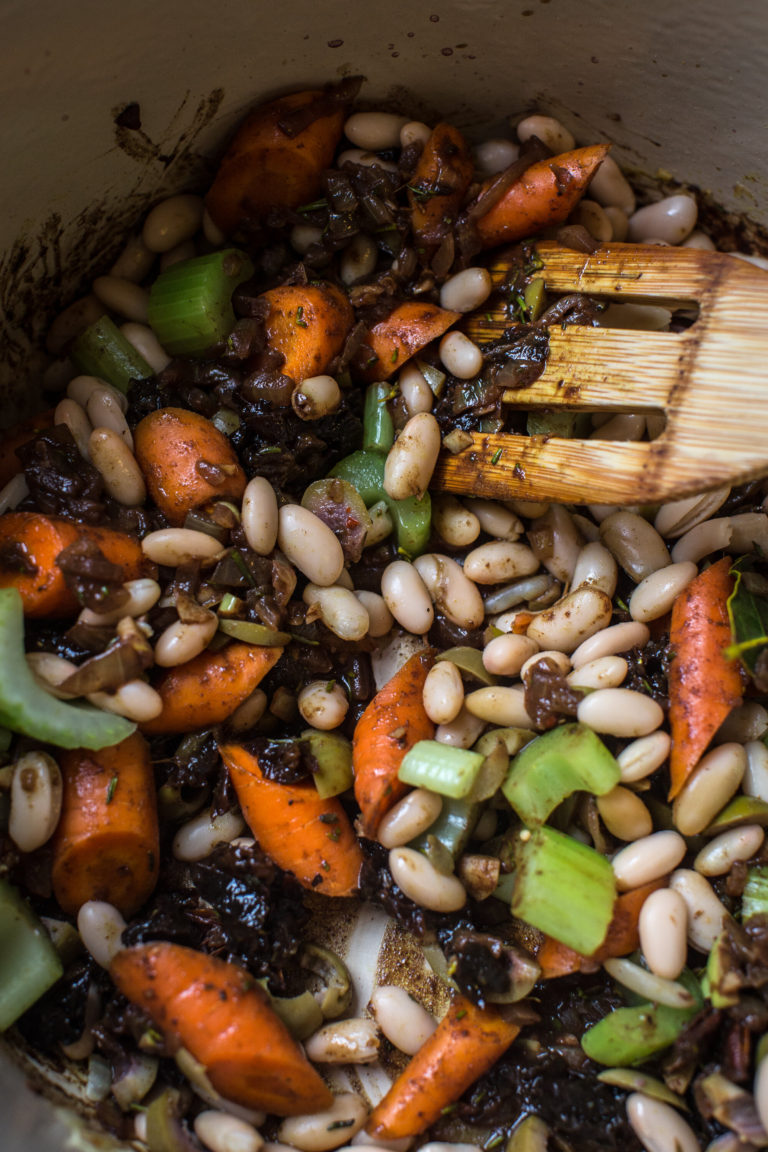 Now for some texture: large chunks of carrots and celery, cooked cannellini beans, and shiitake mushrooms. This array of ingredients bulks up the stew, making it hearty and filling. For even more flavor, we're adding bay leaves and… the California prunes!
To balance the acid in the stew, creating a rounded flavor, we're adding chopped tomatoes. Red wine deglazes the pan (while also providing more acid), releasing all those gorgeous tidbits at the bottom of the pan. With a large pour of vegetable stock and crank of the heat, you will be left with a gorgeous pot of bubbling stew on your very own stovetop.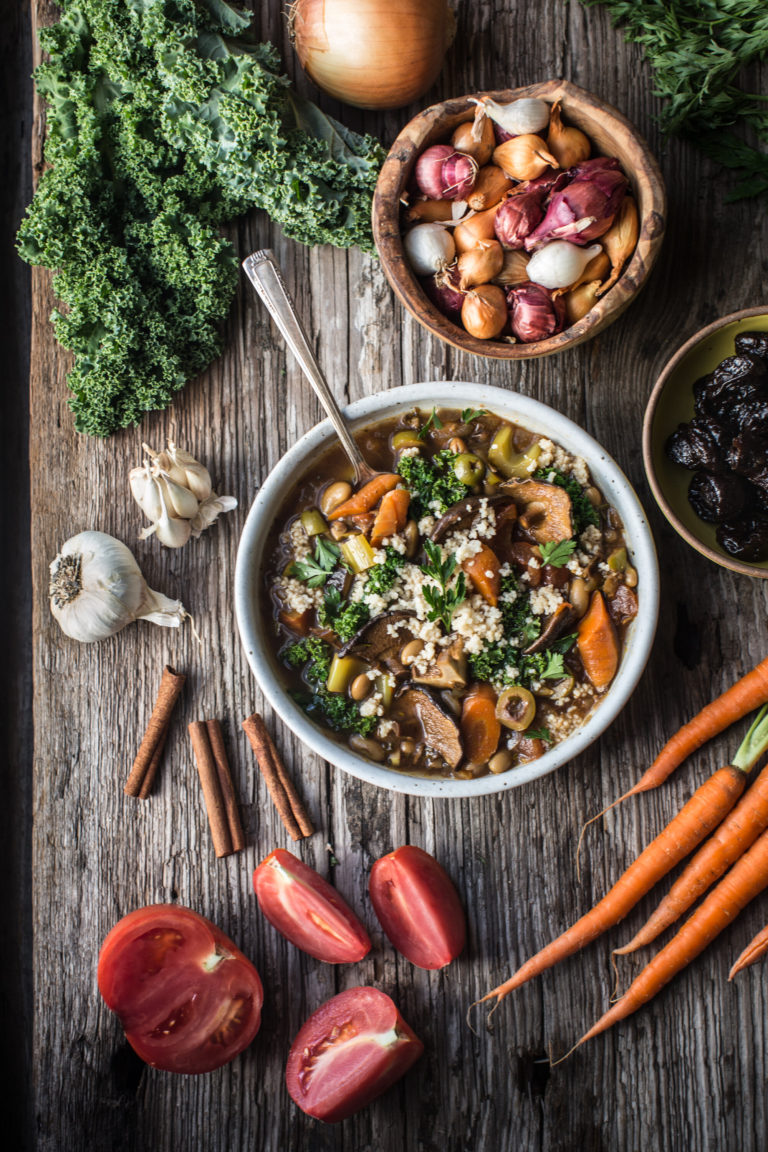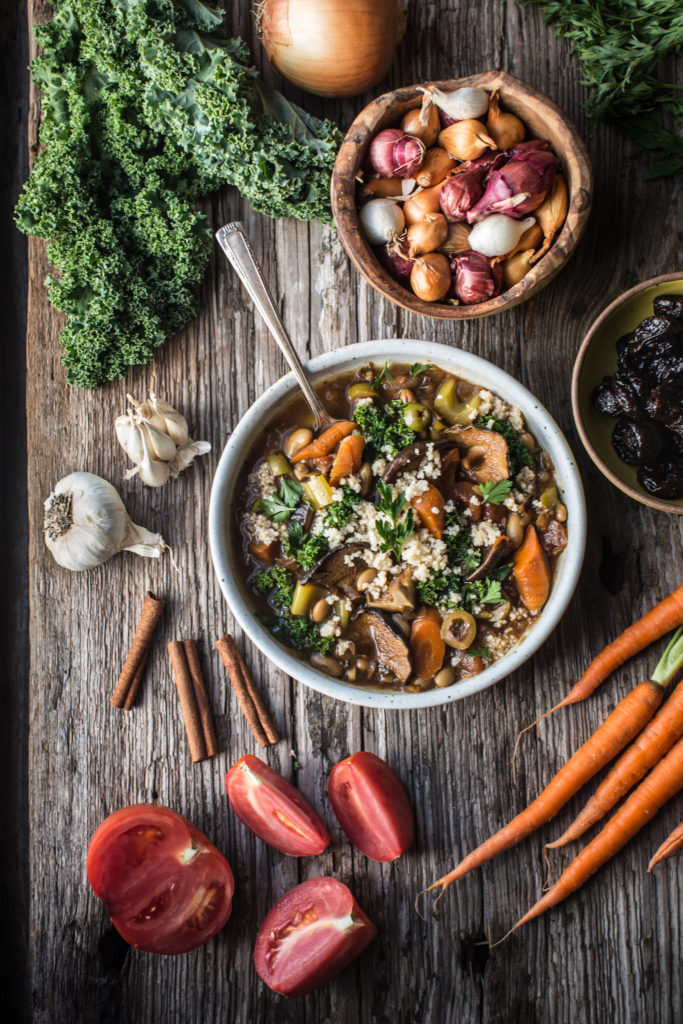 Right before serving, I like to add large pieces of freshly torn kale. This will only take a few minutes to cook and their substantial texture pairs perfectly with this Moroccan stew. A sprinkling of couscous or quinoa with freshly chopped parsley on top seals the deal and everyone's happy. Big thanks to California Prunes for teaming up with me on this recipe and adventure. Enjoy!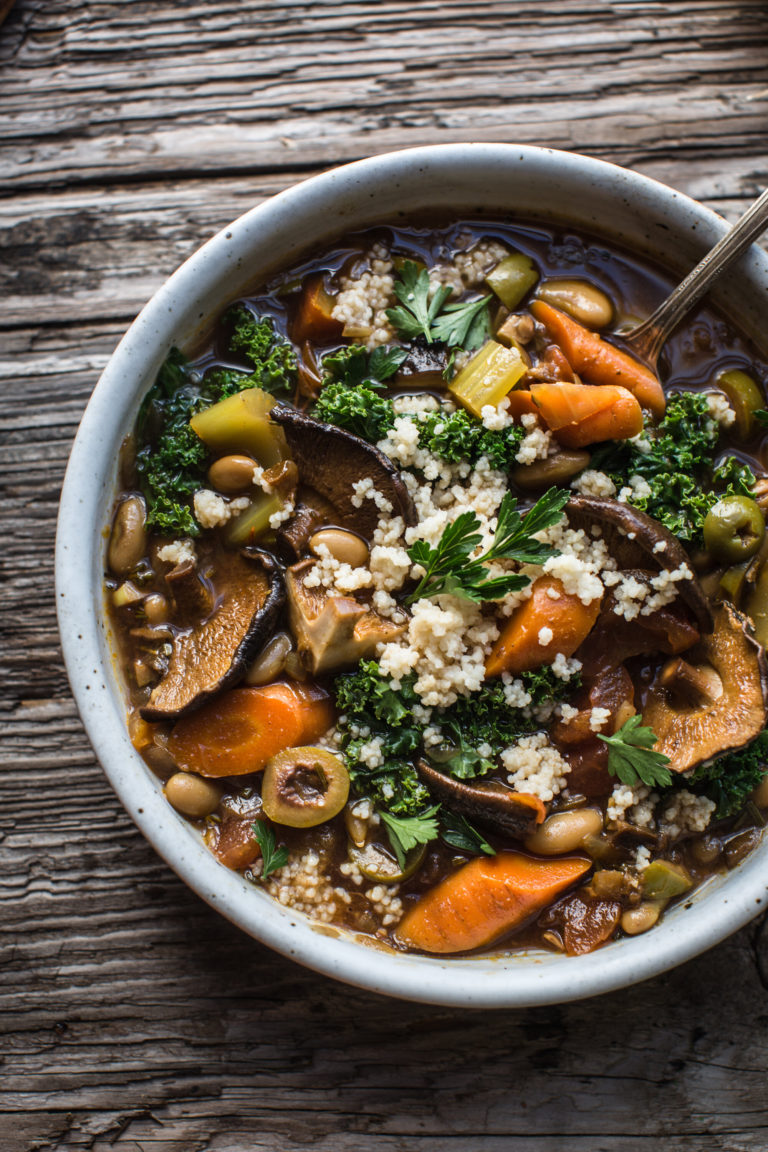 Ingredients
serves 6, gluten-free option

Spice Blend

½ teaspoon ground turmeric 
1 teaspoon ground cumin
½ teaspoon ground coriander
½ teaspoon ground ginger
¼ teaspoon ground clove
½ teaspoon ground allspice 
⅛ teaspoon ground nutmeg
2 whole star anise pods
½ teaspoon ground cinnamon
1 teaspoon salt
Cayenne pepper for extra spice, optional 

Stew

1 yellow onion, diced
2 tablespoons olive oil, plus some more
3 tablespoons fresh chopped rosemary 
3 whole bay leaves (fresh is best!)
3 tablespoons minced garlic
½ cup dry red wine
2-3 large carrots, cut into chunks (about 2 cups)
1 cup celery, chopped
1 cup fresh tomatoes, chopped
2 cups shiitake mushroom caps, cut into chunks
1 cup green olives, chopped
½ cup California prunes, chopped
1 (15 oz) can cannellini beans
7 cups water + 1 tablespoon bouillon broth paste (or 7 cups veggie broth)
¼ cup tamari or soy sauce
2 tablespoons tomato paste
2 cups torn kale
2 cups cooked couscous or quinoa (season with salt, vinegar, and one bay leaf)
Fresh parsley, to garnish
Add all of the spice blend ingredients into a bowl and set aside.

In a large pot, drizzle in olive oil and bring to medium heat. Add the onions and cook for a good 10 minutes, until the onions are soft and golden, stirring every so often with a wooden spatula.

Once the onions are cooked, add spice blend and mix well. Add an additional 1 to 2 tablespoons olive oil and continue to mix frequently, toasting the spices until fragrant. Throw in the rosemary, bay leaves, and garlic. Cook for an additional 5 minutes, stirring often. Pour in wine, to deglaze the pan, stirring and scraping up all of the tidbits. Lower the heat to medium low.

Add carrots, celery, tomatoes, mushrooms, olives, California prunes and beans. Gently mix, to avoid crushing the beans, and cook for an additional 8 to 10 minutes to sweat the vegetables.

Add broth, tamari, and tomato paste. Mix well. Place a cracked lid on top and bring to a simmer. Once at a simmer, stir well and reduce heat to low. Cook for 30 to 40 minutes, stirring every so often, until stew reduces and becomes thick. Taste and season with salt to your liking. 

Before serving, remove bay leaves and star anise. Add torn kale, mix, and cook for a few minutes, until tender. Garnish with couscous (or quinoa) and parsley.

Notes 

When making the couscous, I like to add bay leaves, olive oil, and rice vinegar for extra flavor. If you would like to keep this recipe grain free, you could simply remove or swap out for cauliflower rice.

Feel free to use whatever vegetables and beans that you desire! For instance, you could add chunks of pumpkin or butternut squash. If you need to adjust the cooking time until tender, simply continue to cook on low heat. Or swap out the cannellini beans for chickpeas.

For recipe ideas (like this lovely salad) and more information about prunes, check out California Prunes website.