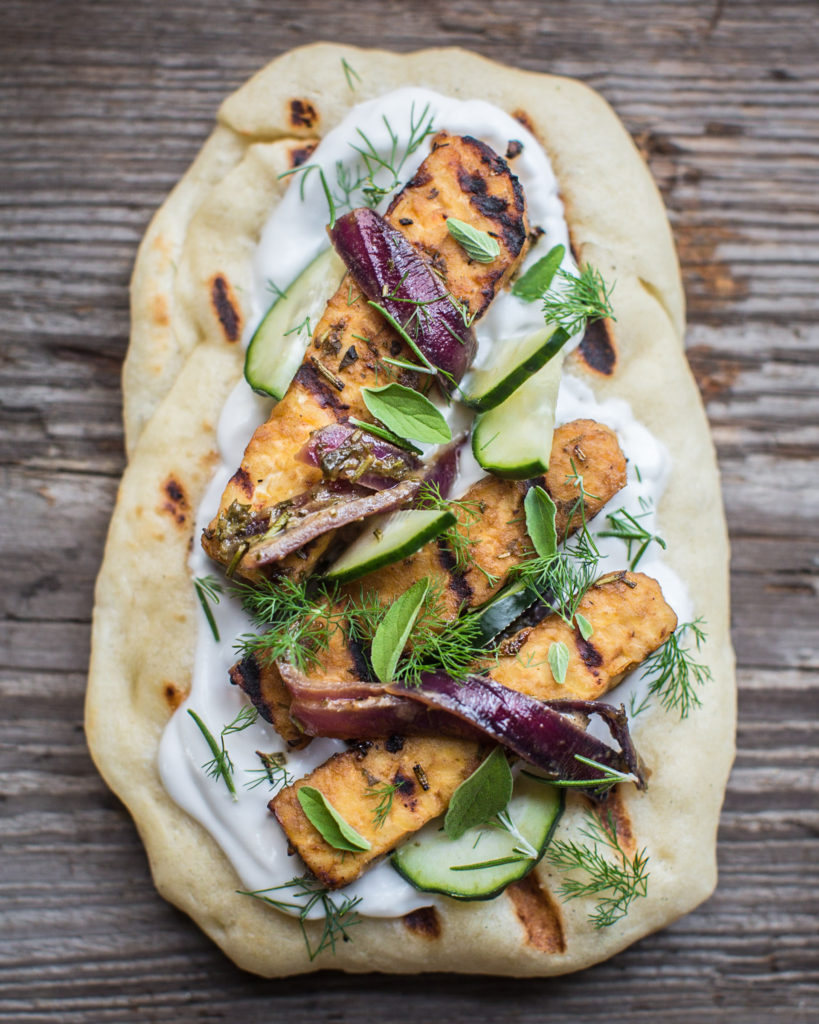 Now, doesn't that just look divine? Pillowy flatbread with the perfect amount of charred bits. Grilled tempeh batons bursting with flavor from fresh rosemary and dijon mustard. Caramelized red onions and crispy cucumbers. Creamy and cool coconut yogurt. All sprinkled with a hefty amount of fresh dill and oregano. To seal the deal, a big squeeze of fresh lime juice to brighten everything up. This grilled rosemary tempeh flatbread recipe is a delightful combination of textures and flavors that I am sure you are going to love.
Today, I am so excited to be teaming up with Napoleon who designed the gorgeous grill you see below. It's the Rogue SE 525 and I couldn't be happier with it! When they first reached out and asked me if I would like to collaborate with them, I was excited about the opportunity. But, to be completely honest, I was a bit nervous! You see, I have never really grilled before. Sure I've been in my parents' back yard or some other summer function and seen the grill happening. I might have even flipped a veggie burger or two, but I wasn't setting up shop. I wasn't really the griller. Well, things have changed now miss thing! If you were to spot me in my back yard these past few days, you would have seen me with my apron on, sipping an ice-cold beer, and GRILLING.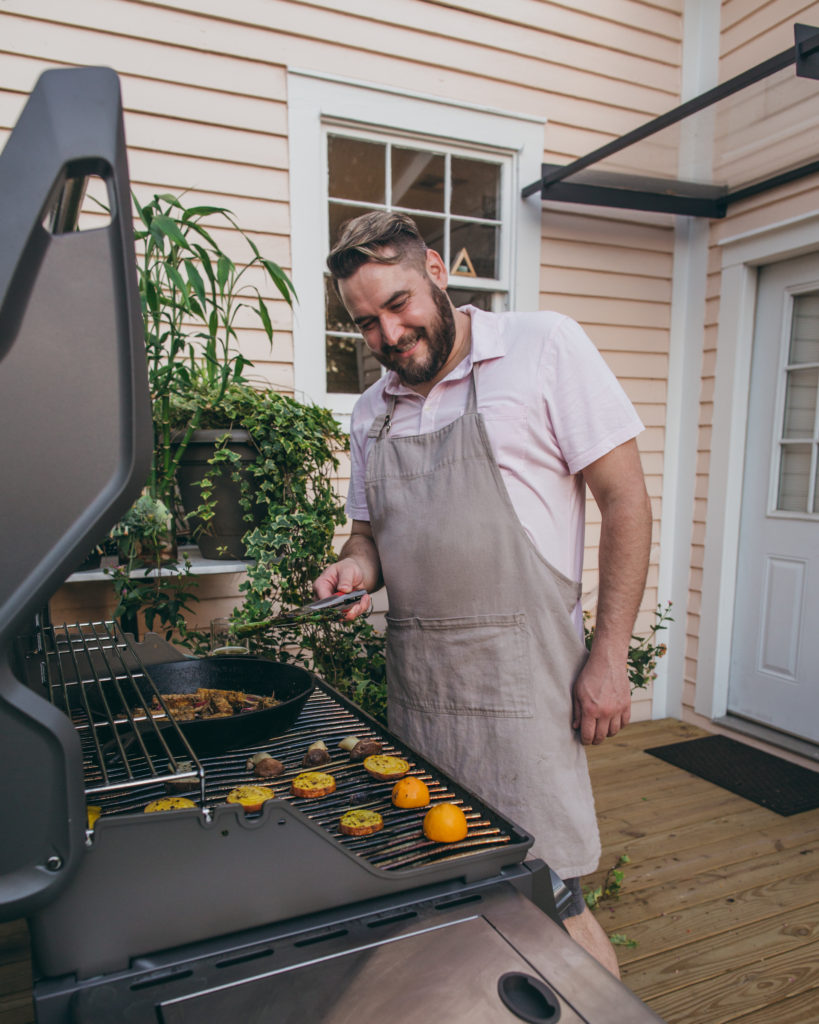 Look at that! Just grilling up a fabulous meal over here. When my Napoleon grill first arrived, I was very pleased with how handsome it looked on my back deck. I could already imagine grilling up some home-grown vegetables on it with pride. I also began to notice some of the great features the grill had to offer.
Aside from it being weather resistant, I particularly liked the large knobs that were easy to turn on and regulate heat. (They also have the option to light up if cooking at night.) You'll also notice in the picture below the infrared side sizzler. This is great for searing food for a crispy outside and juicy inside. (My mind goes instantly to mushrooms for this.) Not to mention, there is a bottle opener built in on the right side of the grill which I thought was a convenient little touch. It's all about the details for me people.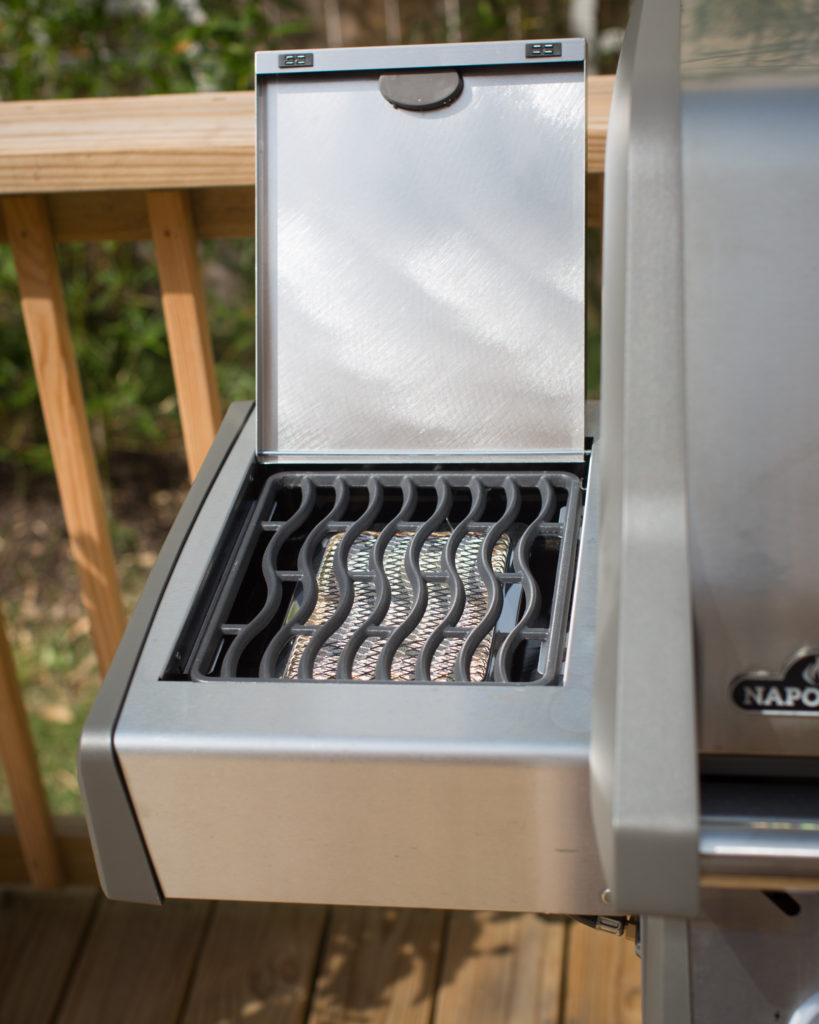 After my first time using the grill, I realized a few things that make having one an absolute game-changer: you don't have to cook inside which is great when it's hot or you need to cook something that smokes a lot or smells. You can use high heat to cook foods like you never have before (hello, charred lemon!?). Also, you can entertain a good amount of people easily outside. After breaking in my grill for the first time, I thought to myself, "I know I can grill veggies, but what else can I do?"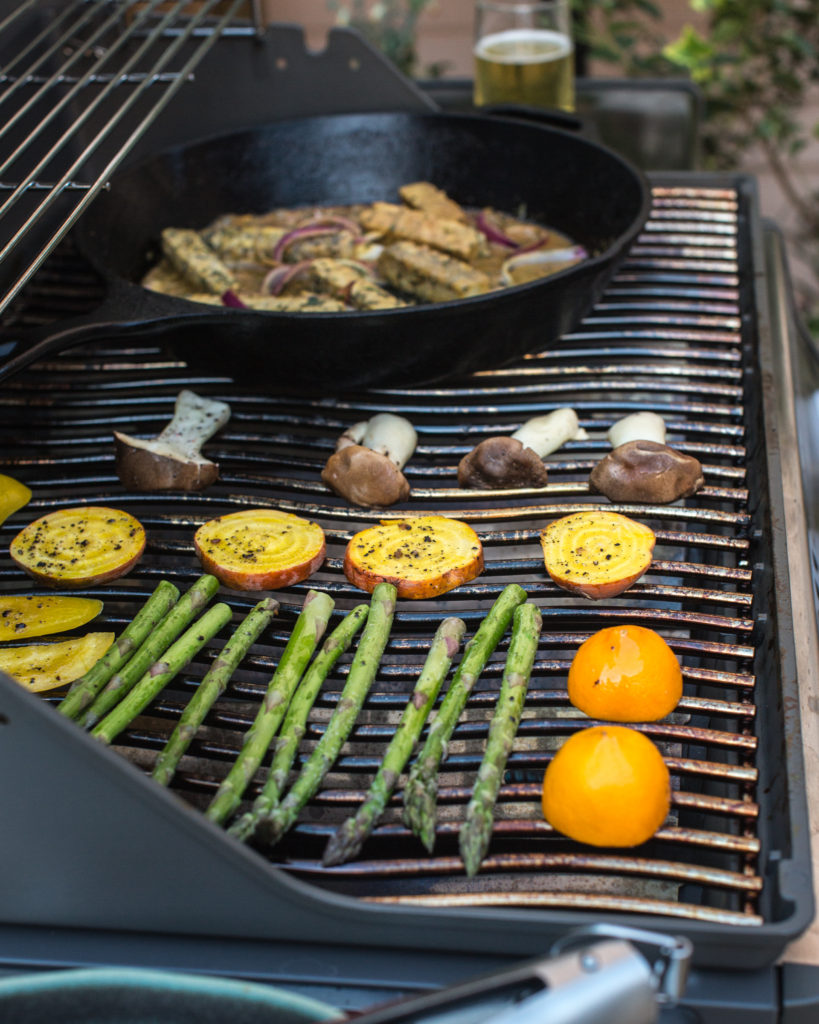 Upon further investigation, I realized that you could easily cook whatever you'd like in a cast-iron skillet- on the grill. Now, if you have been following me for a minute, you know how much I love my cast-iron skillet. I use it for everything. Sauteeing, roasting, steaming- it's always on my stovetop. So when I found out you could use it directly on the grill- I was shook.
If you notice here, towards the back of the grill, that's my rosemary tempeh cooking away in a flavorful marinade made with rice vinegar, tamari, dijon mustard and loads of fresh rosemary and oregano. I also like to sprinkle on some sliced red onions that provide a pop of color. Once the tempeh is cooked and tender, the red onions have caramelized and they become the perfect companion for the flatbread recipe. Another cute trick I picked up on when using rosemary and grilling, is that you can use a sprig as a brush to glaze the tempeh batons while they're cooking.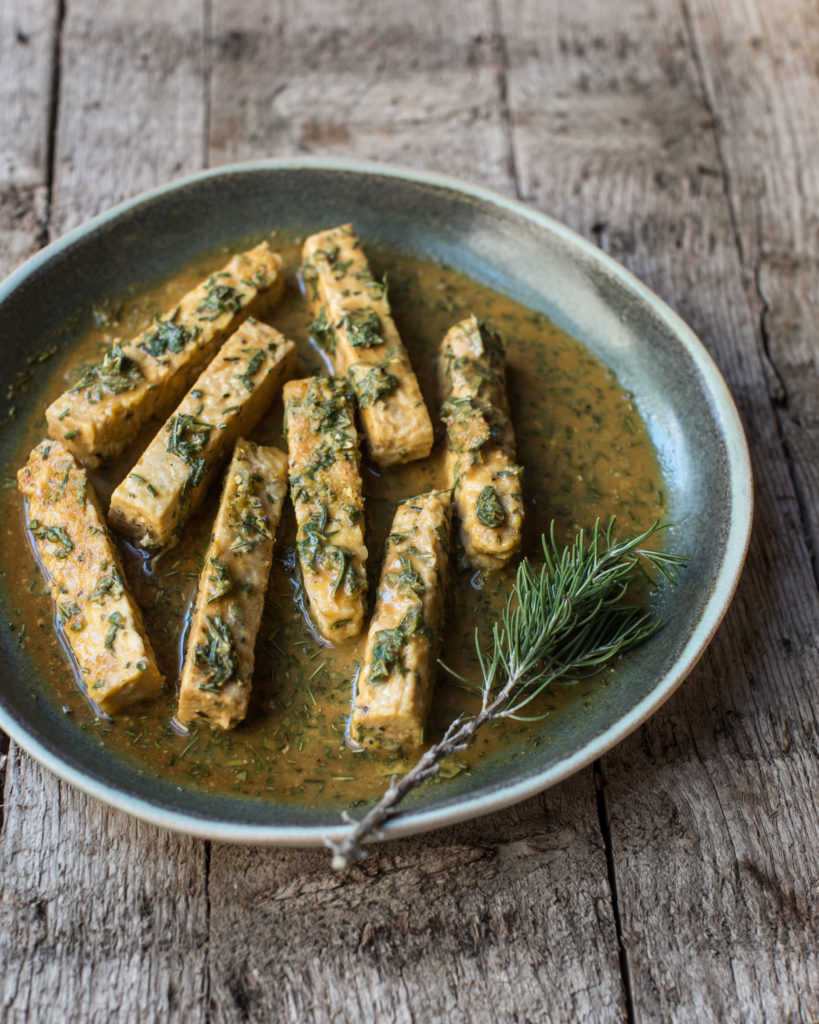 One key step I have learned thus far with all of my grilling endeavors is that you have to season the grill. What I mean is, you need to coat the grill grates with a good amount of oil and blast the heat all the way up before using. Let the grill go at high heat for a good 15 minutes. Then open the hood, release any smoke, and grease up again. Then you can grill what you like. Once done, clean off the grates with a brush and rub with oil again when done. Each time you use the grill and repeat this step, the grates will become easier and easier to cook on. Similar to a cast-iron skillet! The more use, the better.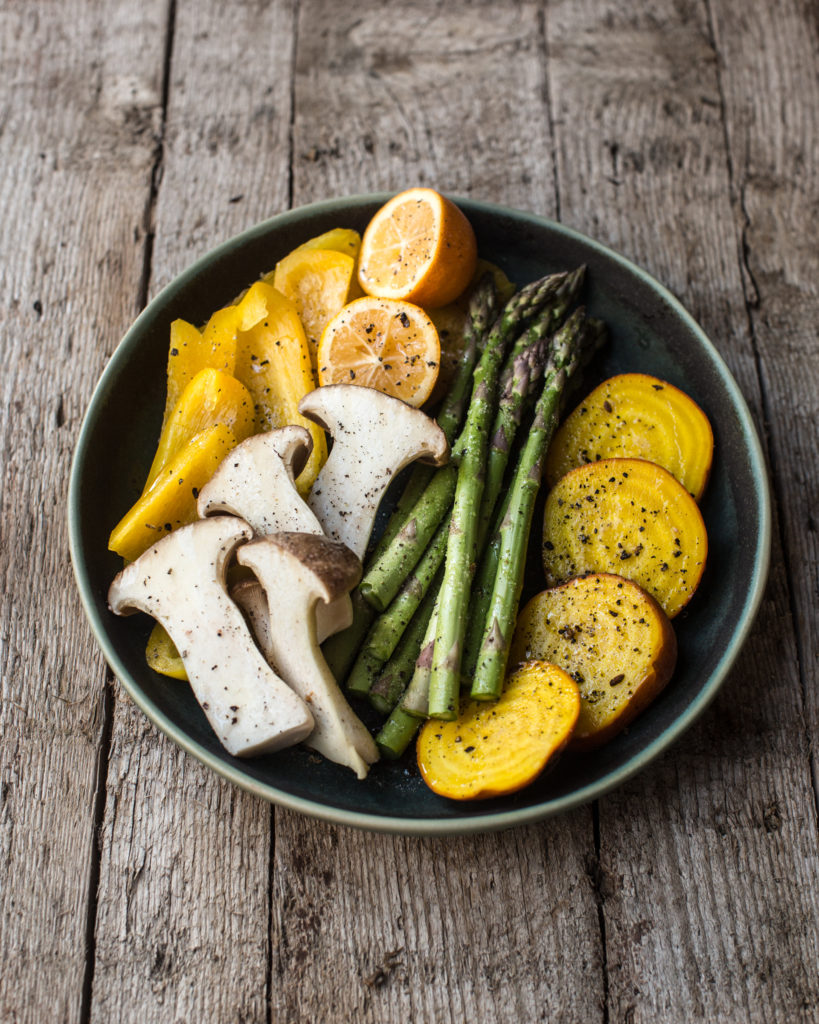 Here we have a glorious assortment of produce just begging to be grilled. Golden beets, buttery asparagus, juicy trumpet mushrooms, and halved Meyer lemons. When you grill the lemon until nicely charred and squeeze that over, well, anything. Just get ready for a treat. Bright, tangy and smoky makes for a killer combination.
To grill any vegetables, all you need to do is slice them into portion-sized pieces. Toss them generously with oil, salt, and pepper. For the grill, I like to use avocado oil as it works well with high heat. Then you place the veggies on the grill for a few minutes on each side until tender. Obviously, the asparagus and the peppers will cook faster than the beets and the mushrooms. Juicer veggies will cook faster. Starchier veggies, like beets and potatoes, will take longer. Just keep an eye on things and feel free to flip as often as you need. Because grills can reach higher temperatures, usually much faster than an oven or a stovetop, cooking time becomes quick and effective.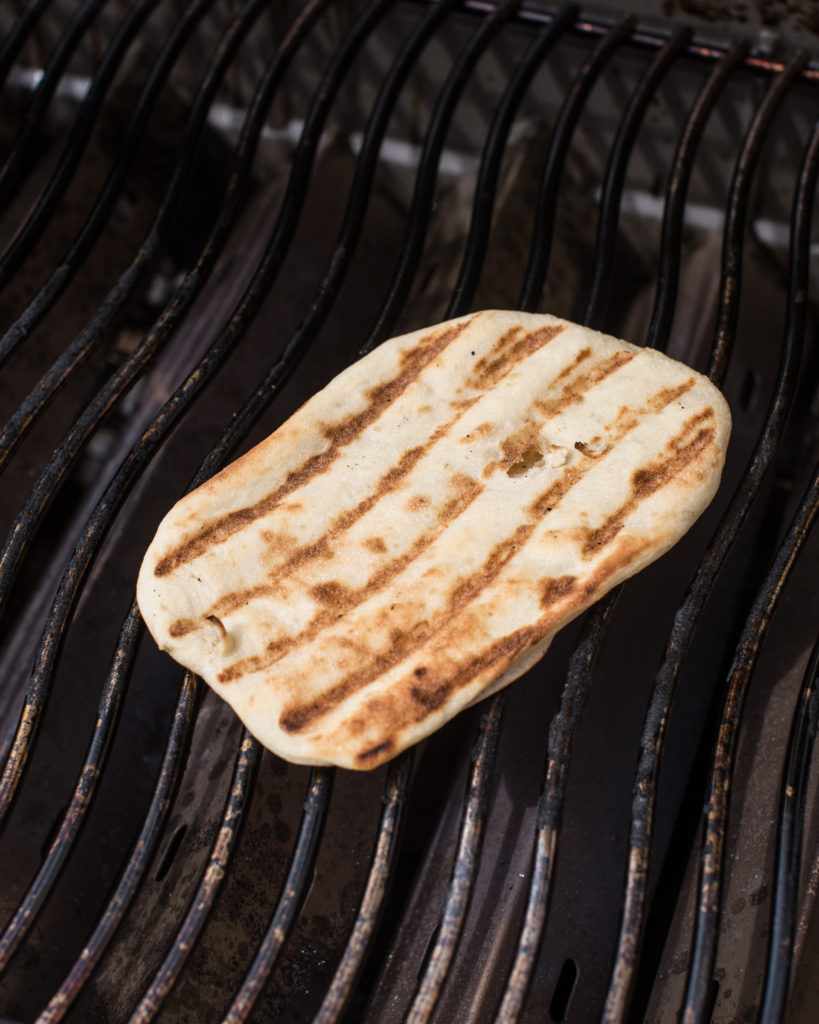 Next up, let's talk about bread. Did you know that you can make bread on a grill? It's true. Once the grill is heated up to around 500 degrees and greased properly, it becomes the perfect vehicle for making a killer flatbread. Which brings me to this super simple dough recipe. Mix up the dough, knead for a few minutes, let rise for an hour, shape and throw on the grill. It only takes a few minutes before the dough begins to puff up into pillowy goodness. Once flipped and grilled on the other side, you quickly will have a pile of steaming hot flatbread ready to be dressed.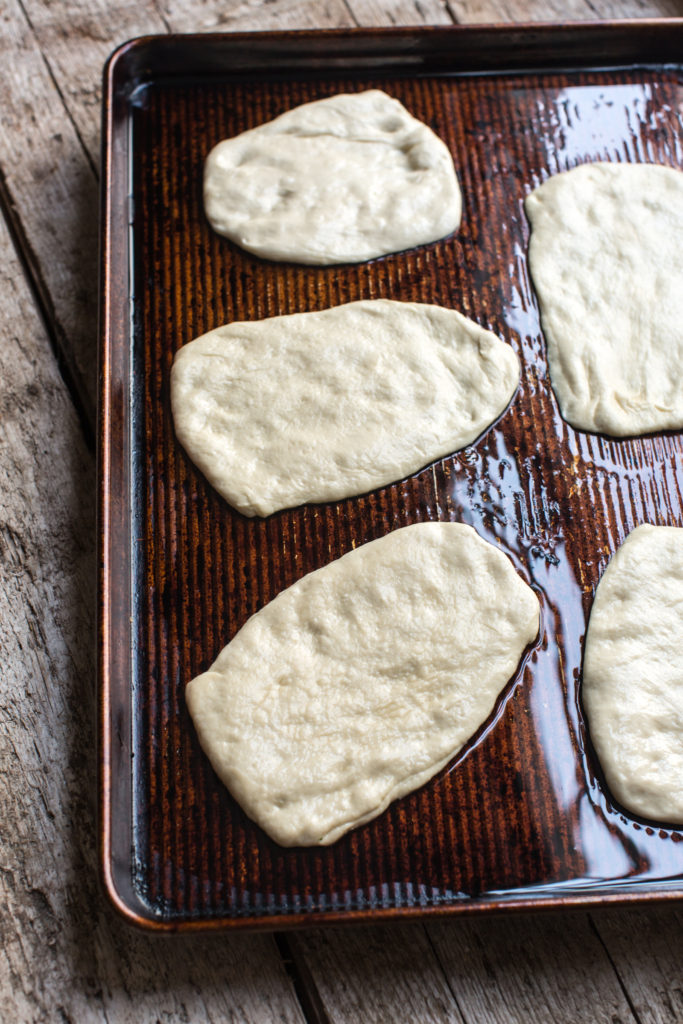 When shaping the dough, instead of using flour, I simply greased up my hands with avocado oil and rubbed some on my cutting board. This makes it easy to shape the dough into an oval-shaped serving size. Transferring the dough to a greased baking sheet makes it easy to bring out to the grill, not to mention because they're all slicked up, they don't stick as easily. Now if you don't feel like making homemade dough, you could certainly use the store-bought pizza dough. It will work just as well.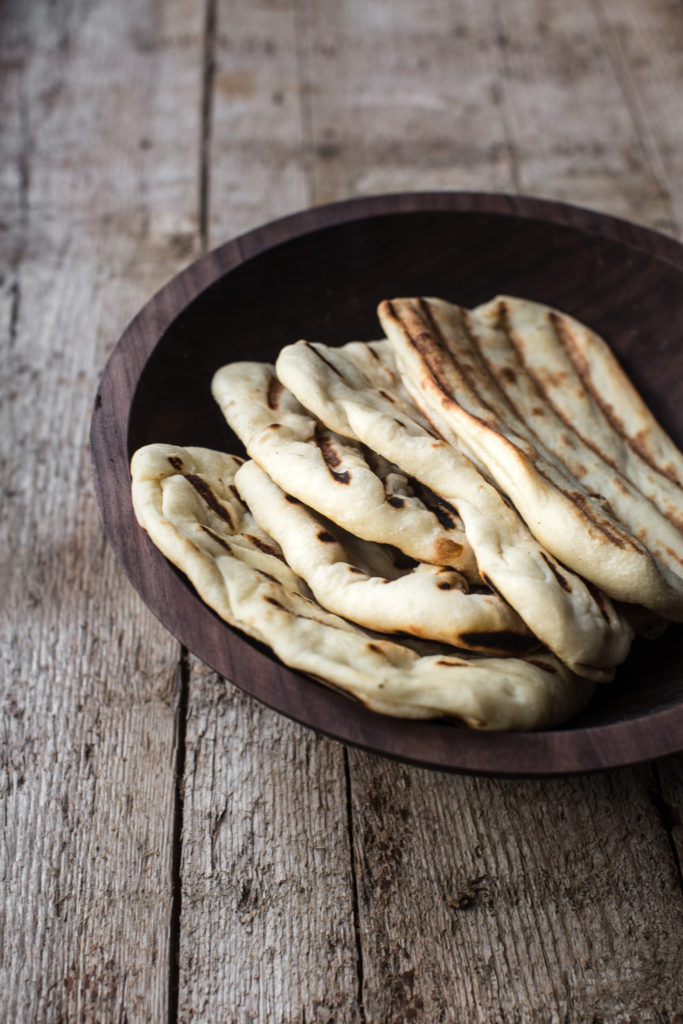 For this recipe, there is a bit of multi-tasking happening because you will cook the tempeh and the flatbread at the same time. If this scares you, feel free to cook the tempeh skillet first and then the flatbread. But once you place the skillet on the grill, it really just does its thing. You can open and close the grill as needed and the skillet will retain heat and continue to cook the marinade down just fine. While this is happening, it's basically the perfect time to grill the flatbread. Since this only takes a few minutes, any additional vegetables you'd liked to have with supper can be grilled as well!

If you've never grilled before, this might seem overwhelming. But don't worry! After you grill something once or twice, you'll really get the hang of it and it will be easy breezy. Just remember to stay close to the grill and keep an eye on everything. If something looks like it might be done (or burning), remove it! You can always bring it back on to cook some more if need be.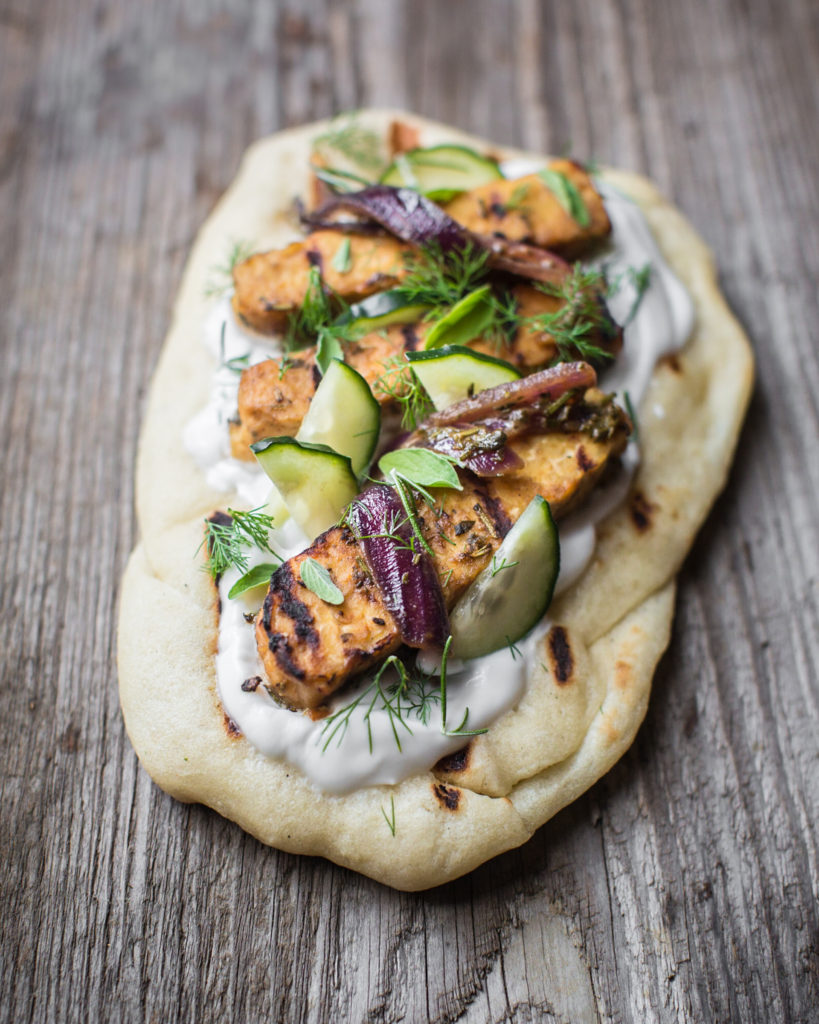 Once the flatbread, tempeh, and onions are done- it's time to assemble. First, there's a thick layer of tangy coconut yogurt that provides a cool and refreshing texture to contrast the charred tempeh and provide some moisture to each bite. Next up, we have the tempeh and caramelized onions, followed by a small handful of thinly sliced cucumbers and a sprinkling of fresh herbs. A final squeeze of lime juice and a sprinkling of Maldon salt take the flatbread recipe over the top. Filling, refreshing, and incredibly satisfying.
I hope that you enjoy this grilled rosemary tempeh flatbread recipe! Please let me know if you have any questions in the comments below and, if you make it, be sure to take a picture and tag me on Instagram. Big thanks to Napoleon for sponsoring this blog post and making such an amazing grill. You can learn more about Napoleon and their awesome products here.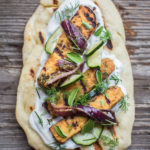 Ingredients
Flatbread Dough (makes 6 flatbreads)

1 teaspoon dry active yeast
1 cup warm water 
1 ½ tablespoons agave or maple syrup
½ teaspoon salt 
2 tablespoons olive oil
2 ½ cups all-purpose flour 

Rosemary Tempeh 

4 tablespoons chopped rosemary (must be fresh)
4 tablespoons chopped oregano (must be fresh)
3 tablespoons nutritional yeast 
6 tablespoons rice vinegar (¼ cup)
4 tablespoons dijon mustard 
3 tablespoons agave or maple syrup 
4 tablespoons tamari or soy sauce 
3 tablespoons olive oil 
1 teaspoon salt
Black pepper, to taste 
1 ½ cups water 
2 packs plain tempeh (16 oz each = 32 oz total), cut into 16 batons (long rectangles)
1 small red onion, sliced 

Toppings 

2 cups thick, plain coconut yogurt
2 large limes, sliced to be squeezed 
1 large cucumber, halved lengthwise and thinly sliced 
Freshly chopped dill, to garnish 
Freshly chopped oregano, to garnish 
Maldon salt or sea salt + black pepper, to finish
Instructions
To make the dough, in a large mixing bowl add the yeast, water, and agave. Whisk together and let sit for a few minutes. You'll see some bubbling activity which means the yeast is ready to go. Add the salt and olive oil and whisk one more time. Next, add the flour. Using a mixing spoon, stir for a minute or two, until well combined.
Dust a cutting board or clean surface with a sprinkling of flour and transfer the dough. Knead the dough for about 5 minutes, until the texture becomes smooth and elastic. Initially, the dough might be sticky, so you can use a bench scraper to help you release it if need be. Mound into a ball and transfer to a clean, greased bowl. Rotate the dough around so that it is lightly coated all around. Cover with a towel or plastic wrap and set in a warm spot. Let sit for about 1 hour or until doubled in size.
When ready to grill, rub a cutting board or clean surface with vegetable oil to prevent sticking. Transfer the dough and cut into 6 even pieces. Using your fingers, press each piece into a large oval shape, about 6 inches long and 4 inches wide. Transfer to a greased baking sheet. 
For the tempeh, combine the rosemary, oregano, nutritional yeast, rice vinegar, dijon mustard, agave or maple syrup, tamari or soy sauce, olive oil, salt, black pepper and water to a large cast-iron skillet. Mix well.  Add the tempeh and red onions and gently mix. Set aside and get the grill ready!
To prepare the grill, fill a small bowl with vegetable oil and crumple up a paper towel in a ball. Dunk the paper towel into the bowl and using long tongs, rub the paper towel all over the grill grates. Turn the heat on high and get the temperature to about 600 degrees F. Before grilling, open the lid and rub the oily paper towel over the grill grates once more, in particular where the bread is going to be grilled. 
Place the cast iron skillet on one side of the grill and let it cook for about 15 to 20 minutes, mixing with some tongs every so often. Use a sprig of rosemary to glaze each piece with marinade. Once the liquid has evaporated and becomes sticky, the tempeh batons are done. At this point, you can serve as is or transfer directly to the grill to get some charred lines. Just make sure to grease the grill grates thoroughly before doing so to prevent sticking.
 While the skillet tempeh and onions are cooking, start making the flatbread. Make sure the grill has been closed and the temperature is closer to 500 degrees F. Open the lid and throw on 3 flatbreads. Close the lid and cook for 1 minute. Open the lid and, using a long spatula or tongs, check the bottom of the bread. If you'd like the charring to be darker, keep it on longer, 20-30 seconds. Flip and close the lid. Cook for an additional minute. Open the lid and check. Once again, if you'd like it to be more charred, continue to cook a little bit longer. Make sure not to overcook the bread as it will get hard! You want it to be soft. Transfer to a platter and cover with a clean towel until ready to plate. Repeat this step with the remaining dough. 
Once the bread and tempeh are done, it's time to assemble the flatbreads. Spread a thick coat of yogurt on each piece of bread. Add the tempeh and onions. Next, add the sliced cucumber and fresh herbs. Don't skimp on the herbs! They really make the dish. Squeeze fresh lime juice over top and sprinkle with salt and pepper to finish. Enjoy!
notes
If you don't have a large cast-iron skillet, you can bake the tempeh in a baking dish or dutch oven. Once all mixed, cover and bake for 30 minutes at 375 degrees F. Remove lid, mix, and bake for an additional 20 minutes, or until the liquid has evaporated.

If serving at a BBQ, lay all the toppings out like a buffet and let people plate themselves!

I highly recommend cooking up some vegetables on the grill to be served on the side of this dish, just like the ones I mentioned earlier in the post. 🙂