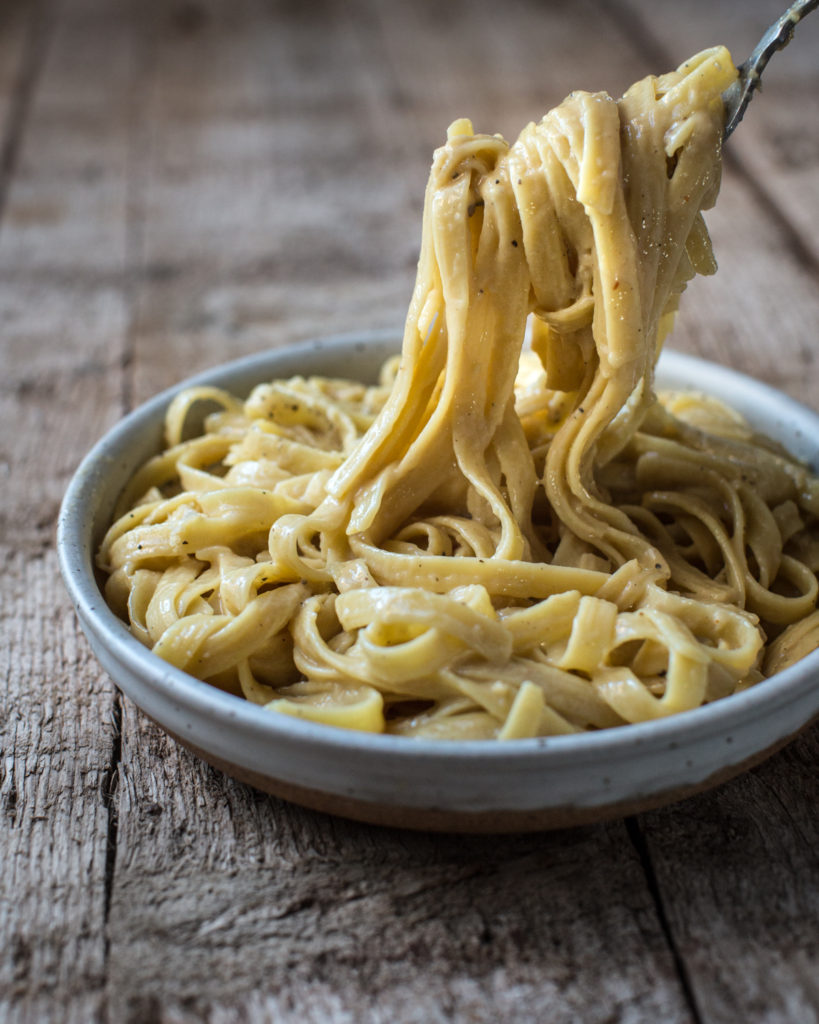 Do you ever crave noodles? Just a big piping hot bowl of 'em? Yeah, me too. Of course, not every night. I like to change things up as much as possible. Variation is key if you ask me. But I do find myself reaching for some kind of noodles about once or twice a week. I especially like a noodle dish that comes together quickly but also lands high on the comfort food scale. That's where this dish comes in: creamy, cheesy, savory, and just plain decadent- Fettuccine Alfredo. Done my way.
From my personal research, I have found that traditionally there aren't too many ingredients in this classic Fettuccine Alfredo dish: pasta, pasta water, butter, and parmesan cheese, maybe some black pepper. Considering I grew up eating Lean Cuisine's attempt of this recipe and I never had an authentic version before I went vegan, I wouldn't say I'm an expert but you can't tell me what to do so here we are.
Now, I must admit, when I was creating this Fettuccine Alfredo recipe, I did have one main concern. Although vegan cheese has come a long way and there are many fantastic products on the market, we still don't have a product that can replicate the pungent, intricate flavor of parmesan. At least, not enough to be the backbone of the dish like it is with this traditional recipe. But considering the creation of Parmesan Regiano was in the 1200's- I'd say it's fair to offer the vegan cheese scene a little bit more time to catch up with recreating that funky flavor. I do think we'll get there, it just might take a minute…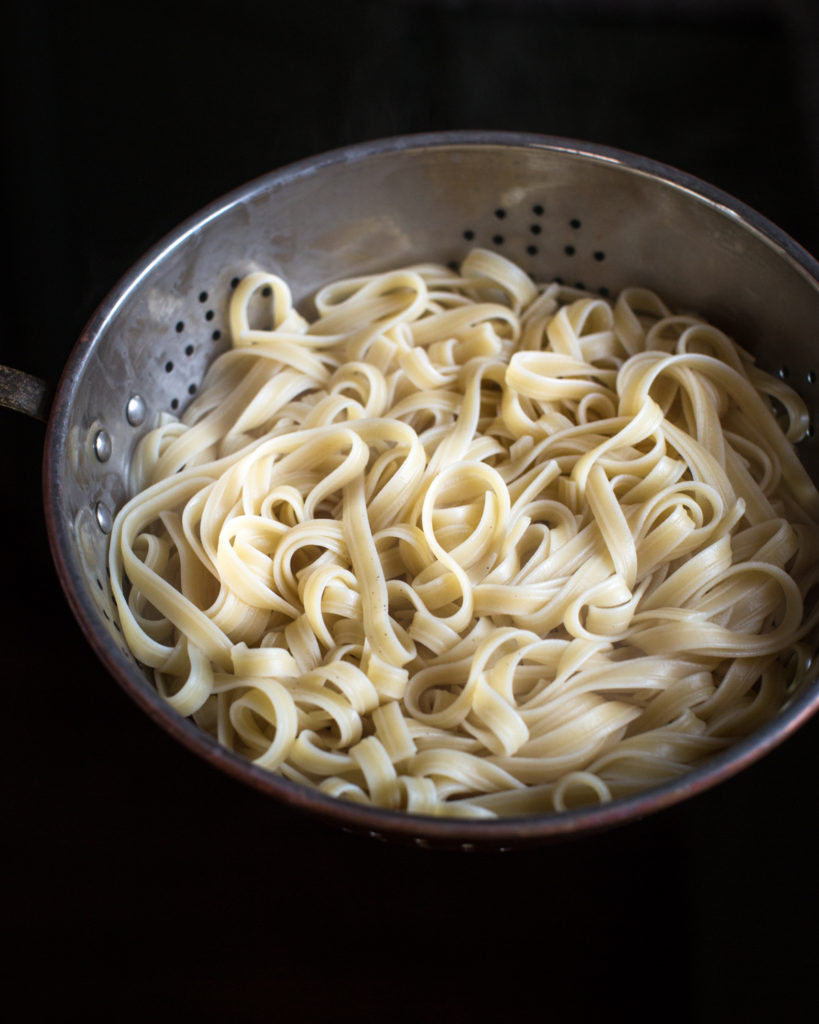 Not to fret though! Because in this recipe, we're going to use a fantastic combination of ingredients that delivers everything we are looking for: nutty, cheesy, and creamy umami richness. This is done by starting out with a stick of butter (don't roll your eyes at me, this feeds 4 people- if you want to eat fat-free, go munch on some celery). For this, I'm using Country Crock Plant Butter. It already comes in stick form, melts beautifully, and it offers that buttery richness we're looking for.
For the cheese, we are going to use some vegan mature cheddar (I love the VioLife brand) but we're going to turn up the volume with a few more heavy hitters: nutritional yeast, mellow white miso, garlic, and nutmeg. All of these combined with some creamy oat milk and a few cracks of black pepper (and some red pepper flakes) create a strong depth of flavor that's so good, no one will care if it's vegan. Pasta water helps to loosen the noodles while also creating a beautiful saucy texture. To provide a hit of acidity, a splash of rice vinegar at the end truly rounds out the whole dish.
A few notes to remember: this recipe comes together very quickly. I would recommend having all of the ingredients ready to go so you are not fumbling around. When filling the pot with water, remember we need starchy pasta water to help make the sauce. Therefore, only cover the noodles with about 2 inches of water. (Basically, don't fill the pot up with more water than needed!) When the pasta is close to being done, want to start to make the sauce. Then you will transfer the noodles to the sauce and add some pasta water to help loosen everything up. All in all, everything comes together in about 20 minutes and supper is ready. Not to mention, all of your worries will disappear (at least while you're eating it…). Enjoy!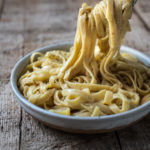 Ingredients
1 (16 oz) box fettuccine noodles 
Salt + water, for pasta 
1 stick Country Crock Plant Butter
1 clove garlic, minced
½ teaspoon black pepper + more to taste
½ teaspoon crushed red pepper flakes
⅛ teaspoon nutmeg, grated
½ cup unflavored oat milk
2 cups pasta water, from reserved pot water
1 tablespoon mellow white miso (or chickpea miso)
½ cup nutritional yeast
1 tablespoon flour
1 cup vegan mature white cheddar (VioLife brand*), shredded
1 tablespoon rice vinegar 

Instructions
Bring a large pot of heavily salted water to a boil and add pasta. (You'll want to cover the noodles with about 2 inches of water.)
When the noodles are halfway done (about 4 minutes), start making the sauce. Melt butter in a large pan. Add in minced garlic, black pepper, crushed red pepper flakes, nutmeg, oat milk, 1 ½ cups pasta water (straight from the pot), miso paste, nutritional yeast and flour. Whisk together on medium-high and then lower to a simmer.
Once the noodles are al-dente (about 7-8 minutes), do not strain them. Instead, simply transfer the cooked noodles into the pan and set aside the pot of pasta water. Thoroughly stir to coat noodles with sauce.
Once the sauce has thickened, finish with additional cracked pepper, shredded mature cheddar cheese, and rice vinegar. Gently toss until the cheese has melted. If sauce becomes too thick, add some additional pasta water and mix. Continue until desired consistency is achieved. Season with additional salt to taste and serve immediately.
notes
For an extra special treat, drizzle with white truffle oil right before eating. Oh my!

To make this a full meal, you could serve this dish with some sauteed greens (spinach or kale would be lovely), roasted broccoli or carrots, toasted garlic bread, or a simple side salad.

For the cheese, I like to use VioLife's Mature White Cheddar, which is sold as a block and shreds beautifully. Second best, you could use the mature cheddar slices (which are also white) and just finely slice them. If you can't find any kind of VioLife white cheeses, the last resort is using whatever favorite white vegan cheese that you have access to, like shredded mozarella style.
This post is sponsored by Country Crock® Plant Butter.
All opinions and recipes are my own.