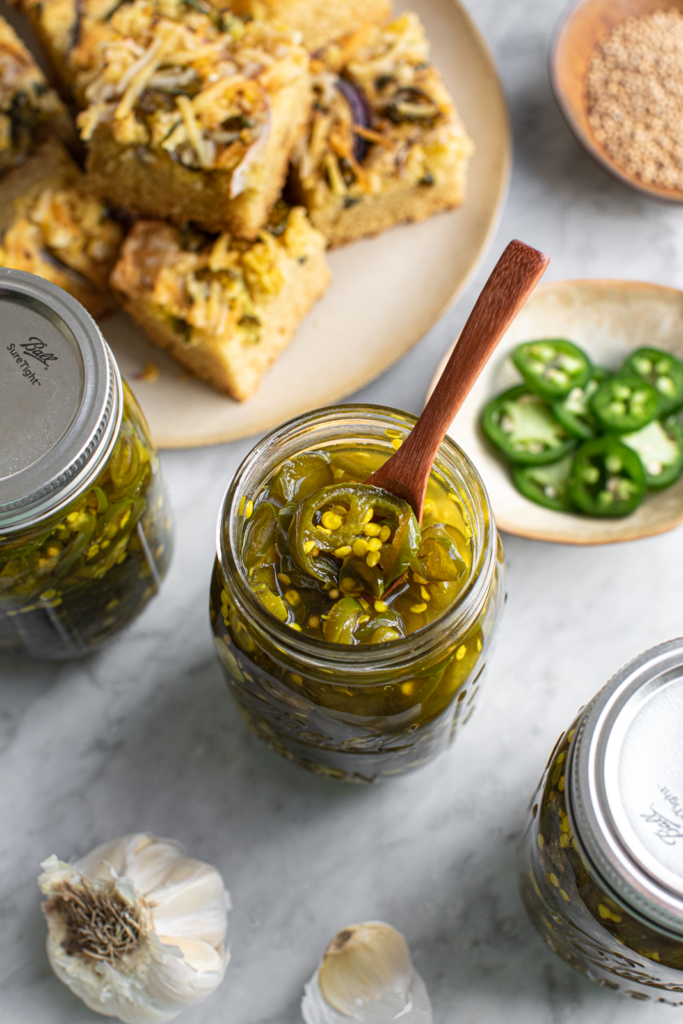 Hey y'all! Today I am going to show you how to make these delicious Candied Jalapeños! They offer the perfect amount of sweetness, a lovely punch of heat, and they are so easy to make. Also known as Cowboy Candy (lol), these sweet and tangy jalapeños are a fantastic condiment to serve on top of an assortment of foods like nachos, hot dogs, chili, or my favorite, cornbread.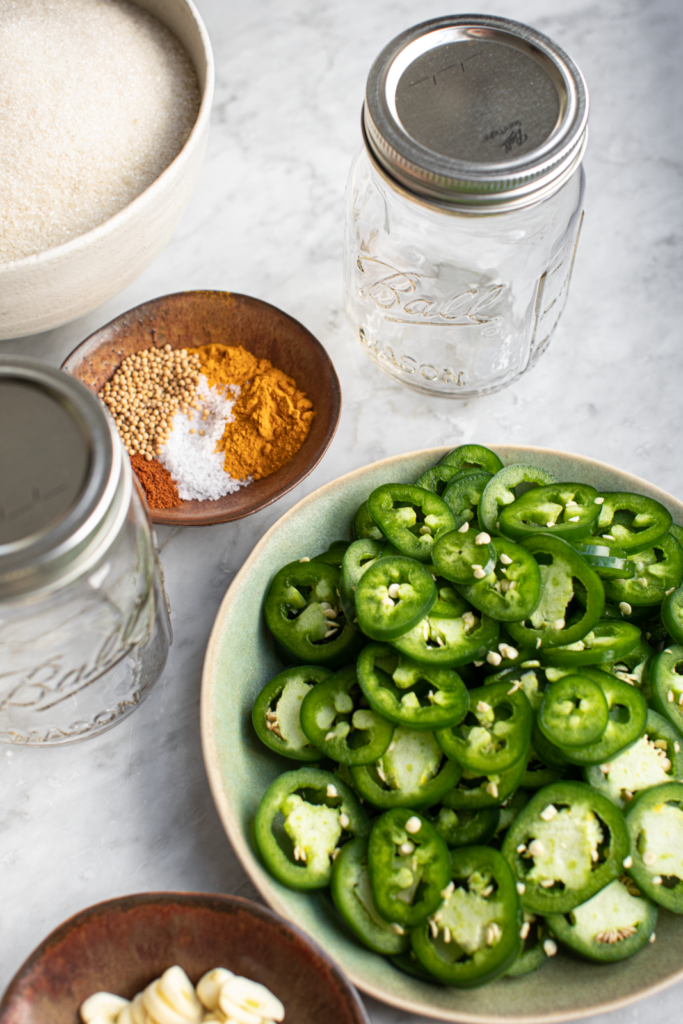 Before we dive in to the recipe, I'm excited to share that today's blog post is sponsored by the makers of Ball® home canning products, one of favorite companies! I have been using their products in my kitchen and home for as long as I can remember and I am honored to be partnering up with them to showcase some of their very own recipes this year, starting with these Candied Jalapeños. Today I will be using Ball® Pint Jars (16 oz), in addition to their fresh preserving starter kit, to get the job done. Here are links to everything you will need to get to canning, including a helpful guide and some informative videos about the process to reference:
Ball® Mason Jars & Lids, Regular Mouth
The process for these candied peppers is super straight-forward and simple so if you are new to canning, this would be a great place to start. This is also the perfect recipe to make when you have an abundance of jalapeños from the garden. I can attest, once you have a happy and established pepper plant, they can be heavy producers. This recipe is a great way to preserve them so you can enjoy them all year long and also gift them to friends and family.
To start, you will need to get your hands on 4 pounds of fresh jalapeños. Now I know what you might be thinking, 4 pounds!! That's a lot! Well, it is. But you will be amazed at how much they will reduce in size once cooked with the pickling brine. This brine is predominately vinegar and sugar seasoned with garlic, turmeric, salt, cayenne pepper, and mustard seeds.
To start, you will combine all of the brine ingredients into a large pot over high heat. You'll want to keep stirring this mixture with a wooden spoon to make sure the sugar dissolves. Once to a boil, it's time to add the jalapeños, reduce the heat, and simmer for 15 minutes. Once the sliced jalapeños are cooked down and soft, you are ready to can!
When water bath canning, you want to make sure you have everything prepped and ready. The jars and lids need to be sanitized and cleaned and you want to make sure that you do not overfill the jars and also do not twist the lids on too tightly. Once again, here are some great videos by the makers of Ball® home canning to help you.
As you see here, the ground turmeric offers a gorgeous yellow hue to the finished product, while the garlic and mustard seeds add some extra flavor that pairs nicely with the spicy sweetness. Depending on your batch of peppers, the spiciness level will vary. But don't be too worried as the sweetness from the sugar and the cooking process will definitely tone down the heat.
This recipe will fill up 4 jars with a little bit left over to enjoy immediately. I decided to use these to add on top of some fully loaded cornbread and I was not disappointed. They baked beautifully while offering a pop of color and flavor. I also added sliced red onion, fresh corn, vegan shredded cheese, freshly cracked black pepper, and smoked flaky salt to the batter. I definitely recommend trying this combo with your favorite cornbread recipe!
Well, that concludes the recipe for today. I'm so happy to have you join me, and here's a big thanks to the makers of Ball® home canning products for teaming up with me on the post. If you have any questions or you give this recipe a go, let me know in the comments below. Happy canning!
-Timothy
Ingredients
3 cups vinegar (ACV or white)
2 teaspoons salt
4 cups sugar
6 cloves garlic, sliced
2 teaspoons ground turmeric
½ teaspoon ground cayenne pepper
2 teaspoons mustard seeds
4 pounds jalapeños, sliced into ¼ inch rings
Instructions
Prepare boiling water canner. Heat jars in simmering water until ready to use, do not boil. Wash lids in warm soapy water and set aside with bands.
*Disclosure: This is a sponsored post that is part of an ongoing partnership with the Fresh Preserving Division of Newell Brands. They have provided jars, equipment and monetary compensation. All thoughts and opinions expressed remain my own.