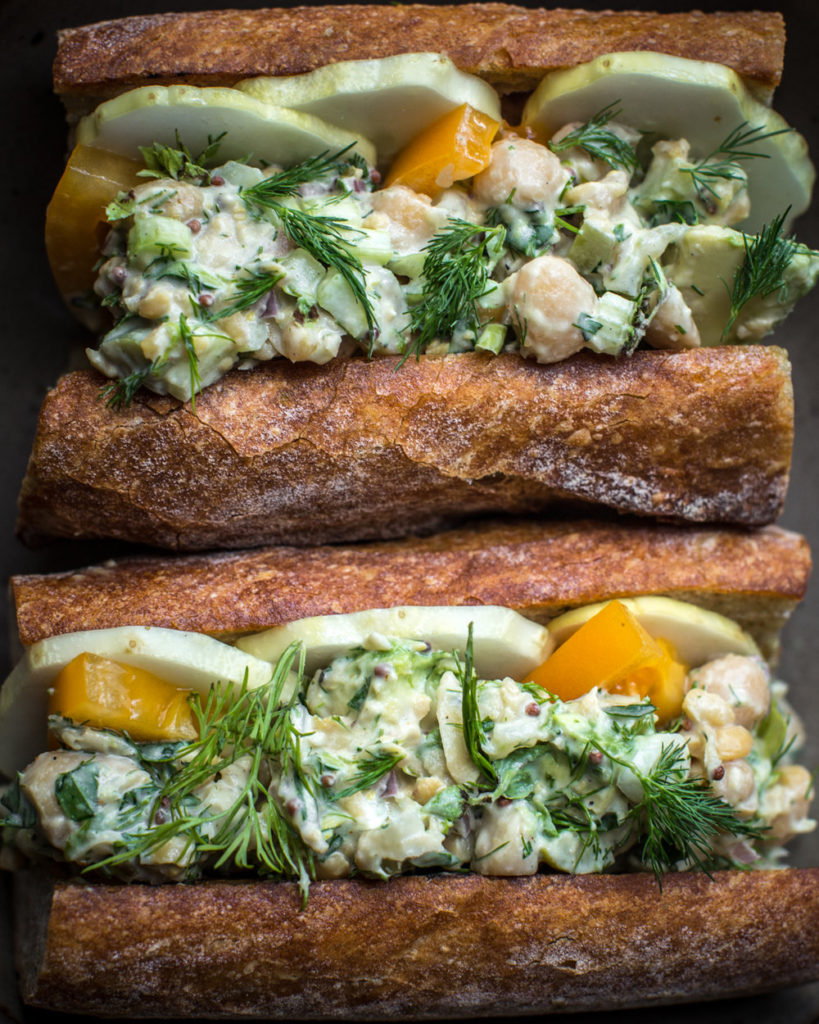 How epic does that sandwich look. Not trying to toot my own horn here but damn, that looks good. And instead of making you jelly cakes, I'd rather share this recipe with all of you so that you too can enjoy some deliciousness: Chickpea Avocado Salad.
What's funny is I have been hearing about a 'veganized' tuna salad for ages now. The idea is to use chickpeas instead of canned tuna and then the same ingredients you would normally use. Think fresh dill, mayo, mustard, maybe some pickles? There are loads and loads of variations out there.
What happened on my end, though, is the salad took a very 'foodie' direction. Sure I could have stopped at just the basics, but my mind doesn't do that most of the time. Instead, I couldn't help but think 'How can I push the recipe to its maximum potential?'.
For instance- buttery Castelvetrano olives. Yes. Ridiculously crunchy, roasted Marcona almonds? Please. And maybe a little bit more diced celery than others would use? OK. For the fresh herbs, just using dill would work just fine but wouldn't the combination of both fresh dill, fresh parsley, AND freshly sliced green onions, be amazing? 100%. What really takes this salad over the top is chunks of ripe avocado. Drops mic.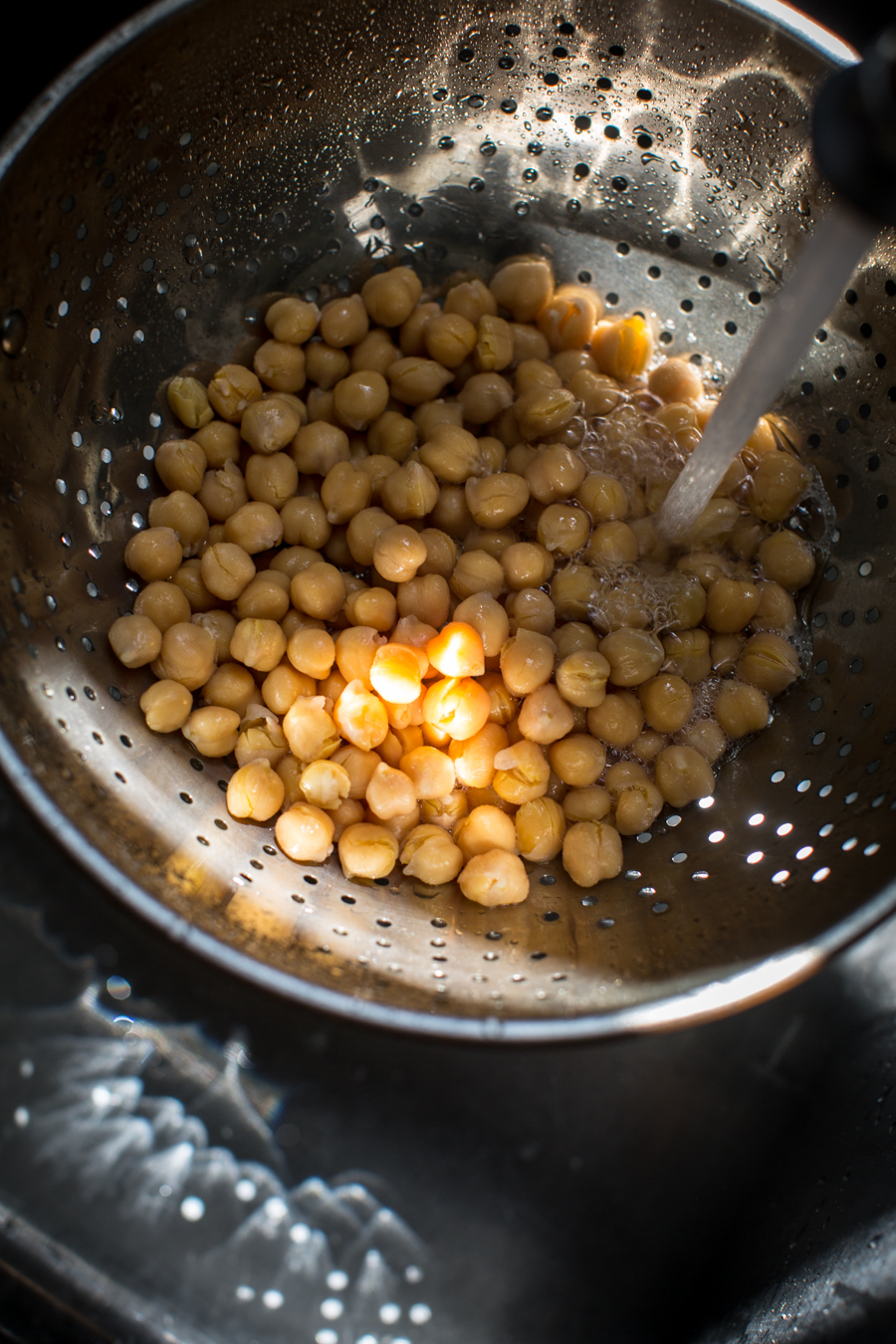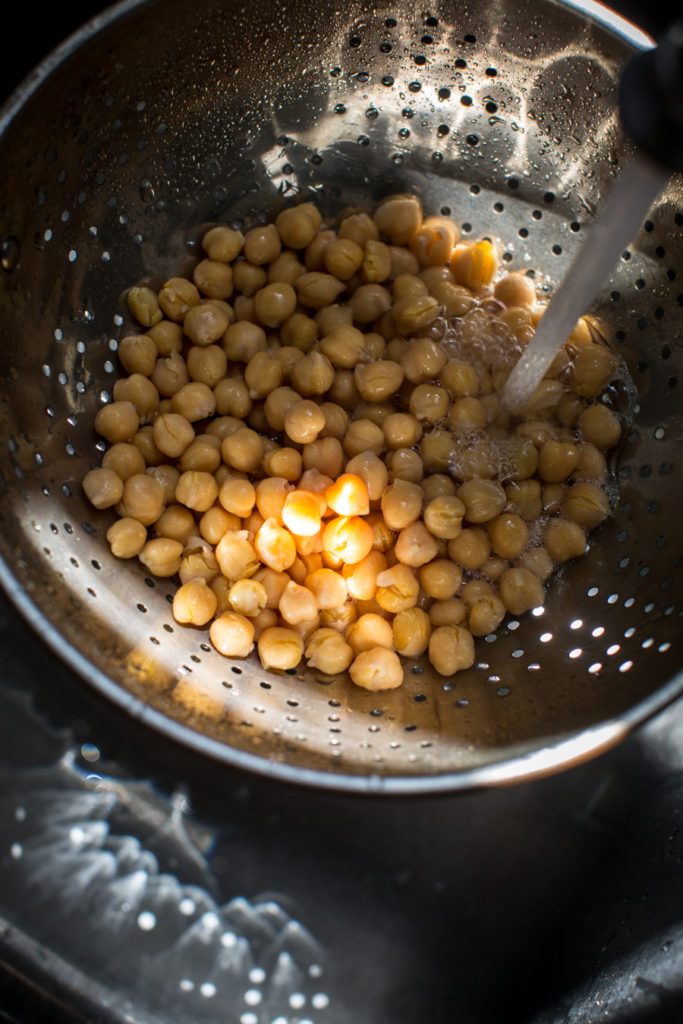 When it comes to garlic you can get two major flavor profiles: once cooked, garlic becomes toasty, earthy, rich and sweet while also being beautifully mild and pleasant. Raw garlic on the other hand can be super intense with a spicy kick. So what's a girl to do when you want that intense hit without it being jarring? Smash it.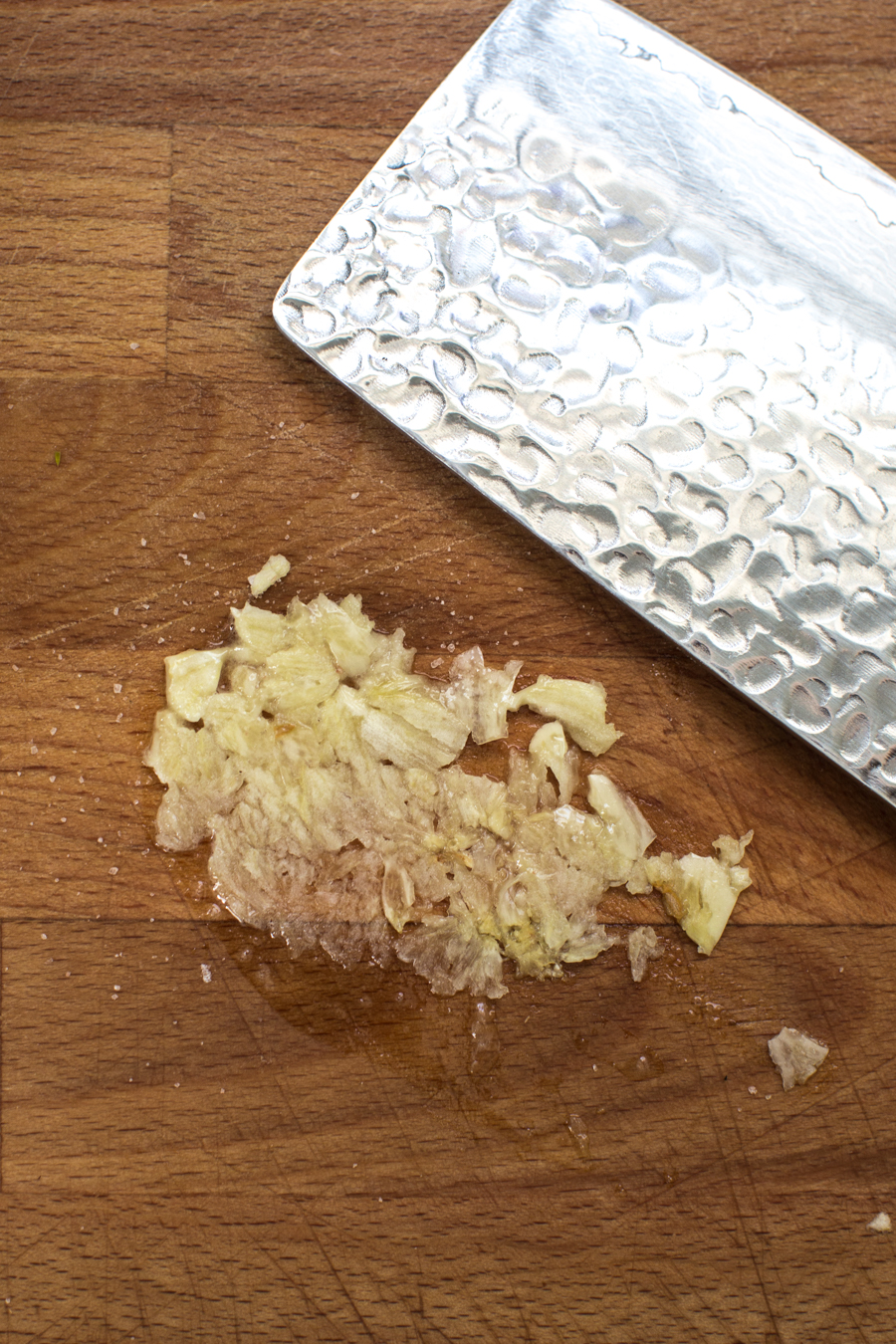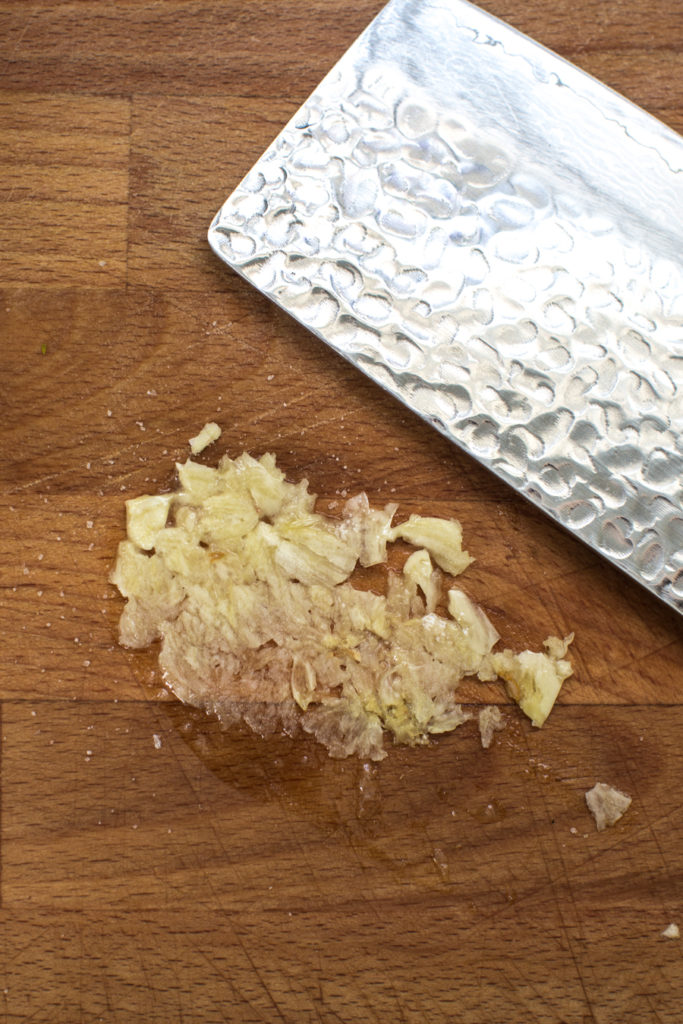 That's right, you heard me, smash it! By using the side of your knife (and a sprinkle of sea salt) you can mash, chop, mash, chop until you are left with a garlic paste. This potent mixture is pure gold as it will easily meld into the recipe. And because the recipe only calls for a little bit, we get that amazing intensity garlic has to offer, without it taking over the whole party. Yay, no meltdowns!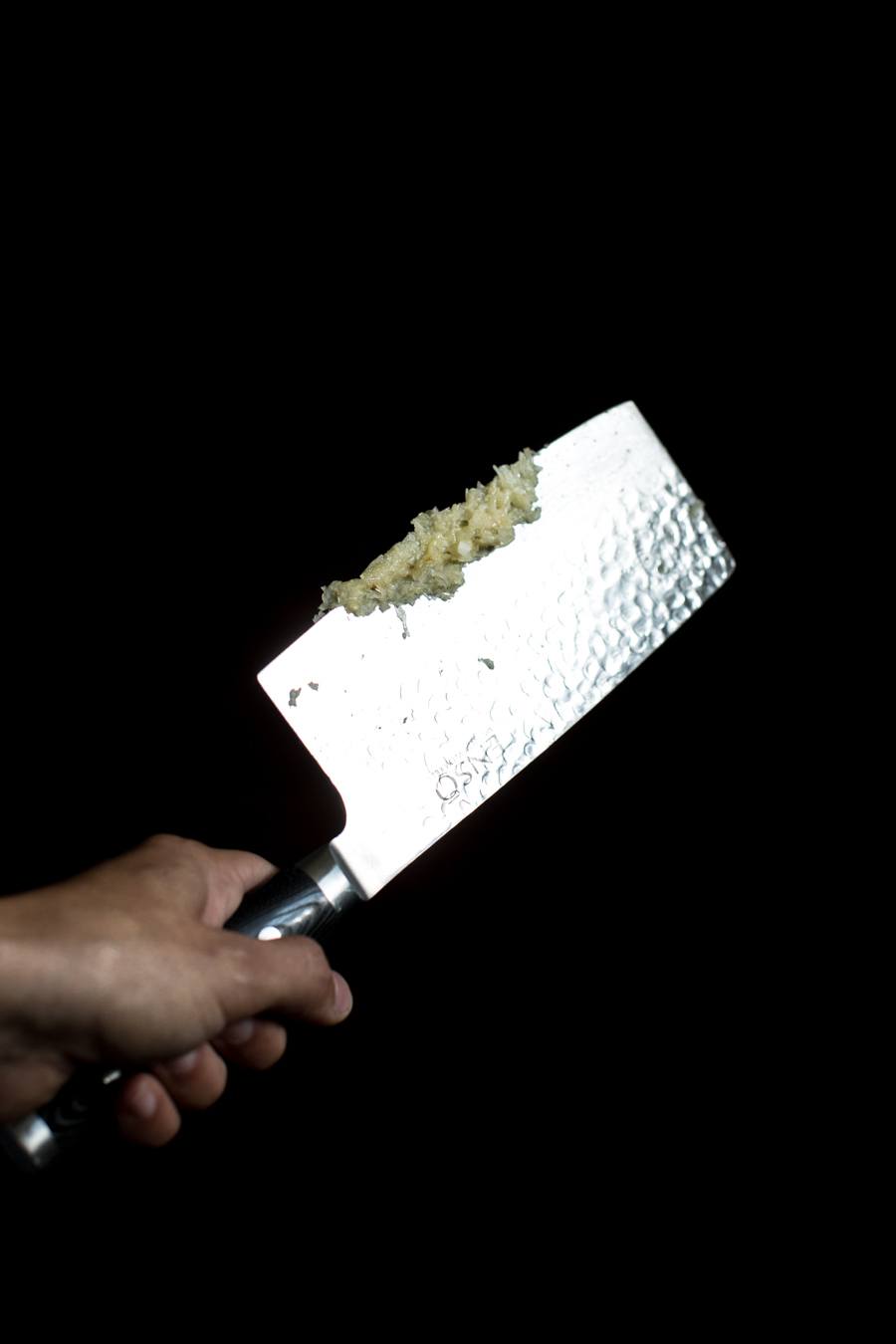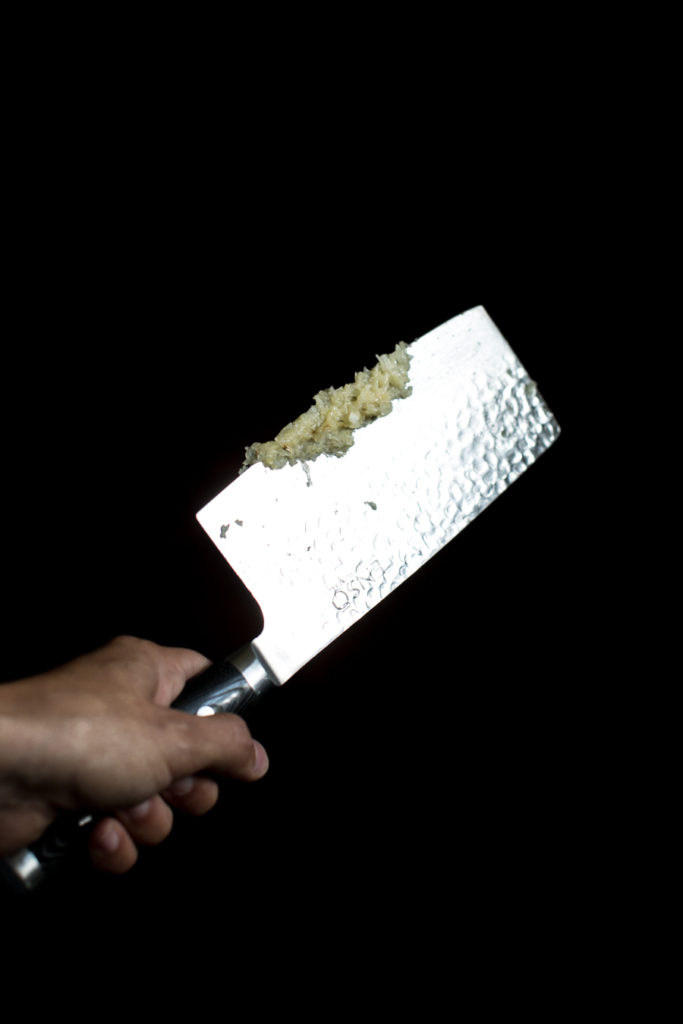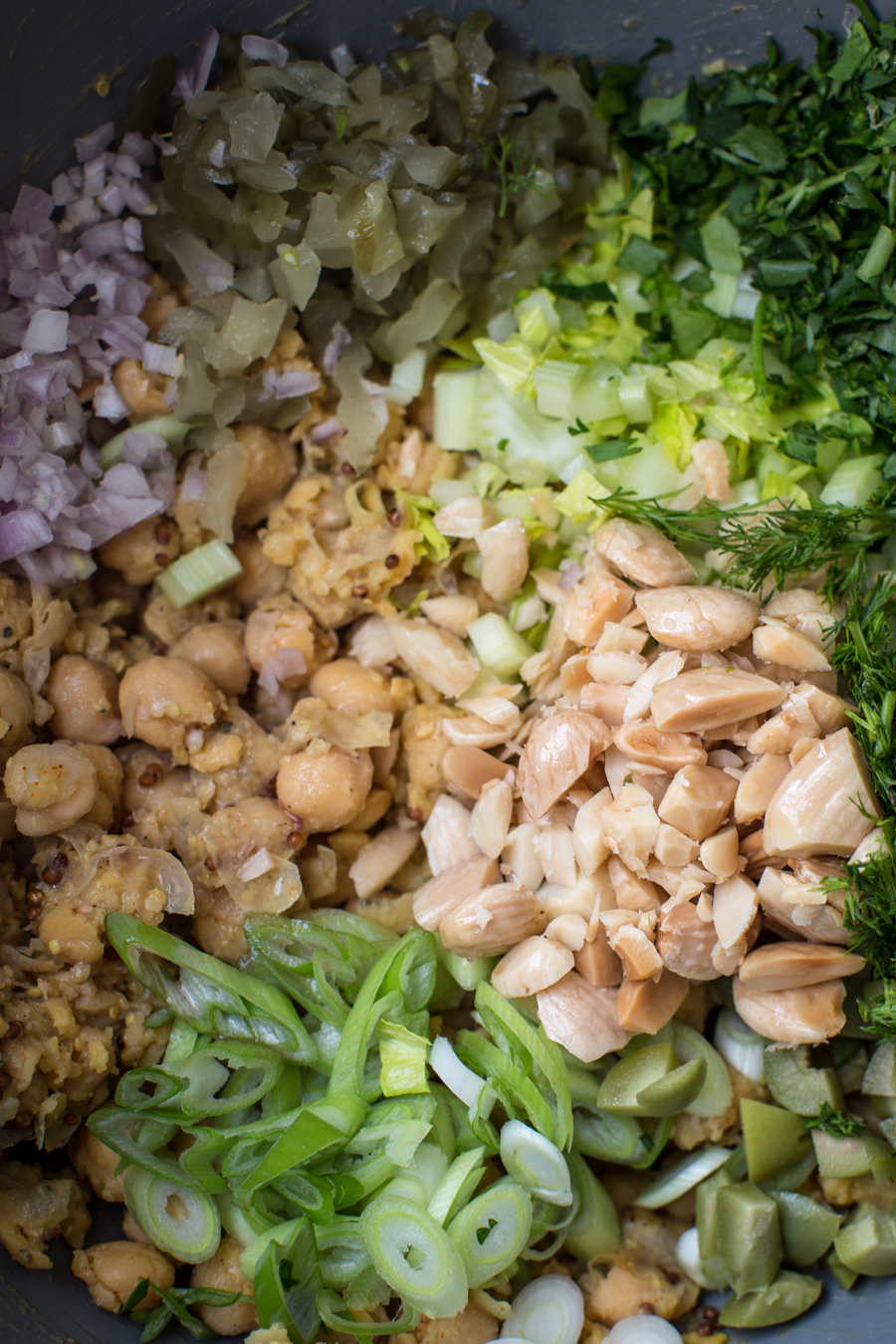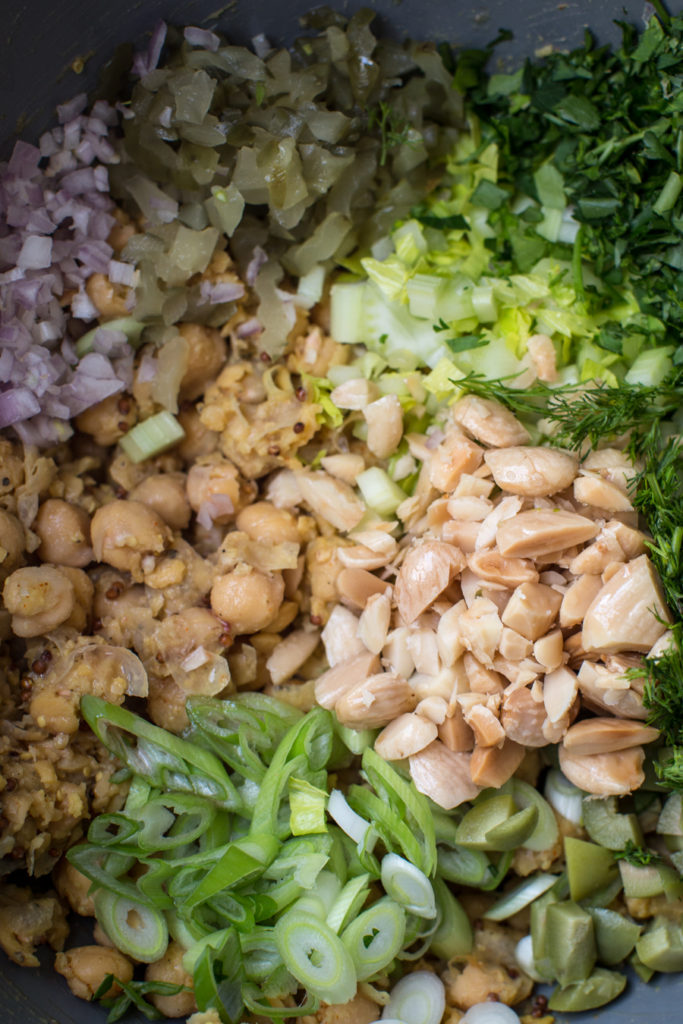 Did I say this recipe only requires one bowl? It's true. Basically, once you mash the chickpeas with your fork, you throw everything else in (except the avocado) and mix away. Once everything is coated with the dressing, gently fold in the avocado. I always reserve some fresh herbs for sprinkling on top because that's what I do. You should, too. :*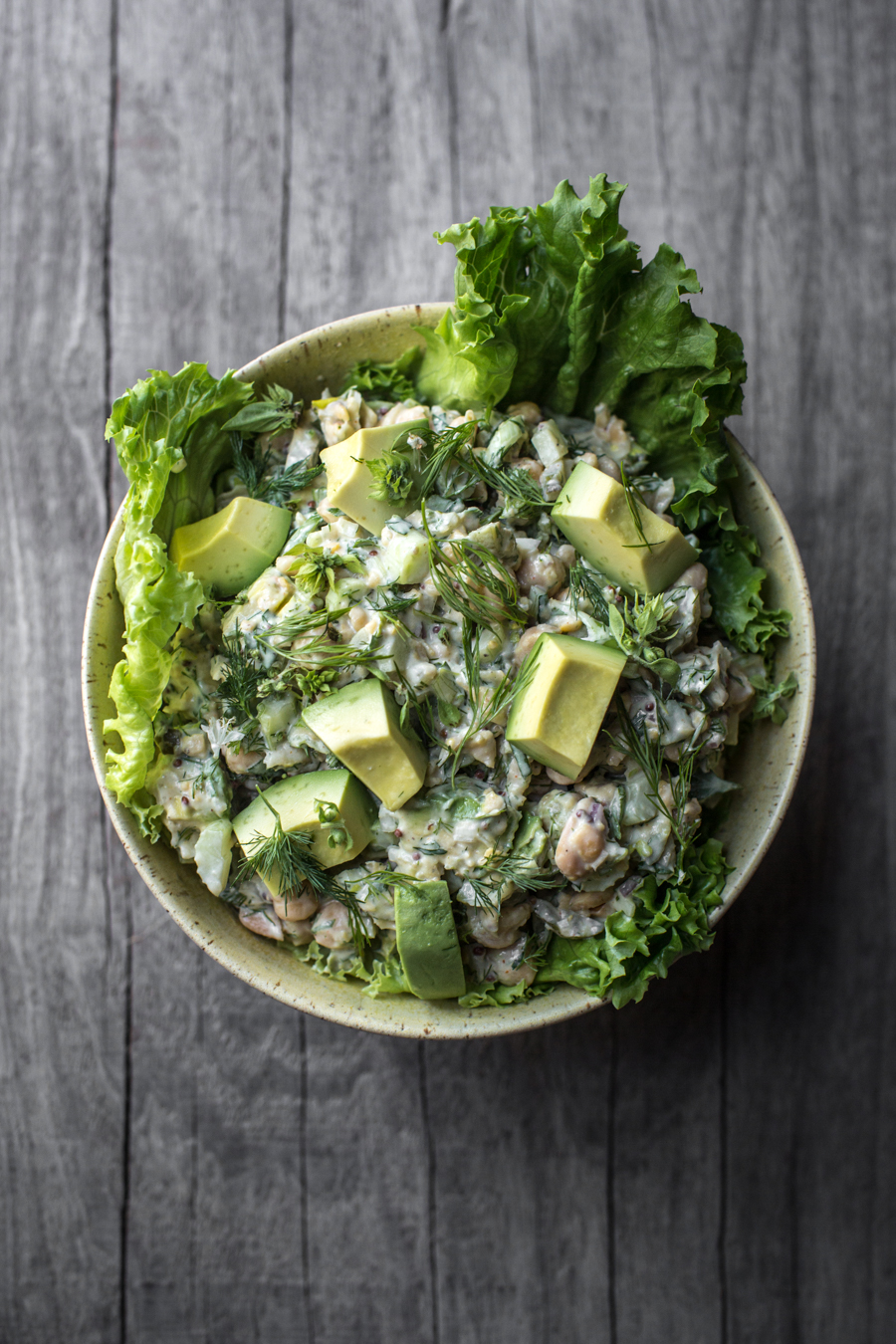 Shout out to Mrs. Judy, my old babysitter! We would always make tuna salad together. She taught me to add pickles and we would slather it on saltine crackers. Also, another big shout out to Westminster Academy, my elementary school. They would serve their tuna salad in a cup of lettuce like this. Looks pretty good to me! I guess you could say I'm old school.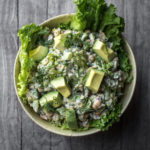 Ingredients
One 15.5 ounce can chickpeas, rinsed
½ teaspoon sea salt
½ teaspoon black pepper
1 tablespoon nutritional yeast
⅛ teaspoon cayenne
1 clove large garlic, smashed and chopped into a paste
½ cup diced celery
1 green onion stalk, chopped
2 tablespoon dill pickles, diced
3 tablespoons Castelvetrano olives, diced
¼ cup roasted salted Marcona almonds, roughly chopped
1 tablespoon minced shallot
¼ cup roughly chopped parsley, fresh not dried
¼ cup roughly chopped dill, fresh not dried
2 teaspoons red wine vinegar
2 teaspoons whole grain mustard
¼ cup vegan mayo
1 medium avocado, ripe and cut into chunks
Instructions
Open, drain and rinse canned chickpeas. Add to a medium-size mixing bowl. Then add salt, black pepper, nutritional yeast and cayenne. Using a fork, mash half of the chickpeas, leaving the other half whole.
Smash the garlic with the side of your kitchen knife. Sprinkle on some salt and continue to smash and chop until you are left with a paste. Transfer to bowl of chickpeas.
To the same bowl, add celery, green onions, pickles, olives, almonds, shallot, parsley, dill, red wine vinegar, mustard and vegan mayo. Combine and mix well.
Lastly, gently fold in the diced avocado. Give it a taste and season with salt and pepper to your liking. Serve in lettuce cups for a refreshing salad, as a sandwich filling or in a wrap, or as a crostini for a party (see below).
Notes
Try serving this salad as an hors d'oeuvres or appetizer for a party! Simply slice a good baguette into thin rounds (think 1 or 2 bites). Toast them just enough so that they are crisp but still chewy. Add on a small mound of the salad, a piece of sliced avocado, a few paper thin slices of tomatoes (Roma tomatoes work perfectly here!) and top with sea salt, pepper and fresh dill! Pretty fab, eh?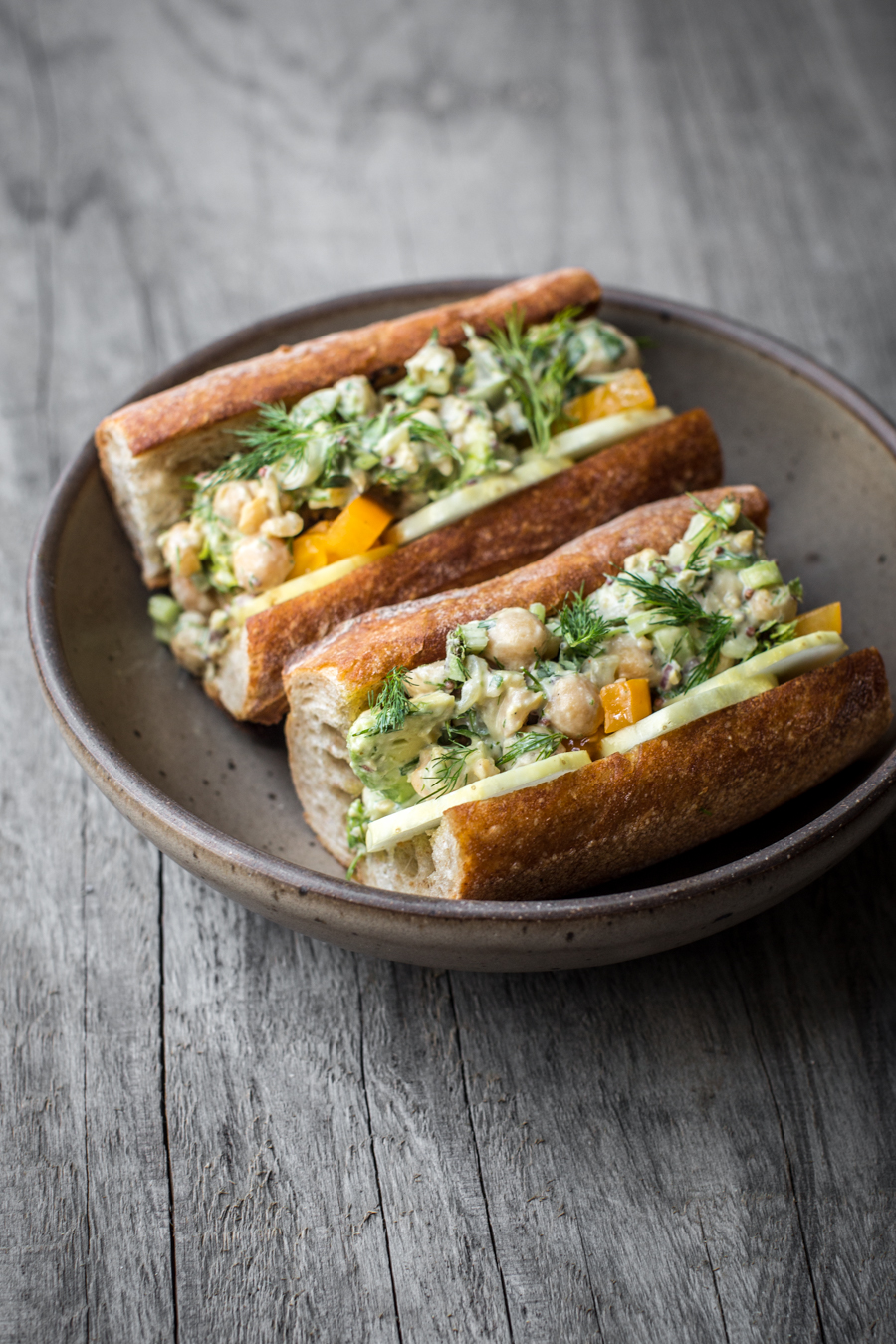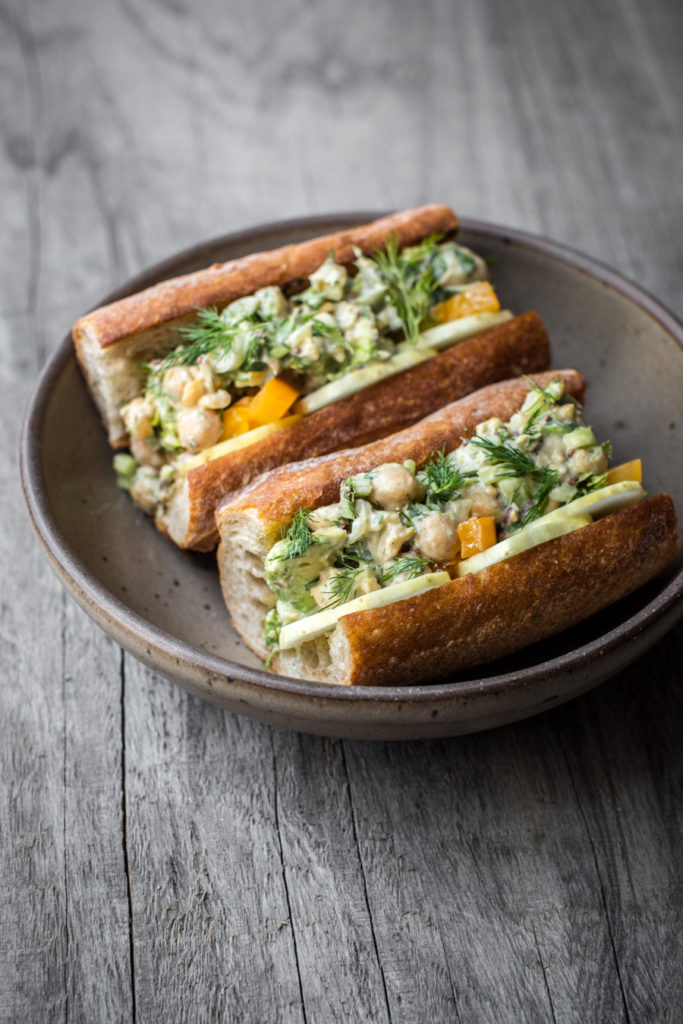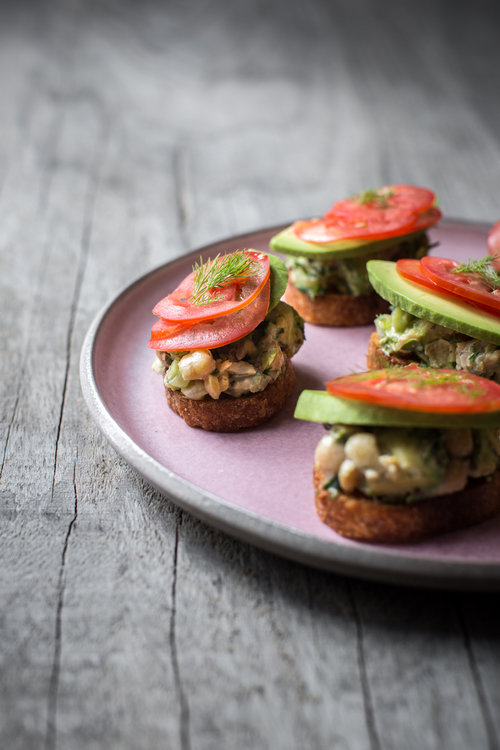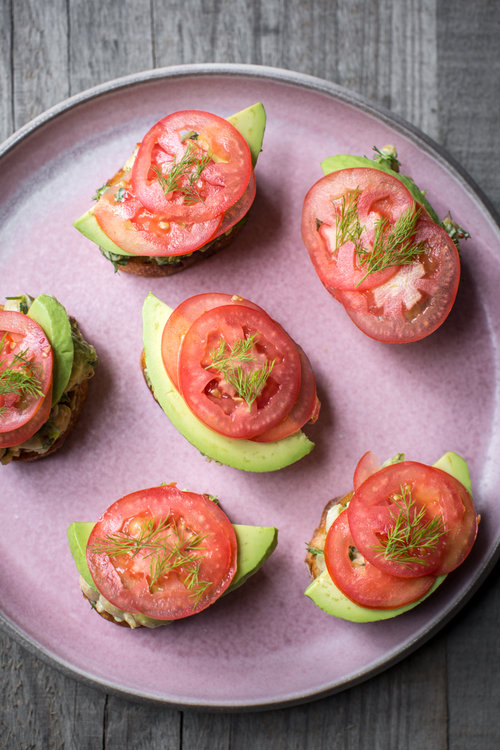 Before draining the can of chickpeas, try using the water in an aquafaba recipe. I've actually never done this before, but I have seen some beautiful creations made using leftover chickpea water. Here's a really cool recipe my friend made: Aquafaba Meringue Cookies.
If making a sandwich or wrap, I like to add fresh cucumber and tomato. The cucumbers add a delightful crunch while the tomatoes add a juiciness. In my opinion, all sandwiches should be juicy, so there you go.
For the beans, you can certainly make them from scratch! Whenever I do, I always place a little bit of kombu, a sea vegetable, in the water when boiling. This helps to season the beans ever so slightly while also helping to aid in digestion. If you look close enough, you'll see that some of the organic canned beans have this listed in the ingredients which is great! Get those, for sure!
If you like this chickpea avocado salad recipe, you would LOVE my 'Picnic Pasta Salad' or my 'Creole Potato Salad' in my cookbook, Mississippi Vegan, available here. There's over 125 recipes and loads of pretty photos. 🙂