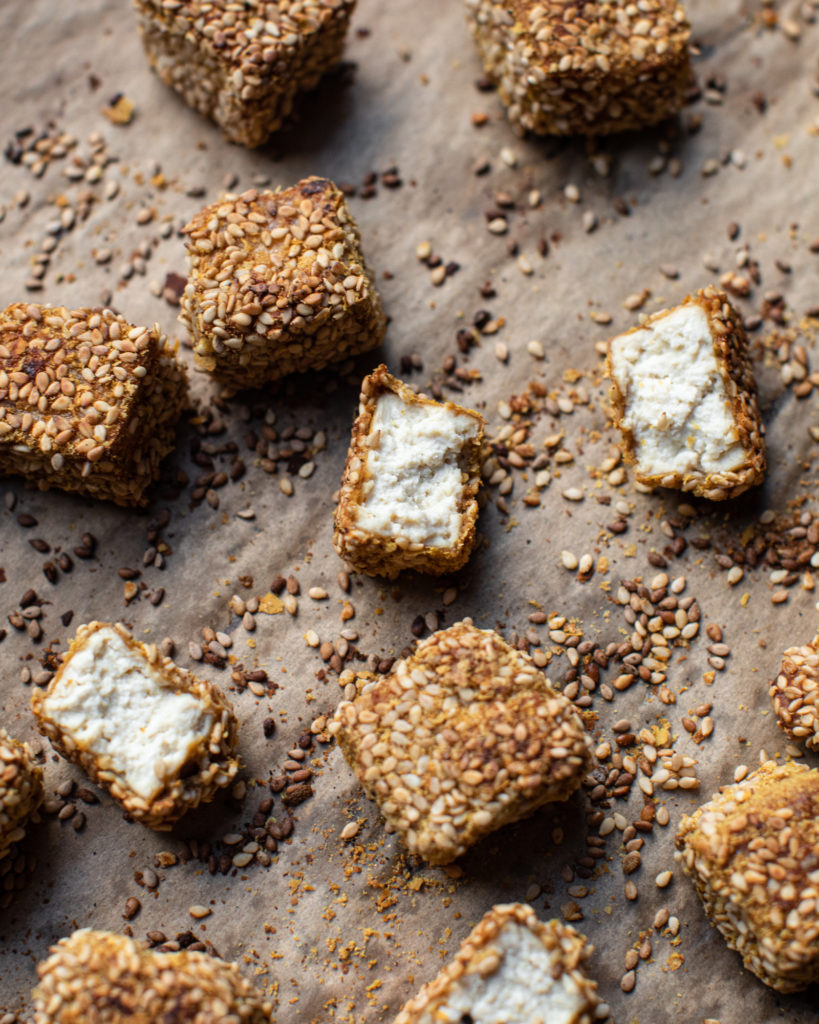 I don't know about you but I absolutely love tofu. It's incredibly versatile, full of protein. It just so happens to be the perfect ingredient to transform into bite-sized little nuggets with a crispy coating. In today's blog post, I will be showing you how to make my Crispy Sesame Tofu. And a tahini-maple-miso dipping sauce.
This recipe comes together quickly and makes for a satisfying snack or hearty addition to any salad or grain bowl. I'll be completely honest, every time I make this recipe it quickly disappears. I don't have a TON of experience incorporating it into other recipes. That certainly is a good sign though, wouldn't you say? One large block of juicy tofu is cut into cubes, with a coating of flavorful marinade, and with an umami-rich sesame seed coat. Baked until golden and crispy and dipped into a sweet and savory sauce- these little nuggies are simply the best!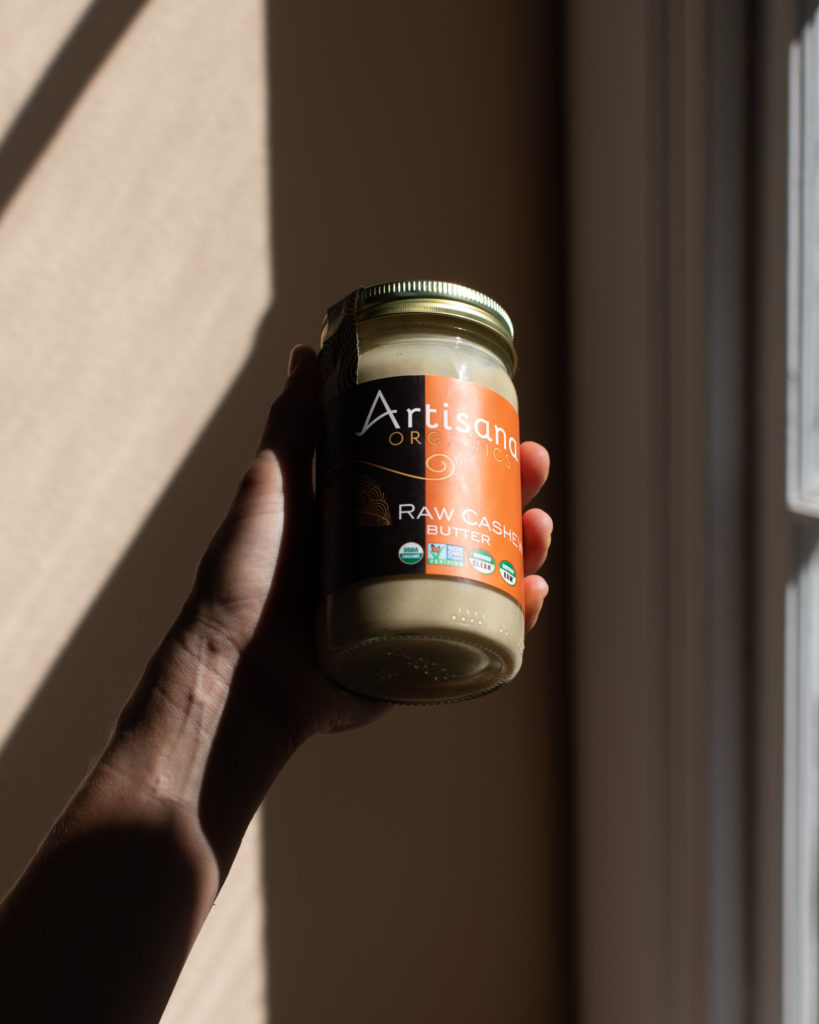 Before we dive into the recipe, I wanted to talk about today's sponsor: Artisana Organics! Gosh, if I really think about how long I have been using this brand I would have to say for well over a decade. I love this brand because their butters are the highest quality ingredients and nothing else really. Their raw butters are literally one ingredient! Unheated and completely raw nuts and seeds. This provides an authentic nutty flavor that is left pure and true by their certified R.A.W. processing methods. If you would like to try some samples, they have been kind enough to share a cool offer for all of my readers: a sample pack of 4 different flavors for only $4! Check that out here.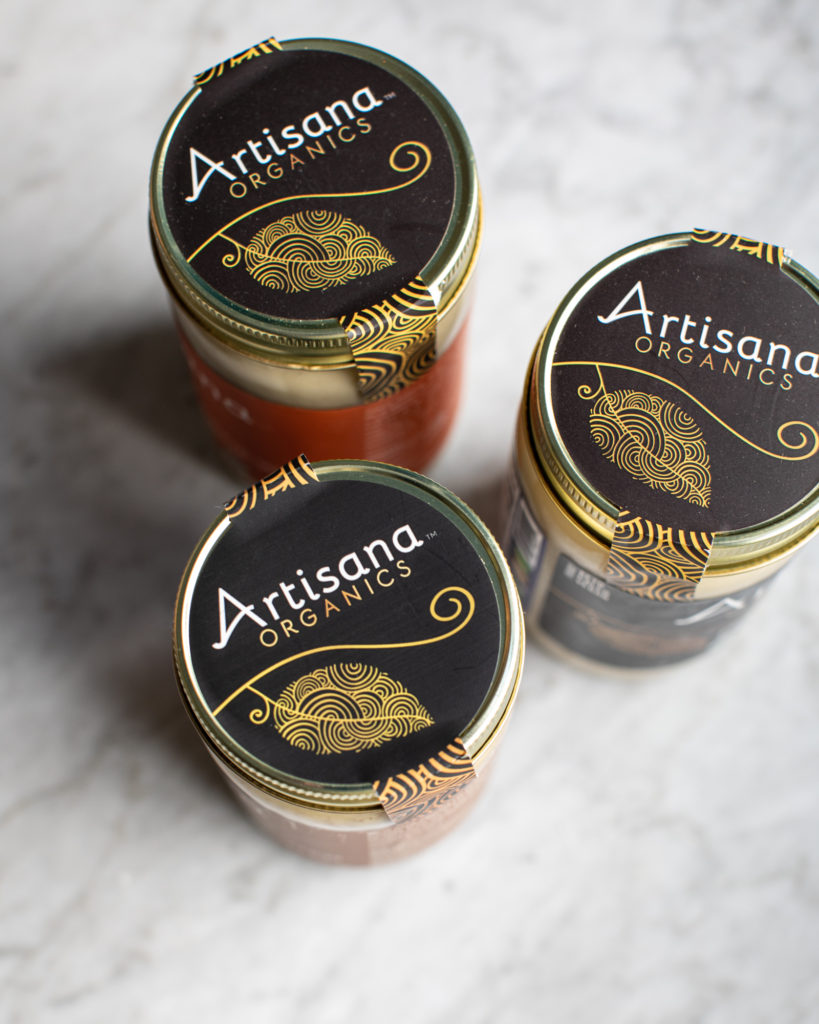 For this recipe, we will be using Artisana's Raw Tahini to make a delightful and wholesome dipping sauce. We will be using only 4 ingredients: tahini, maple syrup, miso, and water. We are using raw tahini and raw miso. This allows getting lots of beneficial nutrients that would normally not stick around after being in high heat. Once these ingredients are combined and whisked together, they become a creamy and smooth sauce that has an earthy and nutty richness from the sesame seeds, a salty savory hit from the miso, and a touch of natural sweetness from the maple syrup. A splash of water helps to loosen the sauce so it is perfect for dipping or drizzling over anything. It pairs especially well with this Crispy Sesame Tofu as the tahini echoes the flavor of the sesame seed coating.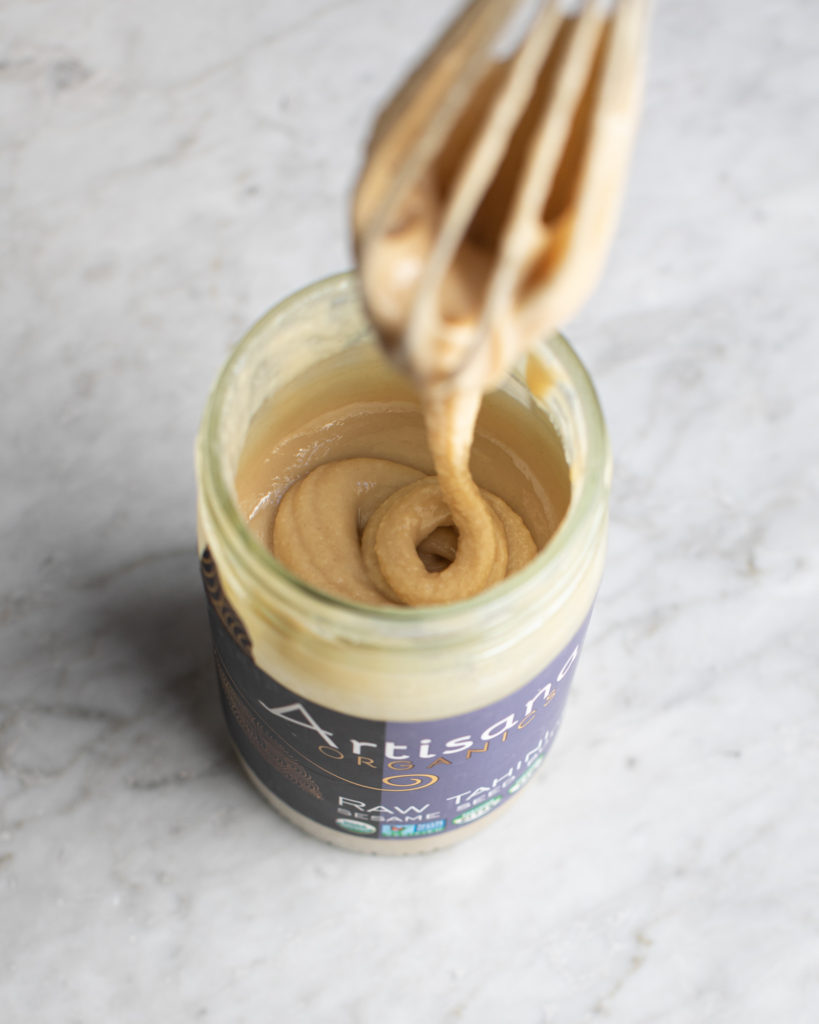 Here we have the lovely dipping sauce, pre-mix. You don't have to roll the miso into cute little balls but it sure does look cool, eh? Once the sauce is together, you can keep it in a tightly sealed container or jar and store it in the fridge for up to a week. Once chilled, it will become quite thick, so feel free to add some more water to loosen, if desired. There is also plenty of wiggle room for add-ons with this sauce: toasted sesame seed oil, sriracha or any hot sauce, freshly grated ginger, minced garlic, lemon or lime juice… the list goes on and on really. I personally like the simplicity of it as is, but I know many of you can't sit still and have to have things done your way so have at it!
For the process, it's very straightforward. Simply cube the tofu into one-inch pieces. Combine in a bowl with the coating ingredients (which includes cornstarch which will act as the binder) and gently toss to get the cubes super sticky and goopy. Dredge in the dry ingredients, which is made up primarily of sesame seeds and some nutritional yeast. We like that stuff a lot around here! Transfer to a baking sheet, and cook until brown. While that bakes you can make the sauce. And then all you have to do is eat!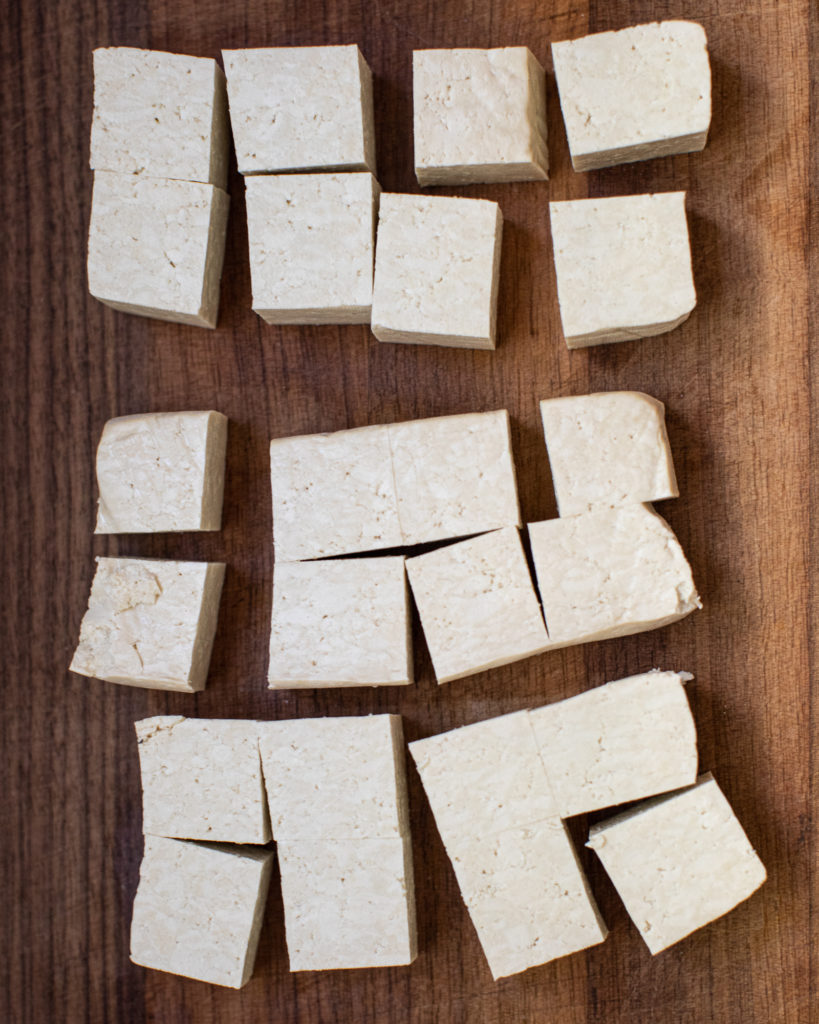 There you have it, folks! My Crispy Sesame Tofu with a tahini-maple-miso dipping sauce. You can enjoy these two items together or try serving them over some fluffy quinoa or my Easy Baked Rice, roasted squash, and a steamed green vegetable like brussels sprouts or broccoli. That will turn this recipe into a full-on meal that will leave you feeling nourished and satisfied. I hope that you enjoy this recipe as much as I do and I want to give another huge thanks to today's sponsor: Artisana Organics! If you make this recipe, let me know what you think in the comments below. Happy cooking!
-Timothy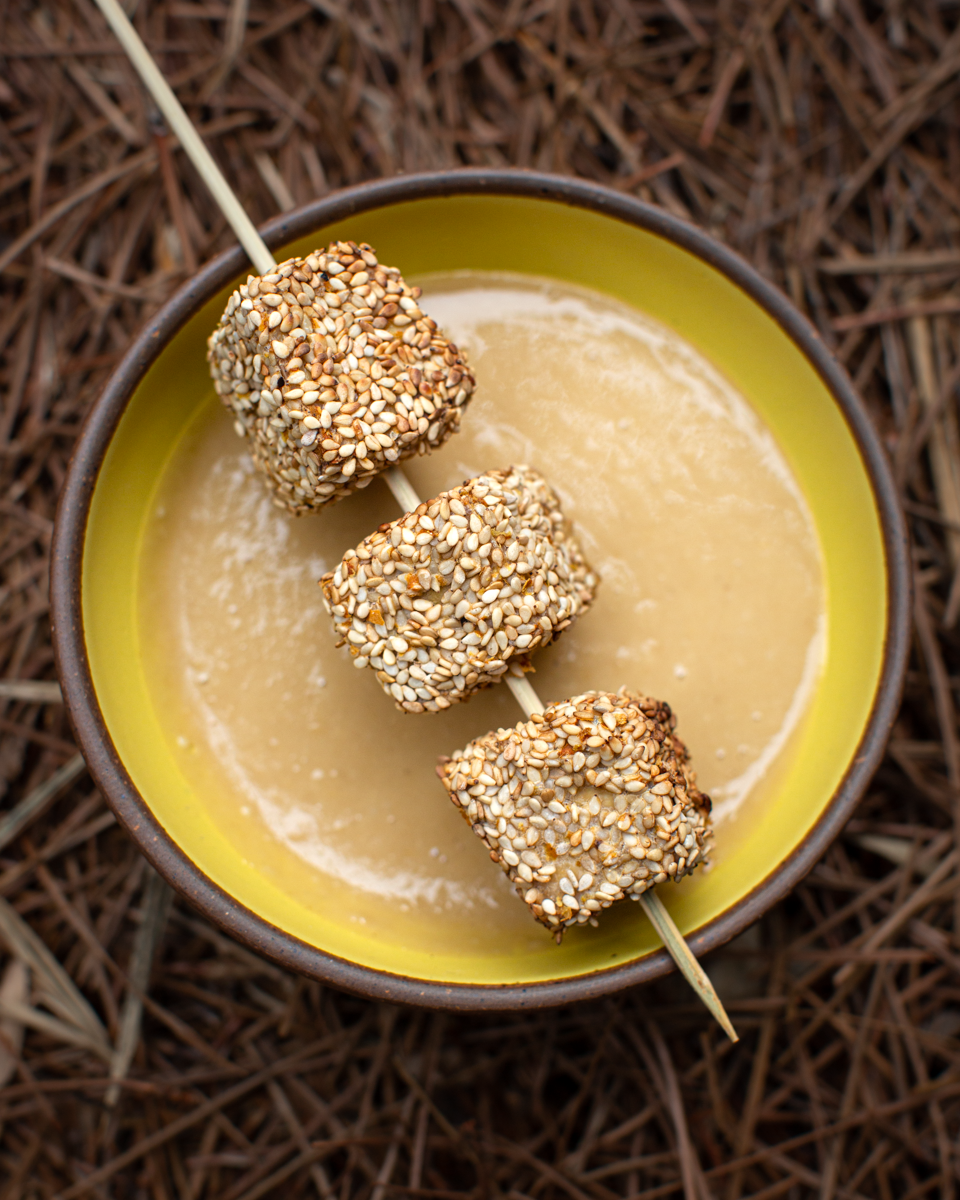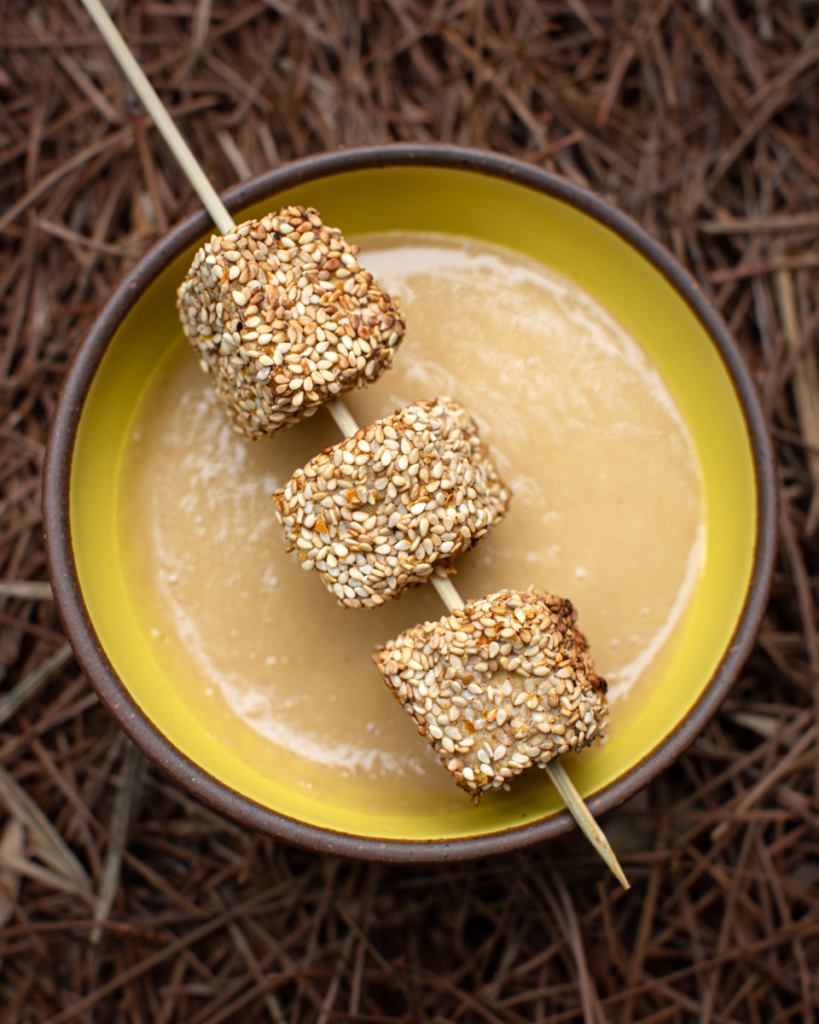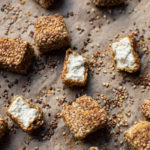 Ingredients
Tofu Marinade
2 tablespoons tamari or soy sauce
2 tablespoons rice vinegar
2 tablespoons olive oil
2 teaspoons garlic powder
1 tablespoon nutritional yeast
¼ teaspoon freshly cracked black pepper
¼ teaspoon sea salt
6 tablespoons cornstarch
2 tablespoons plant-based milk
1 (16 oz) pack extra firm tofu, cut into one inch cubes

Coating
½ cup unhulled sesame seeds
2 tablespoons nutritional yeast
½ teaspoon sea salt
½ teaspoon freshly cracked black pepper
¼ teaspoon cayenne pepper

Dipping Sauce
2 heaping tablespoons Artisana Raw Tahini
2 tablespoons maple syrup
2 tablespoons miso paste (chickpea or mellow white miso)
2 tablespoons water
Instructions
Preheat the oven to 450° and line a large baking sheet with parchment paper.

In a large bowl, combine tamari or soy sauce, rice vinegar, olive oil, garlic powder, nutritional yeast, salt, pepper, cornstarch, and milk. Mix until well combined. Add tofu and gently toss. The cubes should be coated and sticky. In a separate small bowl, combine sesame seeds, nutritional yeast, salt, pepper, and cayenne pepper. Mix well.

Now it's time to coat the tofu. Set up your station by placing the bowl of tofu next to the bowl of coating which is next to the baking sheet. Using your fingers, pick up a tofu cube and place into the coating mixture, tossing gently to cover with seeds.  Place on the baking sheet. Repeat this step, leaving room in between pieces, until all tofu is coated.

Bake for 17 minutes. Flip and bake for an additional 11 minutes. Let cool for 5 minutes.

For the sauce, combine tahini, maple syrup, miso, and water to a small bowl. Using a whisk, stir until thick and creamy. Once the tofu is baked, let cool for 5 minutes and enjoy!
notes
You can keep the dipping sauce stored in a tightly sealed container or jar in the fridge for up to one week.