This rice has without a doubt become the ONLY way I cook rice. Seriously. After my rice cooker broke, I had to figure out the easiest way to make it. Of course, you can cook it on the stovetop but honestly- I find that to be a bit stressful. (I don't think I'm alone here…) Not to fret though, because now you don't have to worry about it! Simply throw the rice in a pot with water, cover with a lid and bake in a 450 degrees F oven. After only 25-35 minutes (depending on the variety), you will have perfect fluffy baked rice. You're welcome!
For the additional ingredients we have a good drizzling of olive oil for flavor and richness, a big splash of rice vinegar that provides some sharpness and really makes the rice taste delightful, freshly cracked black pepper and sea salt because, duh, and the optional but totally amazing fresh bay leaves (you could used dried). These leaves provide an herbal hit that really gives the rice a nice flavor in the background. Once again, totally optional but I use them every time.
Don't forget to rinse your rice!
One important step is to rinse the rice thoroughly. I mean, under running water for a few minutes, mixing and stirring the rice as much as possible. You may not get the water to run clear but do your best. The rice will be better because of it. In regards to rice variety, I recommend long grain white rice, white basmati, and white jasmine rice.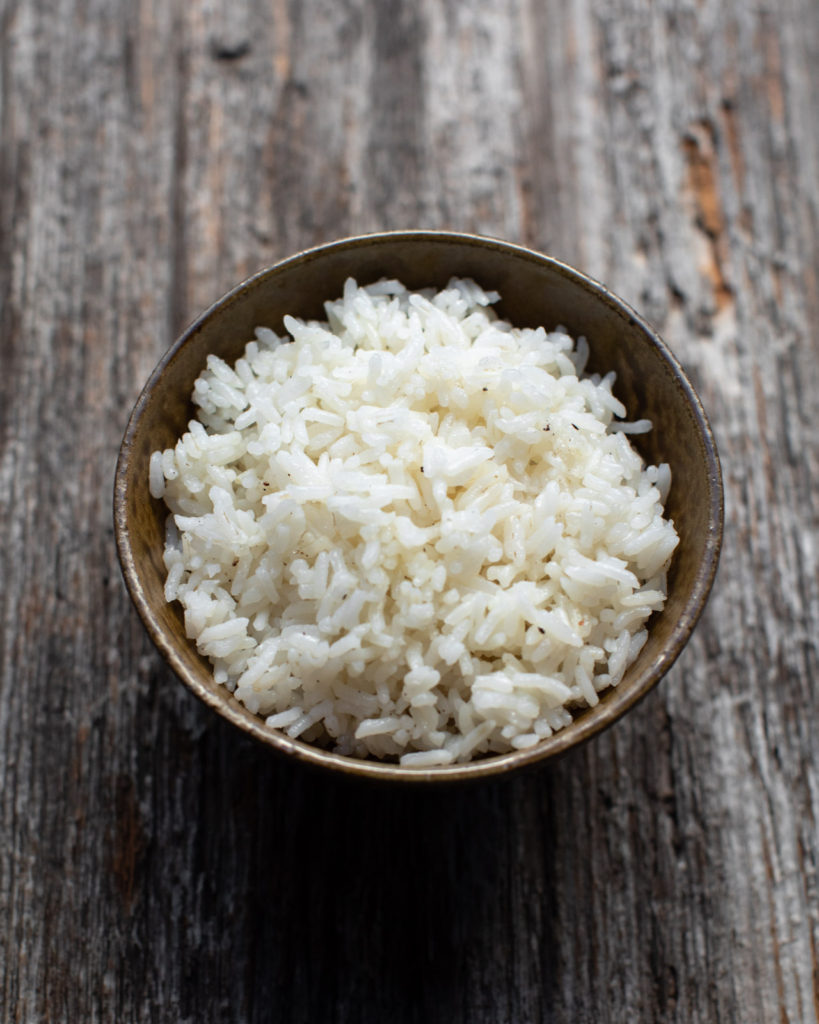 UPDATE: When I first started making this rice, I was cooking it at 350 degrees F for 40-50 minutes (depending on variety). But for the past few months, I have started only baking my rice at 450 degrees F because it is a quicker cooking time of only 25 minutes for white basmati and 35 minutes for long grain white/jasmine rice! So you can do either way. As always, depending on your oven, you can test the rice to see if it's done. If it needs a little more time, simply pop it back in. Once the rice is cooked, I fluff it with a fork, crack the lid, and let it sit for 10 minutes. And there you go, easy baked rice.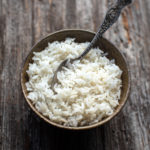 Ingredients
2 cups white rice, rinsed thoroughly (basmati, long grain, or jasmine)
2 ½ cups filtered or spring water
3 tablespoons olive oil
2 tablespoons rice vinegar
1 teaspoon sea salt
½ teaspoon black pepper 
4 fresh bay leaves (or dried), optional
Instructions
Preheat the oven to 450 degrees F.*
Rinse the rice thoroughly using a fine mesh strainer. The water should run close to clear.
Combine all the ingredients in a pot with a snug fitting lid. (You can use double wrapped foil if you don't have a lid you can bake with.) Give a good stir and place the lid (or foil) on top.
Bake basmati for 25 minutes and long grain white/jasmine rice for 35 minutes. Depending on your oven, you might need to bake for an additional 5-10 minutes. 
Remove from the oven and fluff the rice with a fork. Crack the lid on top of the rice and let sit for 10 minutes. Enjoy! 
notes
*If you are cooking something else in your oven at 350 degrees F and you'd like to bake the rice along with it, you can! Long grain white rice will take 50 minutes at this temperature and white basmati rice will take 40 minutes.

If you are using brown rice (I have tested this with brown Texmati) it will take longer...closer to 60-70 minutes if baking at 350 degrees F.

This rice stores beautifully in the fridge. I always make a big batch so that during the week, I can make some fried rice with it using leftover veggies in the fridge and and ton of fresh herbs.

I LOVE using fresh curry leaves, in addition to fresh bay leaves. If you can find some, definitely try them with this recipe.