Have you ever made mustard before? Or better yet, do you even know how mustard is made? I know, I didn't either! Until I saw this recipe: Cranberry Mustard. When I was taking a look at the Ball® home canning archives on their website, this recipe stuck out to me because of how approachable the method was. Of course, I love mustard in all forms and I adore cranberries, but seeing how simply everything came together was what really sold me.
With a simple combination of vinegar, sugar, mustard seeds, and a few spices- one of the world's most popular condiments is here! And with a seasonal spin by adding cranberries, the results are bright, sweet, spicy and savory: a fantastic condiment to play with. Whether it be for wraps or sandwiches, or to be on a cheeseboard or with an appetizer, this recipe is a festive spin on mustard that I am certain will please you. Just look at these crispy crostini with smeared plant-based garlic cheese spread, a big dollop of cranberry mustard, a sprinkling of fresh thyme from the garden, and flaky salt to finish (above and below image).
The most important ingredient to find for this is fresh cranberries (although you can use frozen). Keep an eye out as cranberry season is here and they should be popping up at your local grocery stores. The other ingredients to be on the lookout for are whole, yellow mustard seeds in addition to ground yellow mustard. You will also need red wine vinegar, sugar, ground allspice, and Worcestershire sauce.
When it comes to canning, my go-to for any and all canning products come from Ball® as they are the leaders in preserving food at home. If you are a regular reader over here, you have probably noticed that I have been working with them throughout the year and I am so incredibly thankful for that! Their partnership has allowed me to create content to share with all of you while also giving me the confidence and knowledge to can myself at home.
What I love about canning is it allows you to capture the essence and flavor of produce to be safely in storage for 18 months with their SureTight™ lids. As a gardener (and future homesteader!), learning and gaining confidence with canning is an important skill to have and I am forever grateful for being able to learn and share these recipes from the Ball® archives with all of you. This recipe is a great way to celebrate the joy of preserving food, especially when using something like cranberries that has a short window of time available in the season. Canning is the perfect way to capture their special flavor for enjoyment throughout the year. For this recipe, I will be using their 4oz Quilted Crystal Jelly Jars. This is the perfect size for a condiment like mustard. It makes it easy to store and also a very thoughtful gift.

Now let's talk a little bit more about the ingredients for this mustard. For a beautiful depth of added flavor, this recipe calls for some ground allspice (which offers a lovely aroma) and Worcestershire sauce (which is tangy and savory). These combined with tart cranberries, ground mustard and whole mustard seeds, sugar, and a substantial amount of red wine vinegar creates a perfectly balanced condiment that will elevate the flavor of any recipe it's incorporated into.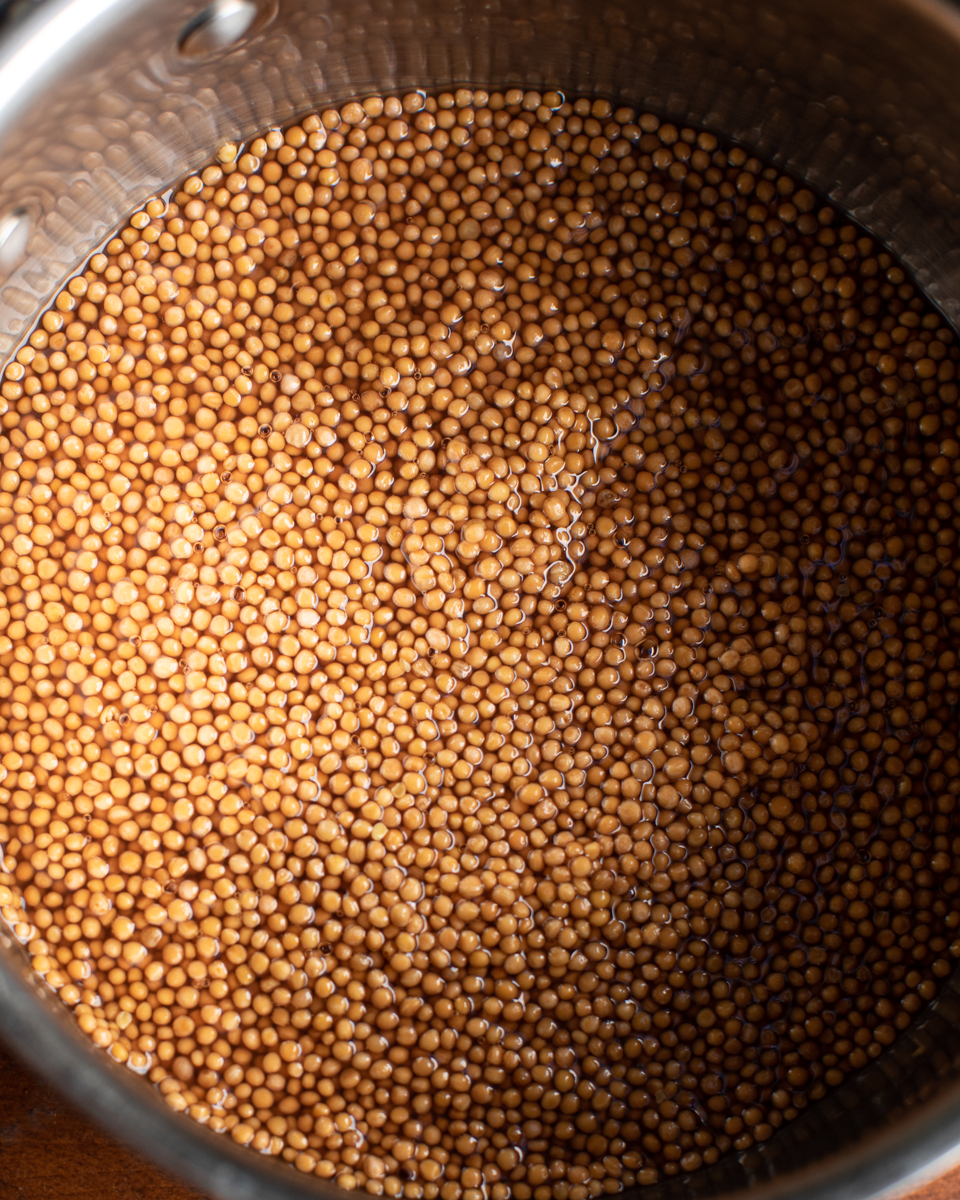 The first step is to bring the red wine vinegar to a boil and then remove it from the heat. Next, you will throw in the mustard seeds, cover, and let steep. They will become plump and juicy. Once soaked, you blitz this mixture in a blender (or food processor) until grainy. Then combine it with the cranberries. Give it another blitz until the cranberries are just chopped and transfer the mixture into a medium sauce pan. Bring to a simmer and whisk in the sugar, dry mustard, Worcestershire, and allspice. As it continues to cook, it will reduce in volume by a third and then you are ready to can! The full canning steps are down below but here are a few tips to help you:

1. While the mustard seeds are soaking (which takes about 1.5 hours), you can set up the canning station. Get the jars ready by sanitizing them.
2. This will also give you time to clean your lids and bands. This should be done in warm, soapy water. Once cleaned, simply set them aside to dry until ready to use.
3. You want to make sure to have the right tools to help you with this process. This will ensure that you are canning effectively and safely. Here is a kit to help you get started. And take a look at these super helpful videos created by Ball® home canning which are very informative!
4. Purchase the same jars I am using in the post here.
5. Lastly, I have many other recipes on the blog including Habanero Apricot Pepper Jelly, Fig Rosemary and Red Wine Jam, and Pickled Roasted Peppers. These use the same method if you'd like to take a look.

And there you have it! Cranberry Mustard ready for enjoyment. I have already tried this on a sandwich, in a wrap and with crostini as an appetizer. It is a real treat. It pairs especially beautifully with a creamy, spreadable cheese and toasted bread, so keep that in mind. I hope that you've enjoyed this blog post. I hope that it inspires you to try canning in your very own kitchen. Happy cooking!
-Timothy
Ingredients
1 cup red wine vinegar
⅔ cup yellow mustard seeds
1 cup water
1 tablespoon Worcestershire sauce
2 ¾ cups fresh or frozen cranberries (about one 12-oz bag)
¾ cup sugar
¼ cup dry mustard
2 ½ teaspoons ground allspice
Instructions
Bring vinegar to a boil in a medium saucepan. Remove from heat and add mustard seeds. Cover and let stand at room temperature until seeds have absorbed most of the moisture, about 1-1/2 hours.

Prepare boiling water canner. Heat jars in simmering water until ready for use. Do not boil. Wash lids in warm soapy water and set bands aside.

Combine mustard seeds and liquid, water and Worcestershire sauce in a food processor or blender. Process until slightly grainy. Add cranberries and blend until chopped.

Bring cranberry mixture to a boil in a medium saucepan, stirring constantly. Reduce heat and simmer for 5 minutes, stirring frequently. Whisk in sugar, dry mustard and allspice. Continue to simmer, stirring frequently, until volume is reduced by a third, about 15 minutes.

Ladle hot cranberry mustard into hot jars leaving 1/4-inch headspace. Remove air bubbles. Wipe rim. Center hot lid on jar. Apply band and adjust until fit is fingertip tight.  Place jar in boiling water canner. Repeat until all jars are filled.

Process in a boiling water canner for 10 minutes, adjusting for altitude.

Turn off heat, remove lid, let jars stand 5 minutes. Remove jars and cool 12-24 hours. Check lids for seal, they should not flex when center is pressed
notes
You can find vegan Worcestershire sauce online or at natural grocers. Simply look for the brands that don't have anchovy.
*Disclosure: This is a sponsored post that is part of an ongoing partnership with the Fresh Preserving Division of Newell Brands. They have provided jars, equipment and monetary compensation. All thoughts and opinions expressed remain my own.