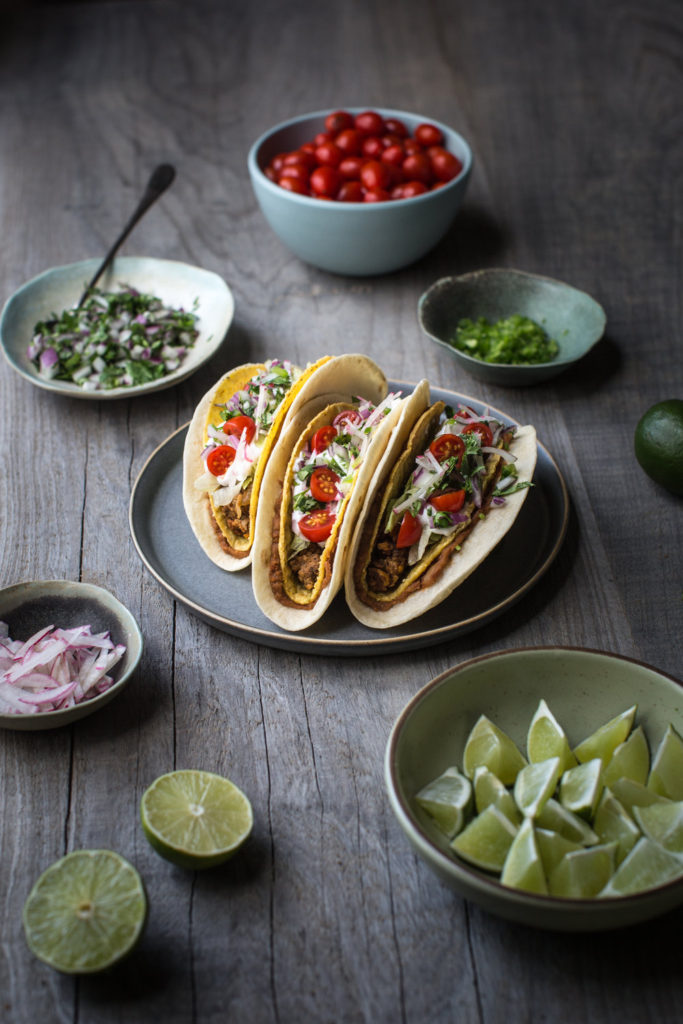 Look at these double-decker tacos. Just look at 'em! They are so ready to go it's not even funny. Now I know that some of you might be like, "What's going on here?" Let me explain.
A double decker taco is a soft flour tortilla that is spread with a thin layer of refried beans and than wrapped around a hard shell taco. The fillings are the usual suspects: meat, lettuce, tomatoes, sour cream, cilantro, avocado, etc…
BRILLIANT!
Now to better understand my relationship with these tacos, let me tell you a little story. Obviously if you're not interested you can just scroll down to the bottom of the page for the recipe (RUDE).
When I was in the 5th grade, I had braces. I was banished from eating anything that was a) crunchy b) that you had to bite into. Therefore, crunchy tacos was deemed one of the culprits. Also, my orthodontist was a very strict man and 100% instilled fear within me to not jeopardize my precious braces with anything hard and crunchy. At the tender age of 11- I was depressed.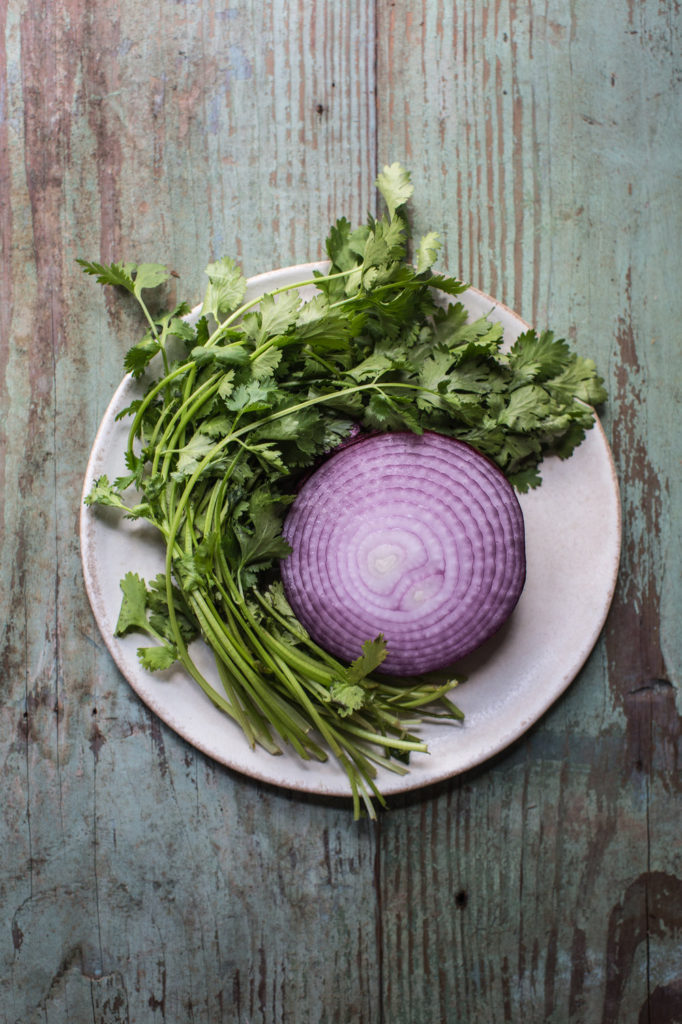 After wearing my braces for months, I remember eating in the school cafeteria. Everyone around me, munching and crunching on their delightful meals while I sunk my metal heavy teeth into a squooshy, soft sandwich with a cup of apple sauce. Somehow the topic of tacos came up, as topics of that nature do in an elementary school environment. I overheard my friend talking about Taco Bell's double decker tacos. As she raved about them, my eyes began to tear up as I knew that I would not be able to have them because of my braces. I expressed my concern to my friend and she replied:
"Oh but because the refried beans are wrapped around the hardshell tacos, they become soft and not so crunchy so you should be able to have them."
I raised my eyebrows and exclaimed with excitement, "Really!?"
She said, 'Yeah!'
From that point on it was my mission to seek out and eat these double decker tacos. When that day arrived, I remember ordering them. I was nervous and excited. With the very first bite, I was hooked. The texture of biting into a warm, soft tortilla and a hard corn taco with a thin layer of refried beans in between them was undeniably satisfying. The best part? My friend was right- the hard shell taco was softened ever so slightly by the beans. It's almost as if the soft flour tortilla and refried beans worked together to become the perfect blanket to soften the crunch of a hard shell taco. That's called teamwork people.
Fast forward to college, I began making these tacos for my friends at dinner parties. It was perfect. I created a large buffet of tortillas and taco shells, a savory vegan meat filling, shredded lettuce and tomatoes, loads of condiments like salsa, vegan sour cream, sliced avocado- you get it. Now, have you ever walked into a room with a situation like this set up?
It's very exciting.
As for the vegan sour cream game a decade ago- it was bad. Basically, the only option was a soy based product that tasted more like melted plastic. Eventually, I learned to realized that an almond based cream cheese mixed with fresh lime juice became a better option. That was until thick and creamy coconut yogurt hit the market. Mix that with some fresh lime juice and a pinch of sea salt and you have the very best vegan sour cream, perfect for baked potatoes, nachos, and, most importantly, double decker tacos.
Thinly sliced or diced radishes add a nice peppery crunch. As I've mentioned before, soaking the slices in a plate of water allows them to crisp up nicely. You can then garnish them as is or cut into smaller pieces (think matchsticks!). I like to offer fresh jalapeño, sliced avocado and freshly squeezed lime juice to make these tacos really sing.
To garnish you can use whatever you have lying around in the fridge. I always like to add tomatoes, cilantro, onions and shredded lettuce. My assistant Melissa suggested that we combine the cilantro and onion together as a garnish (she had learned this trick while living in southern California). This was an excellent idea.
As for the meat filling, I like to use Amy's Kitchen Organic Black Bean Veggie Burger patties that are crumbled and browned with some onions, seasonings and spices. A hit of salsa moistens the mixture up while also adding depth of flavor. Once everything is laid out on a table you have yourself an epic double decker taco buffet. Enjoy!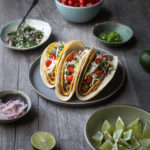 Ingredients
1 box of hard corn taco shells (10 to 12)
1 pack of soft flour tortillas (10 to 12)
Taco Filling
2-3 tablespoons olive oil
1 medium onion, chopped
1 pack Amy's black bean burgers, defrosted and chopped
1 tablespoon red wine vinegar (or apple cider vinegar)
1 tablespoon nutritional yeast
2 tablespoons tamari
1 teaspoon cumin
½ teaspoon chili powder
⅓ cup salsa
1 teaspoon dried oregano
½ teaspoon liquid smoke
¼ cup water
Refried Beans
1-15 ounce can Amy's Traditional Refried Beans
1 teaspoon smoked paprika
½ teaspoon salt
Toppings
2-3 radishes, thinly sliced/matchstick julienned
2 cups iceberg lettuce, thinly sliced
1 ½ cup cherry tomatoes, halved
½ cup cilantro, chopped
½ cup red onion, chopped
½ jalapeño, diced
3 limes, quartered and halved, to squeeze
Avocado, sliced, if desired
Salsa, if desired
Hot sauce, if desired
Sour Cream
10 ounces coconut yogurt (thicker variety, if possible)
1 lime (approx. 2 tablespoons lime juice)
¼ teaspoon salt
Instructions
Bring a large skillet to medium heat and drizzle in some oil. Add onion and cook 4 to 5 minutes until softened. Add black bean burgers and cook for an additional 5 minutes, stirring often to brown. Add red wine vinegar, nutritional yeast, tamari, cumin, chili powder, salsa, oregano, and liquid smoke. Mix well. Once patties and spices are browned, add a splash of water and scrape the bottom bits. Give the mixture a taste and adjust seasonings to your liking. Set aside and cover.

For the bean mixture, combine canned beans, paprika, salt and mix well. Heat in a small sauce pan on stovetop or in the microwave. Transfer to a bowl for serving.

Prepare toppings for taco buffet: Mix together chopped cilantro and onion and place in a small bowl. Place thinly sliced radishes in a small bowl of water to enhance freshness and crispness. Once ready to serve, remove from water and place in a small serving bowl. For the sour cream, mix together coconut yogurt, lime juice and salt. Place halved tomatoes, lettuce, jalapeño, salsa and quartered limes into small serving bowls (or in one large serving bowl- be creative!)

Toast hard shell tacos: pre-heat oven to 350 degrees. Spread the shells on a baking sheet and toast for 5 minutes. Remove from oven and add them to the buffet. For the tortillas, gently heat them over a gas stove or microwave. Add to the buffet as well.

To assemble: Spread a heaping tablespoon of beans onto soft tortilla and wrap around a hard taco. Fill with taco filling, lettuce, radishes, and sour cream (this will act as a glue to hold the other toppings). Then add tomatoes, jalapeño, cilantro onion mixture, salsa, avocado, hot sauce and a squeeze of lime juice.
notes
Make sure the flour tortillas are the smallest you can find. If they are too large, they will consume the hard shell taco like a large blanket around a little dog. You will look silly and I don't want that.

This recipe comes together quickly so there is no need to try and prep ahead of time. Please stop making things super complicated. Everything should come together in about 30 minutes. If you are making this for a dinner party, be creative with the set up and have fun. Wrap the warmed tortillas in a pretty cloth, place some fresh cilantro in a vase with water on the table, lay clusters of cherry tomatoes out, have some ice cold beer in a cooler… you get the drift.

You could easily make a pico de gallo and guacamole to streamline this recipe even more. The addition of fluffy rice is also quite nice. Add a pinch of turmeric and lime juice for tang and a bright yellow color.

Big thanks to Amy's for sponsoring this blog post and recipe. If you'd like to check out more recipes using Amy's products, sign up for their newsletter here!