Today on the blog, I'm sharing with you a meal prep idea! This is a great way to make a large batch of food that you can divvy up and make 6 delicious, filling and healthy meals. The concept behind this dragon bowl meal prep recipe is inspired by a dragon bowl. Which is basically a style of a macro-bowl that one of my favorite vegan restaurants, Angelica Kitchen, served. Unfortunately, AK had to close its doors after 40 years of service (which for NYC is incredible!). So this blog post is a proud nod to their famous dish.
The basic idea is a mixture of a protein like tofu or tempeh, a bean, a grain, vegetables, and a dressing. Sometimes there are sea vegetables (which you could totally add) and oftentimes a whole food fat like avocado or nuts or seeds are added. In addition to this, a small amount of something fermented has become a popular addition. For my variation, I went for my favorite bean, the chickpea, because I love their meaty texture. The grains; I like to use short grain brown rice because I love the chewiness. For the protein, I went for extra firm tofu but you could totally swap out tempeh here if you'd like. And for the veggies. I wanted to incorporate butternut squash for its sweetness and shredded purple cabbage for a beautiful pop of color. To finish, I like to add some freshly chopped parsley.
Now the cooking here is super simple. First, you start a batch of brown rice. I like to add some Country Crock Plant Butter to mine in addition to a little bit of toasted sesame seed oil. Both of these sources of fat add the perfect amount of richness and flavor that make the rice have a buttery mouthfeel. This inevitably makes the rice taste better! While the rice is cooking, you peel and chop the butternut squash and cube the tofu. Then you transfer those two ingredients to a baking sheet to cook until the squash is tender. While that bakes in the oven, you shred some cabbage and open up a can of chickpeas and season them with a little salt and pepper.
Once you have all of these ingredients prepped and divided, you have all of your meals ready to go. But what makes my prep idea different is that these meals are only partially done. And the reason for this is because I want to eat my dragon bowl warm, not cold. So even though you could potentially eat them as is (with a dressing), I find that dumping the whole container into a cast iron skillet. Drizzling it with a little bit of olive oil. Sprinkling on some nutritional yeasts, and roasting it in the oven for about 20 minutes. This creates more texture and flavor, allowing the meal to feel a bit more complete and satisfying than just eating it cold straight out of the container.
This is what the ingredients will look like after roasting. The cabbage crisps up just a bit and become succulent, the chickpeas toast and turn slightly brown which makes them delicious. The brown rice becomes even chewier and fun to eat (in my opinion). At this point, you could throw in whatever else you have lying around. I love getting in some probiotics (and some tang) with a fermented food like sauerkraut or kimchi. Thinly sliced radishes or cucumber add a nice crunch, along with any chopped nut or seed.
To seal the deal, I have an amazing dressing made up of raw tahini and mellow white miso with fresh lemon juice and a few extra seasonings. The result is a thick and creamy dressing that is super good for you and sticks to all of the roasted ingredients beautifully. The intense flavor of the dressing really makes the bowl pop. You're gonna love it.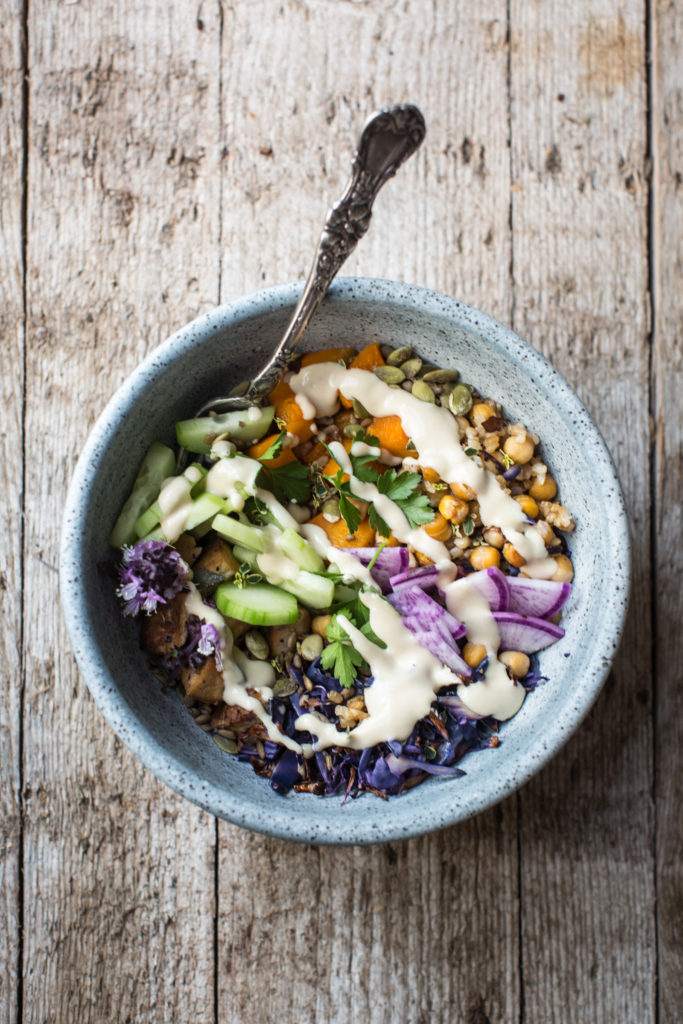 And there you have it! My 'Dragon Bowl Meal Prep'. You'll notice in the picture above I added some sprouted pumpkin and sunflower seeds. Also some fresh herbs like flowering basil and lemon thyme. Totally optional but fun. I hope that this recipe can inspire you to make your life easier and have some meals prepped and ready to go. I can honestly say that I love having something like this in the fridge. It makes lunch on a busy day or after working out easy and fast.
I also love the way that I feel after eating a combination of ingredients like this. I definitely feel my best using whole food ingredients with lots of colors. There's a reason why eating a macro-bowl has become so popular. The combination of a complex carb with protein, healthy fats, lots of veggies, a little bit of fermented food, and a nutrient-dense dressing is the foundation of eating and feeling well. Enjoy!
Ingredients
Rice
2 cups short-grain brown rice
3 ½ cups filtered water 
1 tablespoon tamari or soy sauce
1 teaspoon toasted sesame seed oil
2 tablespoons Country Crock Plant Butter, melted
1 tablespoon rice vinegar
1 teaspoon sea salt 
2 teaspoons garlic powder
¼ teaspoon cayenne pepper
A few cracks black pepper 
Roasted Vegetables

1 medium butternut squash
2 tablespoons avocado oil 
½ teaspoon sea salt 
A few cracks of black pepper
½ medium-sized red cabbage, sliced thinly
2 teaspoons  rice vinegar 
Salt and pepper, to taste
1 can (15oz) cooked chickpeas, drained and rinsed
Tofu 
1 block high protein, extra firm tofu (16 oz)
2 tablespoons avocado oil
2 tablespoons tamari 
1 teaspoon rice vinegar
Black pepper, to taste
Miso Tahini Dressing
¼ cup freshly squeezed lemon juice 
¼ cup raw tahini
¼ cup mellow white or chickpea miso 
½ cup filtered water 
1 teaspoon toasted sesame seed oil
1 teaspoon tamari 
1 large garlic clove, minced or microplaned 
Optional toppings:
Fresh avocado, peeled and cut into chunks (serve upon plating)
A heaping tablespoon of sauerkraut or kimchi 
Thinly sliced cucumber
Thinly sliced radishes, soaked in a small bowl of water for 10 minutes
Sprinkling of chopped nuts like almonds, pistachios, or walnuts, preferably raw 
Sprouted seeds like pumpkin or sunflower
Freshly chopped herbs (parsley, cilantro, or basil) 
Instructions
1. Preheat oven to 375 degrees F and line a large baking sheet with parchment paper. 
2. For rice, rinse thoroughly in a colander. Add all of the ingredients into a rice cooker and cook until done. While the rice is cooking, you can begin prepping your other ingredients. 
3. Peel and cut the butternut squash and tofu into bite-sized pieces. Transfer tofu to a bowl and toss with avocado oil, tamari, rice vinegar, and black pepper. Transfer to a parchment-lined baking sheet, leaving some space for the squash. Next, place butternut squash chunks into the same bowl as the tofu. Toss with avocado oil, salt, and pepper. Transfer to the baking sheet with the tofu. Place into the oven and bake for 30 minutes. 
4. Now for the dressing. For a super creamy smooth texture, use a small blender to mix everything nicely. If you don't have a blender, place all dressing ingredients into a jar with a lid and shake. 
5. For the chickpeas, toss them with some salt and pepper in a small bowl. For the cabbage, sprinkle on some salt, pepper, and rice vinegar. 
6. Add everything equally to your containers. When you're ready to eat, dump one of the meals into a skillet and roast at 375 degrees F for 15-20 minutes, until thoroughly heated and the chickpeas begin to toast. Drizzle with desired amount of dressing and enjoy!
notes
Some people like to freeze and defrost their tofu before cooking. This makes the texture slightly different and chewier. I quite like doing this sometimes, but it's not necessary. If you decide to try it, simply place the whole block (in the package) in the freezer overnight. Once defrosted, remove from packing and carry on with the way you would use it in this (or any other) recipe!

For added richness, you can also use some melted Country Crock Plant Butter to roast the butternut squash and tofu with. And because the butter has a high burning point, it's great for roasting.

For the purple cabbage, I like to cut the head into quarters and then thinly slice so the strands aren't too long.

You want to hold off on prepping the avocado as it will get brown. Simply wait until ready to serve.

If you are bring your meal to a work environment and you only have access to a microwave, you could totally use that too. The results won't be quite as good but you'll still have a delicious hot meal to enjoy.
This post is sponsored by Country Crock® Plant Butter. All opinions and recipes are my own.