Hi friends! For today's blog post, I am very excited to talk all about tea. If you know me well, you know that tea is an integral part of my life. A cup of freshly brewed tea can be the perfect ending to a nice meal, a delightful pick-me-up in the afternoon, or a lovely and comforting way to wind down at the end of a long day. In today's blog post, I am going to go over my tea station setup with tips for storage, the water I prefer, brewing times, and, of course, my favorite blends. So let's dive in, for the love of tea!
Before we get started, I am excited to let y'all know that today's post is sponsored by the makers of Ball® home canning products! I have teamed up with them to showcase their NEW Ball® Rose Vintage jars. These limited-edition jars are absolutely gorgeous and I could not be more pleased with how beautifully they fit in with my kitchen.
Perfect for storing bulk items like grains, nuts, seeds, spices, and tea- I have proudly incorporated them into my kitchen space. The SureTight™ lids keep all of my ingredients fresh and you can also use them for canning and fermentation. (The lids are exclusive to the Rose Vintage jars and are safe for canning!) These jars are also BPA-free and dishwasher-safe (do hand wash the lids though and do not serve hot tea in glass jars). The rose color and nostalgic look of these collector's jars is such a lovely way to brighten up your kitchen and I cannot recommend them enough. Purchase your very own jars here.
When it comes to ordering tea, I always buy loose tea- in bulk, and organic when possible. Once purchased, I immediately transfer to jars, tightly seal, and store them in my kitchen on my tea shelf- out of direct sunlight. Because I go through tea quickly, I keep mine out on an open shelf for easy access. (If you decide to try an expensive tea that you only drink on occasion, I would store this in a dark and cool area.) For steeping the tea, I use stainless steel fine mesh strainers that have lips which makes it easy to pop over any size cup. Once done steeping, I compost the leftover tea or sometimes I will sprinkle it in my garden. This tea practice is not only more cost effective but it is also lower waste than using tea bags.
Before we talk about specific teas that I love, I wanted to go over water. Obviously, high-quality water is a key component to making tea, along with the temperature. For all of my tea, I use spring water from Arkansas. This water is delivered to my house in 5-gallon glass bottles that are picked up and reused. This is a great low-waste option. I particularly like spring water because it has naturally occurring minerals like calcium, magnesium, and potassium. It also tastes delicious!
For heating the water, I use an electric tea kettle with a gooseneck pouring spout. Do note that when using spring water you will encounter a mineral buildup which is totally normal! To clean, simply boil some vinegar in the kettle and use a scrubber to remove the buildup. In regards to temperature, the rule of thumb I like to go by is I use the hottest boiling water for herbal teas like peppermint, ginger, and chamomile and just under boiling water for green, white, and oolong teas. I find that using boiling water and longer steep times can make caffeinated teas quite bitter after steeping, so I avoid that. With each tea that I describe below, I will go over how I like to steep them. This, of course, is personal preference. Now let's talk for the love of tea!
Genmaicha is one of my absolute favorite teas to drink in the early afternoon, in particular after lunch. This Japanese tea consists of green tea mixed with roasted popped brown rice. This tea has grassy notes while the browned rice offers a nutty flavor. I love the concept of infusing tea with a depth of toasted flavor, especially as a savory person. This sophisticated tea offers umami-rich sips and a mild boost of energy from caffeine. To make a cup, I like to use just under boiling water and I steep mine for only 30-60 seconds. You might like to steep this tea for longer but I find that a short steep yields the best flavor.
Milk Oolong is one of the most exquisite teas on the market! And despite its name, there is no milk in the tea. It is straight-up tea leaves that are grown high in the Fujian mountains in China. The leaves have an intoxicating fragrance of sweet cream and pineapple. Each sip is incredibly smooth with light, orchid notes. Oolongs have a tad bit more caffeine than traditional green tea and I find that the amount is perfect for late morning and early afternoon. It's also particularly perfect for computer work! It's delicious served hot or cold and I love to brew my tea with just under boiling water for only 30-60 seconds. Please note, this tea is very expensive. For this reason, I allow myself 1-2 cups a week.
Yerba Maté + Spearmint is one of my favorite tea blends to enjoy when I am working in the garden. You've probably already heard about Yerba Maté's energizing effects, which is why I like to drink this on busy days with lots of activities. Rich in vitamins and minerals, maté does have a grassy, slightly bitter flavor, especially because it is recommended to be steeped for longer than most teas. I find that mixing the tea with spearmint is the perfect combination to help balance out the flavor while also adding a refreshing kick. To make this blend, I order both teas in bulk and combine them myself. This tea is delicious served hot or cold. To steep, I use boiling water for 3-5 minutes.
Ginger tea is what I drink the most. And although I love making ginger tea using freshly squeezed ginger juice, there is something incredibly comforting about the taste of dried ginger root. Dried ginger tea is simply little dried ginger bits. It is easy to source in bulk amounts and you can't beat the price! Even for organic, bulk ginger tea is not expensive and a little goes a long way. Peppery, grounding, and completely caffeine free- ginger tea is something that I drink throughout the day, every day. I literally crave it!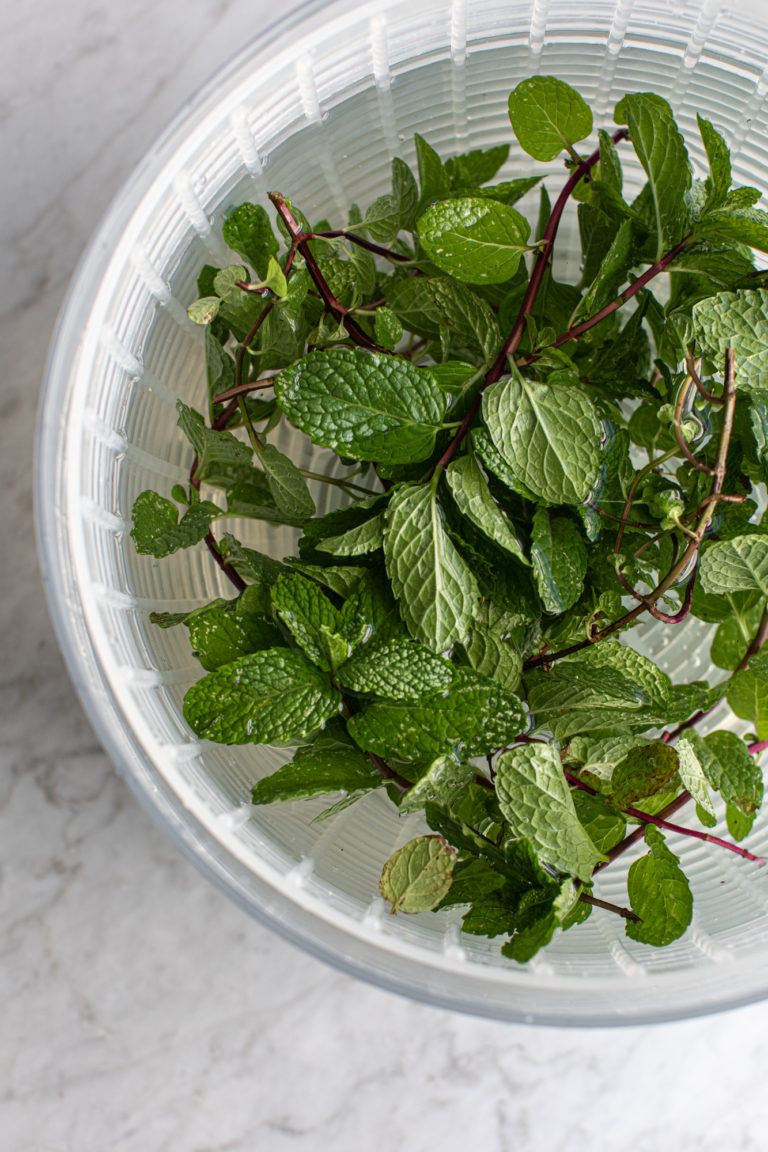 Peppermint tea is a fantastic option to have in your collection. You can find high quality bulk options for cheap or you can grow your own like I do! To make your own peppermint tea, simply harvest and give it a good rinse. Bundle it up into bunches and let it hang to dry upside down for a few days until the leaves are completely dry. Crumble into a jar and there you have it! Peppermint tea. Although this herbal tea is caffeine free, I find that it does provide a mental alertness that's nice when working outside or on the computer. It's also fabulous with ginger tea. For steeping, I like to use boiling water and I let it sit for 4-5 minutes.
Jasmine Pearls are tightly rolled balls of green tea buds from a spring harvest that are deeply scented with fresh jasmine blossoms. They smell absolutely outrageous! Trust me when I say, you find some of this tea- after one sip you will be hooked. Heads up, it is pricey but it's totally worth it. You can also get 2 steeps out of each serving if you'd like, although the second steep will not have as much caffeine as the initial one. I first was introduced to this tea in my early 20s and I have been drinking it ever since. Truly excellent! I like to steep this tea for about a minute with just under boiling water. Side note: the pearls will open up as they steep which is just lovely to see.
Herbal Chai is a fantastic tea option when you are craving something robust and flavorful but without the caffeine. Of course, you can absolutely stock up on black chai tea (which has quite a bit of caffeine) but I personally am not a fan of black tea. I much prefer the herbal variation. For this, I go back and forth between rooibos chai (rooibos is an African herbal tea), which you can find at many tea retailers, and making my own blend. Here's how I make it from scratch: (please note, there are many different ways to make chai! This is simply how I like to do it.)
In a food processor, add 10-15 cinnamon sticks, 1 tablespoon whole allspice berries, and 7 star anise pods. Blitz this until it's in small pieces. For any stubborn pieces, break apart with your hands or use a hammer to break down. Transfer to a jar and then add 4-5 tablespoons of licorice root, dried orange peel, cardamon pods, black peppercorns, and dried ginger. Feel free to play with the amounts to your liking! I like to steep this tea for a good 4-5 minutes with boiling water.
Well there you have it folks, For the Love of Tea- my guide to drinking delicious tea. I must admit, I like to drink many other teas as well, but these are my top picks. I hope that you have enjoyed this blog post and that you try out some of these blends for yourself. For me, tea is such a huge part of my life and is something that brings me great joy. I hope that this blog post can inspire the same for you!
–Timothy
Disclosure: For The Love of Tea is a sponsored post that is part of an ongoing partnership with the Fresh Preserving Division of Newell Brands. They have provided jars, equipment and monetary compensation. All thoughts and opinions expressed remain my own.