Hi friends! I have a very fun and festive recipe to share with all of you today and it's an absolute crowd-pleaser. It's my 'Skillet Nacho Dip' and it truly has it all. Creamy refried beans, savory plant-based taco crumbles, loads of thinly sliced peppers, and olives are baked in a skillet with a blanket of melted vegan cheese over top. Once baked, you top with a vibrant mix of ingredients like ripe avocado, chopped cilantro, cherry tomatoes, fresh lime juice, green onions, and a drizzle of tangy coconut yogurt to act as the sour cream. The absolutely perfect dip for corn tortilla chips. The best part? It's all made and served in ONE skillet. Purely because I don't want you to have to do more dishes than necessary. I know.. I'm the sweetest.
Now before we dive in to the full recipe, let's talk about today's sponsor: Plant Boss! Plant Boss is a new idea from Frontier Co-op, a hard-working little cooperative based in Iowa. Made from organic peas and spices, Plant Boss uses simple ingredients to deliver superior taste. The meatless crumbles are an excellent source of protein, low in fat, soy-free, non-GMO and gluten-free. They are also shelf friendly just like pasta or rice. (You can find them by the boxed mac and cheese at your local Whole Foods or purchase them online.) Simply soak in water for 2-3 minutes and then simmer in a skillet.
Today we will be using their Plant Taco Southwest flavor. It already contains seasoning and ready to go! For extra umami, I will be adding some nutritional yeast and tamari. For added depth of flavor, I also like to add some liquid smoke and rice vinegar. These add-ons are optional as the crumbles already contain the seasoning for this Skillet Nacho Dip!
Here's the Plant Boss Meatless Crumbles in action! It's pretty amazing to watch the dried contents of this little package turn into plump and beautifully browned veggie ground round! The texture is pretty incredible. I served this dish to many non-vegans and they were very pleased. You can literally eat it alone, add it to tacos, mix in a salad, or stir into a soup. My favorite aspect of these crumbles is that they are shelf stable- this means you can always have a bag in the pantry ready to go and it's perfect for camping or traveling in remote areas. If you'd like to try some for yourself, tap here to get a free sample of Plant Boss!
Once the crumbles are plump and cooked, you can set them aside and start to cook the refried beans. If you have never cooked refried beans, fret not! They are actually super easy. You can cook your own pinto beans or used canned (simply rinse and drain them thoroughly). After making them this way, I will never go back to canned refried beans. These are just too good and well worth the effort in my opinion.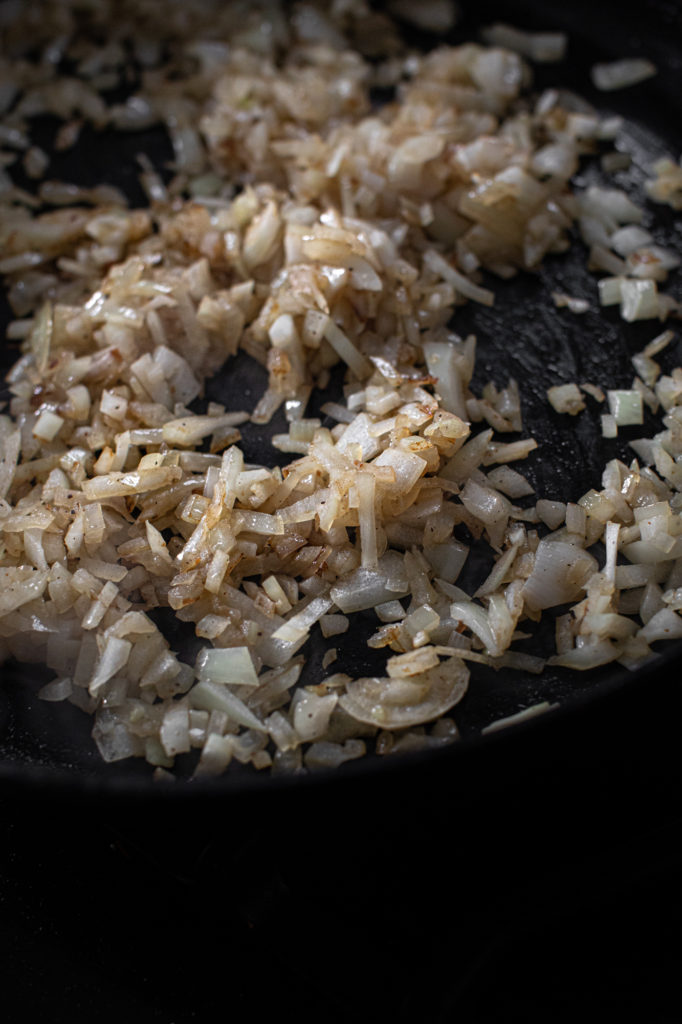 First for the skillet nacho dip, we'll start off by cooking a diced onion with a drizzle of olive oil and pepper in the same skillet as the crumbles (no need to clean it out). It's important to really cook these babies down until they have some nice color. This is going to be the backbone of flavor for the beans while also offering a mild sweetness.
Once you cook down the onions, we'll add a nice little pile of chopped garlic, dried oregano, and sea salt. I love combining these ingredients and chopping them together. Something magical happens where the salt is abrasive and helps to break down the dried oregano and the juices of the garlic really come to life. Once the onions are golden, throw in this mixture along with some vegan butter and watch it sizzle. Prepare to smell an intoxicating aroma! Now it's time for the beans.
We will be using pinto beans because that's traditionally what refried beans are. Once the beans are added to the skillet, start mashing them with a potato masher (or a big fork). Now for the important step, we will add a mixture of no-chicken veggie bouillon broth combined with tamari as the liquid. By adding ½ cup at a time and mashing as you go, the beans will slowly absorb the liquid and break down until they are beautifully creamy and delicious.
Now that all of the liquid is added and the beans are mashed, we are ready to assemble the dip! (You should totally enjoy some of the beans on their own at this point because they are a real treat in my opinion…) One trick I like to do to make things pretty is to use a spatula to clean the sides of the skillet. Because we are going to add toppings and bake this, we want to make sure there's not too much left on the sides of the skillet or they will burn in the oven and look janky. No janky today, y'all.
Now for the fun part, layering the dip. On top of the beans we'll add most of the crumbles (saving some to garnish), shredded vegan cheese, sliced hot and sweet peppers, and black olives. I then like to add another layer of cheese and more crumbles. This is baked until melted and bubbly. Fresh ingredients will seal the deal: tomatoes, cilantro, green onions, lime juice, coconut yogurt, and ripe avocado.
Now how fabulous does that look? And it's just begging to be dipped into. I love using organic tortilla chips for this (the heartier the better). Simply place the skillet on a trivet on a table and people can help themselves. I like this dip because the skillet will keep the bottom layer warm while the top layer stays cool. It's similar to a 7-layer dip but with an upgrade. My Skillet Nacho Dip.
I hope that all of you love this dish as much as I do. Big thanks to today's sponsor Plant Boss for helping me bring this recipe to life. Let me know what you think in the comments below and if you make this recipe, take a picture and tag me on the gram!
Happy cooking,
Timothy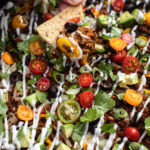 Ingredients
Plant Boss Crumbles
1 pack Plant Boss Southwestern meatless crumbles
2 cups filtered water
2 tablespoons nutritional yeast
1 teaspoon chipotle chili powder (optional)
4 tablespoons olive oil, plus some to drizzle
1 tablespoon tamari or soy sauce
1 tablespoon rice vinegar
½ teaspoon liquid smoke or smoked sea salt 

Refried Beans
1 medium onion, diced
2 tablespoons olive oil
Salt and pepper, a bit
3 cloves garlic, minced
1 teaspoon dried oregano
¼ teaspoon sea salt
2 tablespoons plant-based butter
2 cans pinto beans, drained and rinsed
1 tablespoon tamari or soy sauce
1 teaspoon no-chicken bouillon paste
2 cups filtered water   

Skillet Nacho Dip
Refried beans (full batch)
Plant Boss Crumbles (full batch)
1-2 cups plant-based cheese (mozzarella or Colby jack is ideal)
1 small jalapeño or Serrano pepper, thinly sliced (optional)
3-4 small sweet peppers, thinly sliced
¼ cup sliced black olives (optional)
1 small ripe avocado, cut into chunks
1 cup tomatoes, diced
½ cup chopped cilantro, chopped
¼ cup green onions, thinly sliced
½ - 1 cup plain coconut yogurt, drizzled or dolloped
1 small lime, cut into wedges to squeeze 
Instructions
Plant Boss Crumbles Add the package of crumbles into a large skillet, along with the water, nutritional yeast, chili powder, olive oil, tamari, rice vinegar, and liquid smoke. (The whole dish will be made and served in this skillet so pick a good one!) Mix well and cook over medium-high heat until reduced, stirring every so often.  Once the liquid is gone, drizzle with a little bit more olive oil and brown the crumbles lightly. This should take about 10 minutes. Remove from the skillet into a bowl and set aside. You will now cook the beans in the same skillet, so no need to clean.

Refried Beans Mix the no-chicken bouillon paste, tamari or soy sauce, and water together. Set aside. Cook the onions over medium high heat in the skillet with a drizzling of olive oil and sprinkling of salt and pepper. Stir often and cook until golden and tender. While that cooks, in a small pile on your cutting board, combine the chopped garlic, oregano, and a sprinkling of sea salt. Chop this up until well combined. Add to the onions (once they are golden), along with the butter, and cook for an additional 1 minute. Add the beans plus an additional sprinkling of salt and pepper. Cook for a few minutes, stirring often. Add ½ cup of the broth/tamari mixture. Using a potato masher, mash the beans into the veggie broth and mix around. Once thickened, add another ½ cup veggie broth. Continue to mash, mix, and stir. Once reduced, repeat this step 2 more times until all the broth is gone. Remove from heat. Let sit for 10 minutes and thicken. Now it's time to assemble the dip!

Skillet Nacho Dip When ready to bake the dip, preheat oven to 450 degrees F. Smooth the beans in the skillet and use a spatula to clean the sides. Sprinkle on most of the crumbles (reserve some to garnish on top). Add a layer of vegan mozzarella cheese and sprinkle the olives over top (if using). Add the sliced peppers, another layer of cheese, and the reserved crumbles. Bake in the oven for about 8 minutes, or until the cheese is melted and the beans are bubbly. Remove from oven and garnish with chopped avocado, tomatoes, cilantro, green onions, a drizzling of coconut yogurt. Squeeze fresh lime juice over top. Serve with corn tortilla chips.
notes
This dip is delicious served cold and you can spin it in a lot of different directions with leftovers. It makes for a great filling for quesadillas, a burrito (just add rice), tostada, or torta! Feel free to use any extra cilantro, coconut yogurt, lime juice, and tomatoes to add fresh ingredients to the mix.

Feel free to used canned refried beans for this recipe (2 cans total). They will totally work and will reduce the amount of work. I will admit that making the refried beans according to the instructions above makes for better results, but in a pinch, I think it's ok.

I am doing the MOST with all of these toppings. You do not need to use them all. If you don't have hot pepper or cilantro or coconut yogurt, feel free to skip. The dish will still be delicious. That said, please also feel free to use up what you have! Shredded lettuce, thinly sliced radish, or diced zucchini or squash would go beautifully with this!
This post is sponsored by Plant Boss®
All comments, opinions and recipes are my own.