Welcome to the most incredible gluten free dinner rolls! As most of you probably already know, I am not gluten free. Not even close. So when my friend Melissa came over for supper one night and showed me these rolls, I was blown away. Don't get me wrong, I have had some gluten free bread that is good! But most of the time, it's usually weird in texture, has a long list of odd ingredients that seem almost just as difficult to digest as gluten (LOL!), and is super expensive. Well, not this recipe! It uses only a handful of pantry-friendly ingredients (soaked rice being the main one) and just requires a blender and a non-stick muffin pan to make. The results are the most delectable, golden and crispy on the outside and soft and fluffy on the inside, gluten free dinner rolls.
---
---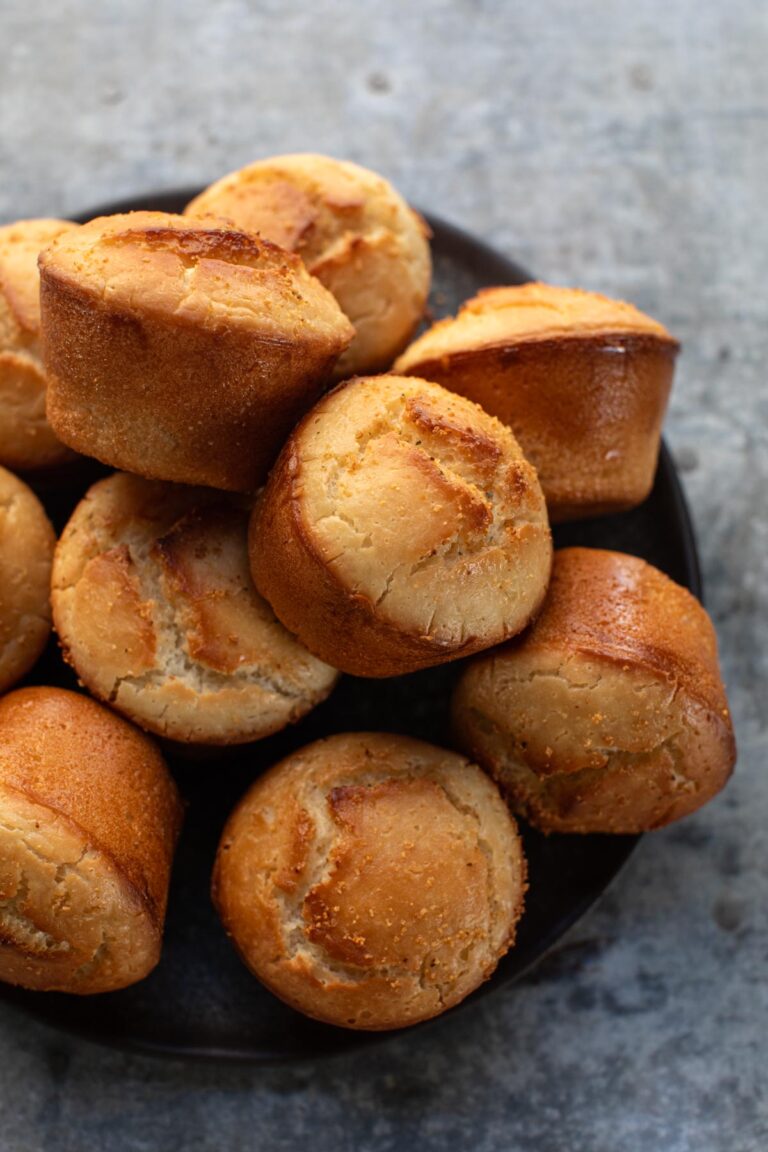 THE INSPIRATION BEHIND THESE INCREDIBLE GLUTEN FREE ROLLS
Just to be clear, I did not create the foundational recipe for these incredible gluten free dinner rolls, nor did my friend Melissa. She just happens to be gluten free and found this to be her favorite recipe. In regards to where it comes from, I do remember a version of this recipe going viral a few years ago where this batter was made into more of a loaf form. Since then, I have seen many renditions of this bread on the interwebs (here is one of my favorites!). I also recently found a YouTube video of someone making an early American recipe from the 1700's that is basically the same thing we are making here!
Bottom line, what we are making today is 'Blender Rice Bread'. It's a true revelation and a gift to us all! And regardless of where the recipe came from, my friend Melissa and I have streamlined it here for home cooks. This will allow you to have the best results! As for the size and shape, I do think that the texture of this rice bread in a small dinner roll form is just lovely. It really hits the nail on the head if you are looking for a good gluten free bread offering to join the dinner table.
RICE PREPARATION & BLENDING
The first and most imporant step is getting your hands on the right rice. Now, I am sure you could use any rice here with decent results. But my friend Melissa has tested this with other varieties and her favorite one to use is Botan Calrose Rice because of its texture, which is more dense and slightly chewy. The next step is soaking the rice. You can do this in a tightly sealed container and keep it in the fridge until you are ready to use. When draining the rice, make sure to set the strainer over a bowl to catch the water. You can use this to fertilize any plants you may have!
---
---
USING YEAST FOR THESE GLUTEN FREE ROLLS
For this recipe, we will be using active dry yeast. Make sure to buy it fresh and to check the expiration date to ensure that it's active. This kind of yeast does like some warmth and some form of sugar to feed on to become active. We will offer both of these because the batter is made by blending the soaked rice with lukewarm water, sugar, salt, and olive oil. By blending the rice for exactly 90 seconds in a high-speed blender, the batter will be warmed up perfectly to make the yeast nice and active. You will notice this once you transfer the batter to the muffin pan. After it sits out for some time, it will nearly double in size!
PLEASE NOTE WHEN BLENDING
Make sure to not go over 90 seconds! If the batter becomes too hot it will kill the yeast and you'll end up with rice hockey pucks. Not my fault!
---
---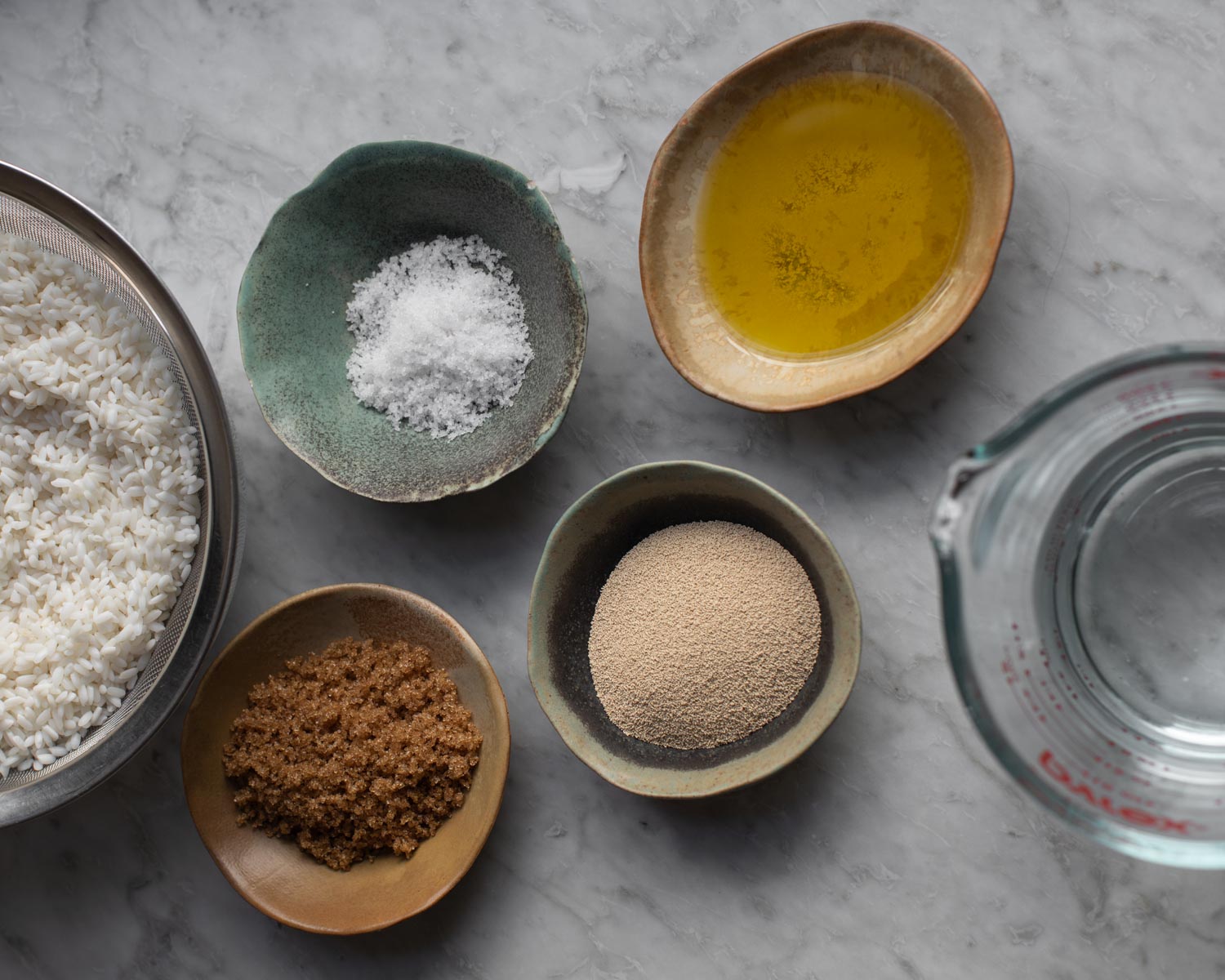 GLUTEN FREE BATTER & BAKING TIPS
Once all of the ingredients are blended until smooth, you will pour it evenly into a muffin pan. Because this is a gluten free bread, you will want to make sure to prevent sticking as much as possible. You can do this by using a non-stick, dark coated muffin pan in addition to greasing each cavity with oil or butter. Once the batter is transferred, I recommend spraying the tops with some water to prevent them from drying out while they rise.
---
---
LET THE BATTER RISE
Once the batter has risen to slightly above the tops of each cavity and the oven is piping hot- you are ready to bake! After the rolls have baked for 15 minutes, you will remove them from the oven, brush them with some garlic butter, and return them back into the oven, rotating the pan, to cook for an additional 10 to 15 minutes. The visual cue here is that gorgeous golden brown color you see below. Cracking on the top is totally normal and I think it's quite beautiful.
LET THE ROLLS COOL
Once these incredible gluten free dinner rolls are done, I do like to let them cool on a wire rack. This way they crisp up nicely and it encourages the interior to set. My friend Melissa also wanted me to point out one more thing. If you let the rolls cool for a couple of minutes in the muffin pan, it will create a more chewy texture that you might like! There is plenty of wiggle room to play with for this recipe. Have fun and push and pull things to your liking. For example, I wrapped some leftover rolls in a kitchen towel and kept them in the fridge for a few days. Then I sliced them in half, toasted them up, and smothered each half in vegan butter. Not as amazing as fresh but still very enjoyable!
I hope that you enjoy these incredible gluten free dinner rolls! If not for yourself, maybe for one of your guests that happens to be gluten free. What a treat that would be for them! I personally love this recipe so much that I will be making it for my Thanksgiving table this year. And I am not even gluten free! That's how much I love them. Lastly, here are some great recipes that would work beautifully with these rolls:
Zuppa Toscana

Gumbo

Pepper Jelly
If you do try this recipe, please leave a comment and rating below. It greatly helps the health of my site and makes me oh so happy to read. Thank you for being here and happy cooking, y'all.
-Timothy
---
---
Ingredients
2 cups white short grain rice, soaked (406 g)
2 ½ teaspoons sea salt (10 g)
3 packs Fleishmann's active dry yeast (21 grams total or 2 ½ tablespoons)
2 ½ tablespoons brown sugar (25 g)
4 tablespoons olive oil (45 g)
1 cup lukewarm water (236 g)
3 tablespoons salted plant butter, melted (to brush on top) (42 g)
½ teaspoon garlic powder (1.5 g)
Instructions
Cover the rice with water in quart container or tupperware container with a lid and soak for at least 1½ hours or overnight in the fridge.

Once the rice is ready, preheat oven to 365°F and set the baking rack to the center of the oven. Generously grease a nonstick muffin tin with olive oil and set aside.

In a large mesh strainer, over a bowl, drain the rice and use leftover water to fertilize any plants. Rinse the rice for about 15 seconds under running water (the water does not need to run clear!). Shake off the excess water and add rice to a high-speed blender along with salt, brown sugar, yeast, oil, and lukewarm water. Blend at the highest speed for exactly 90 seconds (no more than this or you will kill the yeast!) and pour the batter evenly into the greased muffin pan. Feel free to use a spoon to help scoop and distribute the batter so that each cup is filled the same amount.

Tap the pan on the counter a few times to even out the batter. Wipe any dribbles to clean the top of the muffin pan (don't worry about the interiors of the cups, as the batter will rise). Using a water-filled spray bottle, pump 3 mists of water on top of each cup to prevent the surface from drying out. Let the filled muffin pan sit in a warm place until the batter rises just above the top of each cup, about 15-25 minutes. Place in the center of the oven and bake for 15 minutes.

While baking, in a small bowl, combine the melted butter with garlic powder. Mix well and set aside. After 15 minutes, remove from the oven and brush with garlic butter. Return back to the oven, rotating the pan to encourage even browning, and continue to bake for an additional 10 to 15 minutes, until the tops are golden brown.

Once baked, immediately and gently lift the rolls from the pan with the edge of a spoon and allow to rest on a cooling rack for about 5 minutes. This will allow the outside to become crisp and the inside fluffy and soft. These are best enjoyed fresh, while still warm, with more butter.
notes
I recommend using Botan Calrose Rice for the best results.

You can soak the rice overnight in a closed deli quart container or a tall tupperware with a lid. This will keep for up to one week.

For best results, use a dark non-stick muffin pan.

If you prefer a chewier texture, you can let these rolls cool a bit longer in the muffin pan before removing.

I recommend enjoying these rolls immediately, but you can store them in the fridge and toast them the next day with decent results.
---
---