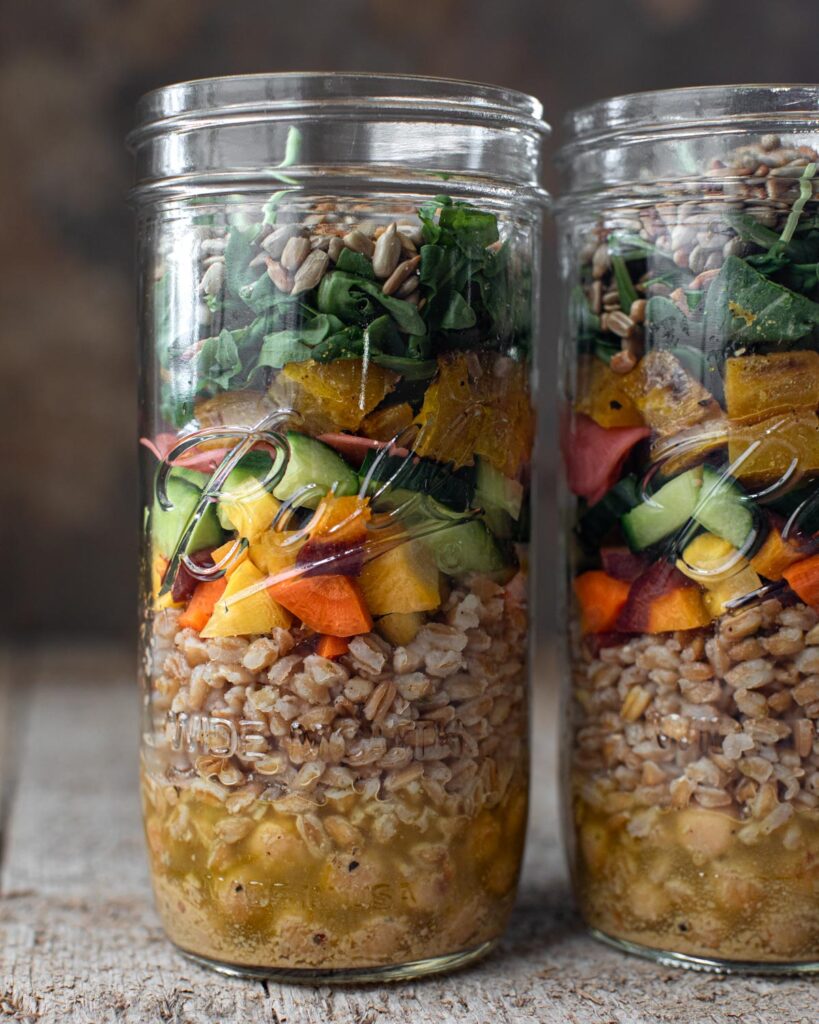 Hello and happy fall! I am so happy to share this beautiful Fall Farro Salad with all of you today. It is a colorful grain salad that has an interesting mix of textures and flavors. Sweet and jammy roasted beets, crunchy carrots, crisp cucumber, protein-packed chickpeas, and delightfully chewy farro are mixed with a zippy vinaigrette and combined with peppery arugula, toasted sunflower seeds, and pickled radish offering a sweet crunch. The best part? You can assemble this hearty salad into jars and keep them in the fridge. When ready to eat, simply shake and pour into a bowl and lunch is served.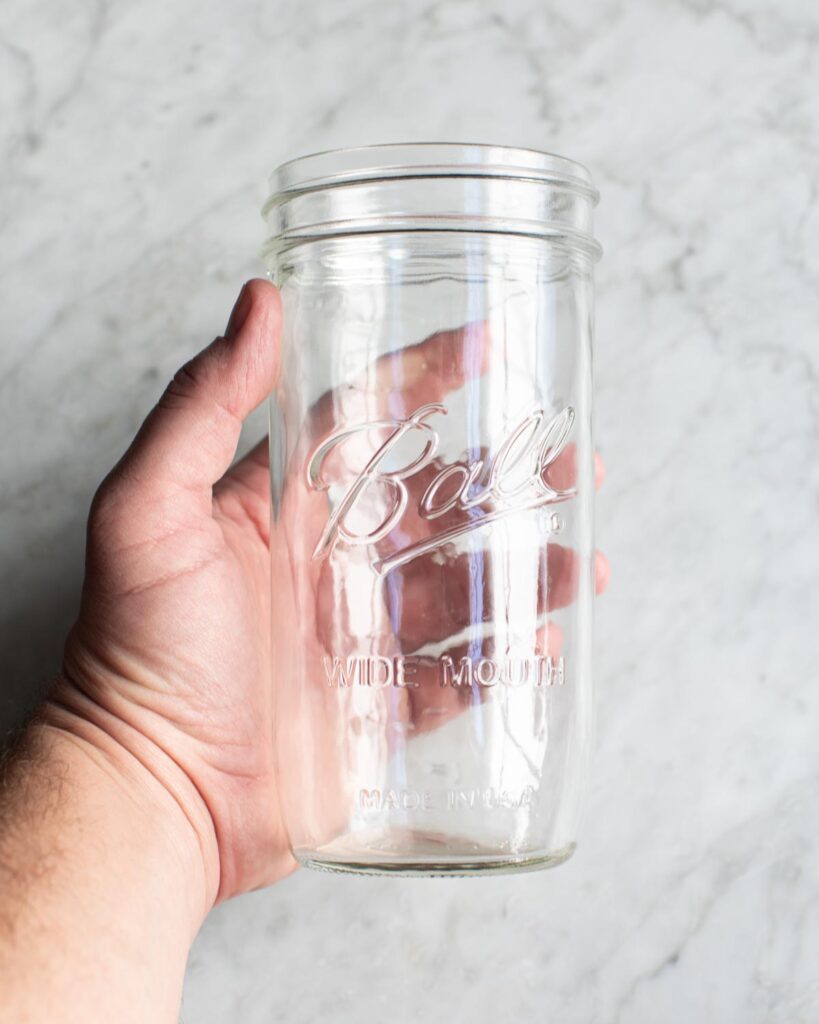 JAR ASSEMBLY FOR MEAL PREP
Before we dive into the recipe, I wanted to say thank you to today's sponsor! If you didn't know already, I am an ambassador for the makers of Ball® home canning products and I could not be more pleased about it. For the past two years, I have shared many canning recipes from their archives here on the blog and have created original recipes using their products. I am happy to say that for today's recipe I am using my absolute FAVORITE Ball® jar in the world: the 24 oz. Wide Mouth Mason Jar.
For this recipe we will be using these jars two ways. One: to make the simple vinaigrette (that you can use for anything really). And two: to preassemble this beautiful farro & vegetable salad as a way to meal prep. Lastly, we will also be using their Wide Mouth Leakproof Storage Lids which have a great grip to them and can tightly seal whatever you need.
---
---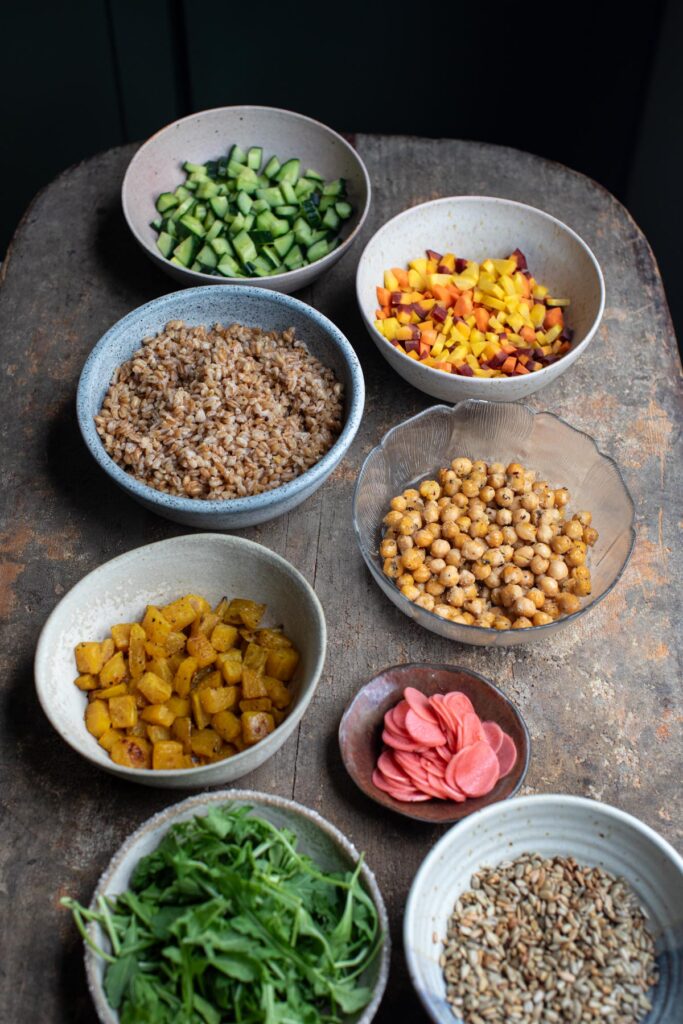 FALL FARRO SALAD RECIPE BREAKDOWN
Now I know this may seem like a lot of ingredients and work, but I promise you it's not that bad. I have streamlined the recipe so that while one thing is cooking, you can multitask. Before you know it, everything will be done and ready for assembly!
The first step is to go ahead and get the beets in the oven. You'll want to cut these into small chunks that are about the same size. This will allow them to cook evenly and fast. The larger the chunks, the longer they will take to cook so keep that in mind when chopping. While the beets are roasting, you can cook the farro on the stovetop which takes about 15 minutes.
While the beets and farro cook, you can toast the sunflower seeds and then, using the same pan, toast the chickpeas. (You can skip this step if you made the chickpeas from scratch as they will already be seasoned.) But if using canned chickpeas, I like to toast them with some spices to get rid of that canned taste.
The last step before assembly is chopping the carrots and cucumbers and getting everything organized. You'll notice in this recipe that I am using some Sweet Pickled Radish, which offers a nice pop of acidity. You could also used pickled red onions or a scoop of sauerkraut if you'd like.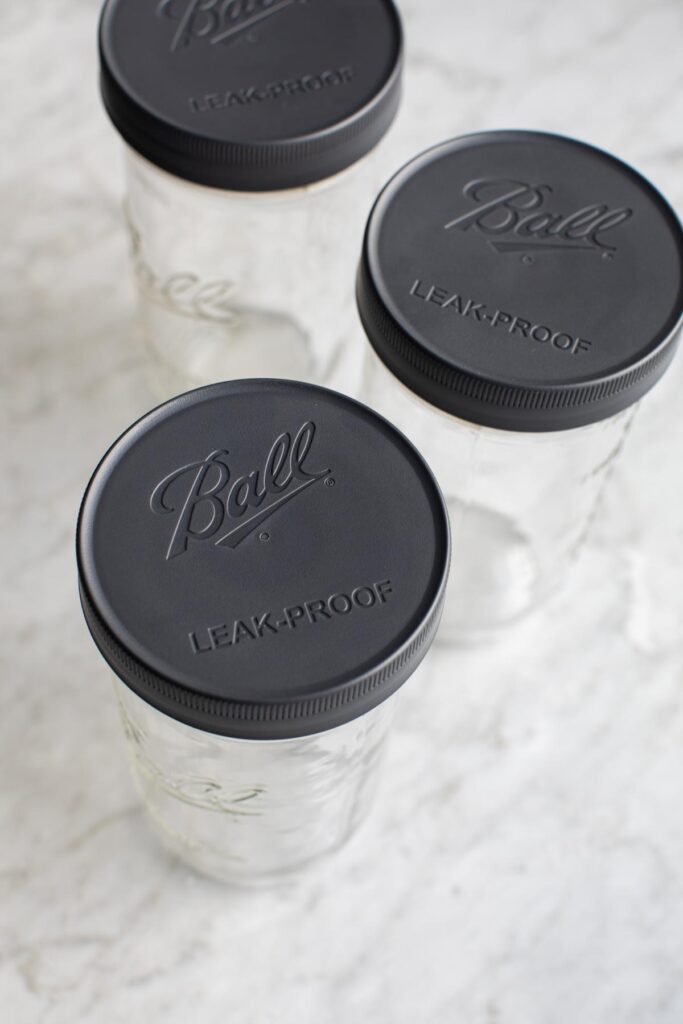 ---
---
MAKING THE VINAIGRETTE
For the dressing, I am excited to show you this simple vinaigrette that is incredibly delicious and couldn't be easier. In a jar with a tight-fitting lid, combine minced garlic and shallots with olive oil, red wine vinegar, salt and pepper and dijon mustard. I like to add some nutritional yeast for extra umami and a splash of water to help loosen things up. Then shake, shake, shake and you have a fabulous vinaigrette that you can store in the fridge for up to one week.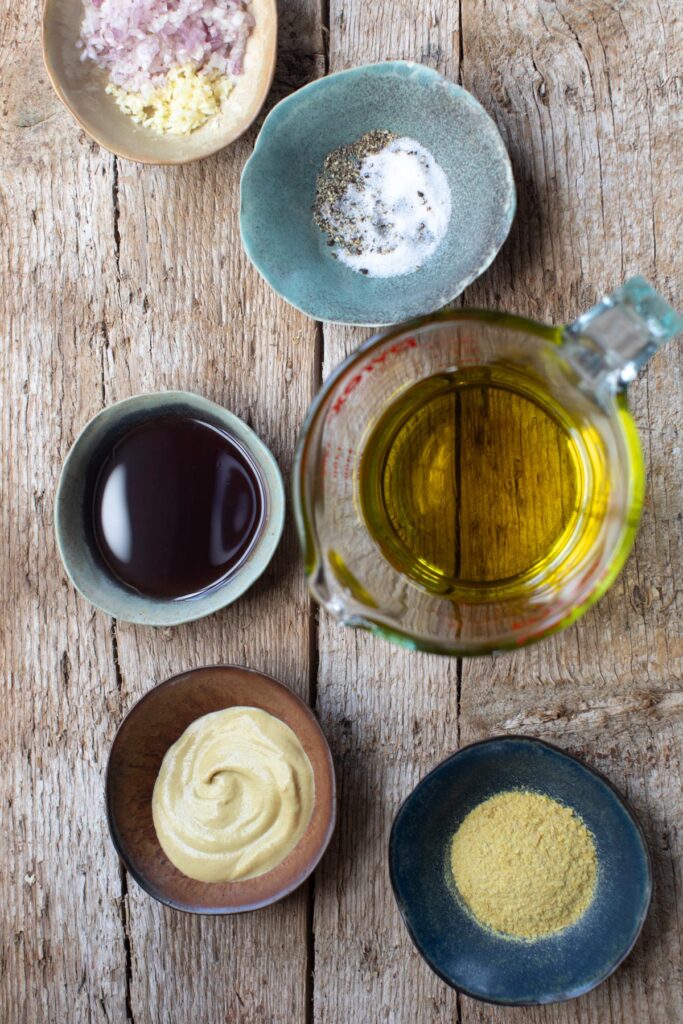 ASSEMBLING THE FALL FARRO SALAD
The final step is assembling this Fall Farro Salad! This fills up 5 Wide Mouth Mason Jars (24 oz each) perfectly. Evenly divide the ingredients amongst the jars, starting with the dressing first. Then add the chickpeas, farro, carrots, cucumber, radish, beets, arugula, and sunflower seeds. I like this order because the lettuce and sunflower seeds don't get soggy from the dressing while the chickpeas are left to marinate in the vinaigrette. The salad also holds up beautifully in these jars for a few days.
Of course, if you'd like, you could just mix everything together in one large bowl if you are serving this to a crowd! It can definitely hold up for an hour or two while sitting out. The only veggie that will begin to wilt is the arugula, so you could skip it if you are hoping to serve this at an event where it needs to sit on a table for a good amount of time.
---
---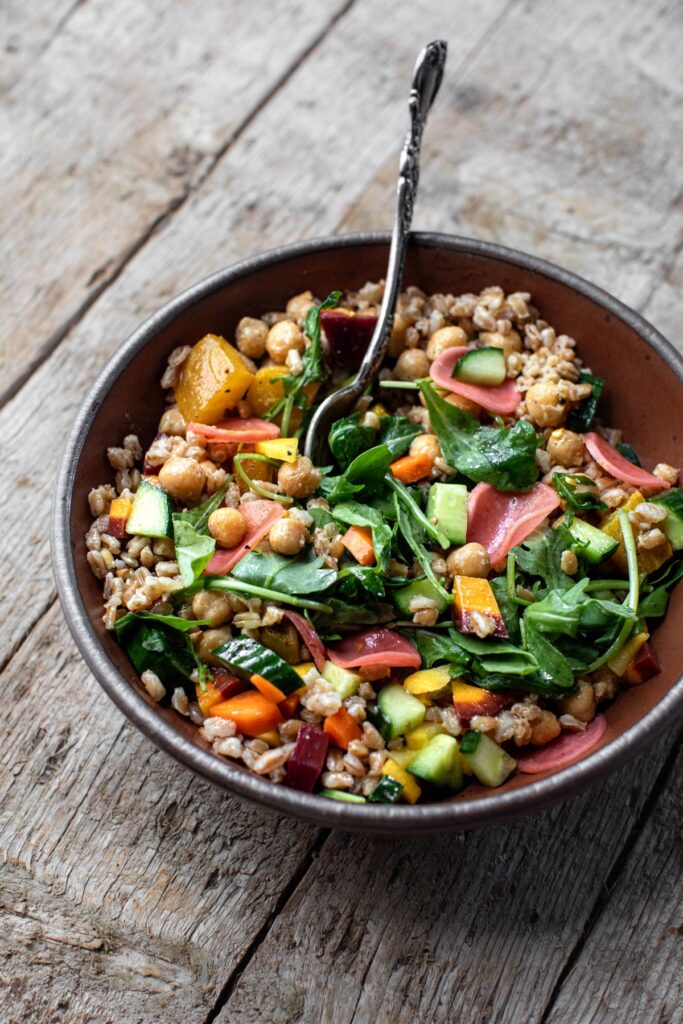 ENJOY!
Alright y'all, there you have it! My Fall Farro Salad. I hope that you try to make this nutrient dense recipe. It is loaded with textures and flavors that will surely make you happy to eat. Please let me know if you make it by leaving a comment below.
Timothy
Ingredients
Roasted Beets

1 pound golden beets (about 2 large)
2 tablespoons olive oil
1 tablespoon nutritional yeast
¼ teaspoon sea salt
A few cracks black pepper

Farro

1 ½ cups farro (about 8 ounces)
3 tablespoons olive oil
1 tablespoon rice vinegar 
1 teaspoon dried oregano or thyme
½ teaspoon sea salt
¼ teaspoon freshly cracked black pepper
2 cups water

Vegetables

1 ½ cups cucumber, chopped (about 1 large english cucumber)
1 ½ cup carrots, chopped (about 2-3 carrots)
¾ cup sweet pickled radishes 
2 cups arugula

Sunflower Seeds 

1 cup raw sunflower seeds
1 teaspoon olive oil
A pinch sea salt

Chickpeas 

1 can chickpeas (about 15 ounces), drained and rinsed
1 teaspoon olive oil
1 teaspoon nutritional yeast 
¼ teaspoon black pepper
¼ teaspoon garlic powder 
¼ teaspoon red pepper flakes 
¼ teaspoon sea salt

Simple Vinaigrette 

1 cup olive oil
¼ cup red wine vinegar 
¼ cup minced shallot (1 large shallot)
1 clove garlic, minced
2 tablespoons dijon mustard
1 tablespoon nutritional yeast 
1 ½ teaspoons sea salt 
½ teaspoon freshly cracked black pepper
1-2 teaspoons water

 
Instructions
Roasted Beets

Preheat the oven to 400°F and line a baking sheet with parchment paper. Peel and chop the beets into small chunks and transfer to the baking sheet. Drizzle with olive oil and sprinkle over nutritional yeast, salt, and pepper. Toss well and bake for about 20 minutes, until fork-tender.

Farro

Rinse the farro and transfer to a small pot. Add the olive oil, dried oregano or thyme, salt, rice vinegar, black pepper, and water. Stir well and bring to a boil. Once at a boil, place the lid on top and reduce the heat to low.  Cook for 10 minutes and remove from heat. Let sit for 5 minutes and then drain off any excess water. Fluff with a fork and give it a taste. Season with more salt and pepper, if desired.

Sunflower Seeds & Chickpeas

To toast the sunflower seeds, add them to a nonstick skillet with the olive oil and salt. Toast over medium-high heat for about 5 minutes, stirring often, until slightly golden brown. Set aside to cool. In the same pan, add the chickpeas along with the olive oil, nutritional yeast, black pepper, garlic powder, red pepper flakes, and salt. Mix well and cook for 4-5 minutes, until slightly golden, stirring every so often. 

Vegetable Prep & Dressing

Now is a good time to chop the carrots and cucumbers, add the sliced radish to a bowl, and make the dressing. Once everything is prepped, set it aside until ready for assembly. To make the vinaigrette, simply combine all of the ingredients into a jar with a tight fitting lid and shake well.

Assembly

To assemble, set out 5 tall wide mouth jars (24 oz. each). Layer the ingredients by equally distributing them in this order: vinaigrette, chickpeas, farro, carrots, cucumber, radish slices, beets, arugula, and sunflower seeds. When ready to serve, shake well, pour into a bowl, and eat. To store, place a lid on top and place in the fridge for up to 4 days.
*Disclosure: This is a sponsored post that is part of an ongoing partnership with the Fresh Preserving Division of Newell Brands. They have provided jars, equipment and monetary compensation. All thoughts and opinions expressed remain my own.
---
---