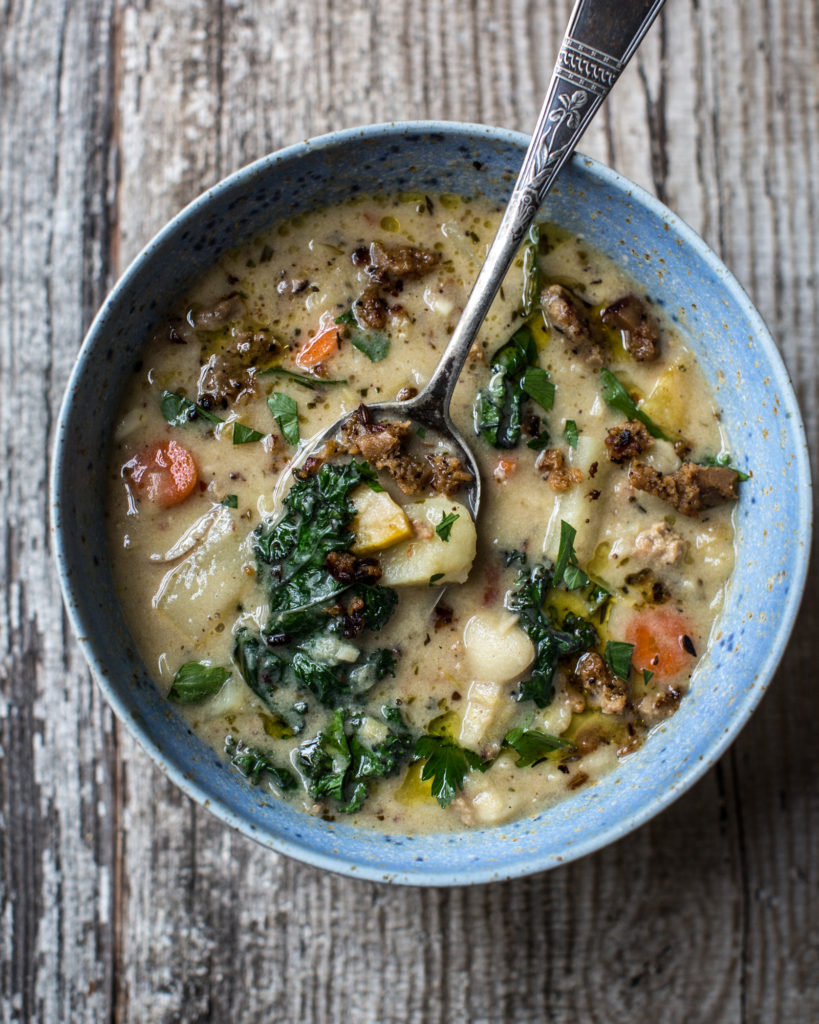 WHAT IS ZUPPA TOSCANA?
Zuppa Toscana is a classic Italian soup made with potatoes, kale, and sausage. It's some serious comfort in a bowl! And with these colder months coming up, it's the perfect recipe to make. It's full of lots of complex carbs, greens, and protein. It's actually a very healthy meal that will also make your tummy happy, too. There are dozens of different ways to make this dish, but you all know that I have to put my own spin on it.
In my variation, we are using plant-based sausage and instead of the traditional cannellini beans, I'm adding butterbeans because I'm a southern boy. But any white bean will work here! I've swapped out full-fat oat milk instead of heavy cream and I've also squeezed in a few secret, non-traditional spices like nutmeg to make this dish really sing.
---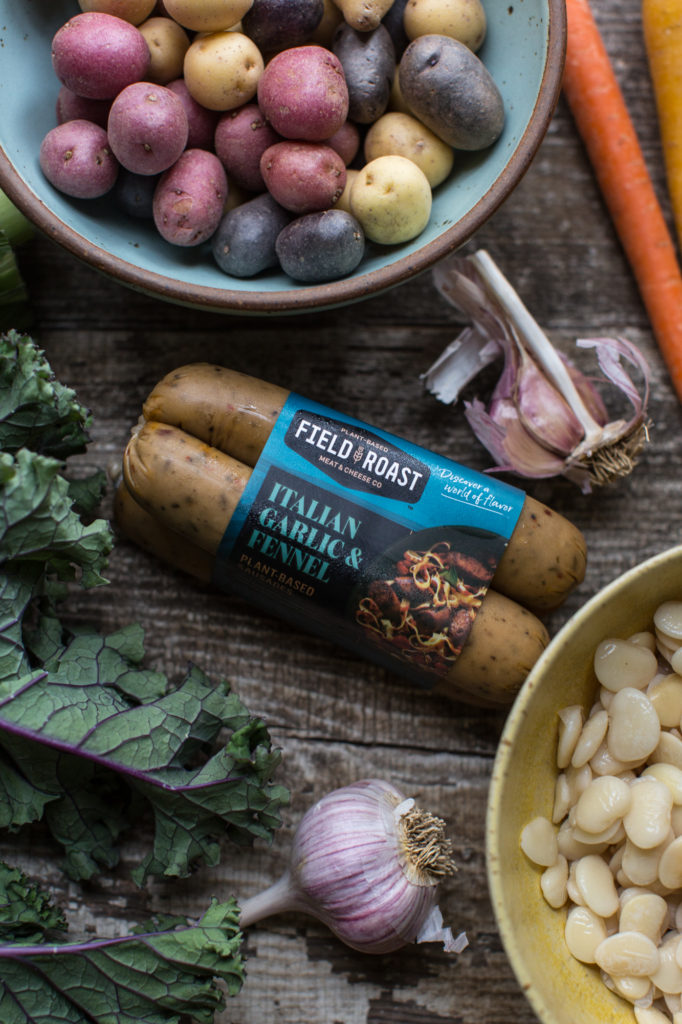 ---
---
PLANT-BASED SAUSAGE TIPS & TRICKS
For the sausage, I love love love Field Roast. They make a full line of delicious plant-based meats and cheeses. The foundation of their Italian sausage is from wheat gluten. It's jam-packed with flavorful ingredients like fennel, onion, eggplant, red wine, and garlic. In addition to the incredible taste, the texture of these plant-based links is delightfully chewy and meaty. They also brown beautifully and they make for a lovely contrast in this creamy, potato-based soup. I do recommend adding it towards the end of the recipe to keep the crumbles crispy. It is also nice to save a few pieces to garnish at the end, as well! Of course, you can use whatever vegan sausage that you'd like. If you'd rather skip the meat, try browning some chopped mushrooms and season them with some tamari, garlic powder, and italian herbs. That would work beautifully!
VEGETABLE FOUNDATION
Instead of using onions, I thought leeks would be a lovely swap; they pair with potatoes famously (of course, you can still use onions if you'd prefer!). As for the potatoes, you'll want to use russet. I also like to throw in a handful of small colorful potatoes, just for a fun. Totally not necessary! One step to mention is that once the carrots, leeks, and garlic are ready- you will add the spices plus some flour. These will all toast together and make the soup incredibly savory while the flour will help to make it creamy.
After the oat milk and vegetable broth are added, you will simmer the soup for about 40 minutes on low heat. This will give it time to thicken up nicely. The potatoes become tender, and the seasonings and spices meld together in a fantastic way. When ready to serve, a big bunch of chopped kale adds a lovely pop of green and some additional texture to this hearty soup.
---
---
WANT TO TRY SOME OTHER COMFORTING DISHES?
White Truffle Macaroni and Cheese
One-Pot Vegan Hamburger Helper
And there you have it! My version of Zuppa Toscana. Hearty, filling, and wholesome. This vegan translation will definitely give Olive Garden a run for their money! If you do make it, please leave a comment below and if you share it on social media please tag me. I can't wait to hear what you all think of this recipe. Happy cooking!
–Timothy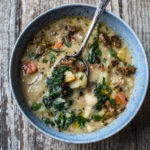 Ingredients
1 pack vegan Italian sausage, crumbled 
2 cups chopped carrots (about medium carrots)
2 cups chopped leek  (1 large leek- white and pale green parts only)
1 head of garlic (9-12 cloves), diced 
1 teaspoon dried thyme
1 teaspoon dried oregano
½ teaspoon crushed red pepper flakes 
½ cup nutritional yeast 
¼ teaspoon ground nutmeg 
1 teaspoon garlic powder 
1 teaspoon onion powder 
½ teaspoon smoked sea salt or a few drops of liquid smoke 
3 tablespoons all-purpose flour
2 cups full-fat oat milk
3 cups chopped potatoes, peeled 
2 cups butterbeans (frozen or canned)
8 cups vegetable stock
1 tablespoon fresh rosemary, chopped
2 tablespoons rice vinegar  
1 ½ teaspoons salt, plus more to taste 
1 bunch fresh kale, rinsed and chopped 
Fresh parsley, to garnish
Smoked olive oil, to garnish 
Flaky salt, to garnish 

 
Instructions
In a large pot, add crumbled sausage and a drizzle of olive oil. Cook on medium heat, stirring often until the sausage is golden brown on the edges- about 10 minutes. Remove from pot and set aside. 
In the same pot, add another drizzle of olive oil and throw in the carrots and leeks and add a sprinkling of salt. Saute for about 8 minutes on medium heat, stirring often, until soft. Then add the garlic and cook for an additional 5 minutes, stirring every so often, until caramelized.  
Throw in the thyme, oregano, pepper flakes, nutritional yeast, nutmeg, garlic powder, onion powder, smoked sea salt, or liquid smoke. Add another drizzle of olive oil and mix well. Add flour and cook for about 5 minutes, stirring often, to lightly toast the flour and spices. 
Add the oat milk to deglaze the bottom of the pan, scraping and mixing with a wooden utensil as needed. Add the potatoes, butterbeans, vegetable stock, fresh rosemary, rice vinegar, and salt. (Keep in mind that some vegetable stocks/vegetable bouillons have salt already. You can add more salt later on if need be!) Mix well and bring the heat up to medium-high. Cook until it begins to simmer and bubble on the sides. Keep it at a bubble for 5 minutes to help the potatoes to cook. Turn the heat down to low and continue to cook, uncovered, for 40 more minutes, stirring every so often. 
At this point, give it a taste and add any additional salt and pepper. When ready to serve, throw in the kale and sausage, and cook for an additional 5-10 minutes, until the kale is soft. Serve in bowls with a sprinkling of chopped parsley, a drizzle of smoked olive oil (plain will work too!), and a sprinkling of flaky salt.
notes
Like any soup or stew, this dish is even better after it has sat in the fridge overnight. The flavors really develop this way. It also freezes beautifully!

If you have some white wine in the fridge, I always love adding a splash when the oat milk is added but it's not necessary.

This soup is delightful served with a big salad and some garlic bread for dinner. The leftovers make for a quick and easy lunch, too.
---
---