This immune boosting soup is the first thing that I crave when a sickness begins to creep on up. And let's face it- we all get sick. There's just no way around it. No matter how much you try to prevent that nasty crud that seems to always make its rounds during this time of the year, it's just inevitable. Now, instead of complaining about it- make this soup! It's so very good for you and delicious. Wholesome, brothy, full of spicy ginger and large chunks of vegetables floating in a golden turmeric broth, this soup is the definition of health (if you need some proper evidence supporting how amazing fresh ginger and turmeric are, go ahead and google their benefits. You'll be overwhelmed with the results). Now, instead of noodles, I prefer to add spiralized butternut squash which provides another punch of nutrition. They become tender and succulent while also providing that noodle texture we all know and love. Feel free to throw in whatever greens and fresh herbs you like (or none at all). Lastly, this immune boosting soup is fantastic with rice or quinoa. Enjoy.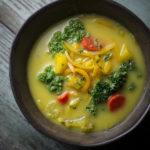 Ingredients
3 cups celery (about 5 to 6 stalks)
2 cups carrots (4 to 5 carrots)
2 cups chopped leeks, only the white and light green parts* (2 stalks)
2 cups sliced shiitake mushrooms (3.5 oz pack, de-stemmed)
3 cups chopped onion (1 large onion)
¼ cup fresh ginger, microplaned or grated + minced
2 tablespoons turmeric, microplaned or grated + minced
2 tablespoons chopped garlic (3 to 5 cloves)
2 tablespoons olive oil (or desired oil)
¼ cup nutritional yeast
½ teaspoon freshly cracked black pepper
¼ teaspoon cayenne, or desired amount
1 teaspoon sea salt, or to taste
8 cups filtered water, plus more if desired
4 cups peeled and spiralized butternut squash (1 small squash)
A few handfuls of kale, if desired
2 to 3 heaping tablespoons chopped parsley, if desired
¼ cup freshly squeezed lemon juice
¼ cup unpasteurized chickpea miso (or desired miso)
Instructions
1. Add the celery, carrots, leeks, shiitakes, onion, ginger, turmeric, garlic, olive oil, nutritional yeast, black pepper, cayenne pepper, and salt (start with less if you are sensitive) in a large pot. Mix well and bring to medium heat. Cook for about 10 minutes, stirring often, until the vegetables begin to sweat, becoming soft and tender but while maintaining some crunch. 
2. Pour in the water and bring the heat up to high. Once to a boil, throw in the butternut squash noodles. Cook for about 5 minutes, until the squash noodles are tender. Remove from heat and throw in the kale and parsley. Mix well. 
3. In a small bowl, mix together the lemon juice, miso, and one ladle of broth until smooth. Pour the mixture into the soup and stir to incorporate. Give it a taste and add more sea salt and cayenne pepper if desired. I did. 🙂
notes
For the leeks, you want to only use the white and baby green parts. The dark green leaves are fibrous and undesirable. One you remove the dark green leaves, slice the stalk in half and you notice loads of dirt. Make sure to rinse all that out thoroughly! I even rinse the leeks once more after cutting because no one likes sand in their soup. 

You can buy pasteurized miso if that's all you have access to, but the good stuff with all of the probiotics will be in the refrigerated section. Adding this to the soup at the very end will help keep them alive. Chickpea miso is a great option for people who try or need to avoid soy.