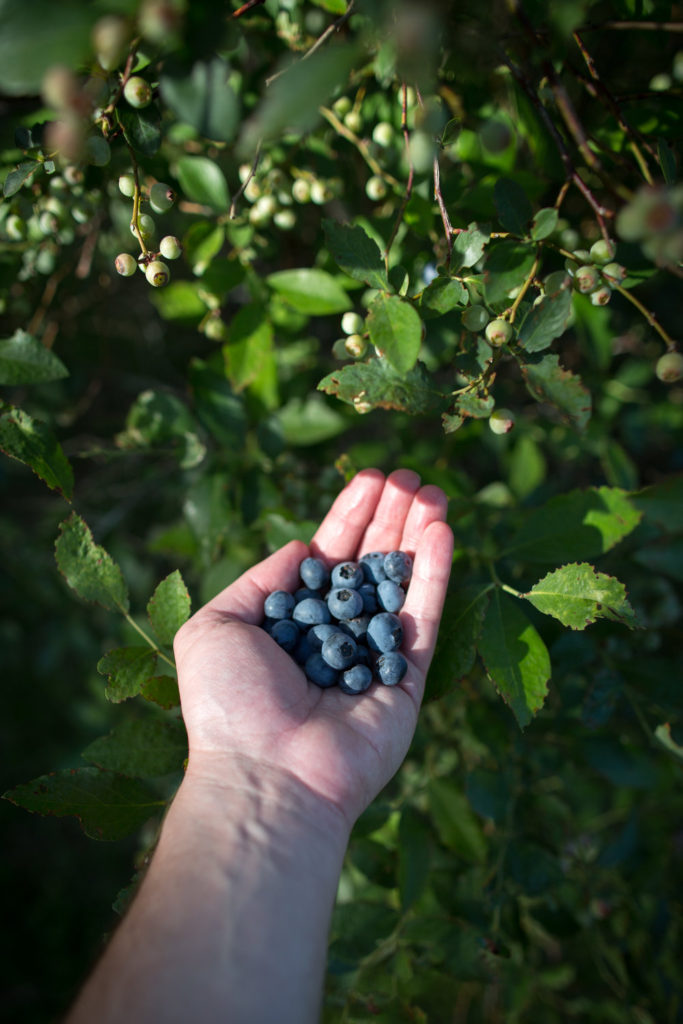 There's nothing quite like picking fresh blueberries right off the bush, wouldn't you say? And there's no better way to enjoy the fruits of your labor than with a blueberry cobbler. I'm sure we can all agree with that one! Now when it comes to the world of cobblers, I've noticed that they are predominantly created in 3 different ways. One way is with a crust, similar to a pie, that's flaky and dense, with a top and a bottom (yum!). Another way is with a more a biscuit-like topping (also fabulous). The final other way is more of a 'cakey' fluffy batter.
For this recipe
I decided to go the 'cakey' route. Because 1) I have so many pie and biscuit recipes in my cookbook and 2) I was in the mood. Knowing me, it's still a recipe that's all my own with results that are unique compared to traditional recipes. Although some might say this was pretty darn close to a 'Texas Style' blueberry cobbler. You see, if I had to give you the best description, this creation is best described like so: If a blueberry cobbler and a blueberry muffin had a baby, this would be it. On the bottom, you have piping hot blueberries that have burst and melded with tangy lemon zest and lemon juice, creating their very own jelly-like sauce. On top, you have a fluffy, moist, and decadent topping (you can thank the coconut milk for that) with a thin crispy top. The recipe also happens to be incredibly easy with only 10 ingredients. C'mon people. Find your closest u-pick, grab your basket, and get into it.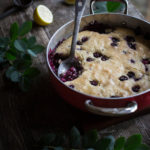 Ingredients
3 cups blueberries, plus some for sprinkling
1 teaspoon lemon zest
2 tablespoons lemon juice
½ cup vegan butter
1 cup granulated sugar, plus some for sprinkling
1 can full fat coconut milk
1 teaspoon vanilla extract
1 ½ cups all-purpose flour
2 teaspoons baking powder
½ teaspoon sea salt
Instructions
1. Preheat oven to 350 degrees F.
2. Rinse the berries and drain them well. Transfer 3 cups to a 9" x 13" baking dish, or desired dish similar in size. Add the lemon zest and lemon juice. Toss to mix and spread into an even layer. Set aside. 
3. For the batter, cream together the butter and sugar, mixing with a fork. Add the coconut milk and vanilla extract and mix well. Add the flour, baking powder, and sea salt. Mix until just combined and pour over the blueberries hanging out in the baking dish. Sprinkle with additional blueberries and desired amount of sugar on top.
4. Bake for 1 hour, depending on your oven, until the top is golden and crispy. Serve immediately as is or with vanilla ice cream or coconut whipped cream.
Lagniappe
If you're into making your food look extra pretty like me, feel free to throw a few extra blueberries on top when there are 20 minutes left to cook.