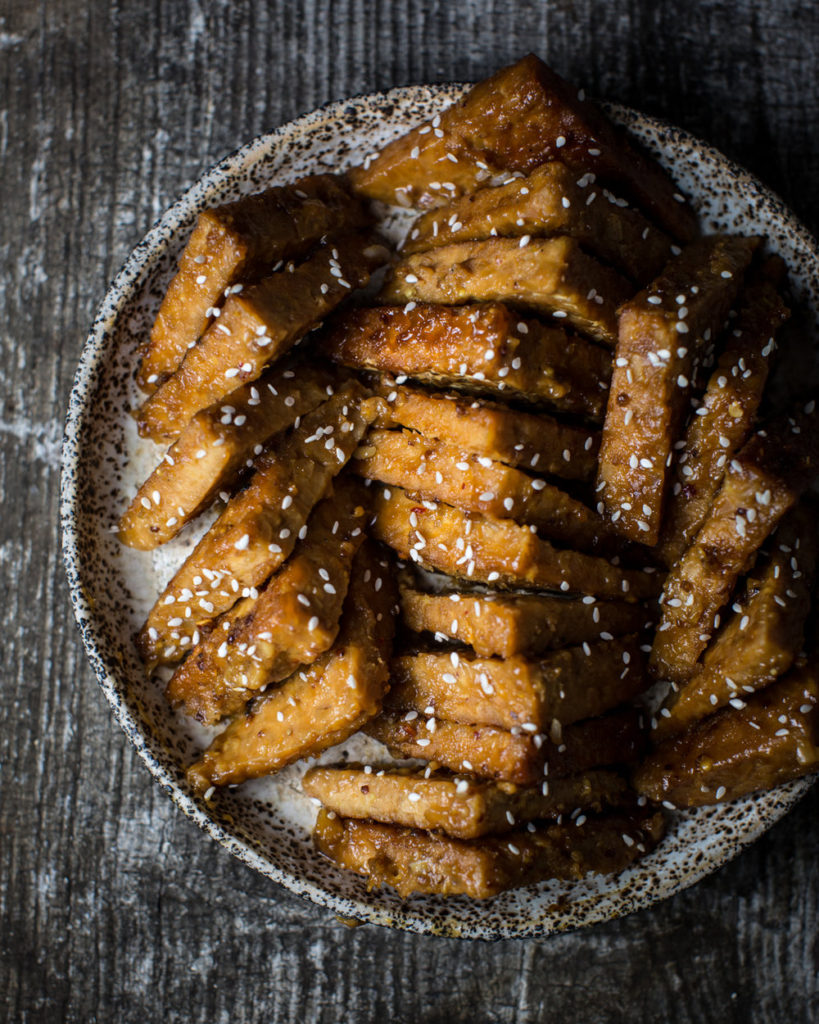 This apricot tempeh recipe is absolutely perfect! The glaze is sweet, tangy, and savory, with just a kick of spice. The texture of the tempeh is firm yet tender with a delightful crunch. The trick to making good tempeh is to steam it, which removes the bitter taste it can have straight out of the package.
With this technique, the marinade is poured over the tempeh and wrapped tightly in foil. While baking, it's not only steamed, but all of the flavor from the marinade is infused throughout. To finish, remove the foil and continue baking in the oven. This thickens the glaze and the tempeh becomes nice and firm.
By combining sweet apricot preserves with tangy whole grain mustard, savory tamari, onion and garlic, a touch of vinegar, fresh bay leaves, and crushed red pepper flakes, you are left with a marinade that is truly a party for your taste buds.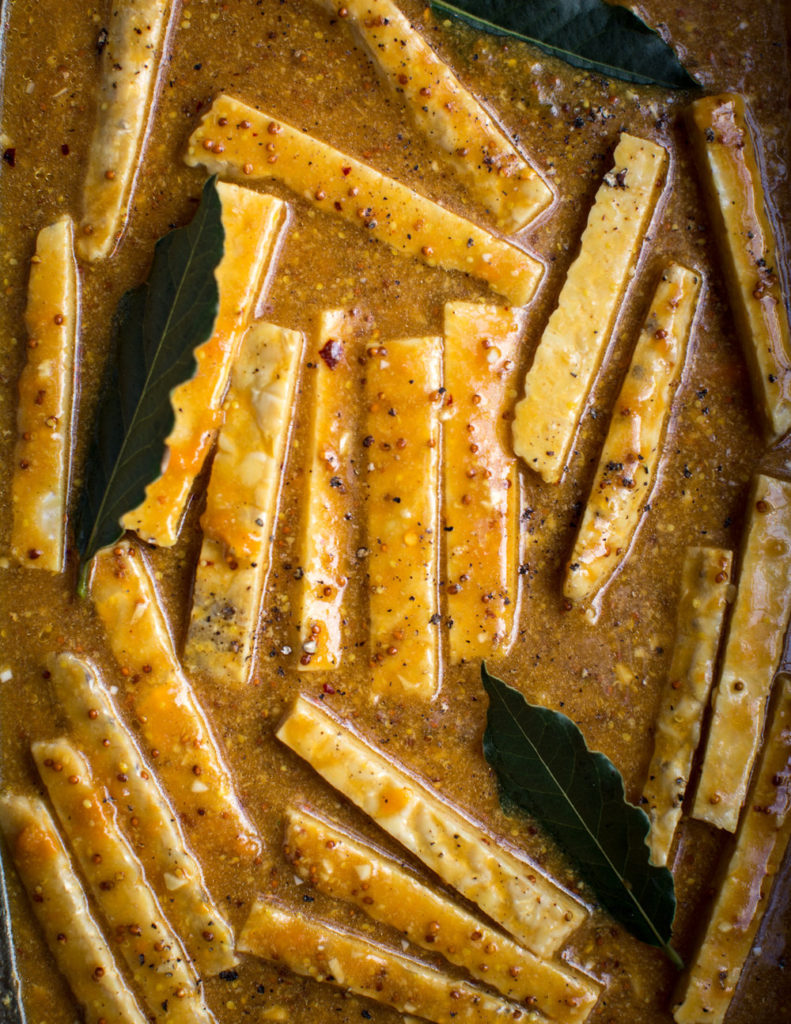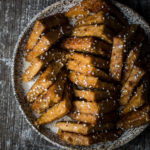 Ingredients
2 (8 ounce) packages tempeh (soybean variety)
1 (10 ounce) jar apricot preserves
¼ cup nutritional yeast
1 tablespoon onion powder
1 tablespoon garlic powder
½ teaspoon crushed red pepper flakes
1 cup filtered or spring water
¼ cup tamari (or soy sauce)
3 tablespoons whole grain mustard
2 tablespoons olive oil
1 tablespoon rice vinegar
1 tablespoon minced garlic
Sea salt and black pepper, to taste
2 to 4 bay leaves, depending on size
Instructions
1. Preheat oven to 375 degrees F.
2. For triangles, cut the blocks of tempeh in half, lengthwise (like slicing a thin loaf of bread in half for a sub). Then cut into squares and finally, triangles. For batons (small long rectangles), cut the block of tempeh in half, lengthwise. Then cut in half and into small batons (see picture above). Transfer to a 9' x 13' baking dish. Set aside.
3. In a medium-sized bowl, add the apricot preserves, nutritional yeast, onion powder, garlic powder and red pepper flakes. Mix until smooth. Then add the water, tamari, mustard, olive oil, vinegar, and minced garlic. Mix well and give it a taste. Season with salt and pepper to your liking.
4. Pour marinade over the tempeh and give the dish a nice jiggle, making sure some of the marinade goes under the tempeh. Place the bay leaves on top and cover tightly with foil. Bake for 30 minutes. Remove the foil and bake uncovered for an additional 20 minutes. Remove from oven once again, and using a pastry brush (or a spoon if don't have one), brush/spoon over some of the remaining marinade over the tempeh to glaze the pieces. Pop back in the oven for an additional 10 to 15 minutes until the tempeh is sticky. (If you halve this recipe, pull back on the final cooking time so the marinade doesn't burn.)
5. Serve with freshly steamed or roasted vegetables, grain of your choice, and a sprinkling of sesame seeds. Feel free to spoon over some of the remaining glaze on top.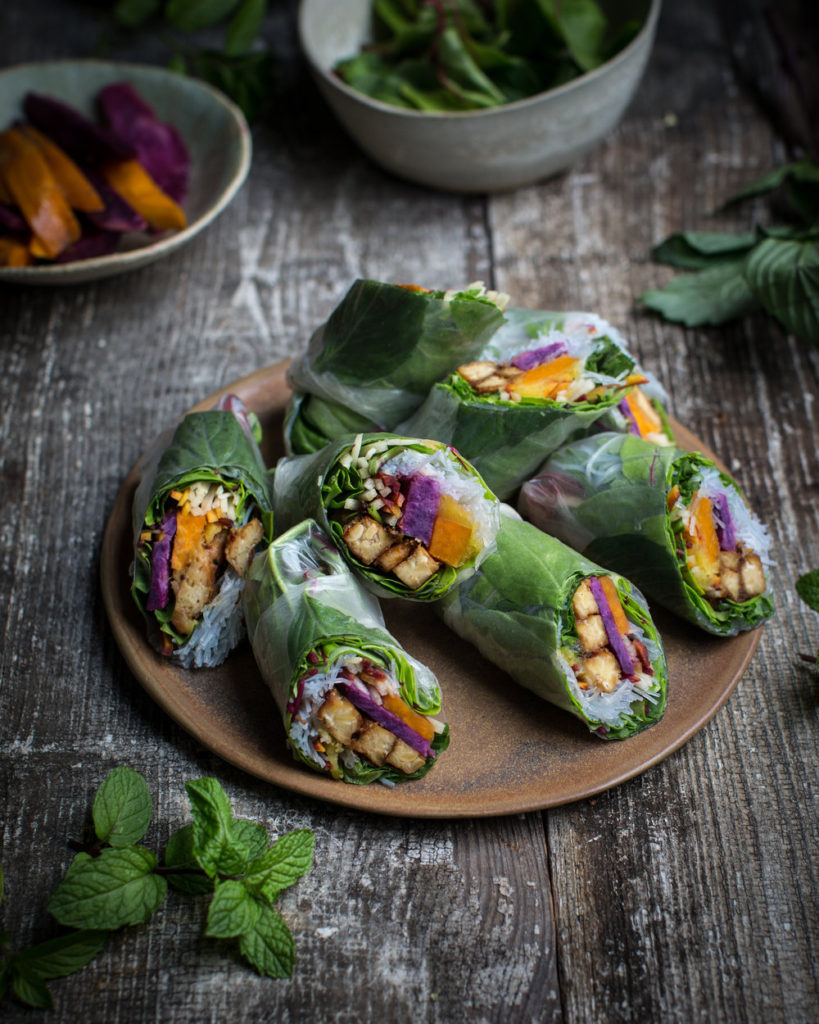 Did I mention that this tempeh works perfectly as a filling for spring rolls? The combinations and variations are endless. To start, instead of cutting the tempeh into triangle shapes, you simply cut the tempeh into strips, like batons. This makes it easier to fit the tempeh into spring rolls.
For the filling, I recommend using any kind of lettuce you desire (spinach, shredded romaine, or arugula work great!). To make the spring rolls, hold a large piece of rice paper in the sink and run some water, just to wet it briefly. Transfer the sheet to a cutting board. Then, add 2 to 3 tempeh batons, some fresh herbs (like cilantro, Thai basil, and mint).
For an added layer of texture, I add strips of roasted sweet potato (you could steam as well). You can also add some rice or mung bean noodles for fun, but they aren't necessary. Julienned strips of carrots and cucumbers add a lovely crunch. I've created a little story on my Instagram for how to roll them. You can watch that video on my instagram page: it is saved under the highlight 'Spring Rolls'.)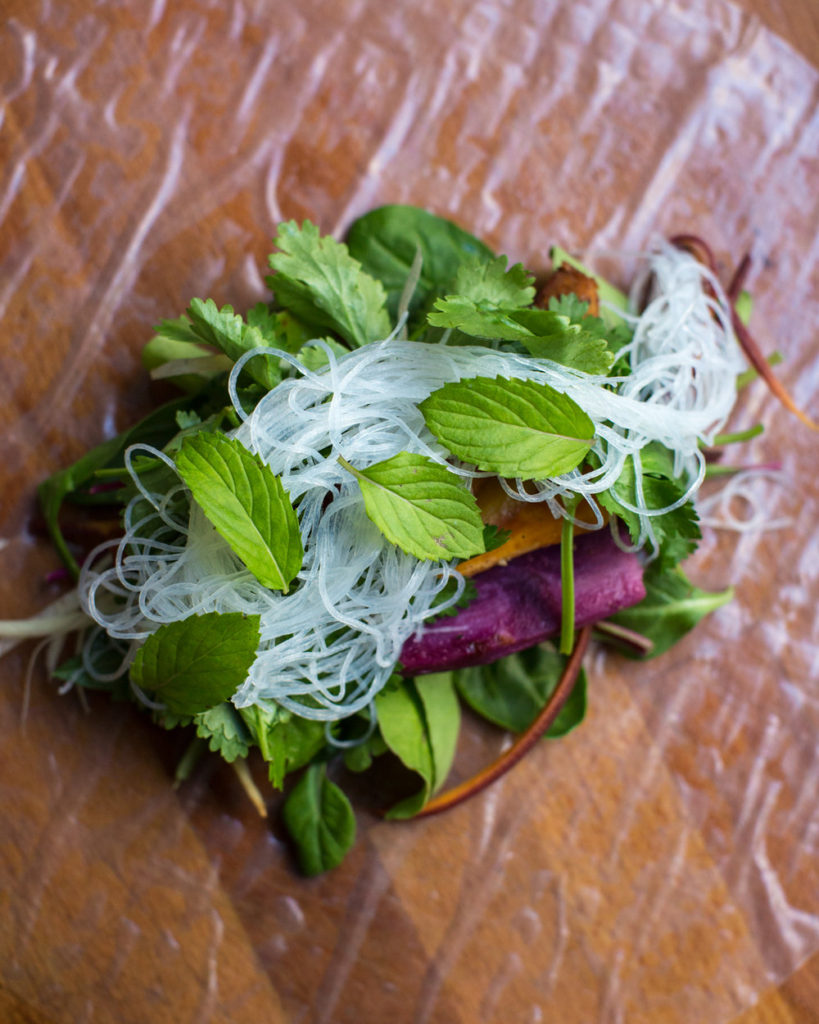 As for the dipping sauce for these apricot glazed tempeh spring rolls, here is a delicious miso-tahini recipe that I absolutely adore! Did you know that miso is made from soybeans? Yep, it's a traditional Japanese seasoning produced by fermenting soybeans with salt and koji and sometimes rice, barley, seaweed or other ingredients. You can use any leftovers as a salad dressing or as a dip with roasted veggies.
Miso Tahini Dressing
3 tablespoons tahini
3 tablespoons mellow white miso
2 tablespoons filtered water
2 tablespoons lemon juice
2 teaspoons toasted sesame seed oil
1 teaspoon maple syrup or agave
1 teaspoon nutritional yeast
1 teaspoon rice vinegar
Combine all ingredients into a bowl and whisk together until smooth. Serve immediately or keep in a tightly sealed jar in the fridge for up to one week.
I hope you all enjoy this recipe! If you do make it, please leave a review on the blog and/or tag me on Instagram. I love seeing your creations. Most importantly, remember to have fun. Happy cooking!
-Timothy