Look hunny- I grew up in the South, ok? That means I grew up eating hashbrowns at Waffle House- a lot. Whether I was on the gulf coast of Mississippi, North Georgia, or the panhandle of Florida, I spent a lot of time at WAHO. The reason for this: breakfast.
Waffle House is a restaurant chain known for serving breakfast all day and every day (24/7/365 days a year). Isn't that wild? It's also super cheap so it's no wonder I spent so much of my time there as a teenager. Breakfast sandwiches, waffles, bacon and grits, patty melts, raisin toast with cheesy scrambled eggs, or my favorite- the all-star grand slam which has everything! Basically, the menu is a dream come true for breakfast lovers.
Unfortunately, turning vegan in my adult life has left me with a very sparse menu to order from. Could you say it has been a dream of mine to open a veganized Waffle House of sorts? Sure. But every restaurant owner I know is completely miserable so I'll just stick to blogging.
Which leads me to the fabulous recipe I'm featuring today: Scattered Hashbrowns. At WAHO you can order a big pile of hashbrowns scattered, smothered, covered, capped, diced, and peppered up (ok, I made that one up myself but all the other terms are true!) 'Smothered' means sauteed onions, 'covered' is melted cheese, 'diced' is with chopped tomatoes, and 'capped' is with mushrooms! Feel free to add any of these items to yours but today we're going with the classic, straight-up scattered hashbrowns.
Now, believe it or not, the hashbrowns at Waffle House are actually vegan! They use an artificial butter that has a rather long ingredient list of items that are hard to pronounce but I do recall it being vegan. (That might have changed since I was last there so make sure to check again if you do find yourself dining at one.) But now you skip all of the sketchy ingredients and make some for yourself in the comfort of your own home. They are so incredibly easy and quick to make. All you need is one large russet potato, a box grater, vegan butter, salt and pepper, and a large skillet.
To get that golden brown crunch we are all obsessed with, I'm using Country Crock Plant Butter. It's has a delicious flavor and it browns beautifully. It the perfect ingredient to use for something like grilled cheese, pancakes, and most important of all: hashbrowns.
Now this recipe couldn't be easier. It's all about the technique. First up, I highly recommend you peel the potato. This helps you to achieve that gorgeous golden color. Next, you must squeeze the shredded potatoes until they are as dry as possible. I just use my hands for this but if you wanted to use a kitchen towel and create more of a mess for yourself, be my guest. Take all that pent up anger that you have and squeeze the bejeesus out of them! This will help the potatoes become super crispy when cooking. Lastly, when sprinkling the potatoes into the skillet, thinly scatter them. If you create a thick layer, they won't crisp up and you won't get that super desirable lacey texture we're looking for. If you are using a large potato, you might have to make 2-3 orders which is totally ok!
Ingredients
1 large russet potato, washed and peeled
Sea salt + black pepper 
2 tablespoons Country Crock Plant Butter
Olive oil, to drizzle
Fresh chives or green onions, to garnish 
Instructions
Using a box grater, shred the peeled potato into a mixing bowl. Using your hands, squeeze the shreds over the sink to release as much water as you can, splitting it up into batches if need be. Return the squeezed shreds back into the bowl. Sprinkle with salt and pepper. Mix well and set aside.
In a large skillet add 2 tablespoons plant butter. Once the pan is hot and butter is sizzling, scatter the potatoes (about 1 cup). You don't want to create a thick layer of potatoes but rather a thin, scattered layer that can have some spacing peaking through. 
Cook slightly above medium for about 7-8 minutes, checking the bottom to make sure it's golden brown. Before flipping, drizzle a little olive oil over the top to help prevent sticking. Using a super thin spatula, flip, and continue to cook for an additional 8 minutes. Repeat this step until all potato shreds are cooked. 
Transfer to a plate and sprinkle with fresh herbs. 
notes
This only works with russet potatoes.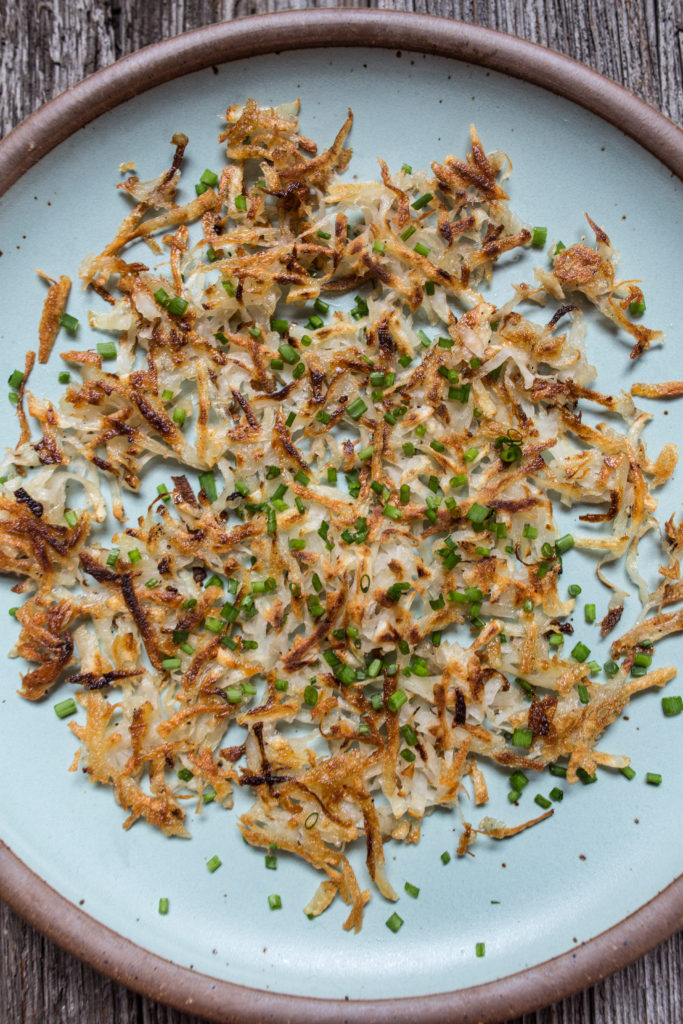 Country Crock® Plant Butter sponsors this post.
All opinions and recipes are my own.