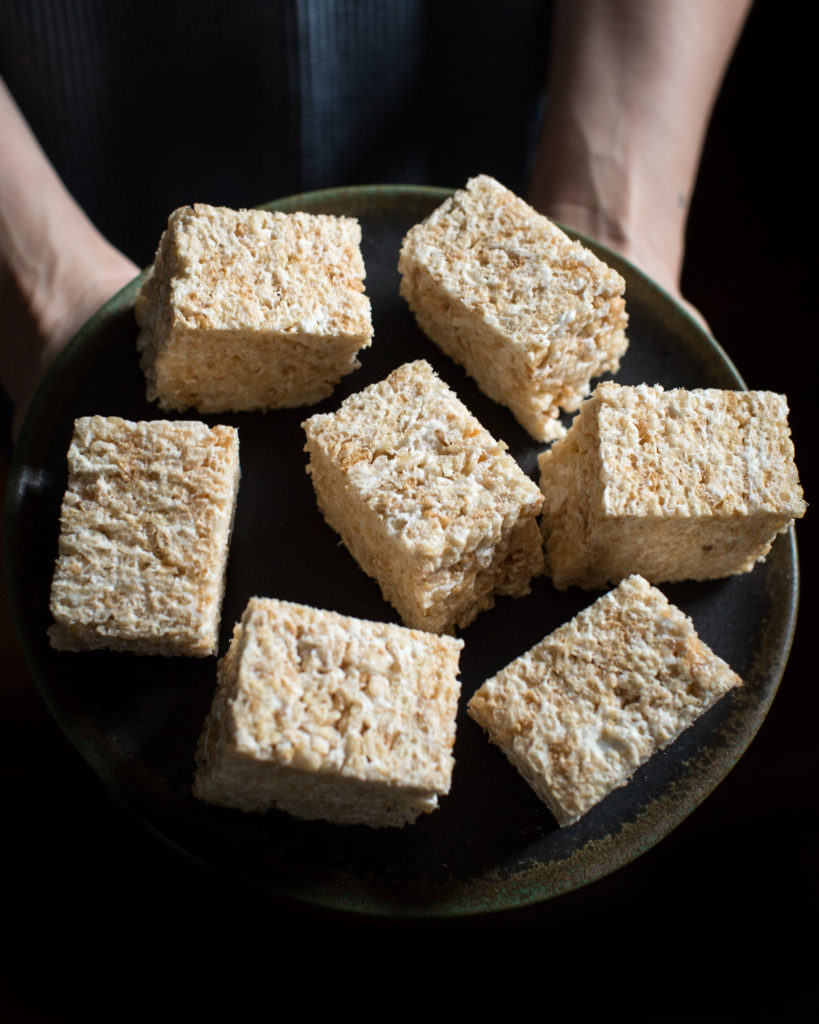 Rice Krispie Treats: a delightfully fluffy and crispy block of puffed rice cereal held together by a smooth and creamy marshmallow butter base. Sounds pretty perfect to me! And a total throwback of a recipe. I grew up eating rice krispie treats as a kid… come to think of it- a lot. Way more than I do now as an adult which is actually quite sad. But to be fair, it's not like I haven't wanted to eat them.
The problem is most rice krispie treats aren't vegan. This is because traditional marshmallows have gelatin. And if you are curious as to why I avoid gelatin as a vegan, I would simply google where it comes from, and then you'll get the idea. Then you can head back here, buy a few simple ingredients, and make your very own batch of vegan rice krispie treats that are just as good as what you remembered while also being cruelty-free! Sound like a plan? Let's do it, baby.
---
---
VEGAN RICE KRISPIE TREAT TECHNIQUE
This recipe is very simple and straightforward but it does take some technique, so listen up! You'll need vegan butter (I use Country Crock Plant Butter because it is delicious, melts beautifully, and is sold at most grocery stores), vegan marshmallows (see notes under the recipe), puffed rice cereal, vanilla extract, and a pinch of salt for good luck (not really but I just felt like saying that).
Before we mix all of these ingredients together to make the most delicious rice krispie treats you've ever had, you'll need to decide what you'd prefer: thin, bar-like treats or big, blocky, bakery-style treats. If you choose the latter, like moi, then you can use a loaf pan to shape the mixture. If you'd like bars, use a 9″ x 9″ baking dish.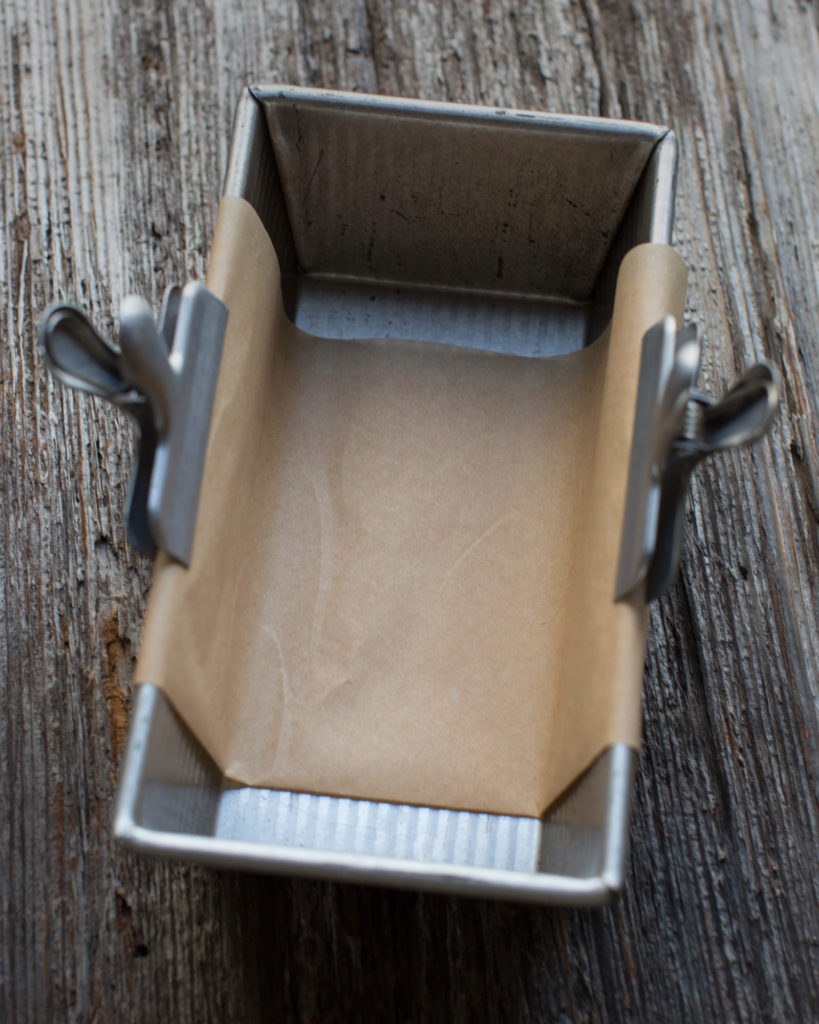 ---
---
TIPS & TRICKS
A little trick from me to you is lining the baking dish with parchment paper. If you clip them, the paper will stay put as you shovel in the mixture. If you don't have clips it's not the end of the world. It just might be a little bit more tricky.
Even though the ingredient list is short and the concept is simple, there are some strategic moves that need to happen for you to have the best results.
First, you want to use a big pot so that you have plenty of room to stir and mix the kripsies. Second, you'll want to use a wooden spoon as I find it works best to mix everything. Third, you'll need to keep an eye on the melted butter/marshmallow mixture. We're going to stay at medium-low heat the whole time. There comes a moment where all of a sudden the marshmallows melt and become one glob. That is the time to make a move and dump the cereal in. Lastly, when you combine the cereal with the melted mixture- you need to focus and get a grip. Mix hard and thoroughly and don't hold back.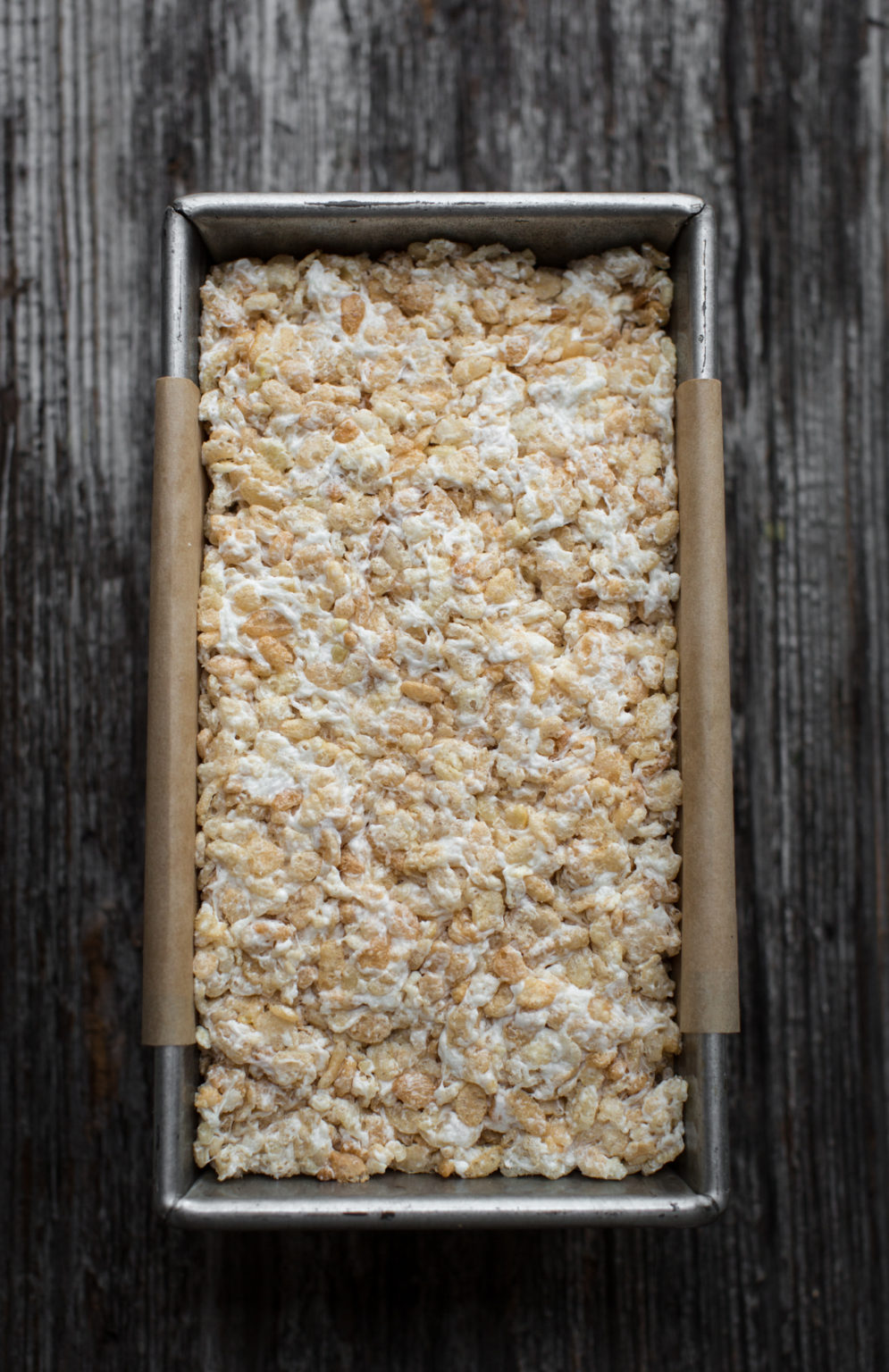 After the mixture is evenly in your desired dish and let to cool, you have an incredibly delightful dessert ready to be sliced and eaten. These make for a wonderful finish to a hearty meal, an equally fabulous present for neighbors that are mad at you for some reason, or simply to share with friends. Add some sprinkles or a drizzle of melted chocolate for decoration or simply enjoy plain. A classic dessert recipe that everybody loves.
WANT TO TRY OTHER SWEET TREATS?
If you do make it, please leave a comment below and if you share it on social media please tag me. I can't wait to hear what you all think of this recipe. Happy cooking, y'all!
–Timothy
---
---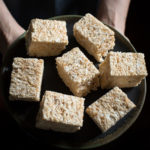 Ingredients
10 ounces vegan mini marshmallows*
½ stick Country Crock Plant Butter (4 tablespoons)
5 cups puffed rice cereal*
1 teaspoon vanilla extract
Pinch of sea salt
Instructions
1. Line a loaf pan or baking dish with parchment paper. Clip the sides so that the paper stays put!

2. Add plant butter to a large pot and melt completely on medium-low heat.  Once melted, add the marshmallows and stir frequently with a wooden spoon for about 10 minutes, continuing to cook on medium-low, until the mixture is nice and gooey. 

3. Once the marshmallows are melted completely and become one blob, add the vanilla and salt. Mix well and pour in your cereal. Using the wooden spoon, quickly combine with the melted marshmallow. This is go time people! Be aggressive and mix things around and together fiercely. If you don't move with force, the marshmallows and cereal will not combine completely and you'll have odd-looking rice krispies and you'll look like a goof.

4. Once the mixture becomes a cohesive lump, transfer to a parchment-lined baking dish and, using your fingers or the back of a spoon, press firmly into the baking dish.  Allow to cool, cut, and eat!
notes
You can use Dandie's or the Trader Joe brand marshmallows (TBH I think they are the same exact product..). Both are vegan and gelatin free! Make sure to get the minis (as opposed to the large) because they will melt faster and more easily.

Technically, the original Rice Krispies are fortified with Vitamin D3 which is derived from wool. Some would say this makes them not vegan and others would say that because it is .001 percent of the ingredients (you'll notice it is very last on the ingredient list) it doesn't matter. I will let you decide for yourself and use whatever cereal you are comfortable with. There are organic brands of puffed rice cereal that do not have D3.

You can let these cool on the counter but I personally like to pop them in the fridge for about 30 minutes before eating. Up to you!
---
---
---
---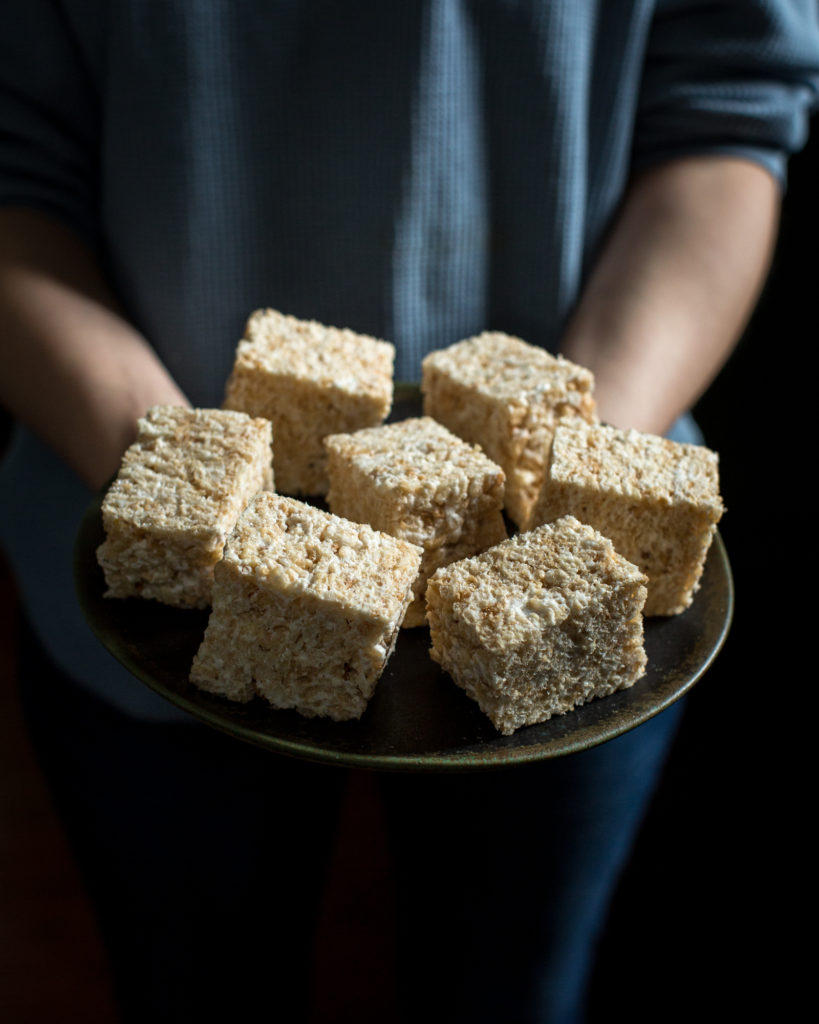 This post is sponsored by Country Crock® Plant Butter.
All opinions and recipes are my own.