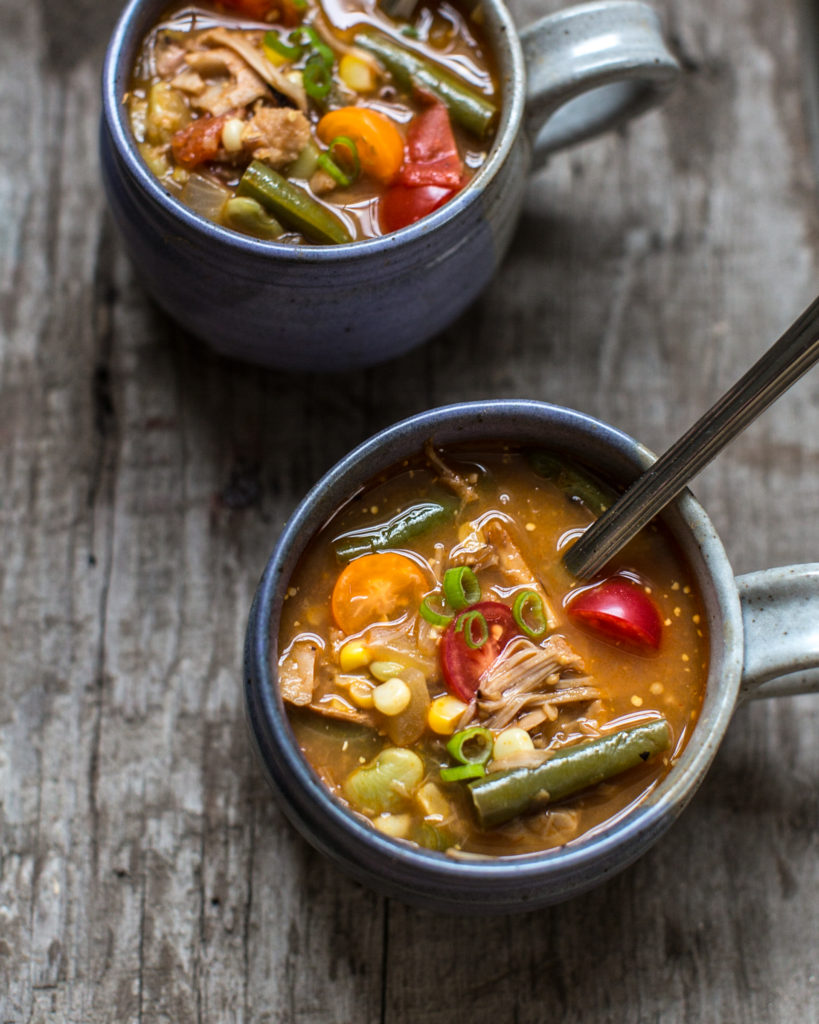 The first time I ever had Brunswick stew was in a little southern town called Rome, GA. I had never had it up until that point (when I was around 16). My parents and I went to a little BBQ shack on the side of the road and ordered some BBQ. We also spotted the Brunswick stew on the menu and ordered that too. We sat at the sun-bleached picnic table right beside the shack and dug in. Upon the first bite of stew, I was pleasantly surprised at how delicious it was! Bright and tangy, while incredibly savory and perfectly sweet- I instantly was impressed. Along with fresh corn, lima beans, and pulled pork, the different textures combined with the robust broth containing tomatoes, and the game-changing ingredient, BBQ sauce, I quickly realized I had never had a dish quite like it.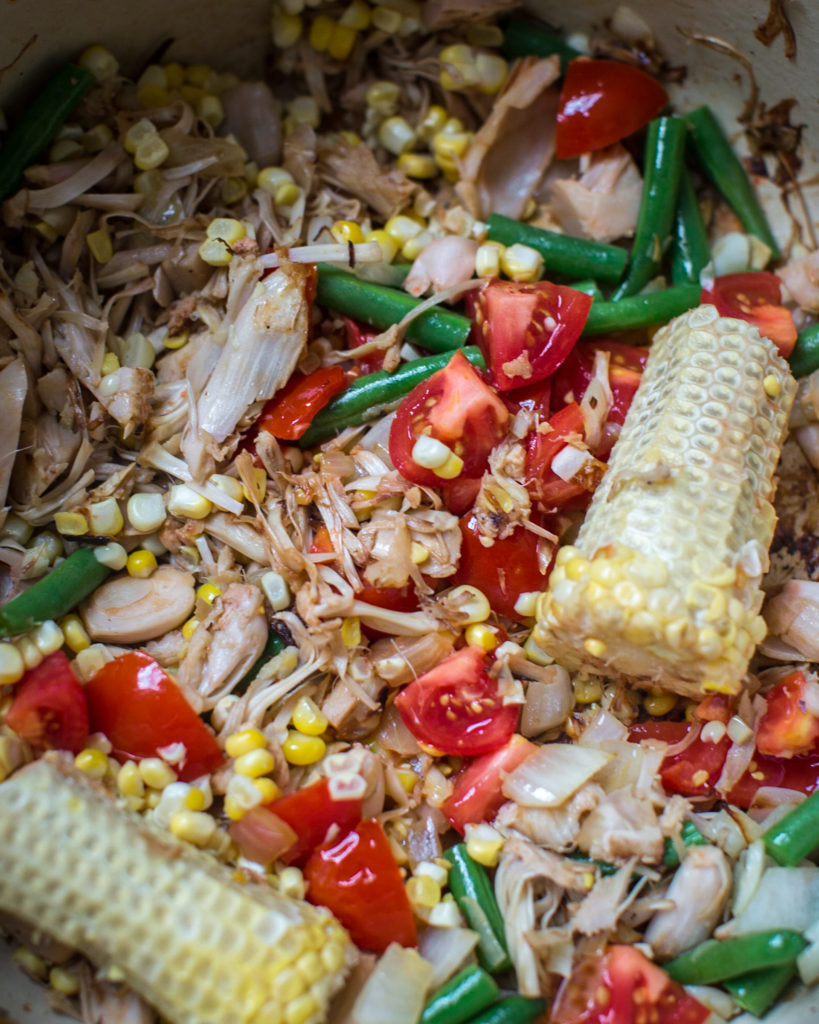 The actual source of where this stew comes from is debatable. Some people say it originated in the town of Brunswick, GA (that's my vote!). Others say it originated in Brunswick County, VA. I don't want to fight about it so let's just say it could have possibly come from both. The main thing to remember is it's a summer-time stew that can easily feature whatever vegetables you can get your hands on. Corn, lima beans, potatoes, tomatoes, okra, and green beans are the usual suspects in my opinion, but I'm sure some shredded cabbage or greens would be quite nice as well! Now let's talk about the meat.
Traditionally this soup uses smoked pulled pork. But in my kitchen, I'd rather use a cool plant-based option for the protein and then look at some cute pictures of little piggies. For a stew like this, something like young green jackfruit is perfect! It's fibrous and juicy and will take on the flavor of just about anything. Or buy some young jackfruit that has seasoning. Of course, you could also use shredded seitan or mushrooms, but the jackfruit works pretty damn well! You can find the canned variety that I photographed below in most grocery stores these days!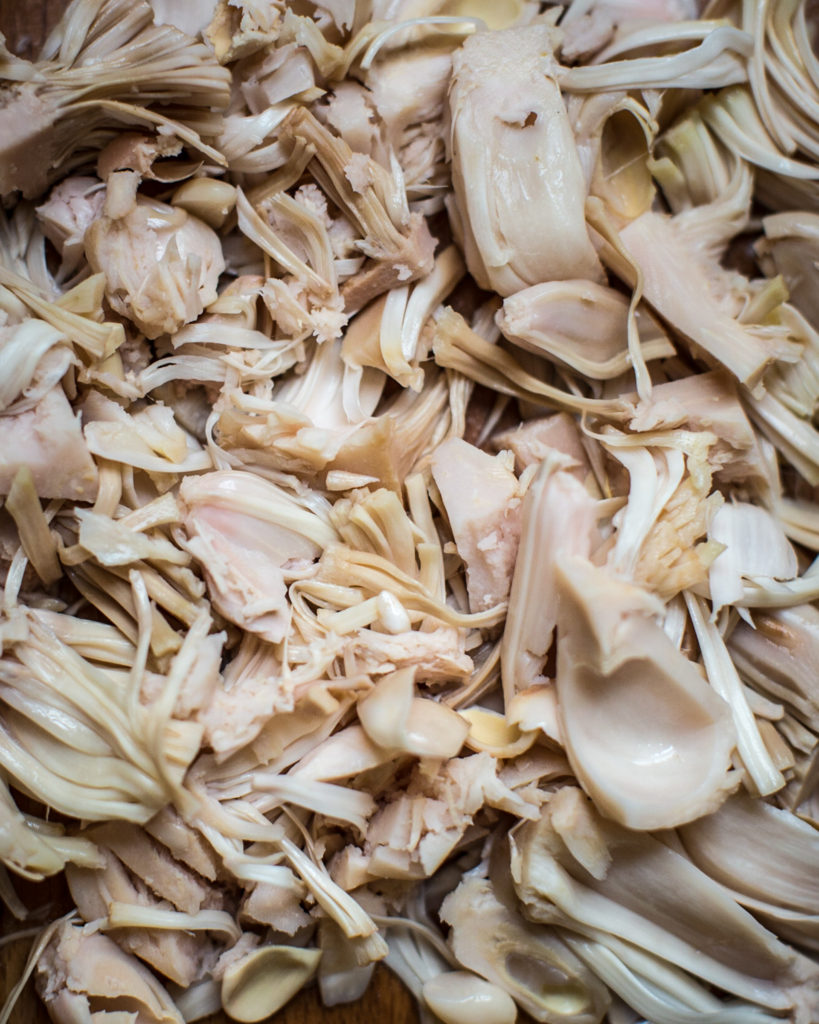 Because the jackfruit is practically flavorless and low in fat, we're going to need to doctor things up just a bit. Country Crock Plant Butter is the perfect addition for this as the buttery flavor helps to add richness while all of the spices and liquid smoke give the protein a more authentic BBQ flavor. Also, it just came to me, another fun protein to try for this recipe would be artichoke hearts!
Ok, back to the recipe that is here. To offer even more of a Georgia nod, I'm calling for Vidalia onions because they are the absolute best! Incredibly sweet and delicious, they're also from Vidalia, GA so it makes them special. Now, I totally understand that you might not be able to find those, so you can also use any sweet onion you can get your hands on.
Last thing I will say is that this recipe is quick. Like 30 minutes quick. So go out and get you some fresh summer produce and get to cooking! I like to serve this stew with a big scoop of rice and a huge dollop of potato salad on the side and a tall glass of iced tea (with maybe a tiny shot of vodka). Enjoy!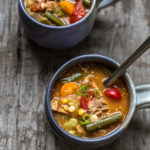 Ingredients
1 (14 oz) can young jackfruit, shredded
½ stick Country Crock Plant Butter (½ cup)
1 teaspoon Colgin liquid smoke (use less if another brand*)
1 cup chopped Vidalia onion
1 ½ tablespoons tamari 
2 tablespoons nutritional yeast
3 cloves garlic, chopped
½ cup green beans, chopped into bite-sized pieces 
½ cup diced tomato
2 large corn cobs, kernels removed + 1 cob for stock 
¾ cup frozen lima beans 
½ cup sliced okra (optional)
½ cup diced potatoes (optional)
½ cup good BBQ Sauce
1 tablespoon whole grain mustard
1 teaspoon onion powder
1 teaspoon garlic powder 
4 cups vegetable broth
Salt and pepper, to taste 
Instructions
Drain jackfruit from a can (or package) and shred with a fork. Pat it dry and remove any seeds.
In one large pot over medium-high heat, melt the plant butter and cook the jackfruit until golden brown, about 5 minutes, mixing every so often. Add the liquid smoke, onions, garlic, tamari, nutritional yeast, and a sprinkling of salt. Cook for an additional five minutes until everything starts to brown.
Now throw in all of the vegetables: green beans, tomatoes, corn kernels (plus one cob cut in half), lima beans, and okra and potatoes, if using. Then add vegetable broth, BBQ sauce, mustard, garlic powder, and onion powder. Mix well and bring to a simmer. Reduce heat and cook on low for an additional 10-15 minutes. Give it a taste and add a few cracks of pepper and a few pinches of sea salt to taste (depending on your vegetable broth and BBQ sauce, you may need to add more salt). Serve as is or with rice. 
notes
I think Colgin liquid smoke is the best! It's flavorful and not bitter. I have found that other brands, like Wrights, CAN BE bitter and can ruin a recipe. Therefore, if you can't find Colgin, use what you can find but give it a taste first and be cautious.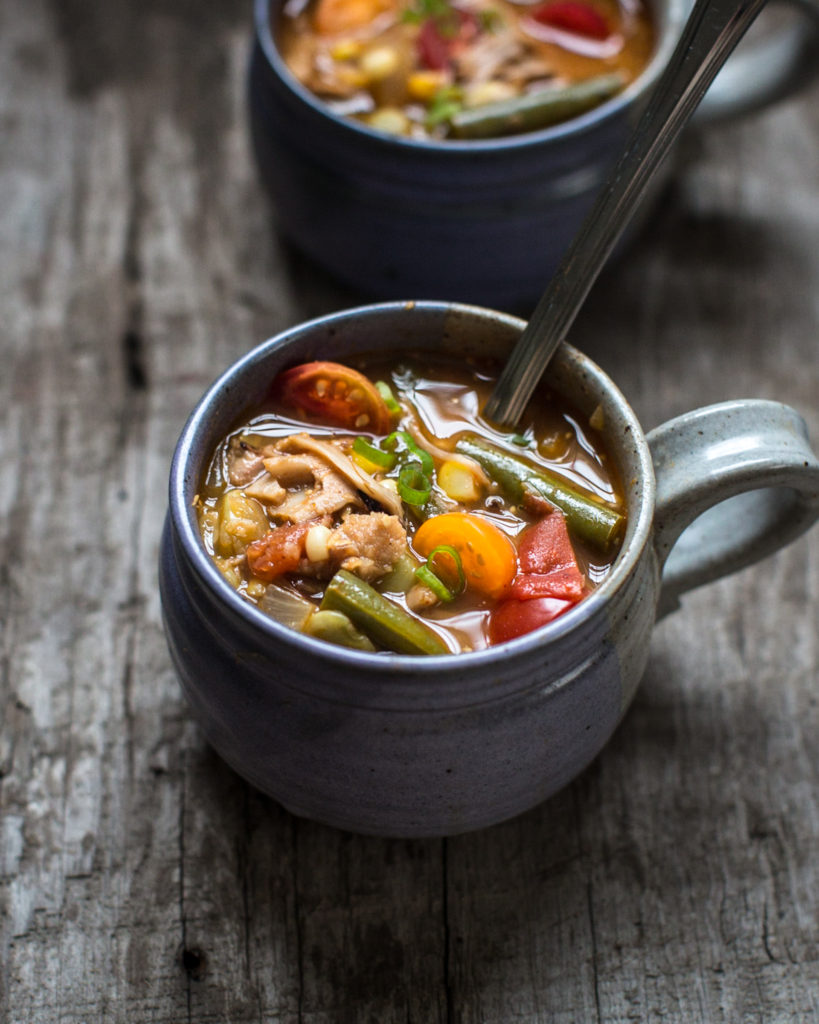 Country Crock® Plant Butter Sponsors this post. All opinions and recipes are my own.