There is just something about sesame seed oil, shiitake mushrooms, and rice that makes my mouth water. If I had to guess, it's because rice is the perfect blank canvas for umami-rich shiitake mushrooms while the buttery sesame seed oil coats everything creating a delectable flavor that you simply can't stop eating. Pushing this combination even further, I like to add shredded brussels sprouts for greens, chilis, and ginger for spice, garlic and shallots for flavor, and toasted sesame seeds to seal the deal. Let's talk about it.
For this dish, I am teaming up with Spectrum Organics to showcase their delicious Organic Sesame Oil that is unrefined and super flavorful. Unlike toasted sesame seed oil, this variety is not toasted so you are left with a more subtle and delightful sesame flavor that is buttery and savory. It works beautifully in salad dressings, sauces, or for sauteing your favorite vegetables and proteins.
Moving on to the rice, I like to use short grain brown rice for this dish. It has a nice dense texture that contrasts well with mushrooms and veggies. To start, season the rice with sesame oil, tamari, mirin (cooking wine), and rice vinegar. The mirin makes the rice perfectly sweet and slightly sticky which complements the chewy texture perfectly. Once the rice is cooking and the other ingredients are ready, everything is ready to go. I definitely recommend having everything prepped before the sauteing begins because it all comes together in a matter of minutes. Fry the shiitake until golden brown with some sesame oil. Then the brussels. Then the garlic, shallots, ginger, and chilis. Once everything is fragrant and well combined, you are ready to sprinkle on some toasted sesame seeds.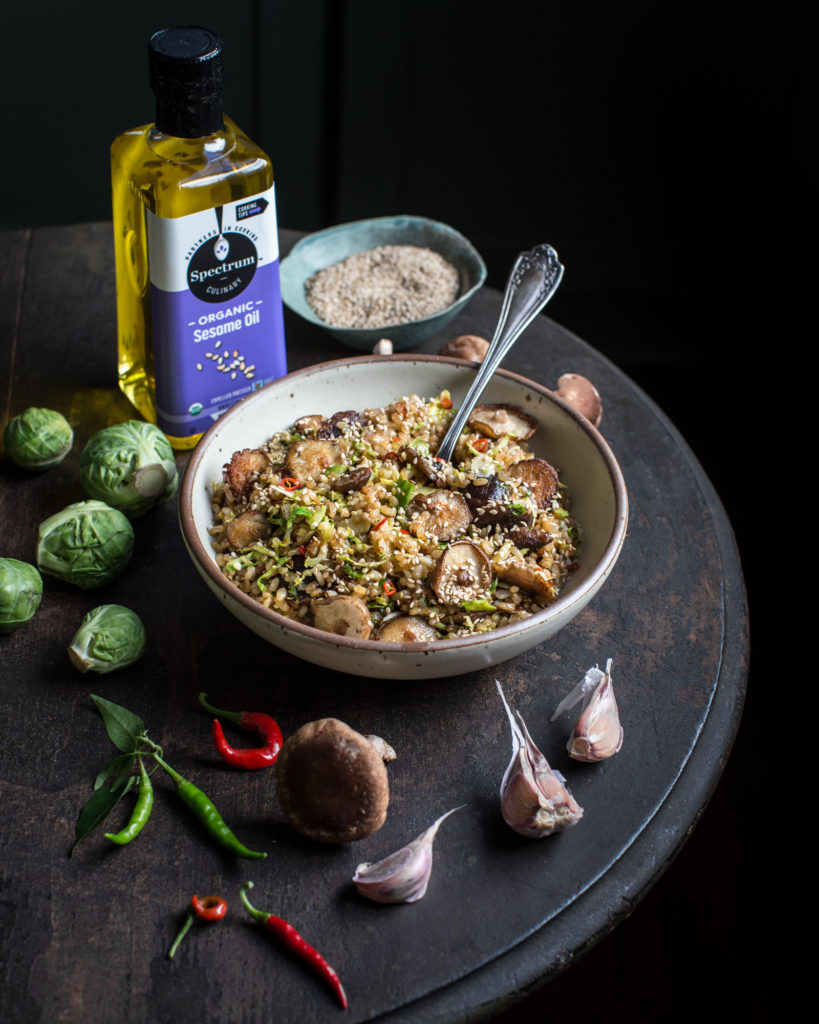 I hope that you enjoy this recipe as much as I do! If you make it, please let me know by commenting below or tagging me on Instagram. Big thanks to Spectrum Organics for teaming up with me on this lovely recipe. Happy cooking y'all!
Ingredients
Rice 

1 cup short grain brown rice, thoroughly rinsed
1 tablespoon Spectrum Organic Sesame Seed Oil, unrefined
1 ½ cups water 
1 ½ tablespoons mirin
1 ½ tablespoons rice vinegar 
1 ½ tablespoons tamari 

Shiitake Mixture 


3 tablespoons Spectrum Organic Sesame Seed Oil, unrefined
2 cups shiitake mushrooms
2 cups shredded brussels sprouts 
Nutritional yeast + Salt & Pepper
1 tablespoon minced ginger 
2 tablespoons minced garlic
¼ chop chopped shallot (1 medium shallot)
2-3 chilis (like Thai, cayenne, tabasco, or serrano), or desired amount 
1 tablespoon rice vinegar 
½ teaspoons tamari, plus more to taste 
3 tablespoons toasted sesame seeds, unhulled preferable 

Optional toppings/add ons:

Chopped cilantro
Chopped Thai basil
Chopped chives
Sliced green onions
Ripe avocado
Fresh lime juice 
Instructions
In a rice cooker, combine rice, sesame seed oil, water, mirin, rice vinegar, and tamari. Mix well and cook until done. If using a stovetop, follow the package instructions. (Do note that I like to use less water than recommended!)
For the shiitake mixture, you will need to have everything prepped as it comes together very quickly. Start by adding the sesame seed oil to a large skillet and turn the heat to slightly above medium. Throw in the mushrooms (if they are small, you can keep them whole like in my picture but if they are larger, slice or chop them). Let cook for 10 minutes, only stirring occasionally to encourage browning and adding a sprinkling of salt towards the end to season. 
Next, throw in the shredded brussels sprouts with a sprinkling of nutritional yeast, salt, and pepper. Cook for only 2-3 minutes, until softened, and throw in the ginger, garlic, shallot, and chilis. Stir to combine and cook for an additional 2-3 minutes, stirring often. Then add the rice vinegar and a splash of tamari. Mix well. 
Add the cooked rice to the skillet and continue to mix well. At this point, give it a taste and adjust the salt and pepper to your liking. Transfer to a bowl and garnish with toasted sesame seeds and any additional toppings that you'd like!
notes
I recommend toasting sesame seeds at home so they are fresh. Simply add the seeds to a skillet (with nothing else!) and dry toast them on medium heat, stirring them often so they don't burn. I like to toast mine for about 7-8 minutes.

To make this an outstanding entree, serve it with my 'Apricot Tempeh' along with a side of my 'Firecracker Green Beans'. Both recipes are here on the blog and man does that combo sound good!

Another protein that would be perfect with this would be some baked tofu. Simply cube up some extra firm tofu and toss with sesame oil, tamari, nutritional yeast, and rice vinegar. Bake at 350 until golden brown- about 30-40 minutes. Easy!