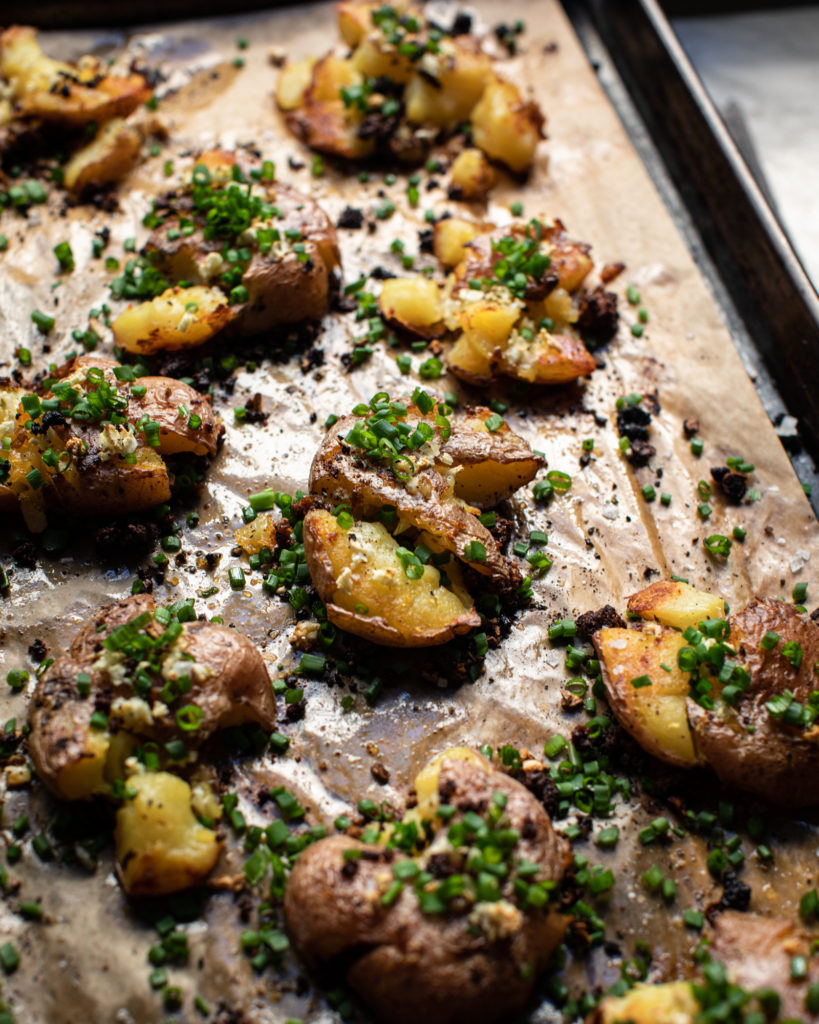 Hello my lovely readers! I have a fabulous new recipe for all of you to try and I know you're going to love it. I call them my 'Crispy Crawtators' and they are absolutely divine. They work as a lovely crispy potato snack, delightful vegetable side, or the perfect appetizer to bring to a party. Served with a creamy 'Meyer Lemon Aioli' I assure you they won't last long no matter how you serve them. Fun fact: The name is inspired by one of my favorite flavor of chips: Zapp's Spicy Cajun Crawtators. The coating on these kettle potato chips the perfect blend of spices that make you feel like you are at a crawfish boil so I think the name 'Crispy Crawtators' is mighty clever. Now let's dive into the recipe!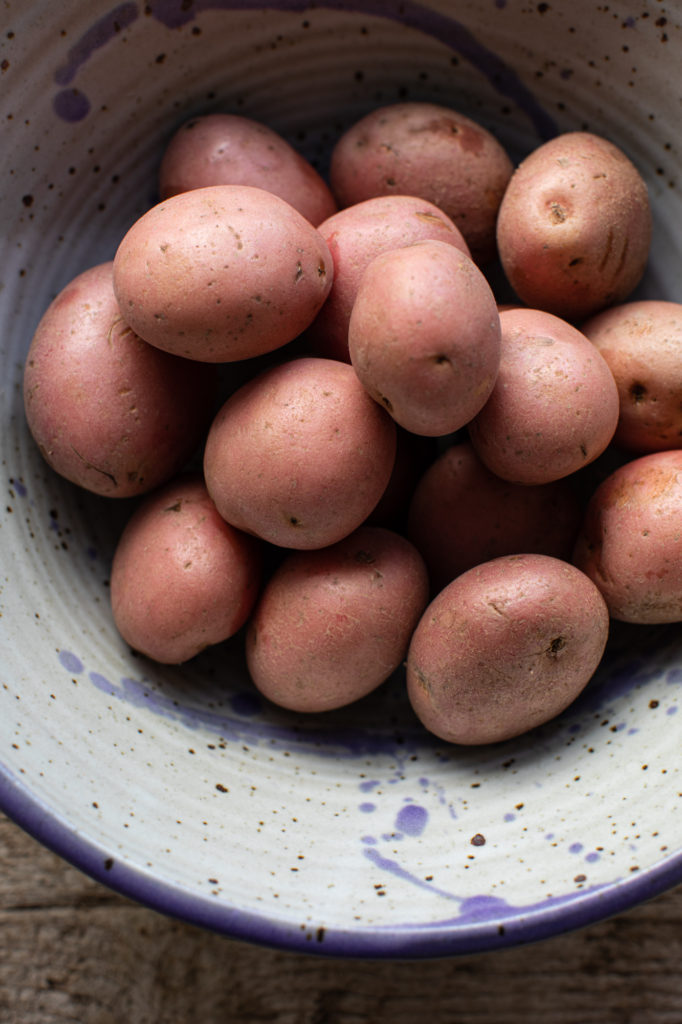 Although these are named after a chip, we will actually be using whole red potatoes (the same ones used at a traditional crawfish boil). Once boiled in a flavorful liquid infused with Old Bay, a good splash of vinegar, and loads of fresh bay leaves, we are then going to smash them until broken and craggily. Next, they are smothered in a thick glaze that is loaded with flavor and lots of olive oil. Once baked in a piping hot oven, the glaze will melt into the potatoes and they will become golden brown and crispy.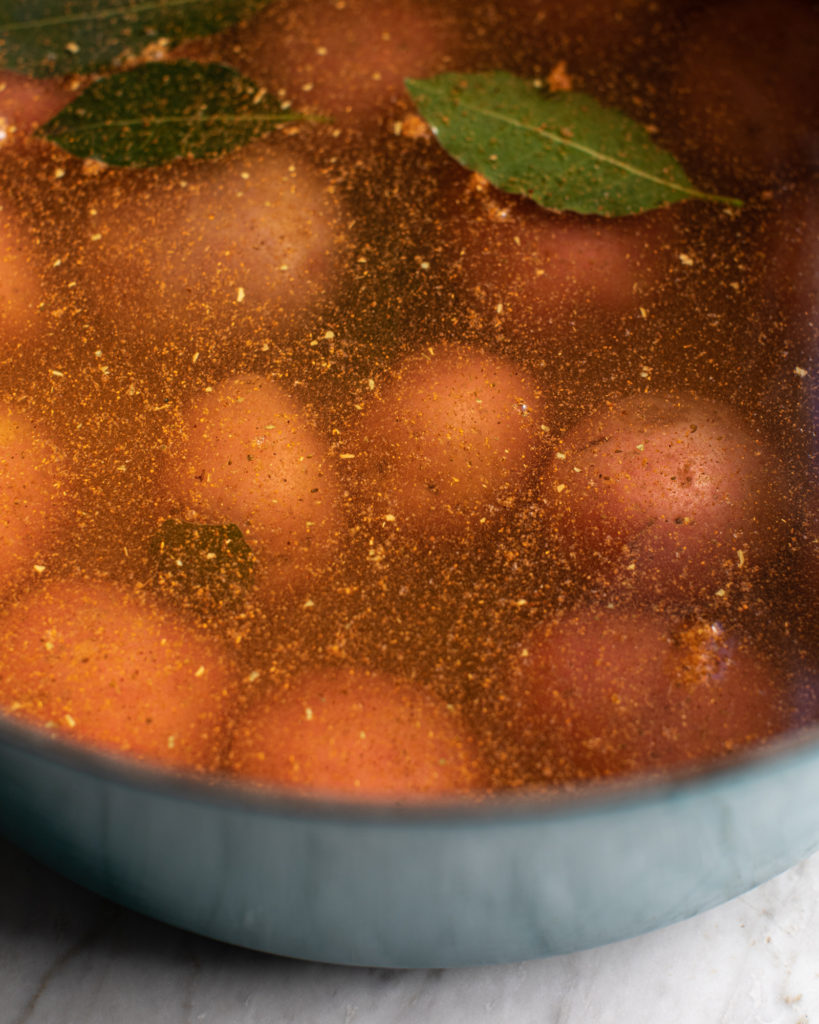 Here are some red potatoes submerged with a flavorful broth. I recommend adding everything into the pot, mixing well, and THEN turning on the heat. This allows the potatoes to cook slow, steady and evenly. Once boiled and drained, the potatoes will become tender and infused with loads of flavor.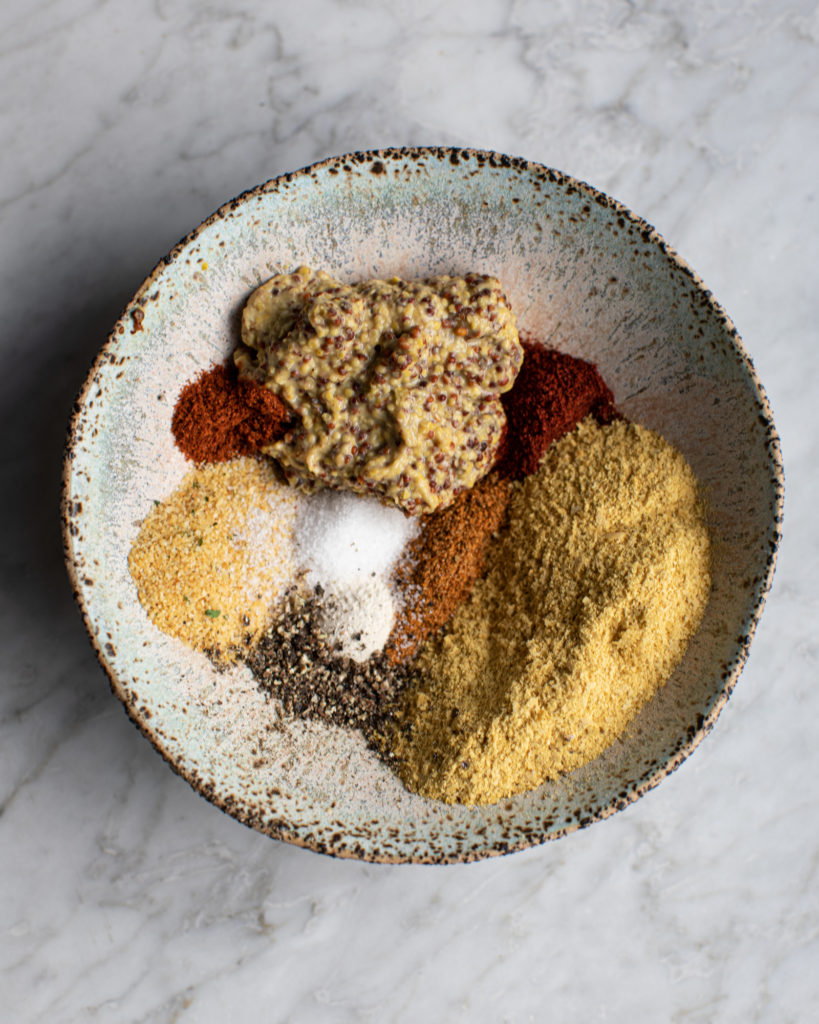 For the glaze, we also have major flavor happening. Garlic powder, onion powder, more Old Bay, black pepper, nutritional yeast, sea salt, and, the secret weapon, whole grain mustard. This really makes the potatoes pop in a big way. Of course, you can use any kind of mustard you have but I highly recommend whole grain so you can see the mustard seeds and I find the flavor to be the most intense.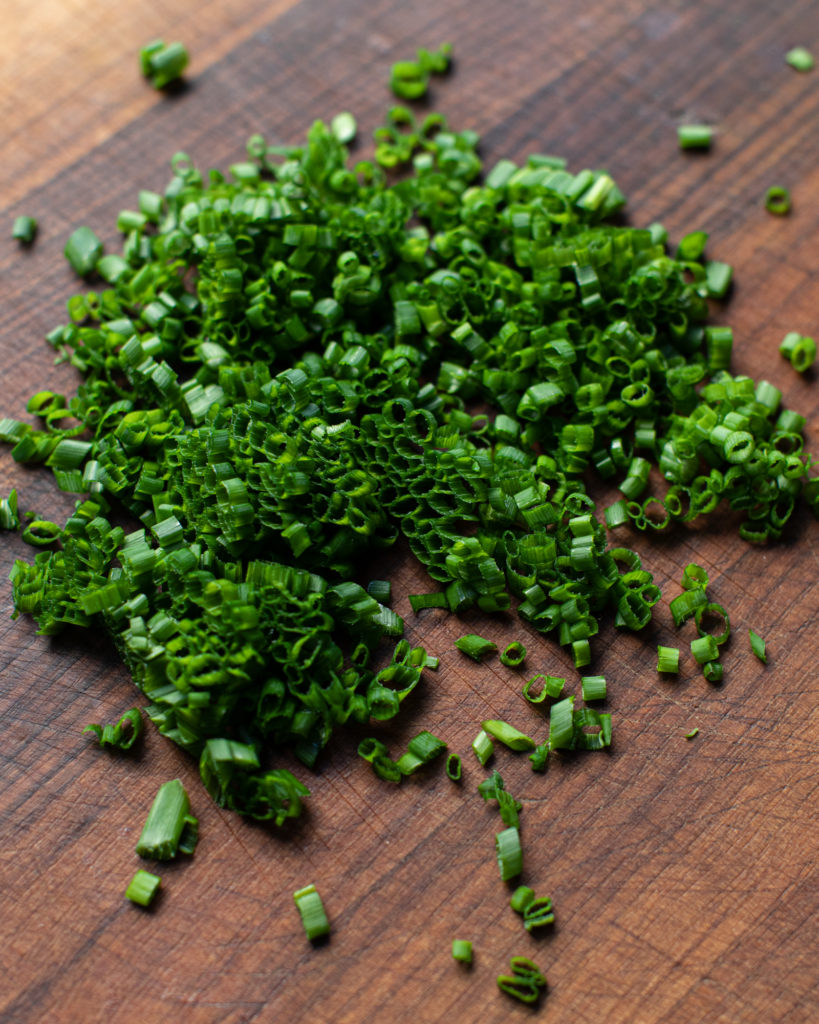 To garnish, I like to add freshly chopped chives for an extra hit of flavor plus some color. I just adore the flavor of chives and I definitely recommend not holding back. Buy one bunch and use it all! I promise you won't be sorry. Their flavor is quite mild and I personally think that more is more. It's a beautiful thing.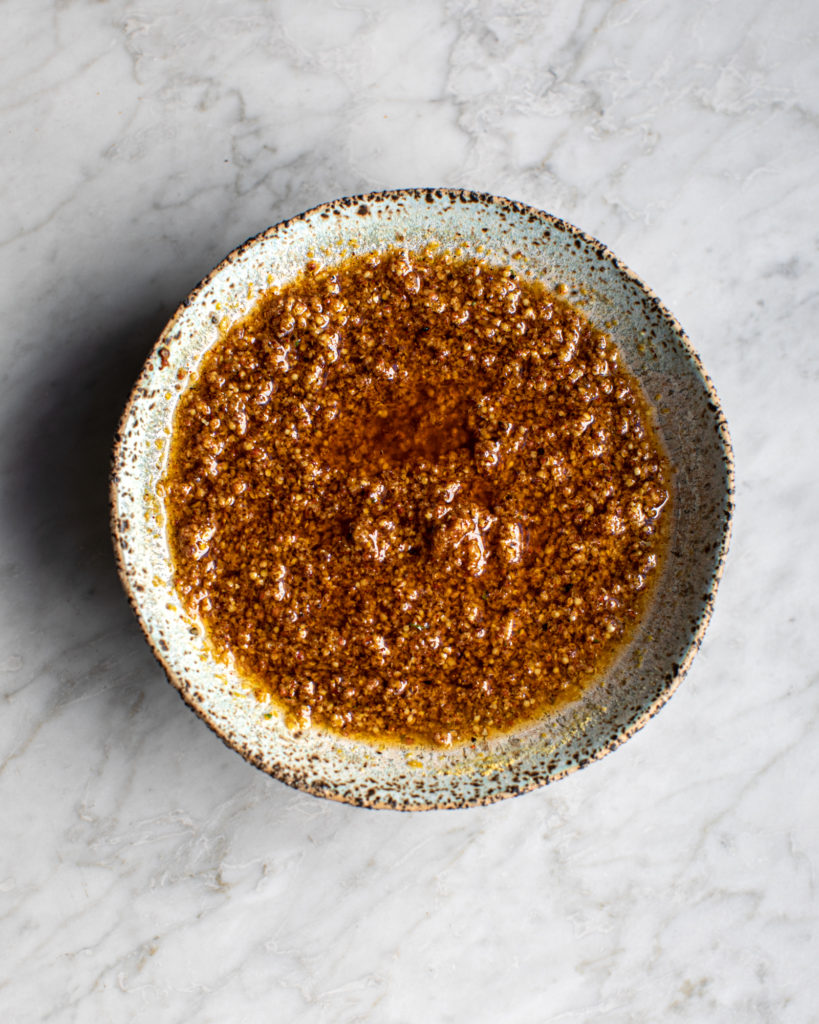 Combine the glaze to be thick and glossy. This is what you want. Do your best at scooping and spreading (you don't have to be perfect). Any amount left on the pan becomes toasty and delicious. What is on the potato will melt and sizzle down and coat the potato with flavor while also helping them to crisp up nicely. Once baked for 15 minutes, you will flip and continue to bake. They may break a bit once flipped and that's ok. We're not aiming for perfection. We are aiming for messy. Just think: more surface area- more crispiness.
Finally, right at the end, I like to sprinkle a hefty amount of minced garlic (this is optional) and a final sprinkle of freshly cracked black pepper and flaky salt. During the last and final bake, the garlic will become slightly golden and the outside of the potatoes will achieve their final crisp.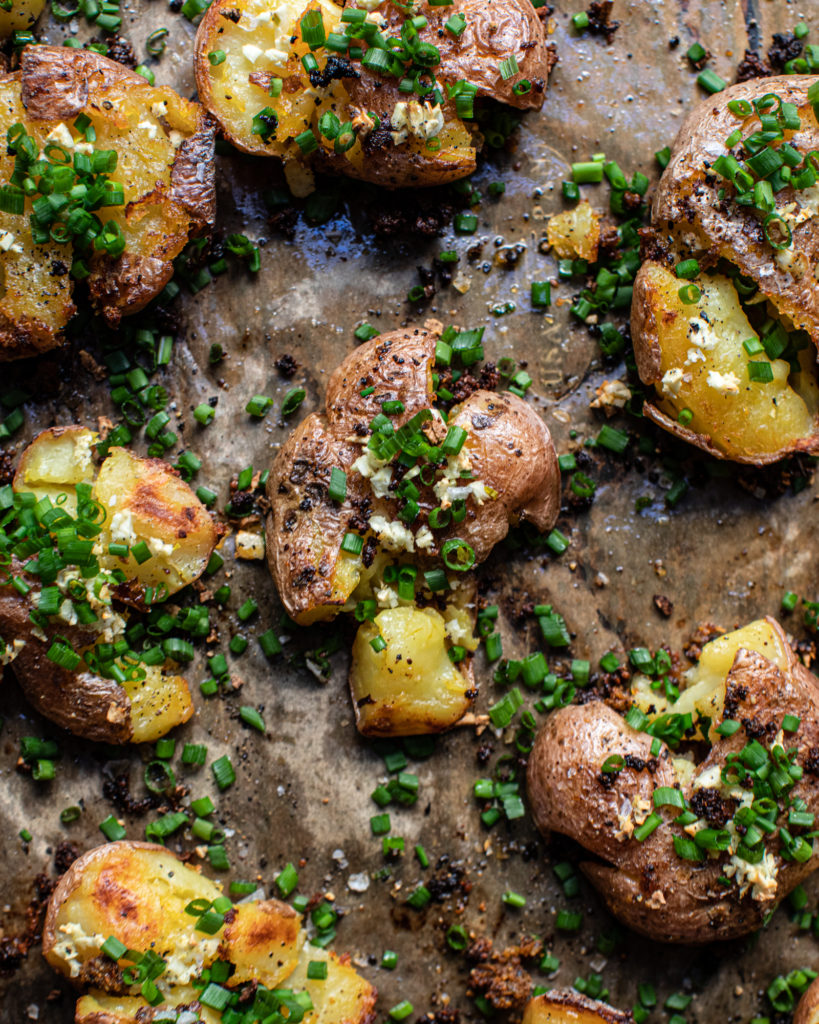 To finish, I like to shower these crispy taters with freshly chopped chives but you could certainly use thinly sliced green onions or even chopped parsley. To dip, I have included the perfect companion: Meyer Lemon Aioli. Make this by simply mixing together some vegan mayo with fresh Meyer lemon zest + juice, a sprinkling of sea salt, and a tablespoon of fresh thyme leaves. This is the perfect dipping sauce (or drizzle) for these potatoes. The contrast of the tangy cool richness with the crispy spice potatoes is a match made in heaven. There is no denying this one!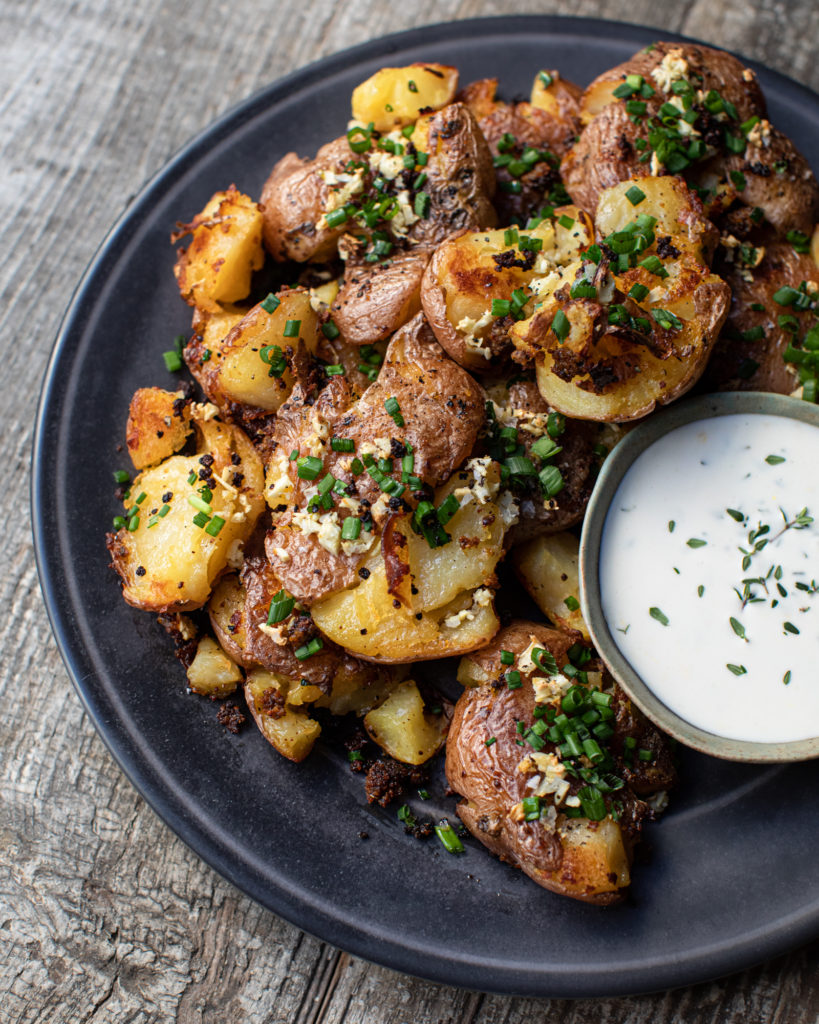 Well there you have it folks, my Crispy Crawtators! I am so happy to finally have this recipe out in the world as I have been making it for years now. The fact that they are live and in action makes me very happy. Please let me know what you think in the comments below. Also, if you feel so inclined, please snap a picture and tag me on the gram! I love to see it. Enjoy y'all!
-Timothy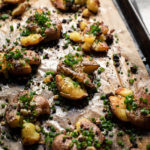 Ingredients
Potatoes

2 lbs red potatoes
6 cups water
8 fresh bay leaves (or dried if in a pinch)
1 ½ tablespoons Old Bay Seasoning
3 tablespoons white vinegar
1 teaspoon salt 
Glaze
⅓ cup olive oil
2 tablespoons whole grain mustard
½ teaspoon paprika
¼ teaspoon cayenne
1 teaspoon Old Bay Seasoning
1 teaspoon onion powder
1 teaspoon garlic powder 
2 tablespoons nutritional yeast
Meyer Lemon Aioli
½ cup vegan mayonnaise
1 teaspoon Meyer lemon zest
1 tablespoon Meyer lemon juice
1 tablespoon fresh thyme
Garnish
3 cloves garlic, minced (optional)
1 bunch chives, chopped
Black pepper, freshly ground
Flaky salt
Instructions
1. Preheat the oven to 450 degrees F and line a large baking sheet with parchment paper. In a large pot, combine potatoes, water, bay leaves, old bay, vinegar, and salt. Mix well and turn the heat on high. (Yes, you will add the potatoes to cold water and then bring to a boil so the potatoes cook evenly). Bring the water to a rapid boil and cook for 7 minutes. (Keep an eye out and don't overcook the potatoes.) Once 7 minutes is up, a knife should easily slide into the potato.
2. Strain the potatoes and let cool so you can easily handle. Add to the parchment lined baking sheet. Using the bottom of a sturdy glass or a measuring cup (or something similar), gently press down and smash the potatoes. It's ok if little tid-bits fall off, they will get crispy and be delicious.
3. For the glaze, add the olive oil, mustard, paprika, cayenne, additional Old Bay, onion powder, garlic powder and nutritional yeast to a bowl and whisk together until a thick paste forms. Using a spoon, evenly disperse the glaze over the warm smashed potatoes. Next, gently use your fingers to further press the glaze around to evenly coat the potatoes, moving some to the bottom. This doesn't have to be incredibly thorough. When in the oven, the glaze will melt and dribble down and around.
4. Pop them babies in a hot oven for 15 minutes. After that, carefully flip using a thin spatula. Place back in the oven for an additional 5 minutes. Remove from oven to add the final touches: if you are a garlic-addict like me, now is the time you will sprinkle an even amount of the garlic over each potato (or skip this step if you don't want it!). Drizzle the garlic with a touch of olive oil. Then crack a hefty amount of black pepper and a generous sprinkling of flaky salt over top. Bake for a final 8 minutes or until the garlic is just starting to turn golden. Do not burn the garlic or it will be bitter and you will have a meltdown. 
5. For the dipping sauce, in a small bowl, mix together the mayo, lemon zest + juice, salt, and thyme. (You can drizzle this over the potatoes if serving immediately.) Transfer the potatoes to a serving dish and sprinkle with the chives. Serve with dipping sauce.
notes
For the potatoes, I recommend small red potatoes because this is what is traditionally used for crawfish boils. You could use other varieties but the texture will be slightly different. You could also use larger potatoes. They most likely will crumble and fall apart but they will still be delicious!

For the mayo, my top pick is JUST Mayo (I LOVE it). Second, is Follow Your Heart's Vegenaise. Third, is Hellman's Vegan Mayo. I do not like Trader Joe's or Primal Kitchen (yes, they have an egg free one). I also personally do not want my mayo to be dark or tan in color which seems to be common with many vegan mayos on the market. Woe is me.