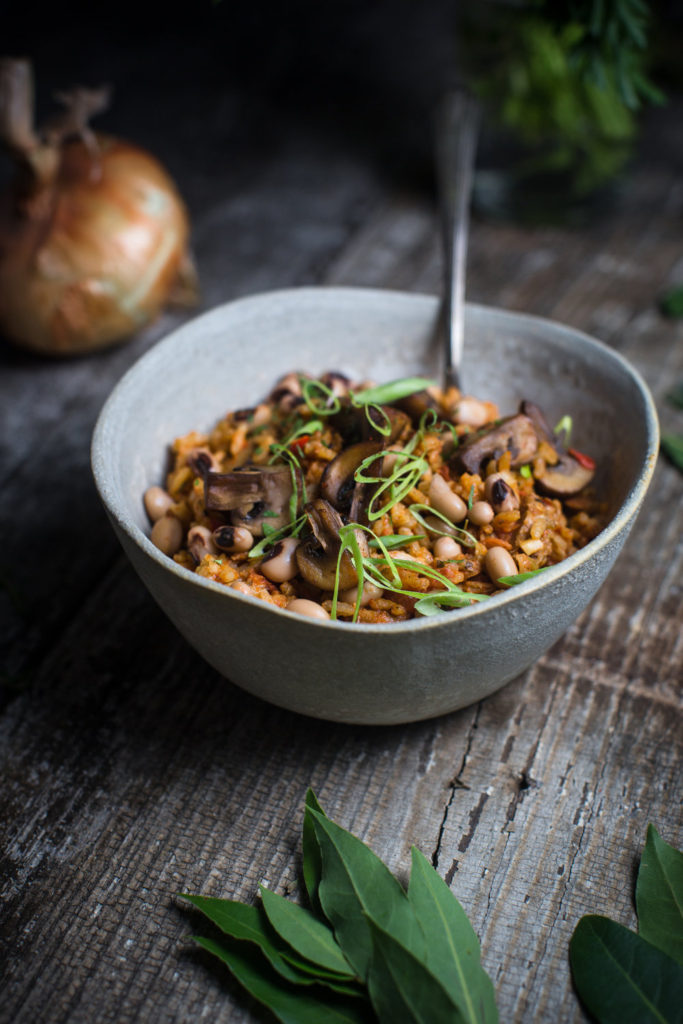 Here you have it: my jambalaya recipe. Jambalaya is a famous rice dish that was created in Louisiana with Spanish and French influences. What I love about this recipe is the cooking method. By cooking the rice with a flavorful base (instead of just using water) and adding partially browned vegetables and proteins, the rice is infused with flavor.
Now, I know that the ingredient list looks long as hell, but hear me out- it's totally worth it. I promise! All of the spices and herbs work synergistically to create an incredibly satisfying flavor. One that tickles your tastebuds and leaves you craving more and more with each bite. Traditionally, Jambalaya is served with some sort of protein so for this vegan translation I give you two options, but feel free to be creative. I particularly like using black-eyed peas but chickpeas or red beans would be great too.
If you are craving a more meaty texture, try using your favorite vegan sausage. As you probably already know, I am a mushroom fanatic so I love to use them for their chewy texture and earthy flavor. What I love most about this recipe is that it's a one-pot shop. Start by sautéing everything on the stovetop, add your broth, bring to a sizzle. Throw in the rice, and transfer it to the oven. By giving the rice that head start of sizzling broth, after 30 minutes you are left with fluffy grains of rice that have absorbed all of the deliciousness you see listed below. If you do make this, please let me know what you think in the comments below and, most importantly, enjoy.
Ingredients
⅓ cup vegan butter
8 ounces cremini mushrooms, quartered  + pinch of salt
1 can black eyed peas or 2 to 3 cups sliced vegan sausage
1 ½ cups diced onion
½ cup diced green bell pepper
1 cup diced red or yellow bell pepper
1 cup diced celery
2 tablespoons minced garlic
1 teaspoon onion powder
1 teaspoon garlic powder
1 tablespoon nutritional yeast
½ teaspoon sweet paprika
¼ teaspoon cayenne
½ teaspoon cumin
1 teaspoon dried sage
½ teaspoon dried oregano
1 teaspoon dried parsley
½  teaspoon black pepper
1 ½ cup chopped tomatoes
1 (6 ounce) can tomato paste
1 tablespoon vegan Worcestershire sauce
1 tablespoon rice or cider vinegar
1 teaspoon tamari or soy sauce
½ teaspoon liquid smoke
1 (14.5 oz) can fire roasted tomatoes
2 ½ cups vegetable stock, plus more if desired
2 to 3 sprigs fresh thyme
4 bay leaves, preferably fresh
2 cups uncooked long-grain white rice
Sliced green onion, to garnish
Chopped parsley, to garnish
Cherry tomatoes, sliced to garnish
Instructions
Preheat oven to 350 degrees F.

Bring a large dutch oven to medium heat and melt the butter.  Add mushrooms and a pinch of salt and cook until all sides are golden brown, occasionally stirring gently, about 10 minutes.

If using vegan sausage, add and sauté until golden-brown, occasionally stirring,  about 5 minutes.

Add onions, bell peppers, celery and garlic and cook until tender, stirring occasionally, about 5 minutes.

Add onion powder, garlic powder, nutritional yeast, sweet paprika, cayenne, cumin, dried sage, dried oregano, dried parsley, and black pepper. Stir occasionally and cook for 5 minutes to toast the spices.

Add chopped tomatoes, tomato paste, vegan Worcestershire sauce, rice or cider vinegar, tamari or soy sauce, liquid smoke, fire roasted tomatoes, vegetable stock, fresh thyme, and bay leaves. Stir together and bring to a simmer. (You can leave the thyme sprigs and bay leaves whole as you will remove them at the end.)

Once at a simmer, stir in the rice and the peas (if using), mix well, and cover. Place in center of oven and bake for 30 minutes. Take out of the oven and give it a taste. If the rice needs to cook longer or seems dry, drizzle some more vegetable stock on top and pop it back in the oven for a few more minutes.

Once done, season with salt and pepper to taste. Remove the bay leaves and thyme sprigs and serve in bowls. Sprinkle with desired garnishes.
notes
This dish pairs perfectly with garlic bread and simple salad. And lots of wine. 😉

If you don't have an oven-safe lid for your pot, you can use foil. Just make sure it's tightly wrapped so that the rice cooks effectively.

You can absolutely make this a day or two ahead of time. Simply keep it tightly wrapped in the fridge and warm it up when ready to serve. Just make sure to keep it covered and cook it at a lower heat, like 300 degrees F, so that it doesn't dry out.

This dish works amazingly as a burrito filling! I can attest because I've done it. Simply load up a tortilla, close it up, and grill it till crispy. Yum!