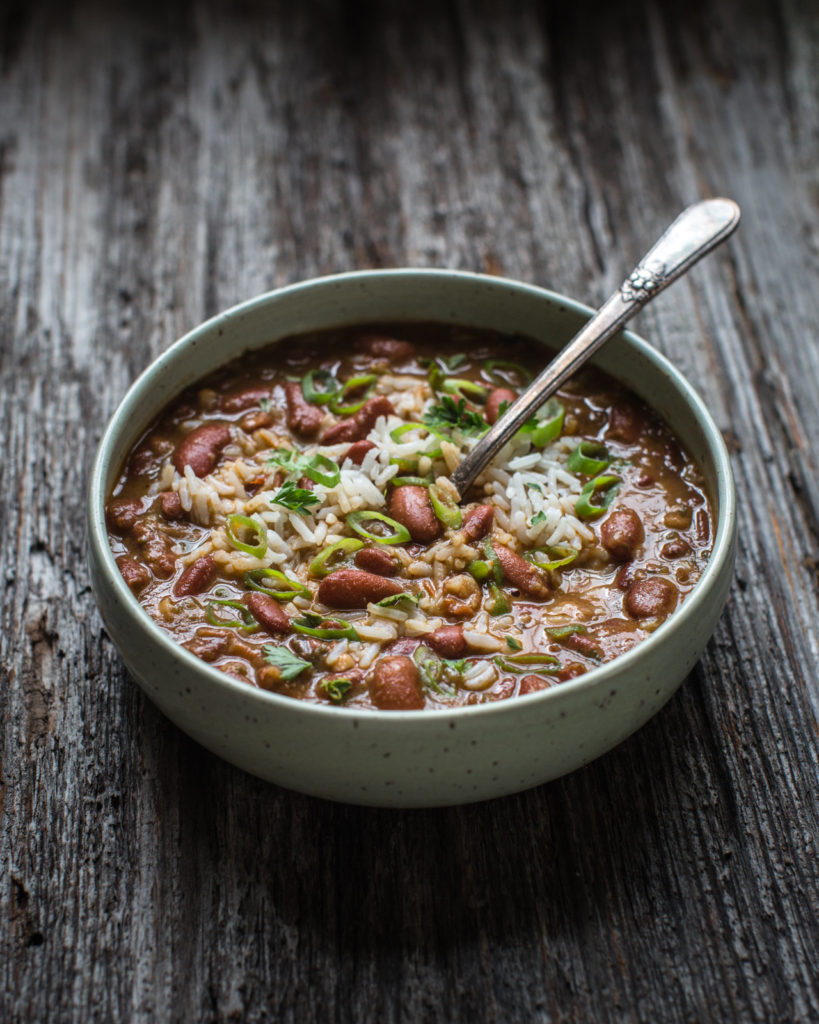 These red beans and rice are a labor of love but oh, are they worth it! The end result is a big pot of thick, creamy, savory, and delicious red beans with a complex flavor that will have you craving more and more. (Not to be confused with the Red Beans in my cookbook which, although similar, are also very different. These are two completely separate recipes!).
Now, these red beans and rice definitely take a long time. Like, a really long time. With 8 hours of soaking and an additional 8 hours to cook, we're looking at around 16 hours for this recipe to come to life. (And I even like to cook my beans even longer than 8 hours!) The real trick? These beans are best served after they have been refrigerated overnight and then heated back up. I know, I know, that means we're talking about a full 2-day recipe. Calm down and hear me out.
---
---
First off, if this seems like too much time, you don't have to make this recipe! You can easily go buy a can of cooked red beans, doctor them up with the same seasonings and spices (or just a few) I have listed here and maybe add some sauteed onions and you'd still have some delicious beans. Could you also use a crockpot or instant pot? Sure! But that's not how I do it.
Instead, I embrace the fact that this recipe forces you to slow down and take your time. And to be honest, the instructions are very straightforward and not complicated at all. It's all done in one pot and almost all of the ingredients are pantry friendly. Furthermore, most of the time that this recipe calls for is inactive or doesn't require a lot of attention. But because these beans are treated with so much love and attention, I truly believe that they make the best red beans ever. A true reward.
That said, instead of looking at this recipe like a quick weeknight meal, look at it as a fabulous opportunity to multi-task and then have enough food to create many meals (or enough for a large group!). I suggest making this recipe when you know you are going to be home all day, in particular on laundry day which is what New Orleans folk like to do and have been doing for ages.
---
The whole story of red beans and rice is when you are doing loads and loads of laundry, you can have a big pot of beans cooking on a low heat and cook them all day long, stirring every so often. By the end of the day, you have a very satisfying meal that is absolutely perfect served with rice. Point being, there are always things you need to catch up on around the house whether it be cleaning, organizing, or even computer work. This is the perfect reward after getting that kind of work done. Do note, I definitely recommend starting this recipe earlier in the day (like in the morning or very early afternoon). I personally like to cook my beans for a good 9 to 10 hours so keep that in mind.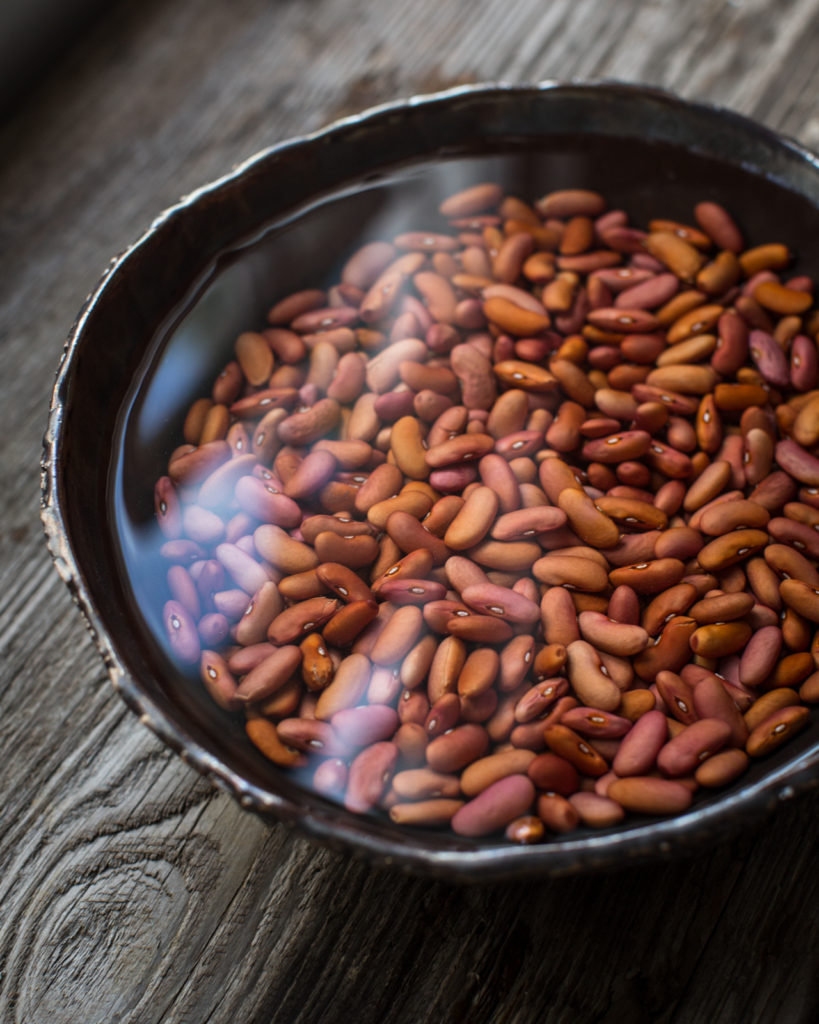 When it comes to soaking the beans, the main reason for doing this is to help remove the phytic acid which can be hard to digest. After that overnight soak, make sure to pour that water off into another bowl and give the beans a good rinse. You can then use that reserved water to water your plants! I use it for the plants on my front porch. Now that the beans are nice and plump and easier to digest, it's time to cook them. The most important thing to remember here is that we are mainly going to expose these beans to a low and even heat. (Imagine them soaking in a hot tub for a very long time.) Towards the end we will bring them to a simmer but initially it will be slow and steady. Now let's talk about ingredients:
---
---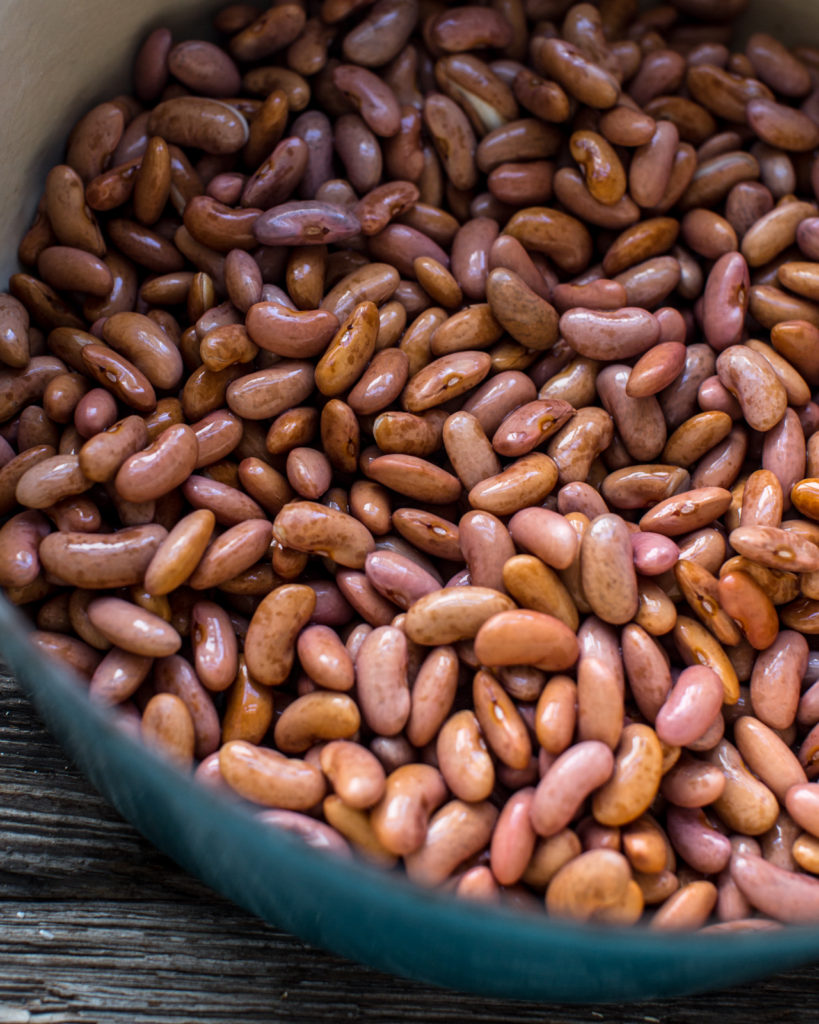 Notes about ingredients:
One of the secret weapons to making luxuriously delicious beans is using lots of fresh, juicy, and very ripe tomatoes. I like to find one huge heirloom tomato but you can use 2 medium-sized as well. You need a good 2 cups (and they can be heaping!). This adds an extra layer of acidity and savoriness. Funny enough, it's definitely not the first ingredient you would pick up on when trying these beans. That's because the tomato just dissolves into the beans. The same goes for the carrots, they are totally snuck into the beans for added sweetness.
Could you add large chunks of carrots (even more so than the ½ cup that I call for)? Absolutely! And I encourage you to try that. But by adding some shredded or diced carrots, they melt into the beans beautifully. Lastly, you might have noticed that I call for 1 small Thai chili. That's because I just love the kind of heat this little pepper provides. It's different than cayenne or even fresh jalapeño. And even though it's hard to describe, I find 1 small Thai chili in this recipe adds the perfect amount of spice that will delight your tastebuds.
---
---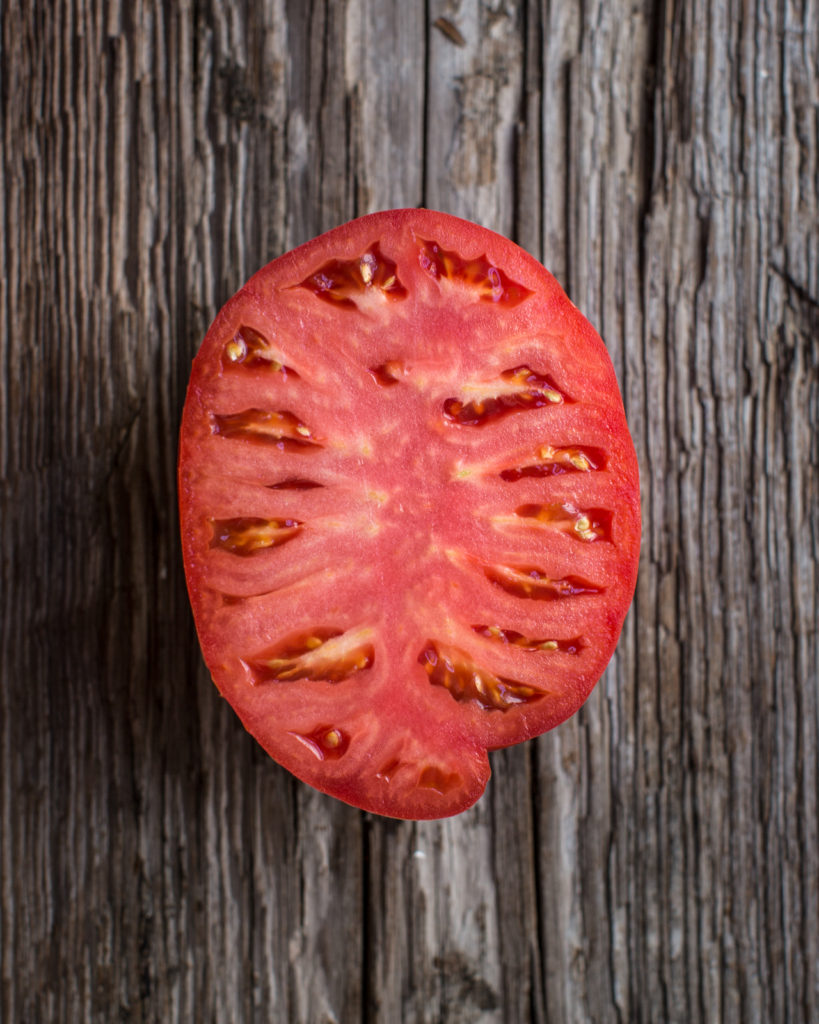 Lastly, I just want to mention a few more things. Initially, I like to cook the beans with just water. This allows them to plump up and cook without any interference of ingredients. I prefer to use filtered water or distilled water. Springwater has minerals that can make the beans tough, so avoid that. Next, I like to add the kombu (which is a sea vegetable that helps aid in digestion and provides flavor), bay leaves (for flavor), and lots of olive oil and vegan butter. The olive oil provides a fruitiness with peppery notes while the butter gives the beans a creamy richness. Both sources of fat help to create a tenderness in the beans, so please don't skimp.
After about 4 hours, I add the vegetables and seasonings and continue to cook. Once that cooks down, I finally add the vinegar and salt. The reason I wait until the end to do this is because some believe that adding the vinegar and salt too early can result in a tough bean. I don't know if this is entirely true but I'd rather be safe than sorry and it's easy enough to follow. You'll also notice that I call for additional celery, bell pepper, green onion, and parsley around this time. I call this a 'flavor boost' because adding the same ingredients at different times offers more complexity to the dish. Trust me on this.
---
---
Finishing and Serving the Red Beans and Rice
Letting these beans cool and popping them in the fridge for a day or two really helps to develop their flavor. Once heated back up, they are truly spectacular. And even though this batch makes a lot of red beans, I can never seem to get sick of them. I think you'll agree! These are best served with fluffy rice and either crusty french bread or a big slice of cornbread.
I hope that you try this recipe and please let me know if you do! Remember, this dish is a time to slow down. Because the recipe cooks for so long, you have plenty of time to prep all of the ingredients at your own pace. Feel free to just add them as you go, chopping when needed, and finding different spices calmly. It's actually quite nice as you don't have to have everything ready like some recipes. I truly hope that you enjoy the process. Happy cooking, y'all!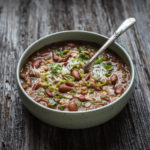 Ingredients
1 lb dried red kidney beans (Camellia or Blue Runner are good choices!)
2-inch piece dried kombu 
½ cup olive oil + ½ stick vegan butter (4 tablespoons)


Vegetables and Seasonings


¾ cup chopped shallots (1 large shallot)
1 cup chopped celery (1 large stalk)
½ cup shredded or diced carrots (1 medium carrot)
½ cup chopped green onion
¾ cup chopped green bell pepper (1 medium pepper)
4 medium-sized fresh bay leaves 
2 tablespoons fresh chopped thyme 
2 tablespoons fresh chopped oregano
½ cup fresh chopped parsley
1 ½ tablespoons fresh chopped sage leaves 
¼ teaspoon cayenne pepper
1 teaspoon ground cumin
1 teaspoon smoked paprika
1 tablespoon dried parsley
3 tablespoons nutritional yeast
1 teaspoon garlic powder 
1 teaspoon onion powder
2 cups chopped ripe tomato (1 very large tomato)
1 small Thai chili, chopped (optional)

Fresh Boost + Vinegar + Salt 

2 tablespoons diced celery
2 tablespoons chopped green onion
2 tablespoons freshly chopped parsley
¼ green bell pepper
¼ cup fresh chopped garlic
2 tablespoons white wine vinegar 
3 tablespoons tamari
2 teaspoons smoked sea salt 
Salt and pepper, to taste 
Fluffy cooked rice, to serve
Instructions
Cover beans in a bowl of filtered water. Let soak overnight (at least 8 hours). Drain and rinse beans.  Transfer to a large pot and cover with 10 cups filtered water. Nothing else! Turn heat on the lowest setting and cook for 3 hours, uncovered (these beans will remain uncovered the whole time). Stir every so often. If you see some white foam rise to the top, you can scoop that out.
After 3 hours, add kombu, bay leaves, olive oil, and plant butter. Mix well and cook on very low heat for one hour, stirring every so often.
After 4 hours, add 'Vegetables and Seasonings'. Continue to cook for 2-3 hours on very low heat, stirring every so often.
After about 6 hours of total cooking time, add the 'Fresh Boost + Vinegar + Salt'. Turn the heat up to low-medium and bring the beans to a light simmer. Continue to cook, stirring often, until the beans are tender and delicious, another 2 to 3 hours. (If the beans are taking longer than 3 hours to soften, turn the heat up slightly and continue to cook until they are tender. Remember to stir often as they will stick, especially with higher heat.) Once the beans are tender, take out 1 cup of the beans and mash thoroughly or blend the beans until smooth and creamy. Return back to the pot. 
Once the beans have cooked down and you have a thick gravy-like consistency, you're done! Adjust the salt and pepper to taste and serve with fluffy white rice and garnish with chopped green onions and parsley.
notes
I know that this recipe calls for a lot of fresh herbs. But to make these beans truly shine, they need the full amount of each aromatic listed. I urge you to follow the measurements precisely.

If during the cooking process you have to leave the house for a quick errand or whatnot, you can simply turn off the heat, cover with the lid, and resume cooking when you return home. (As long as you are only gone for around an hour... you don't want to let the beans sit for too long without heat.) When you return home, simply remove the lid, turn back on to low heat, and continue on your way!

To bulk these beans up, add large chunks of carrots (add these when there are at least 2 hours left of cooking) and/or browned vegan sausage or mushrooms during the last hour of cooking.