WELCOME TO MUSHROOM GRAVY HEAVEN
Hello my lovely readers! I am so excited to finally share this epic recipe on the blog. It's my mushroom gravy and it's a heavy hitter. Perfect for the holidays or any situation needing gravy. Whether it be fluffy rice, roasted or mashed potatoes, or to go alongside a Thanksgiving feast, this recipe comes together fairly easy with minimal chopping and it's all done in one large skillet. Truth be told- the ingredient list is long. But before you roll your eyes, please note that most of them are pantry-friendly items that you already have! The results are a thick and creamy gravy that has an unreasonable amount of savory deliciousness. If you were ever curious as to what 'umami' means- this is the definition. Now get ready to make the best mushroom gravy you've ever had.
---
---
BIG THANKS TO EAST FORK
Before we dive in, I wanted to offer a BIG thank you to today's sponsor: East Fork! If you have been here for a minute, you know that East Fork pottery is a huge part of my life and brand. Not only do I style and shoot with their beautiful ceramics for my work but I also use it in my everyday life. East Fork has become a beautiful part of my world and I'm so excited to be teaming up with them.
Today we are celebrating their handsome teal glaze called Night Swim. This seasonal color is available now but once it's out of stock, it may never come back. If you are interested, I highly recommend you order some and please use my discount code MVEGAN to get a cool 15% off your entire first order! Not only is their pottery gorgeous but it is well made while being dishwasher safe and it ages beautifully. I kid you not, I have owned some of their bowls and plates for over 6 years now and they still look new. I cannot recommend this company enough! Now, back to the mushroom gravy…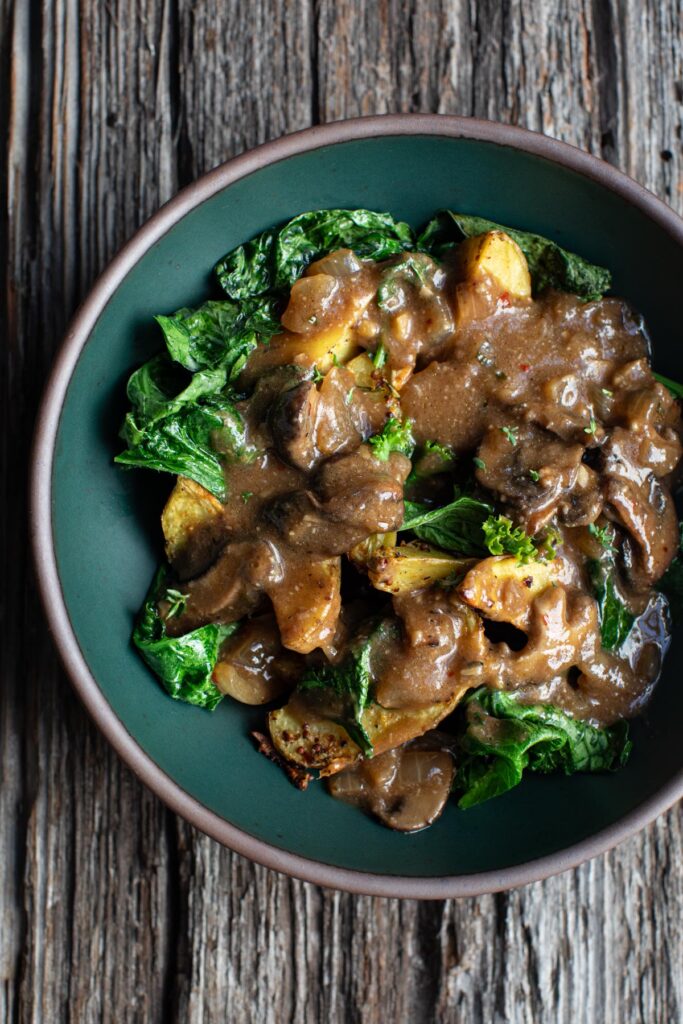 INGREDIENT OVERVIEW FOR THE MUSHROOM GRAVY
The foundation of this mushroom gravy will be sautéed onions and mushrooms. For the mooshies, I like to use a combination of cremini (aka baby bella) and shiitakes for maximum flavor. You could also use only one variety or just use white button or maitake mushrooms. All-purpose flour will be added to help thicken the gravy. Once toasted until golden, it's then mixed with the herbs and spices before the liquids are added.
---
---
SPICES & HERBS
For the spices and herbs we will be doubling up on the onion and garlic by using both fresh and dried versions. This offers double the flavor so don't skip this! I also like to repeat this method with the dried thyme and dried sage by adding some fresh leaves as well, although if you only have dried I think it's ok to skip the fresh if need be. I have an herb garden so you know it's no biggie to me. Aside from that, we have some umami rich nutritional yeast and crushed red pepper flakes for heat. And, of course, salt and pepper.
SECRET WEAPON INGREDIENT
The secret weapon to this mushroom gravy is the veggie bouillon paste. You can use your favorite brand of cubes or concentrate but I particularly love this 'no chicken' variety. It is BURSTING with flavor and provides a really intense hit of savoriness that works famously for this mushroom gravy. I highly recommend trying this out and using it. Trust me.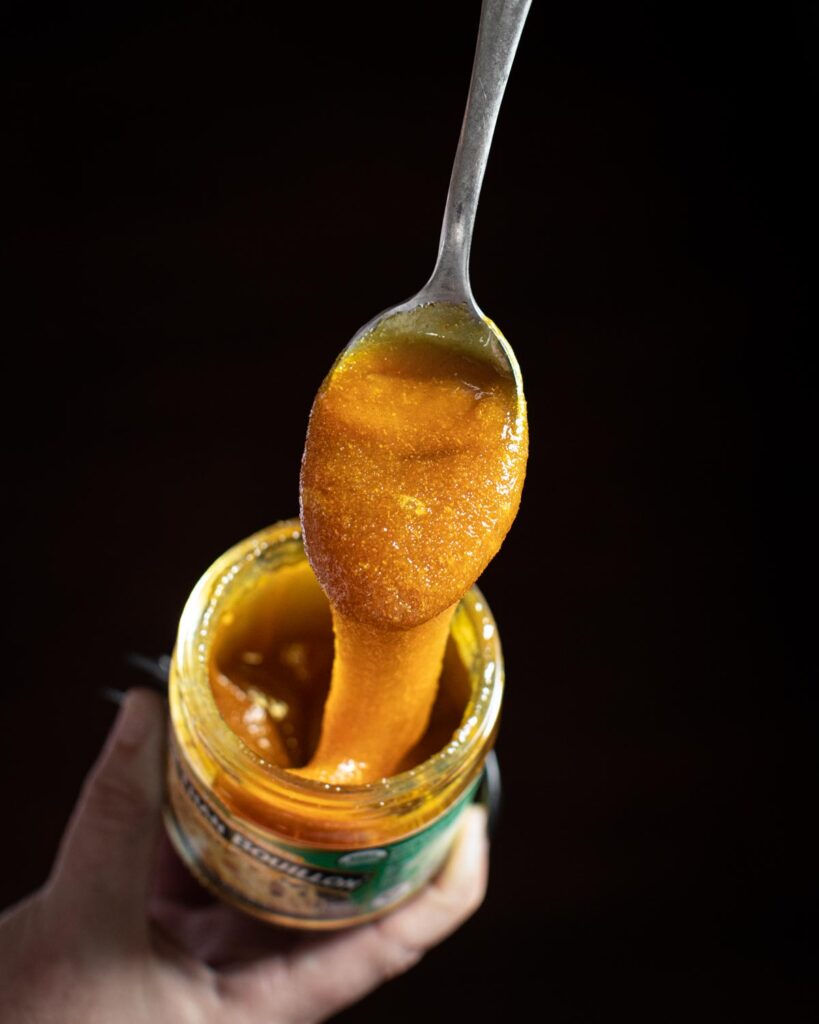 ---
---
STEPS OF COOKING
The first step of this mushroom gravy is to cook the mushrooms and onions together with a few pinches of salt. Once they cook down and become nice and juicy and slightly golden, you will add the flour. By cooking the flour for about 5 minutes, it will become toasted and nutty in flavor. It will also thicken the gravy allowing it to become super rich and creamy.
Once the flour is toasted, you'll throw in the spices and herbs. These will cook for a just a few minutes to become fragrant and then you'll add some red wine to deglaze the pan while offering a lovely background flavor and a beautiful color. If you don't drink alcohol, no worries! I have made this recipe without using it and the results were still fantastic.
---
---
The last step is adding the water, boullion paste, miso, tamari and rice vinegar. When everything is mixed well and brought to a simmer, you'll reduce the heat and watch it thicken into a divine mushroom gravy. Once the consistency is to your liking, you can serve it immediately!
SERVING THE MUSHROOM GRAVY
This mushroom gravy is superb over top mashed or roasted potatoes, steamed greens, fluffy rice or served alongside any holiday spread. I quite like the hearty and chunky texture of this gravy but you could certainly blend it until smooth if that's more your preference.
---
---
STORING THE MUSHROOM GRAVY
One great hack for this gravy is to make a batch and freeze it! This way you have a headstart when you need it the most. (I'm looking at you Thanksgiving day!) All you have to do is defrost the gravy and throw it in a small pot and cook over medium heat until melted and creamy. The gravy will be more thick than usual when doing this, so feel free to loosen it with a few splashes of water until desired consistency is reached.
The same goes for refrigerating. You can store it in a tightly sealed container for up to 5 days. When ready to serve, just heat up and loosen with a few splashes of water, if need be.
---
---
RECIPES THAT PAIR WELL WITH THIS MUSHROOM GRAVY
Thank you for joining me here today! I hope that you love this gravy as much as I do. If you do try this recipe, please leave a comment and rating below. It greatly helps the success of my site and makes me oh so happy to read. Happy cooking, y'all.
-Timothy
Ingredients
½ cup olive oil (or sunflower oil)
8 oz thickly sliced mushrooms (cremini and/or shiitake)
1 large sweet onion, chopped (about 2 cups)
½ teaspoon sea salt
½ cup all-purpose flour
2 tablespoons vegan butter (optional) 
2-3 tablespoons garlic, chopped
½ teaspoon dried thyme*
½ teaspoon dried sage*
½ tablespoon garlic powder
½ tablespoon onion powder
½ teaspoon red pepper flakes (optional)
½ teaspoon freshly cracked black pepper
1 ½ tablespoons nutritional yeast 
⅓ cup red wine (optional)
5 cups water
1 tablespoon rice vinegar
2 tablespoons tamari or coconut aminos
2 tablespoons "no chicken" bouillon paste 
1 tablespoon mellow white or chickpea miso
Instructions
Bring a large skillet or saucepan over medium-heat and add olive oil, mushrooms, onions, and salt. Mix well and cook for 10 minutes, stirring occasionally to encourage browning, until slightly caramelized and juicy.

Add the flour and mix well. Cook for about 5 additional minutes, toasting the flour until lightly brown.  Add the vegan butter (if using), along with the the garlic, thyme, sage, garlic powder, onion powder, red pepper flakes (if using), black pepper and nutritional yeast and cook 2-3 minutes to toast spices and cook the garlic.

Add the red wine and cook for 1 minute to cook off the alcohol. Then pour in 5 cups of water, rice vinegar, tamari,  bouillon paste, and miso. Mix well, turn the heat up to high, and bring to a simmer. While at a simmer, cook for about 5 minutes. Then, reduce the heat to medium and continue to cook for an additional 5-10 minutes until the gravy is thick and saucy (or until desired consistency is reached!). Serve over everything! 

For a smooth gravy, remove from heat and transfer to a blender. Blend until smooth and transfer back to the skillet. Cook for a few minutes, until smooth and creamy, and serve. If making ahead, store in the fridge.
notes
I love to use both cremini and shiitake mushrooms for this gravy but you could certainly just choose one. Friendly reminder that baby bella and crimini mushrooms are the same. Also, you could also use maitake or white button mushrooms, as well.

In addition to dried thyme and sage, I love using their fresh counterparts, too! If you have them, add an additional ½ teaspoon of both. You can also use dried and/or fresh rosemary, if you'd like!

If making this soy free, use coconut aminos and chickpea miso. If making this gluten free, you can use sweet white sorghum flour instead of flour. The texture, of course, will not be quite the same.

Please remember! It is helpful to have all of the ingredients measured ahead of time and organized. Once the mushrooms and onions start cooking, things move pretty quickly and I don't want you to be stressed. Not while making gravy.

For tips and tricks on storing this gravy, please check out the blog caption.
---
---