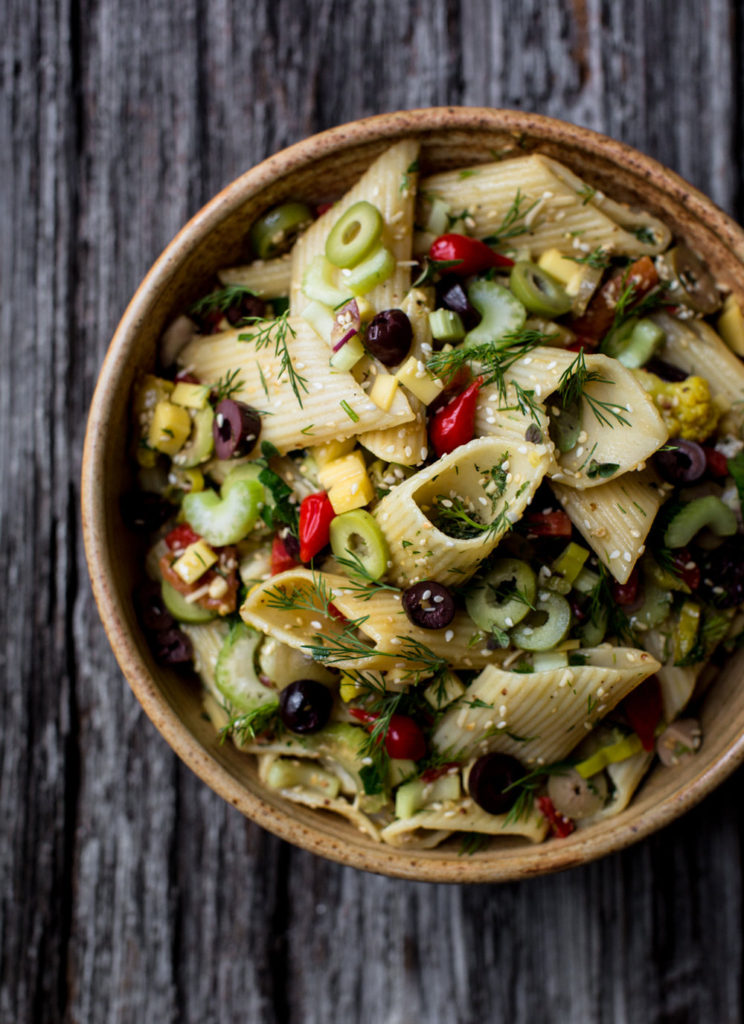 Have you ever had a muffaletta sandwich? It's kind of ridiculous. Loaded with multiple layers of deli meats and cheeses, Sicilian olive salad, and a round loaf of sesame seed bread. This sandwich is totally decadent and over the top. It's no wonder it originated in New Orleans! It was first created and sold at Central Grocery in the historic French Quarter and is still popular to this day.
Now, in my humble opinion, the best part about this sandwich is the briny and delightfully tangy olive salad which has carrots, peppers, and cauliflower in combination to the olives. That's what really seals the deal for me. I also love the bread (which is vegan BTW) because it has sesame seeds on top. Who doesn't love sesame seeds?
When I was walking around a local grocery store here in NOLA, right down the street from my house, I saw some pre-packaged pasta salad. Upon closer inspection, I noticed it was labeled 'Muffaletta Pasta Salad.' I gasped, as I frequently do throughout the day, and immediately called my mother asking her if she had ever heard of this. She said yes and I gasped again.
From that moment on, I knew that I wanted to make a veganized Muffaletta Pasta Salad for all of you. So here you are! Now, I know what you might be thinking- there's no meat? Yes. You are correct. There is no meat and it simply doesn't matter. Mainly because I have upped all of the herbs and spices to the max so the overall flavor is still there. Instead of using a pre-made jar of olive salad (which is not accessible to all) I've used the whole variety from an olive bar and cut them into slices, along with some pickled cauliflower and carrots. Capers and pepperoncini elevate the whole blend to excellency.
For sweetness and color, I've also added some roasted red pepper. For a nice crunch, chopped celery and carrots. And for flavor, fresh dill, oregano, parsley, and red onion. I wanted the dressing to be bright and flavorful, so red wine vinegar it is, along with some tamari, garlic and nutritional yeast.
Instead of using bread, like in the traditional recipe, we're going to use pasta noodles for a fun variation. For the cheese, we're using vegan parmesan shreds and a smoked provolone. You could use whatever kind of vegan cheese you like, but a smoked variety works particularly nice with this salad. Of course, to finish this dish perfectly- a hefty sprinkling of toasted sesame seeds.
Happy Mardi Gras!
-Timothy
Ingredients
16 ounces of pennoni or penne pasta
2 tablespoons olive oil
olive salad
½ cup sliced garlic stuffed green olives
½ cup sliced kalamata olives
½ cup sliced castlevetrano olives
⅓ cup chopped pickled carrots
⅓ cup chopped pickled cauliflower
⅓ cup sliced pepperoncini peppers
1 cup sliced celery hearts
½ cup chopped roasted red peppers
¼ cup Peruvian pickled cherry peppers, plus some to garnish (optional)
2 tablespoons capers
1 cup chopped carrots
⅓ fresh chopped dill, plus some to garnish
⅓ cup fresh chopped parsley, plus some to garnish
2 tablespoons fresh chopped oregano, plus some to garnish
⅓ cup diced red onion
¼ cup shredded vegan parmesan cheese
4 ounces chopped vegan smoked provolone cheese
dressing
⅓ cup quality olive oil (Italian or Greek, cold pressed)
¼ cup red wine vinegar
1 tablespoon whole grain mustard
2 tablespoons nutritional yeast flakes
¼ teaspoon freshly cracked black pepper
2 tablespoons tamari
2 cloves garlic, finely minced
⅓ cup sesame seeds, toasted
Instructions
Fill a large pasta pot with water, and add a healthy sprinkling of sea salt. Bring to a boil, add pasta noodles, and boil until al dente. Once done, drain and cool down with cold water. Return back to the pot and drizzle with a good amount of olive oil. Toss and set aside.

Chop and prepare all of the olive salad ingredients and add them to the pot of cooked pasta as you go.

Toast the sesame seeds in a dry pan/skillet over medium heat, moving them around so they don't burn, until they smell fragrant and are just toasted. Add them to the pot of pasta and olive salad.

Combine all of the dressing ingredients together into a small bowl. Whisk until smooth and pour over the pasta mixture. Stir everything until ingredients are well incorporated.

To serve, divide pasta into bowls and garnish with reserved fresh herbs.
notes
For the pasta, I found some fancy noodles that look like oversize penne. You could use the normal penne pasta shape. Or the squiggly kind. Or even bow tie pasta- whatever you are feeling. Just don't use spaghetti noodles, that would be weird. Think bite sized and stop making it so complicated…

For the olives and pickled vegetables you have two options: 1. Olive bar! 2. Pickled section of the grocery store. If you haven't noticed, olive bars have a large assortment of ingredients other than just olives, so check them out. If you can find some Peruvian peppers, that makes for a great garnish.

For the cheese I recommend using smoked gouda or provolone variety. If you can't find those, go with a regular provolone or sliced mozzarella, as long as they are vegan. If they aren't vegan the recipe won't work.

To make this salad extra pretty when serving, make sure to grab any tidbits from the bottom of the bowl and sprinkle them on top. Or set some of the chopped ingredients aside until ready to serve. Basically, you want to see all of the ingredients on top of the salad so each person knows exactly what they are eating and it also looks super appetizing. Also notice how I sprinkled on fresh herbs as well to make the dish pop. It's called food styling people, get into it.