Springtime is in full throttle right now and I want all the fresh herbs and veggies! When my family and I decided to have a picnic I thought to myself, 'What would be the perfect dish to bring?' My go to for any picnic endeavor is potato salad with a creamy creole mustard dressing, lots of shiitake bacon, red onion, celery and some crunchy diced carrots (recipe is in my cookbook). Then came this Spring Potato Salad recipe.
First, let's talk potato salad, did you know that it is made across the globe? It's true! There are many different countries that have their very own variation and they are all unique. When I was initially researching potato salad for my cookbook, I kind of assumed it was just an American southern thing. Turns out, that's just not true. The more you know! 😉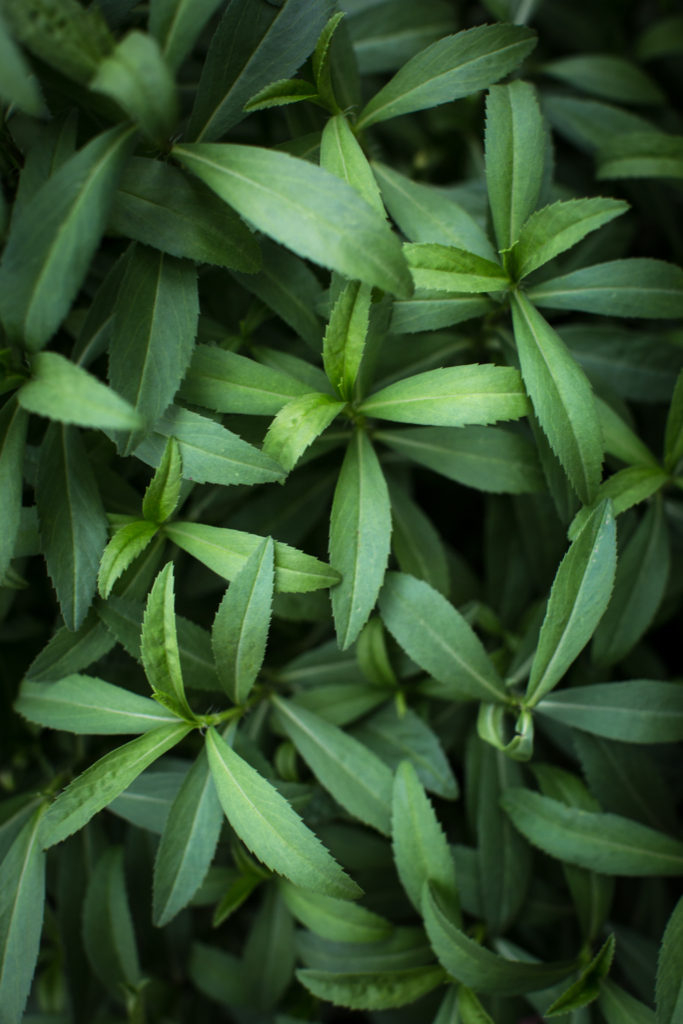 For my second variation of potato salad, I wanted something vibrant, refreshing, and bursting with spring flavor. I noticed that my tarragon plant in the garden was looking particularly fecund, bursting with green leaves. In the past I've made a German style potato salad with tarragon and I loved it so I thought to myself, why not try a creamy, tarragon dill potato salad. And I'm so glad I did.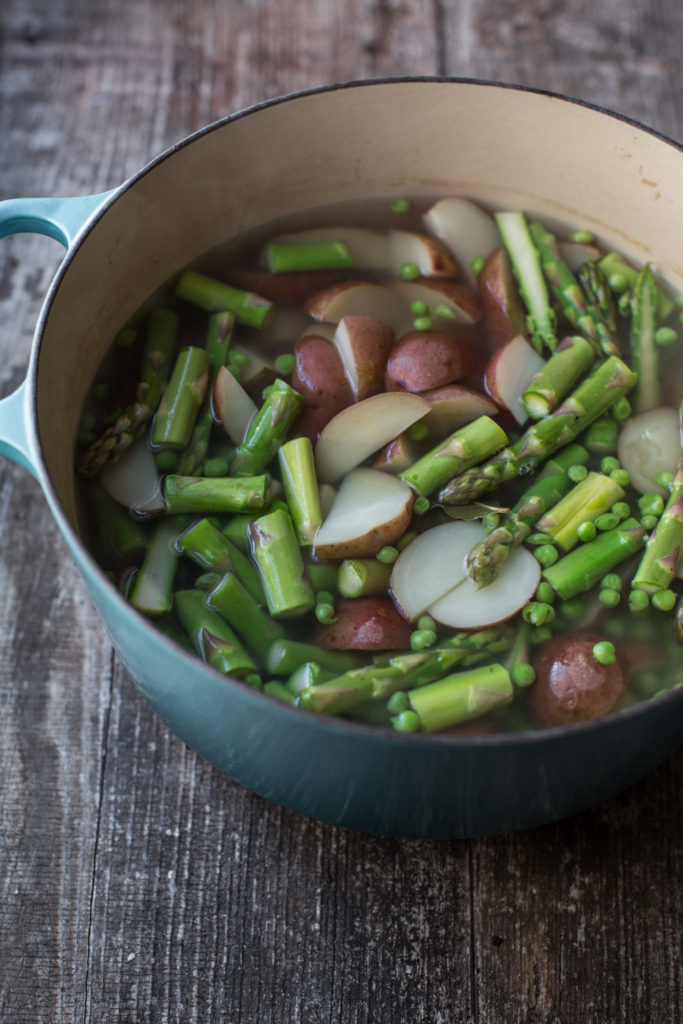 Traditional potato salad can be a little potato heavy, you know? Not that anything is wrong with that. You guys know how much I love potatoes. But because I wanted this salad to be refreshing, I decided to bulk it up with fresh peas, asparagus, and baby arugula. This makes it more like a potato salad salad rather than just a potato salad, ya feel? Of course, ripe avocado and loads of fresh dill and tarragon totally make the dish.
A Trick
One trick you'll notice is that I like to season the water for the potatoes with bay leaves, vinegar and salt. This helps out in the flavor department. When the potatoes are tender, I throw in the asparagus and then the peas. This cooks them briefly, as you want them to keep their crunch. Then everything is drained together. Easy peasy, literally.
I have some more tips and tricks below, so make sure to check those out. I truly hope that you love this salad and make it for your friends and family. If you make it, please let me know on Instagram and make sure to leave a review on the blog. Thanks in advance. Happy spring! Now… here's the recipe. 🙂
Ingredients
3 lbs new potatoes, rinsed and quartered
3 bay leaves
1 bunch asparagus, rinsed, bottoms removed, and cut into bite-size pieces
12 oz bag frozen peas
1 large onion, chopped
5 cloves garlic, minced
½ cup vegan mayo
¼ cup whole grain mustard
1 tablespoon sherry vinegar, plus ½ tablespoon for boiling water
1 large Meyer lemon, squeezed
¼ teaspoon cracked black pepper
¼ cup good olive oil (cold pressed)
2 tablespoons nutritional yeast flakes
½ teaspoon sea salt
1 ripe avocado, cut into bite-size pieces
2 cups baby arugula
½ cup fresh dill, chopped
½ cup fresh tarragon, chopped
Salt and pepper, to taste
Instructions
In a large pot, combine potatoes and bay leaves. Add 1 tablespoon of sea salt and 1½ tablespoons sherry vinegar and cover with water. Cover and cook on medium high heat until the water comes to a boil. Remove lid and let boil for about 10 minutes, or until the potatoes are fork tender.

Once the potatoes are fork tender, throw in the asparagus and cook for 2 minutes. Once the asparagus becomes bright green, add in the bag of frozen peas. Cook for an additional minute and drain the mixture in a colander over the sink. Remove the bay leaves and transfer the mixture to a large serving bowl. Let cool completely. Cover and place in the fridge for at least 2 hours (or preferably overnight).

Make the dressing: drizzle a few glugs of olive oil in a skillet and bring to medium heat. Add the onions and garlic, stirring often, for about 5 to 7 minutes, until the onions become tender and caramelized. Remove from heat and set aside.

In a small bowl, combine the mayo, mustard, sherry vinegar, Meyer lemon juice, black pepper, olive oil, nutritional yeast, and sea salt. Mix well. Once the onions and garlic are cool, combine them with the dressing and mix well. Use immediately or keep covered in the fridge until ready to use.

Once the potato vegetable mixture is cool, add the dressing and gently toss. Throw in the avocado, arugula, dill and tarragon. Gently toss and again and give it a taste. Season with salt and pepper as desired. (If you have dill flowers from the garden, sprinkle them on top too!)
notes
If you are wondering if you can use dried dill or dried tarragon, the answer is no. They both must be fresh. Sorry!

I highly recommend making the dressing and potato vegetable mixture the day before. That way, they have plenty of time to chill in the fridge. When you are ready to serve, simply combine those mixtures with the fresh herbs, arugula, and avocado. This way you can make sure the salad looks extra pretty before serving and it feels like less work, IMO.

Sherry vinegar is a little bit more subdued than say, red wine vinegar or apple cider vinegar. I find it to have a buttery flavor as well. I just love it! I highly recommend purchasing a bottle for this recipe and for you to use in the future. Once you try it, I think you'll agree.