[This New Year's Stew was updated with new images and a few additional tweaks + options on December 29, 2020. The original recipe was posted on December 30, 2018.]
The new year is just a few days away people! That means it is time for all of you to plan on what you'll be cooking. Now, if you own my cookbook you would know that I have a pretty killer Hoppin' John Stew which is perfect for the occasion. However, because all of you don't own my book (which makes me cry), I decided that I should have another perfect recipe for ringing in the new year available on the blog. And this is it…My New Year's Stew! This recipe is hearty, wholesome, and chock full of good luck. Basically, if you make this stew and eat it on New Year's Day, you will have a fabulous year where you makes lots of money and invite endless amounts of joy and positivity into your life. I know.. this is a big deal.
For any of you non-southerners out there, let me fill you in! You're supposed to eat black-eyed peas and greens for good luck in the new year. Think of it as a symbol for wealth and success to come into your life. Some say the greens represent money and the black-eyed peas represent pennies (wait a minute, pennies? Can't we shoot higher than that!?). Others say to eat cornbread as it represents gold. I honestly don't even need a reason to eat any of these things because I love them all. You ain't gotta tell me twice to eat no damn peas with rice, tender greens, and cornbread! Please.
I grew up eating Camellia beans and black-eyed peas, so they are very nostalgic to me. Funny enough, the packaging hasn't changed since I was a little boy. Feel free to buy your peas from the bulk section, if you'd like, and if purchasing canned peas, I try to buy organic and non-BPA lined cans. If you'd like to try making them from scratch, keep scrolling and I will tell you exactly how I do it. Luckily, black-eyed peas are super easy because they don't take long to cook at all.
Now let's talk a little bit more about this stew: I strayed away from using too many herbs. I really wanted the flavor of the cabbage and peas to shine through. This stew is loaded with large chunks of vegetables so it has a lot of variation in texture when eating and this makes it very hearty and satisfying. For the protein, you can add some of your favorite store-bought vegan sausage or you could add some roasted mushrooms. This year, I opted for cremini mushrooms which I thickly sliced, tossed in a skillet with some oil, tamari, nutritional yeast, and liquid smoke and roasted until they became rich in color and flavor. Don't worry, the full recipe is below.
Moving right along, see those big chunks of cabbage? Don't worry, they become tender and succulent once cooked. This is the perfect contrast to large chunks of boiled potatoes and dark green strips of collard greens. The black-eyed peas provide little plump pops of texture and flavor. When serving soups and stews, I always like to sprinkle on top some sea salt and pepper for an extra kick of flavor to enhance the dish. Parsley and sliced green onions or chives are also very welcome.
You'll notice here a sliced jalapeño! That is totally optional but I think it's quite nice as it provides a little tickle of spice. You'll also notice that I cut the carrots into large chunks, as well as the celery. For the onion, I opted for thick slices. You could chop these up any way you'd like. I just love the look and feel of big beautiful chunks. It's nice to have something to sink your teeth into. Especially with a stew.
Full disclosure, this recipe makes a ridiculous amount. Like, soccer mom with 5 kids kinda gig. If you do not have a very large pot (around 7.25 quarts), you will most definitely need to halve this recipe. I would say it feeds close to 12 people. Now, if you do make the whole batch, it does keep nicely in the fridge for a few days and you can also freeze it!
I also wanted to point out that I call for cherry tomatoes in this stew. I think they are just lovely in this! They basically melt into the dish, upping the umami while also providing a burst of acidity that really wakes everything up. While the stew is cooking, I like to also roast the mushrooms and bake off a batch of my 'Easy Baked Rice' in the oven. By the time the soup is done, the mushrooms will be ready to throw in and the rice will be fluffy. (I also highly recommend whipping up a batch of cornbread to go with this- it's a really nice addition!)
Cooking your own peas!
Before we dive in, you can totally use canned peas for this. I've also even seen freshly steamed black-eyed peas available at the store as well, which you could use. But I will always usually go for cooking my own. If you ask me, cooking dried peas and beans can be quite therapeutic. Sorting, rinsing, soaking- I love it! Of course, they also taste better than canned and rightfully so. You showed them some extra TLC and any pea or bean will appreciate that. Some require more time to soak and take longer to cook, so these instructions may vary for other varieties. Right now, let's just focus on black-eyed peas, as they take less time to soak and cook than most and we're using them in the new year's stew.
I like to soak my peas overnight. First, sort through them and remove any weird pieces or anything other than peas. Then cover the peas with a few inches of water. This allows the water to slowly absorb into the peas which allows them to cook evenly and more quickly. This also draws out some of the phytic acid, which can cause bloating. If you are strapped for time but would still like to do this, you can do a quick soak. Simply throw the beans in a medium-sized pot and cover with an inch or two of water. Bring to a boil and remove from heat. Cover with the lid and let the peas steep for 30 minutes. Drain the peas and rinse them well.
To cook, transfer the drained peas back to the pot and cover with fresh water. Throw in a piece of kombu (dried seaweed- for flavor and to help aid in digestion), a bay leaf or two, a good drizzling of olive oil, black pepper and salt, and bring to a boil. (Some would say that adding the salt now makes the peas tough but I have made them both ways with these peas and I can't notice a difference. Up to you…) Once to a boil, remove the kombu and reduce the heat to low and simmer for about 30 minutes, stirring every so often until the peas are tender. Done!
(Hot tip: you can use some of this delicious broth in the stew. Just swap it out with some of the water called for.) If you do not want to use all of the peas in this dish, you can store any leftovers in a tightly sealed container with the cooking liquid for a few days in the fridge.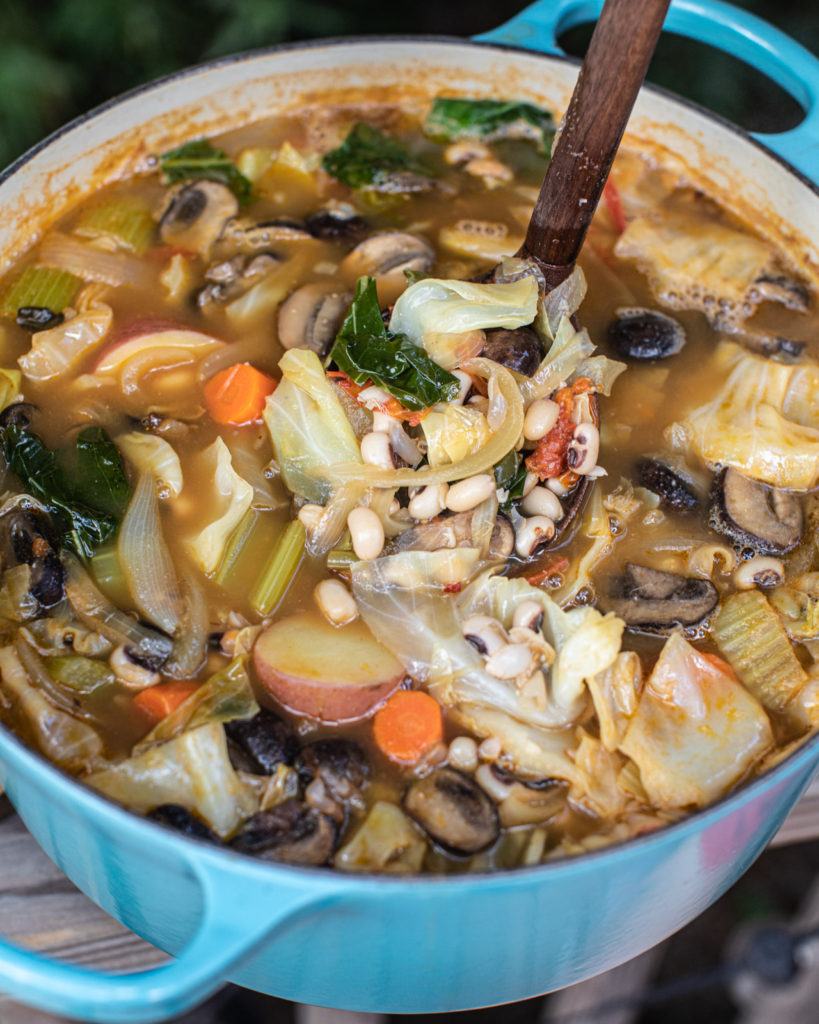 Aside from all of the luck and tradition, this new year's stew was also inspired from a recipe my mama would make for my father. It was basically braised cabbage with potatoes and sausage, a Polish classic. (If you didn't know I am part Polish, now you do.) And now this very recipe has become a New Year's classic for myself (and many of you!). So go grab you some ingredients and make a big ole pot of stew. Share it with your friends and family and ring in the New Year fabulously. Happy cooking, y'all.
Timothy
Ingredients
1 lb dried black-eyed peas or 3-4 cans cooked, drained and rinsed
1 large yellow onion, chopped or sliced
1 small green bell pepper, chopped
1 small jalapeño, sliced
1 heaping cup chopped celery (large chunks)
1 heaping cup chopped carrots (large chunks)
3 tablespoons olive oil
3 cloves garlic, chopped or sliced
3 cups new potatoes or baby red potatoes, cut into large chunks
1 small head green cabbage, roughly chopped into chunks (about 8 cups)
3 tablespoons nutritional yeast
1 tablespoon onion powder
1 tablespoon garlic powder
1 tablespoon rice vinegar
2 tablespoons tamari or soy sauce
2 teaspoons sea salt
2 teaspoons vegetable bouillon base (i.e. Better Than Bouillon no-chicken or garlic base)
½ teaspoon freshly cracked black pepper
½ teaspoon crushed red pepper flakes (less or more, if desired)
1 pint cherry tomatoes, rinsed and halved
14 oz plant-based sausage (your favorite) or 1 pound sliced mushrooms*
9 cups spring or filtered water
3 cups roughly chopped collard greens (de-stemmed, if desired)
Easy Baked Rice, to serve
Freshly chopped chives, green onions, or parsley, to garnish
*Roasted Mushrooms
1 pound desired mushrooms (i.e. cremini, shiitake, trumpet, or button)
3 tablespoons olive oil or vegetable oil
2 tablespoons nutritional yeast
2 tablespoons tamari
1 teaspoon liquid smoke
Salt and pepper, a sprinkle
½ teaspoon ground sage
1-2 sprigs fresh rosemary (optional)
2-3 small fresh sage leaves (optional)
Instructions
1. If you are using dried peas, you will need to soak and cook them. Refer to the blog post above to see how I do this. If you are using canned peas, simply open 'em up and give them a good rinse. Set aside. (If using roasted mushrooms and baked rice, get those in the oven now so they can cook while making the soup.)
2. In a large pot (at least 7.25 quarts), add onions, bell peppers, jalapeño (if using), celery, carrots and a good drizzle of olive oil. Season with a few pinches of sea salt and pepper. Bring to medium heat and cook for about 7 minutes, until the vegetables become tender and juicy, stirring every so often.
3. Next add in the garlic, potatoes, cabbage, nutritional yeast, onion powder, garlic powder, vinegar, tamari, sea salt, bouillon paste, pepper and red pepper flakes. Give it a good mix and cover for a few minutes until the cabbage starts to wilt. Mix and cook for an additional 5 minutes, stirring every so often, until everything is soft and tender and it smells delicious.
4. Add the sausage (if using), tomatoes, black-eyed peas and water. Bring to a boil and reduce the heat to low. Cook at a low simmer with a cracked lid, stirring every so often, for about 20 to 30 minutes or until the potatoes are tender to fork. Once done, throw in the collard greens and cook for an additional 5 minutes, until they become tender. If using roasted mushrooms, add those in now, as well.
5. To serve, ladle the stew into bowls and garnish with fluffy white rice, freshly chopped herbs, and a sprinkling of sea salt and black pepper. Hot sauce is welcome!
Roasted Mushrooms
1. Preheat oven to 350 degrees F. Thickly slice or roughly chop desired mushrooms and toss into a large skillet or on a parchment-lined baking sheet. Toss with olive oil, nutritional yeast, tamari, liquid smoke, salt and pepper, ground sage, and fresh sage and rosemary. Mix well and roast for 45-50 minutes, until rich in color and reduced in size. This can also be made while the rice is baking which is also cooked at 350 for the same amount of time. 
notes
As I said, this recipe makes A LOT. I used a large 7.25 quart dutch oven and the full amount fit perfectly. If you do not have a pot this large, I would cut this recipe in half and you should have no problems.

For the sausage, I recommend Beyond Hot Italian Sausage or Field Roast Italian Sausage. You can slice and brown it separately before adding it to the stew for added flavor or simply throw it in uncooked. It's up to you! This would also be delicious with Sweetearth's Mindful Chick'n or seasoned and pan-fried soy curls.