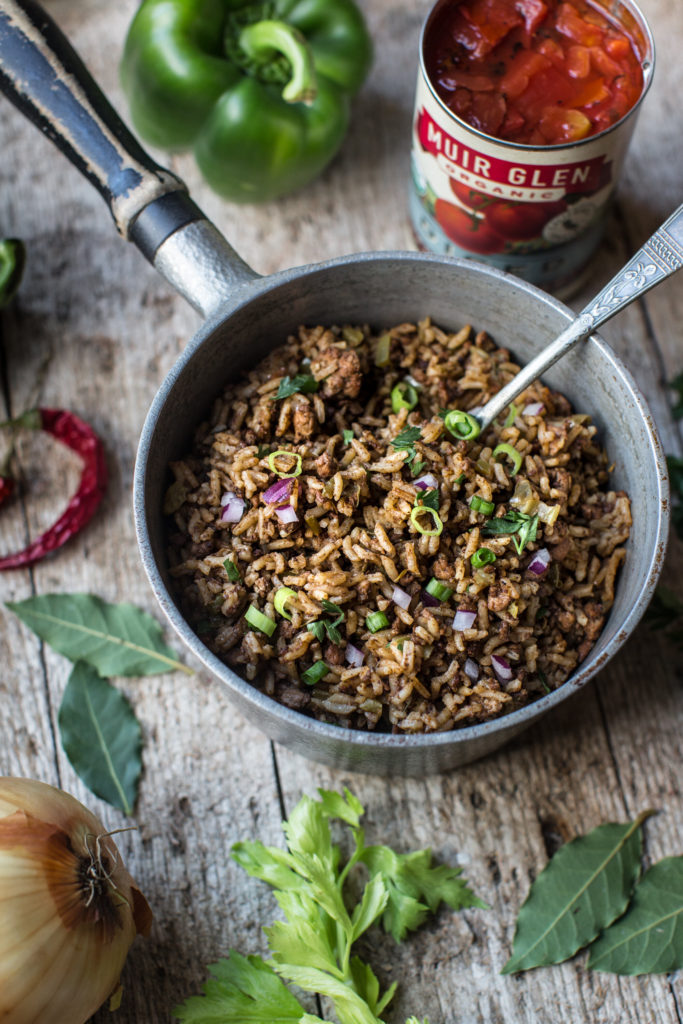 This Dirty Rice post is sponsored by Muir Glen and Kroger. All opinions are my own.
I grew up eating dirty rice at family gatherings when I was a little kid. I remember seeing a very dark brown rice dish that, to be completely honest, didn't look that appetizing. It wasn't until I was a teenager that I remember trying dirty rice and it really stuck with me. You know when you try a dish and your eyes widen and your mouth tingles. You know deep down that you have to make it again for yourself. That's what happened to me. Interestingly enough, that was before I was vegan. I can still remember it to this day: piping hot, fluffy rice that was bursting with savoriness and spice with a deep flavor of green bell peppers, onion, and celery.
A few years later, after going vegan, I remembered the dish and decided to take a whack at it. The first time, it was good- more like a fried rice if you ask me. It didn't have that dark brown look and the flavor wasn't quite as pungent as what I remembered. But hey, if you put a bowl of rice in front of me I'm going to eat it. Over the years, I kept making the recipe and each time if became better and better.
Now that I've been vegan for over 10 years, I've learned a thing or two. Ok, I've learned a lot more than that! Most importantly, I've learned how to recreate depth of flavor in traditional recipes that use animal products by using amazing plant-based ingredients. (I actually wrote a whole cookbook about it.) Sometimes in vegan cooking, it takes a little bit more seasonings than you would think. Sometimes it takes a few extra secret ingredients to work in a collective way to make a successful dish. This recipe is the perfect example of that.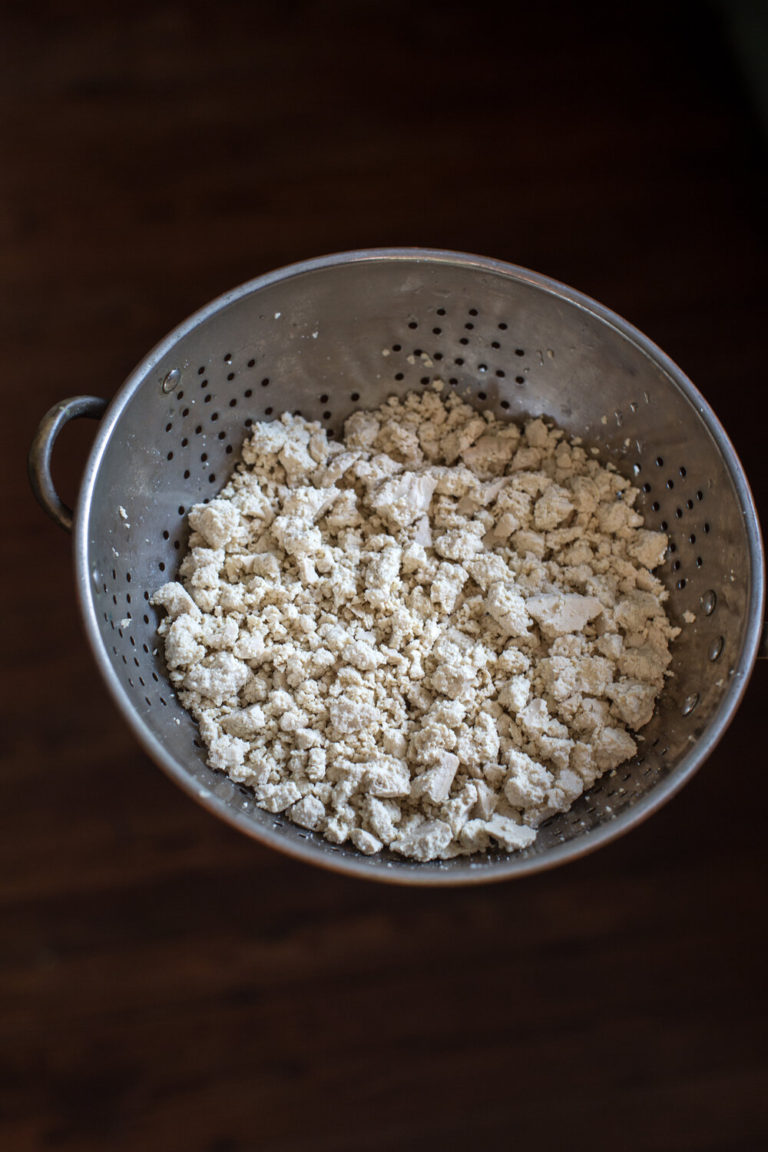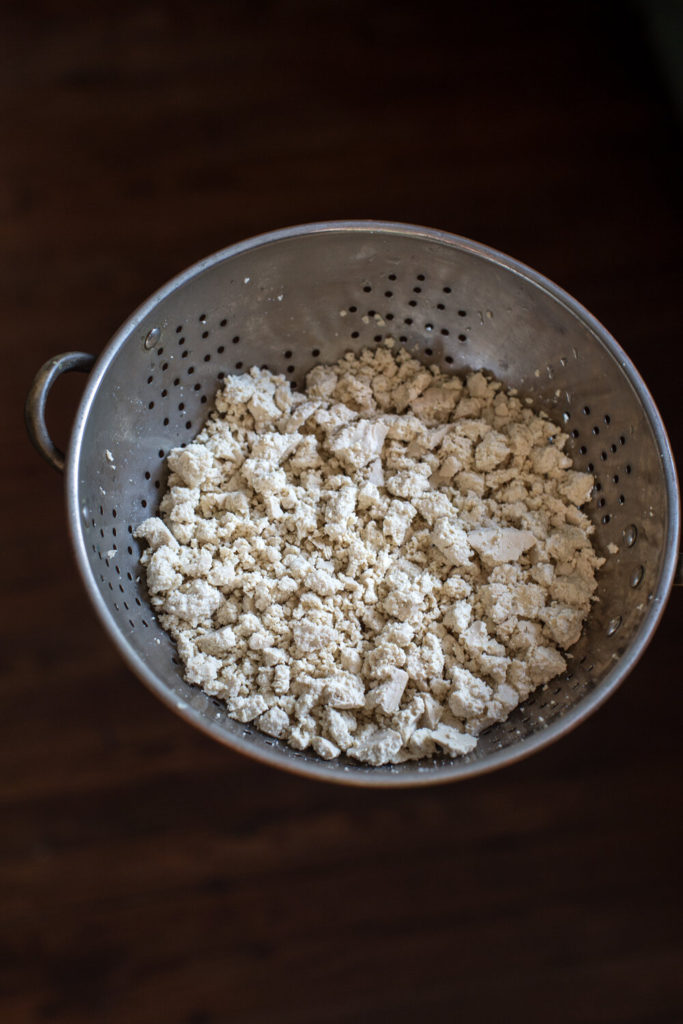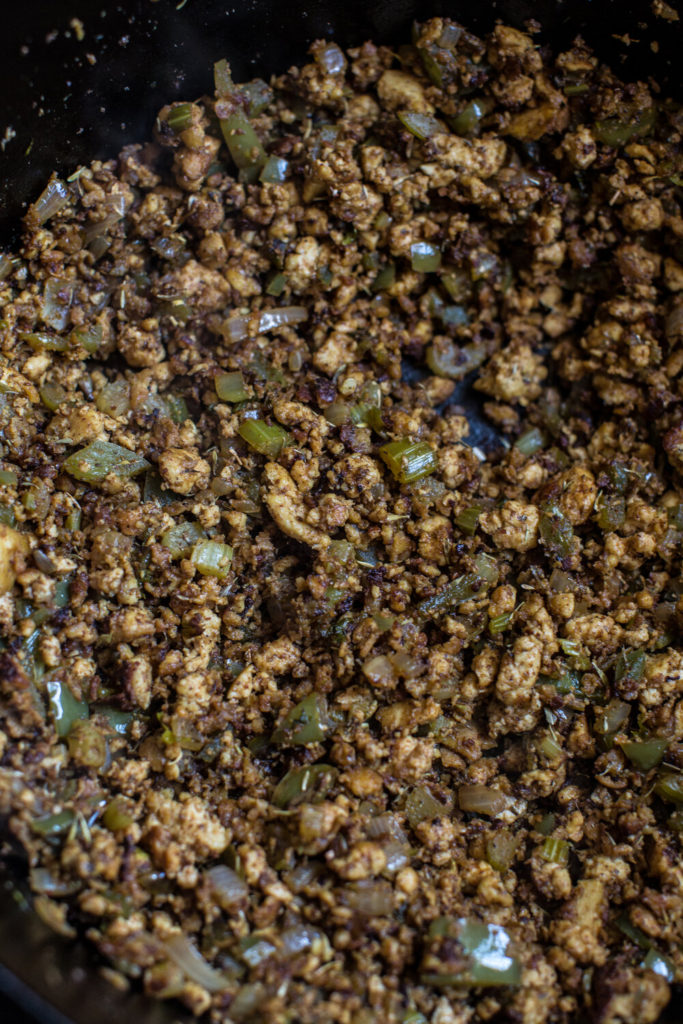 In traditional dirty rice, the dark color comes from browning chicken liver or gizzards. I'm going to take a collective vote here and say let's not use those two items. Instead, why not say, tofu? Go ahead and roll your eyes but if you were to simply google what 'gizzards' are, I think you might reconsider. Anyways, I'm not trying to get political here, I'm just saying extra-firm, high-protein tofu crumbles and browns beautifully. Especially when you add amazing ingredients like tamari, thyme, sage, oregano, vegan Worcestershire, onions, garlic, celery, green bell peppers, and some good ole' red wine. You will be left with a dark brown and fantastically flavorful vegan base for dirty rice.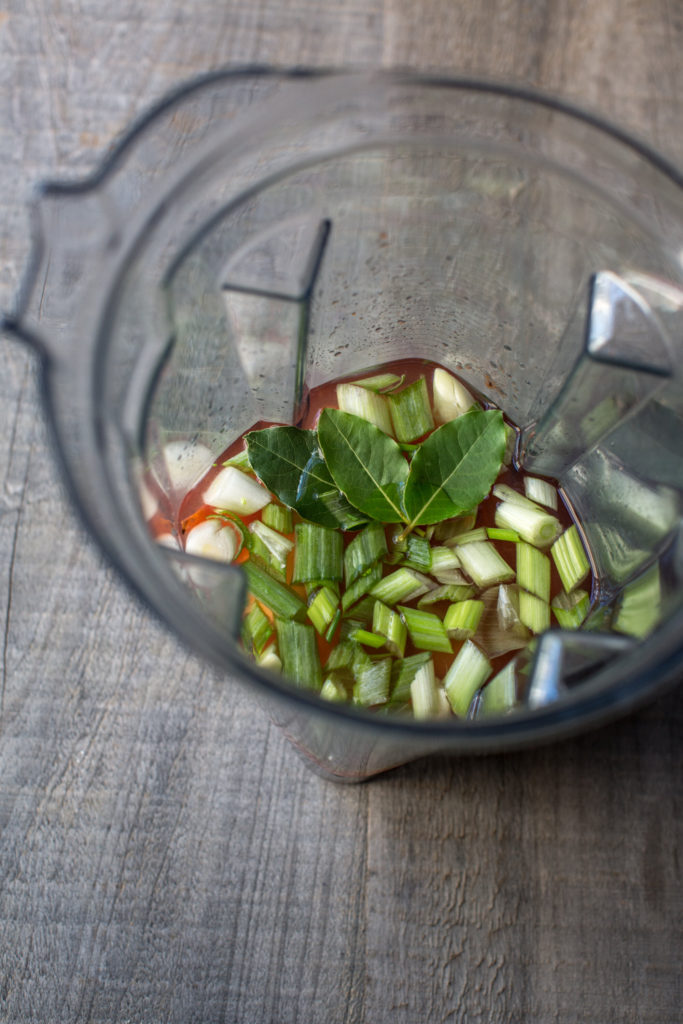 But there's a trick to making this dish EXTRA flavorful. A trick that makes this vegan one-pot dirty rice stand on its own two feet in comparison to the traditional dish at any 'hole in the wall' southern restaurant. First up, after all of the seasonings and spices are warmed up with the onions, bell pepper and celery, the rice will be toasted. Next, we are going to BLEND some bay leaves, green onion, fresh garlic, water, and, the secret ingredient. Muir Glen fire roasted tomatoes all together in a blender creating a flavorful and delicious liquid. In my humble opinion, the acidity and smokiness from the fire roasted tomatoes gives this dish the backbone that it needs. While cooking in the oven, all of the flavor in the liquid and the spices will infuse into each grain of rice. I'm excited just thinking about it.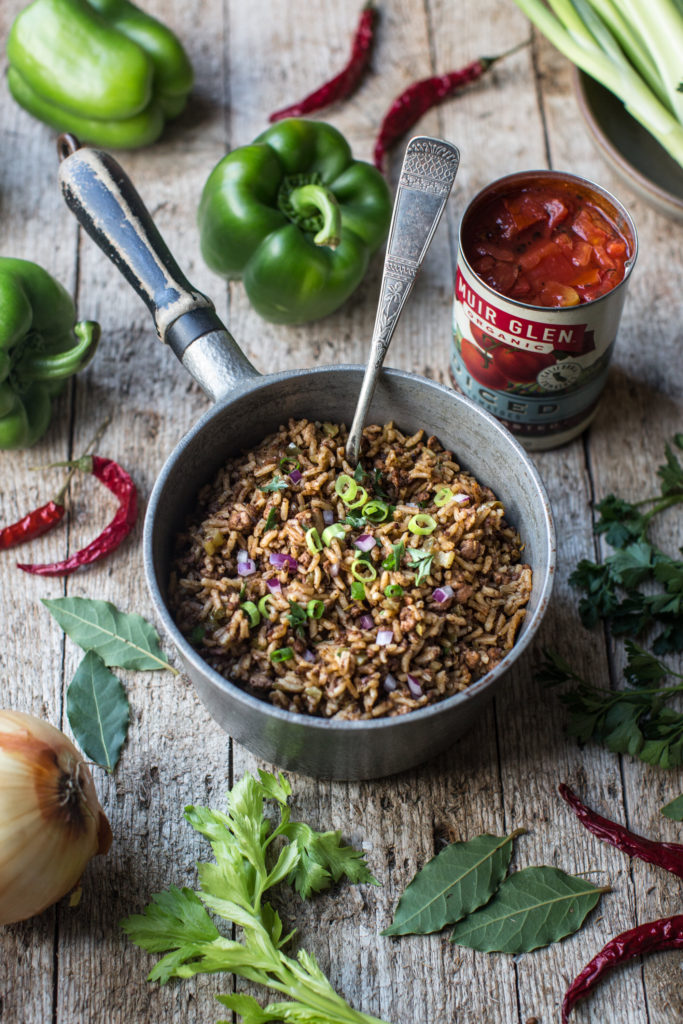 To finish the dish, after thoroughly cooked, you simply fluff the rice, let sit for 5 minutes and you are ready to serve. I like to garnish with freshly chopped parsley and sliced green onions. I suggest you do the same! If you're feeling sassy, add some diced red onion for a pop of color but that's totally optional. Keep scrolling to see a fun way to plate this dish and to read some more about tips and tricks.
Before I share the recipe, let me just take a moment to point out how much I absolutely love Muir Glen's canned tomatoes. When they reached out to see if I would like to team up with them, I squealed. You see, I have been using their fire roasted tomatoes (diced and crushed) for as long as I can remember. The concentrated flavor of their organic tomatoes with a nice char creates the perfect ingredient for any cook, especially a vegan trying to recreate southern dishes. I use their fire roasted tomatoes in all of my gumbos, most of my soups and stews, and now this vegan one-pot dirty rice. As a native Mississippian and Southern boy, I grew up shopping at Kroger as well, which always stocks Muir Glen's canned tomatoes. I invite you to shop at your local location and to make this recipe immediately. Enjoy!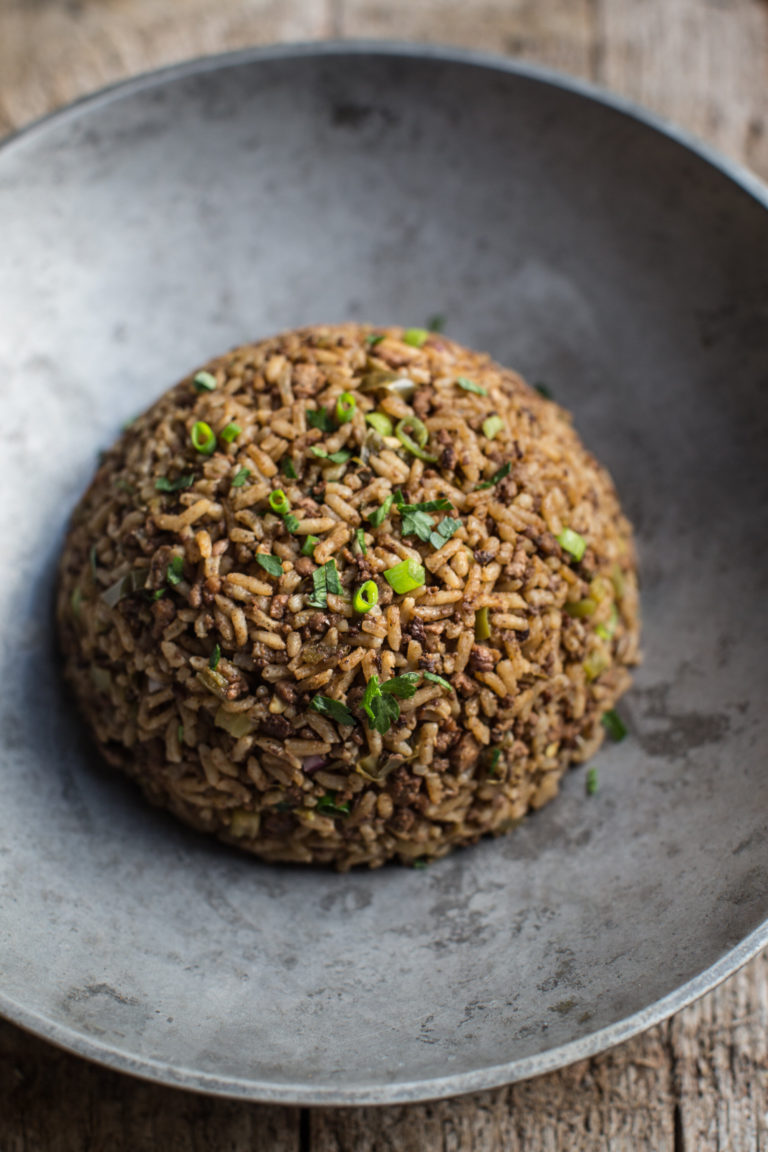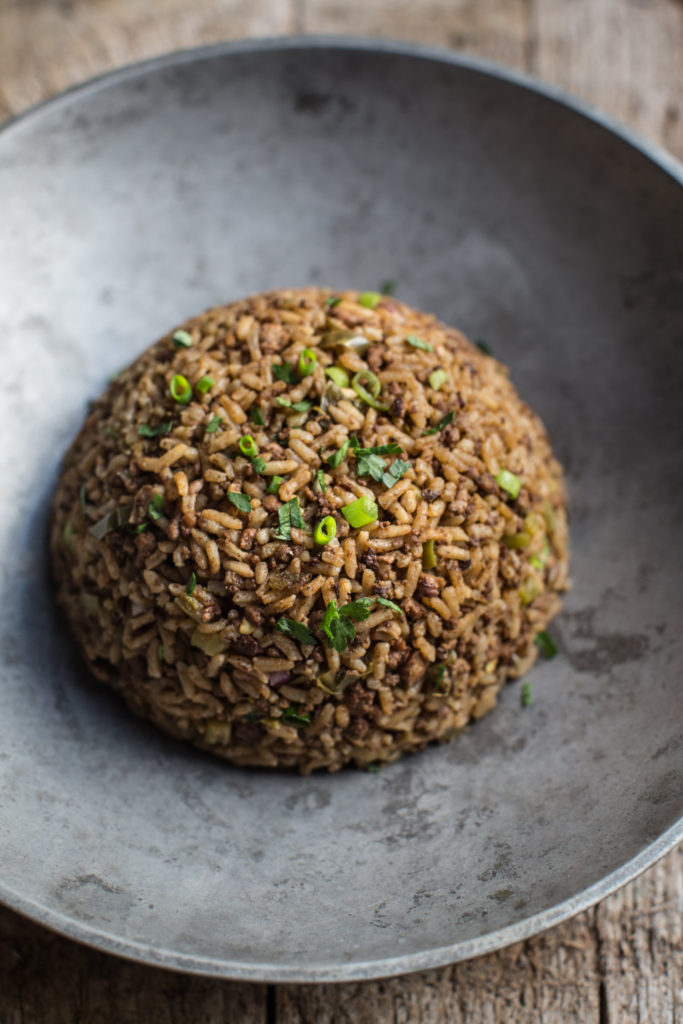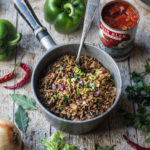 Ingredients
¼ cup vegetable oil (i.e. sunflower or avocado)
1 (16 oz) block extra-firm, high-protein tofu
½ teaspoon sea salt
2 tablespoons nutritional yeast
1 cup green bell pepper + ½ cup (to add later), chopped
1 cup yellow onion, chopped (about half an onion)
1 cup celery + ½ cup (to add later), chopped 
¼ cup fresh jalapeño, chopped (deseeded for less spicy)
2 tablespoons tamari
2 tablespoons vegan Worcestershire
1 teaspoon ground sage
1 teaspoon dried oregano 
1 teaspoon dried thyme
1 teaspoon ground cumin
1 teaspoon paprika 
¼ teaspoon cayenne pepper
1 teaspoon liquid smoke
½ cup dry red wine
2 cups long-grain white rice, rinsed thoroughly 
2 cups filtered water 
4 cloves garlic, peeled
¾ cup Muir Glen fire roasted tomatoes (diced or crushed variety)
1 stalk green onion, chopped + ½ cup sliced to garnish
3 fresh bay leaves (dried is ok but fresh is best!)
1 teaspoon sea salt
2 tablespoons vegan butter
½ cup fresh parsley, chopped, to garnish
Instructions
Preheat oven to 350° F.

In a large pot, heat the vegetable oil over medium-high heat. Using your hands in a colander, drain and crumble the tofu into small crumbly bits. Add to the hot vegetable oil. Sprinkle the salt and nutritional yeast over the tofu. Stir until incorporated. Every so often, scrape the bottom of the pan. The tofu will start to turn a crispy brown after about 10 minutes.

Add the bell pepper, yellow onion, jalapeño, and celery to the browned tofu. Cook the vegetables down for a good 5 minutes, stirring every so often. Add in the tamari and the Worcestershire. Stir and combine. Cook down for 5 minutes, stirring often. Lower heat to medium-low. Add in your sage, oregano, thyme, cumin, paprika, cayenne pepper, and liquid smoke. Stir and toast your spices until fragrant, stirring often. Add in the red wine to deglaze the pan, scraping up the bottom tidbits from the bottom of the pot.

Rinse rice under warm water until water runs clear. Add to the pot. Stir to combine and toast the rice for 5 minutes. In a high-speed blender, add water, garlic, green onion, bay leaves, salt and tomatoes. Blend until smooth. (Yes, the bay leaves will blend up!) and add the second round of bell pepper and celery mixture to the rice. 

Pour in blended liquid. Place in the center rack of the oven and cook for 40 minutes, with the lid tightly on. Remove from oven, remove lid, fluff with a fork, place lid back on and let sit for 5 minutes. Add the vegan butter and mix. Season with more salt if desired. Serve and garnish with fresh chopped parsley and sliced green onions.

Notes

If you don't have a high speed blender and you are concerned that the bay leaves will not blend effectively, you can simply add them separately before cooking in the oven and remove them when ready to serve.

If you want to be fancy and serve this rice in a more sophisticated way than straight out of the pot, try pressing a good amount into a medium sized bowl using a spoon. Then, using the back of the spoon, press the rice into the bowl firmly. Place the plate on top of the bowl, press everything together securely, and flip. Remove the bowl and there you go! A beautiful mound of dirty rice.

To make this a more complete meal, I suggest serving it with any of these suggestions: BBQ tempeh or slow roasted mushrooms, sautéed collard greens or kale, cornbread muffins, grilled asparagus, cole slaw, roasted cauliflower, a simple side salad with a light dressing.