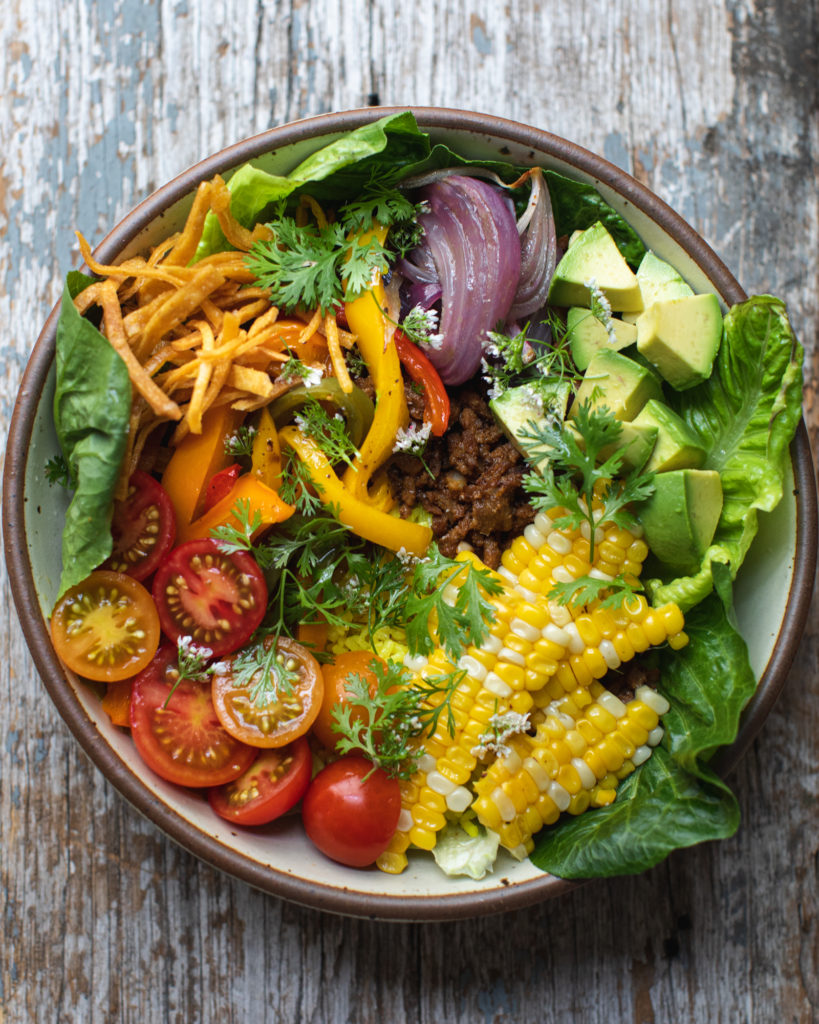 Happy pride month, y'all! Today I am kicking off June with a fabulous new recipe that is super fun to make and delicious to eat. I call it my 'Rainbow Taco Salad', and it's a true celebration. What I love about this recipe is all of the color and how quickly it comes together. For the veggies, we have roasted bell peppers, corn, and red onions (all cooked on one sheet-pan) combined with ripe cherry tomatoes (these are from the garden- sorry had to flex!), ripe avocado, and fresh romaine lettuce. For some crunch, we have crispy strips of corn tortillas that are pan-fried until golden brown, and for some protein we have some meatless crumbles that are seasoned to perfection. To finish the salad, a hefty sprinkling of chopped cilantro with a big ole' squeeze of fresh lime juice. Supper is served!
I am very excited to let you know that I have teamed up with Plant Boss as today's sponsor. Plant Boss is a lovely product by Frontier Co-op, a cooperative based in Iowa. Made from organic peas and spices, Plant Boss uses simple ingredients to deliver superior taste. The meatless crumbles are an excellent source of protein, low in fat, soy-free, non-GMO and gluten-free. They are also shelf-friendly just like pasta or rice. (You can find them by the boxed mac-and-cheese at your local retailer or purchase them online.)
Tap here to find out where you can find them close to you and make sure to follow them on Instagram for more recipe inspiration. These crumbles are extremely versatile and you can use them for so many different recipes. And I just love that they are shelf-stable. With a simple soak in water and a sizzle in a skillet, you have a fantastic plant-based meat ready to go for any recipe.
Talk about color, just look at this spread! I like to use all different colors of bell peppers, red onions and corn for this salad. Feel free to add some sliced mushrooms or other veggies like cauliflower and broccoli if you'd like. That's what makes this a Rainbow Taco Salad! A simple seasoning of salt, pepper, and a drizzle of olive oil with a quick bake is all you need to make these guys tender and succulent. While they cook, you can also bake the rice to knock out both components at once.
For this gorgeous yellow rice, we are using my 'Easy Baked Rice'. It's from the blog as well, with the addition of 1 teaspoon of ground turmeric. That one little scoop will turn the whole batch into this stunning color which I just adore. Preheat the oven to 450 degrees F. The veggies will take about 20 minutes and the rice will take about 30. While these cook, you can prep the other veggies and get the crumbles ready.
The Plant Boss crumbles couldn't be any easier and you can make them using one large skillet. Simply add them to the vessel and pour over some water. Let them soak it up and then add the remaining seasonings along with some oil and turn on the heat. Once this is down, I like to add a hefty amount of chopped garlic. Because that's how I roll over here. Once the crumbles and garlic are golden brown, you're all set.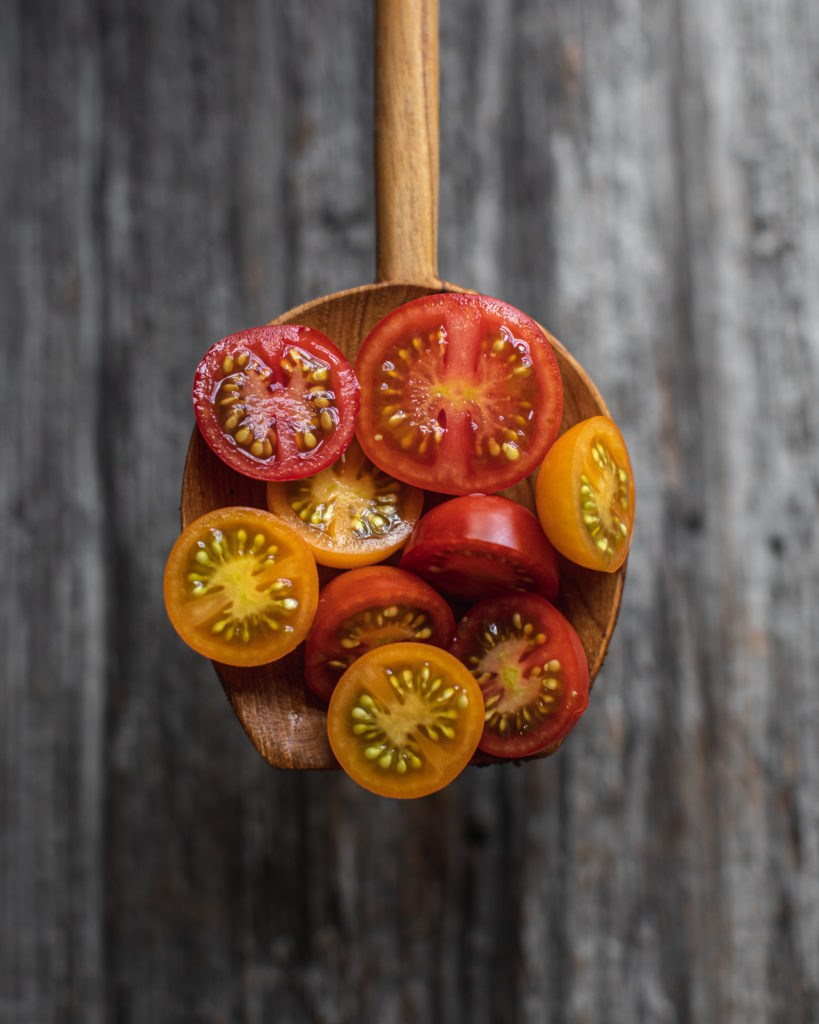 In addition, we have ripe cherry tomatoes cut in half, fresh romaine lettuce (you could use any kind of lettuce really… iceberg would be excellent), and ripe avocado cut into chunks. While prepping these, you can go ahead and chop one large bunch of cilantro. Use the cilantro to garnish and slice some limes into wedges for squeezing over top.
For the final touch and some crunch, I like to fry up some corn tortillas cut into thin strips. You can totally buy these pre-made or just use tortilla chips. But I must admit, after making them fresh, I don't think I'll ever go back. The flavor and texture is excellent because they are from scratch. As a result, they are crispy, toasty, and just perfect for this salad. Simply heat up some vegetable oil in a small skillet and fry until golden brown. They really aren't fussy at all!
And there we have the final Rainbow Taco Salad for a glamor shot! I'm telling you, direct sunlight really makes things pop, wouldn't you say? To finish this dish, combine everything into a bowl with a generous sprinkling of cilantro and fresh lime juice. Lunch or supper is served.
I hope that all of you love this dish as much as I do. Big thanks to today's sponsor Plant Boss for helping me bring this recipe to life. Let me know what you think in the comments below. If you make this recipe, take a picture and tag me on the gram!
Ingredients
Roasted Veggies

1 large red bell pepper, sliced
1 large green pepper, sliced
1 large yellow bell pepper, sliced
1 large orange bell pepper, sliced
1 medium red onion, sliced
2 ears of fresh corn, shucked
4 tablespoons olive oil
Salt + Pepper 

Meatless Crumbles

1 pack Plant Boss Mild Plant Taco meatless crumbles
2 cups filtered water
1 tablespoon cumin
1 teaspoon smoked paprika
1 tablespoon nutritional yeast
2 tablespoons olive oil
2 tablespoons tamari
5 cloves garlic, chopped

Crispy Tortilla Strips

¼ cup avocado (or high heat oil)
2 corn tortillas, thinly sliced
A sprinkling of salt 

Bowl Assembly

1 batch 'Easy Baked Rice' + 1 teaspoon turmeric
2-3 romaine hearts, separated
1 pint cherry tomatoes, halved
1-2 large avocados, cut into chunks
1 bunch cilantro, chopped, to garnish
3 large limes, cut into wedges, to garnish 
Instructions
Preheat oven to 450 degrees and line a large baking sheet with parchment paper.
Slice the bell peppers and red onion. Shuck the corn. Lay on a baking sheet and drizzle with olive oil, and sprinkle with salt and pepper.
Measure the rice ingredients together in a baking vessel. Add one teaspoon of dried turmeric and mix well.
Place both the rice and veggies in the oven together (rice in the middle and veggies on top!). Remove the veggies after 20 minutes and the rice for 30 minutes. Fluff rice and set aside.
While you're waiting for the vegetables and rice to finish cooking, prepare the crumbles. Add the package of crumbles into a large skillet, along with the water, nutritional yeast, cumin, chili powder, olive oil, and tamari. Mix well and cook over medium-high heat until reduced, stirring every so often. Once the liquid is gone, drizzle with a little bit more olive oil and throw in the garlic. Mix well and brown the crumbles lightly. This should take a few more minutes. Set aside until ready to assemble.
For the tortilla strips: in a skillet, add oil and bring to medium-high heat. Once hot, add the sliced tortilla strips. Mix well and cook until golden brown, about 5 minutes. Remove from oil onto a cutting board or paper towel lined plate to absorb the oil. Sprinkle with salt and toss.
To assemble the salad, add lettuce to a bowl. Scoop on the rice and crumbles. Then add the roasted veggies, avocado, tomatoes, tortilla strips, and garnish with cilantro and fresh lime juice. Sprinkle with salt, to taste, if needed. Enjoy!
This post is sponsored by Plant Boss®
All comments, opinions and recipes are my own.