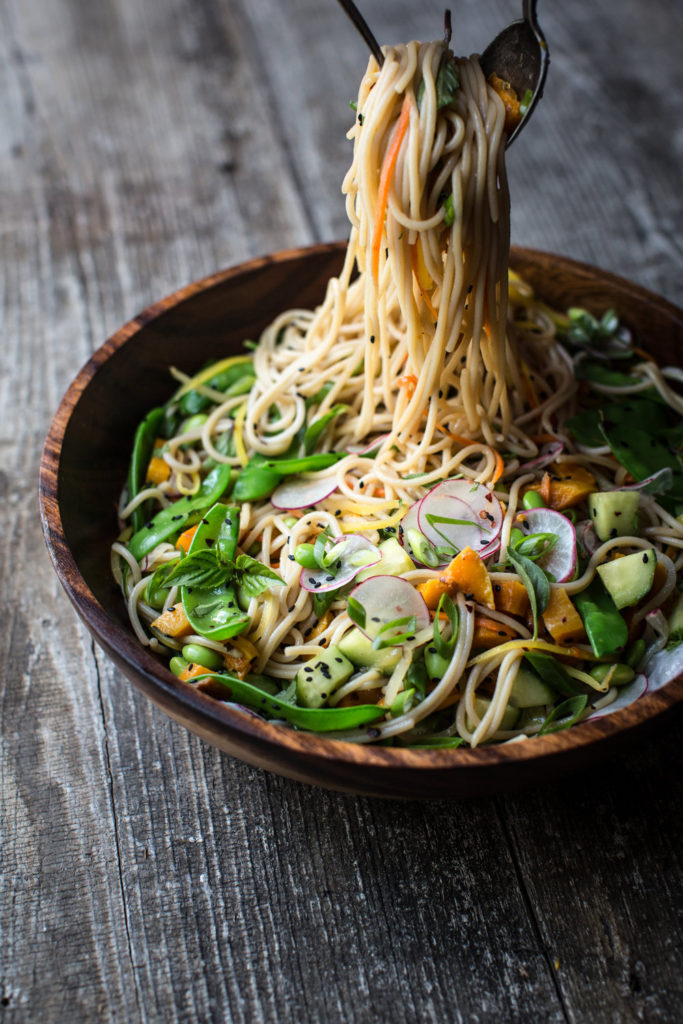 Look at this sesame noodle salad GO! Those noodles are having so much fun. And all those colorful and crunchy vegetables? Uh! It's just the perfect summer salad that doubles as a full meal, too. We've got loads of veggies, protein from the edamame and noodles, a zesty and tangy sesame-lime dressing, dramatic black sesame seeds and a good dose of fresh herbs for the final punch. Did I mention the succulent butternut squash? No? Well they were invited to the party too, providing the perfect balance of sweetness and color that this noodle salad needs.
As for the dressing, it's not too complicated. The only two ingredients you might not be familiar with are ume plum vinegar and mirin, both of which you can find in the Asian section of most grocery stores. Ume plum vinegar is bright, tangy and salty. Mirin is a rice cooking wine with a buttery, savory flavor. I'd say you can swap these out with other ingredients but I wouldn't really mean it. Sorry.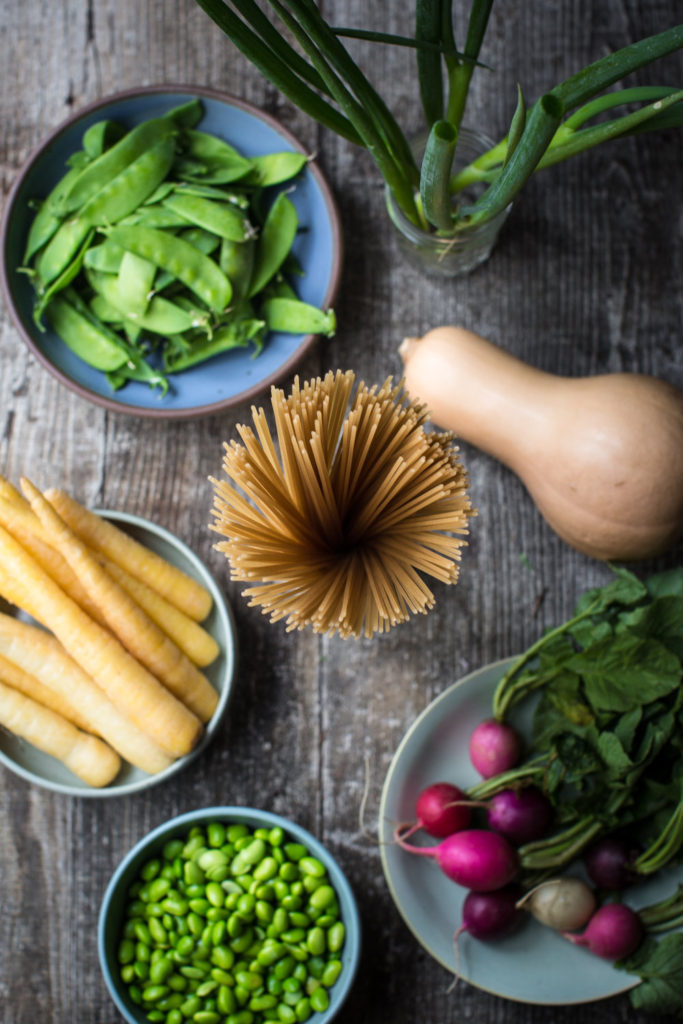 Veggie Prep
This sesame noodle salad comes together beautifully. However, you gotta put in some solid veggie prep to get it going. Don't worry though! Once you get the butternut squash in the oven you'll have thirty solid minutes to do everything else. By the time the squash is roasted and golden, you'll be ready to assemble (or at least close!).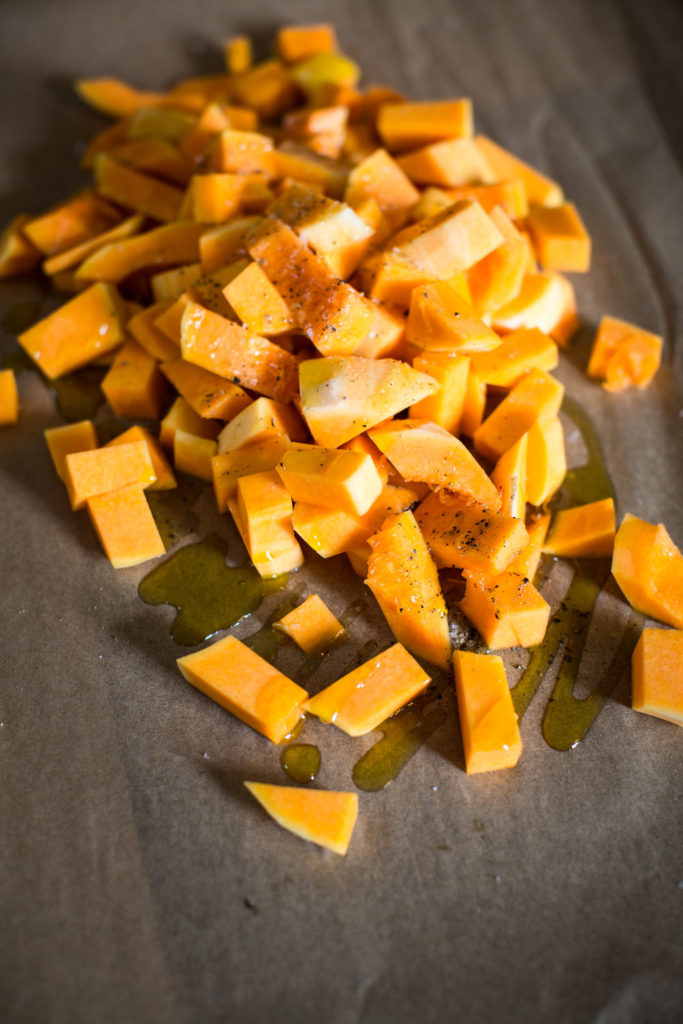 For the carrots, I use a Hand Held Julienne Vegetable Peeler. It's one of my favorite kitchen tools. I love how easy it is to create beautiful strands of carrots, cucumbers, or any large root vegetable.
I also love and use the Mandoline just about every day. That's how you are going to get the radishes paper thin. You can try using a sharp knife but it would be very difficult to achieve the gorgeous thin slices we are looking for.
You will also notice that some of the veggies are cooked and some are not. Hear me out because there is a method to my madness. Snow peas and carrots are delicious when they are cooked just a bit. This makes them slightly tender yet still crunchy. It also makes their colors PoP! The trick here is to throw them into the boiling pasta water towards the end of the noodle cooking time. Once drained, you have perfectly blanched veggies with your noodles.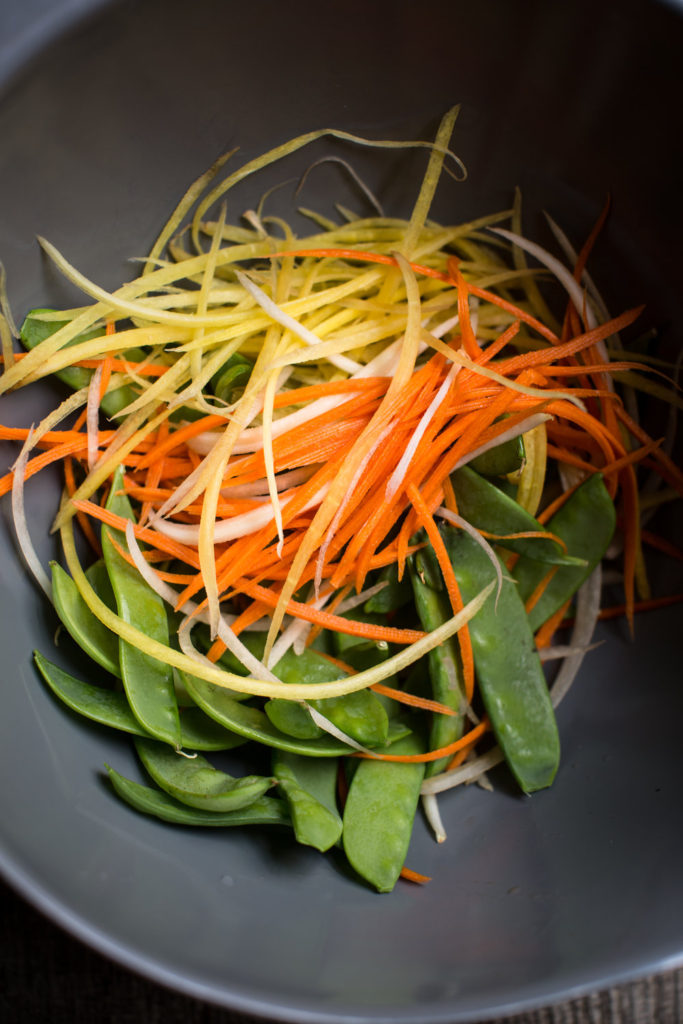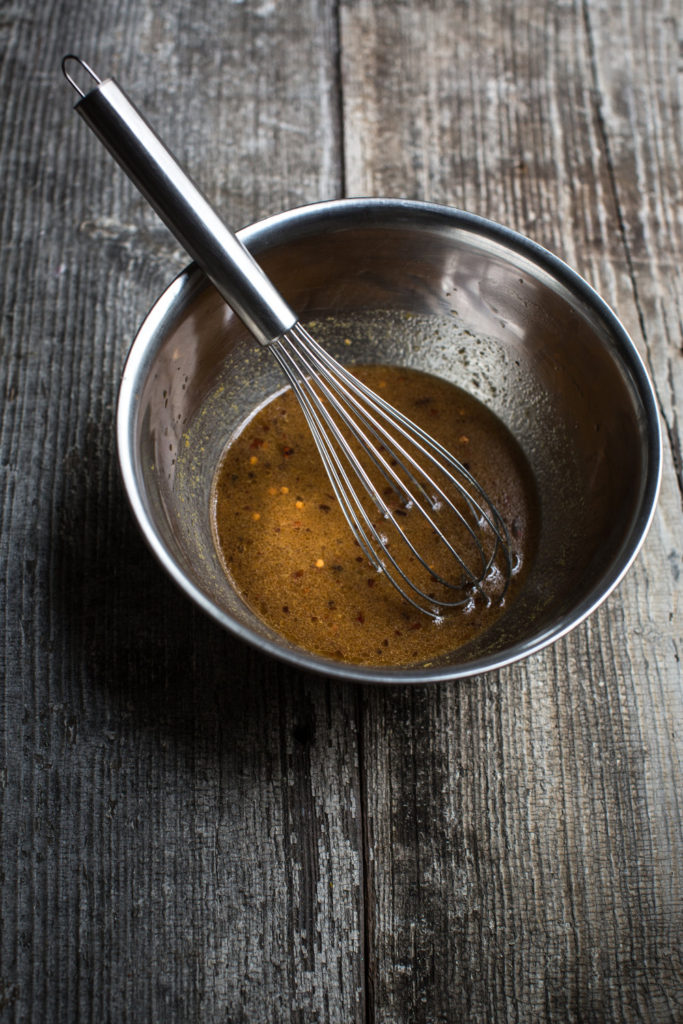 While the pasta is cooking and the squash is roasting, you can easily whip up the dressing. Simply combine all of the ingredients into one bowl and whisk well. If you'd like, you can whisk the dressing in a larger bowl and then add the cooked noodles and veggies to the dressing once they're done. This would make one less bowl to clean.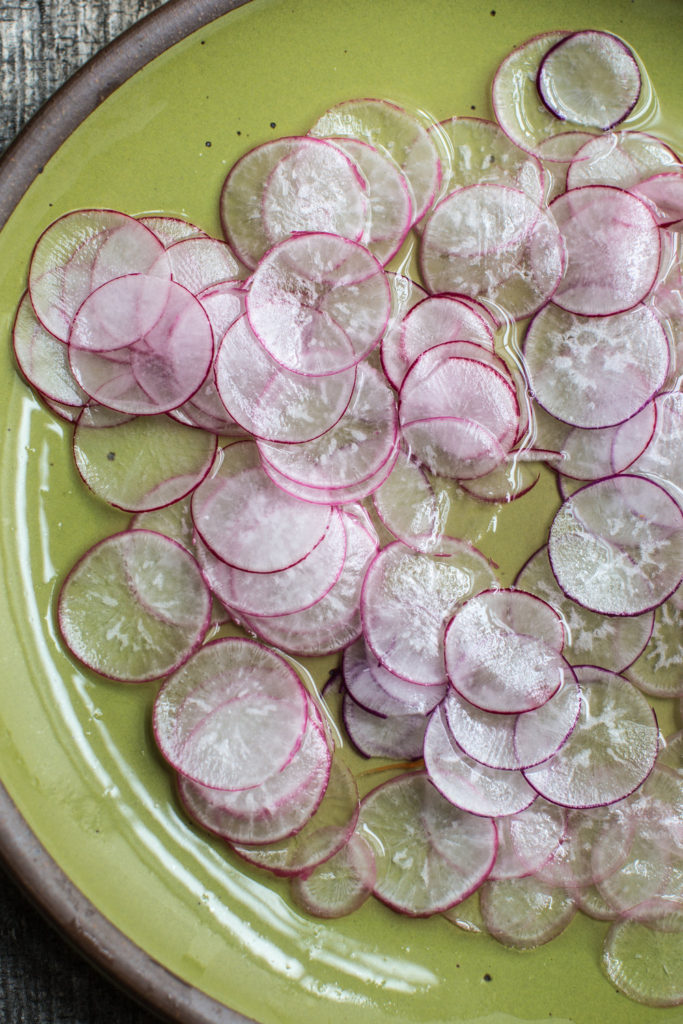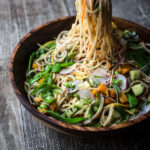 Ingredients
Noodle Salad
1 medium-sized butternut squash, peeled and cut into bite-sized pieces (or buy pre-cut)
2 tablespoons olive oil
3-4 radishes, washed and de-stemmed
1 box (12 ounces) gluten-free spaghetti-sized noodles (or desired brand)
2 cups snow peas, ends pinched off
2-3 large carrots, julienned (about 2 cups)
6 ounces shelled edamame (half a 12 oz bag, defrosted)
1 cup cucumber, cut into bite-sized pieces
½ cup green onions, thinly sliced + some to garnish
2 tablespoons black sesame seeds + some to garnish
½ cup fresh Thai basil, chopped + some to garnish
½ teaspoon of salt, less if desired
Black pepper, to taste
Sesame Lime Dressing
½ cup fresh squeezed lime juice (3 to 4 limes)
2 tablespoons toasted sesame seed oil
1 tablespoon ume plum vinegar
2 tablespoons tamari
½ teaspoon sea salt
2 tablespoons mirin
¼  teaspoon crushed red pepper flakes
1 tablespoon nutritional yeast
Instructions
1 . Pre-heat oven to 400 degrees. Line a sheet pan with parchment paper. Toss butternut squash on sheet pan with 2 tablespoons of olive oil and season with salt and pepper. Bake for 30 minutes until the squash becomes fork tender and golden brown on the bottom.
2. Using a madoline, slice the radishes paper thin. Be careful! Transfer the radishes to a small plate and cover with water. This will allow them to become crunchy. Set aside until ready to serve.
3. Bring a large pot of salted water to a boil. Add pasta and boil. Once pasta has become al dente add the carrots and snow peas to the pot for last 2 minutes until pasta is fully cooked and vegetables have become slightly cooked and bright in color. Rinse the pasta and vegetables under cold water to stop the noodles from cooking and to set the color in the veggies. Once cooled, transfer to a large bowl.
4. In a medium-sized mixing bowl, whisk together all of the ingredients for the dressing.
5. Pour the dressing over the noodle vegetable mixture. Add the butternut squash, edamame, cucumber, green onions, sesame seeds and basil. Toss and mix well. Give it a taste and add the remaining salt and pepper as desired. Let sit in the fridge for at least one hour.
6. When ready to serve, mix the salad well and transfer to a gorgeous serving bowl. Drain off any excess liquid their might be at the bottom of the bowl. Garnish with a sprinkling of black sesame seeds, chopped basil and crispy radish slices.
notes
I wanted this salad to feel light and refreshing, so I used gluten-free noodles which worked beautifully. The same texture and satisfaction is achieved but without feeling so heavy after eating. But you can use whatever kind of spaghetti style noodles you'd like!

If breaking down a butternut squash feels a bit intimidating, you can always look for the pre-chopped squash in the produce section of your market. Same goes for the snow peas- they're usually prepped, washed, and ready to go as well.

Dirty secret, I actually didn't use Thai basil. GASP! I used cinnamon basil and lime basil. But that's only because I'm a fancy gardener! Thai basil would be amazing for this salad and I figured that's more easy for you to access than the varieties I grow. Right?

I must say, letting this salad chill in the fridge for a few hours does wonders. It allows the noodles to soak up all of that delicious flavor from the dressing.

You can add the radishes earlier on but I noticed that they can get a little soggy which may not bother you. But if you are trying to impress some family or people at a dinner party, wait to garnish those until right before you serve.

To make the salad even more refreshing, try adding some thinly sliced romaine lettuce to bulk it up with some greens.