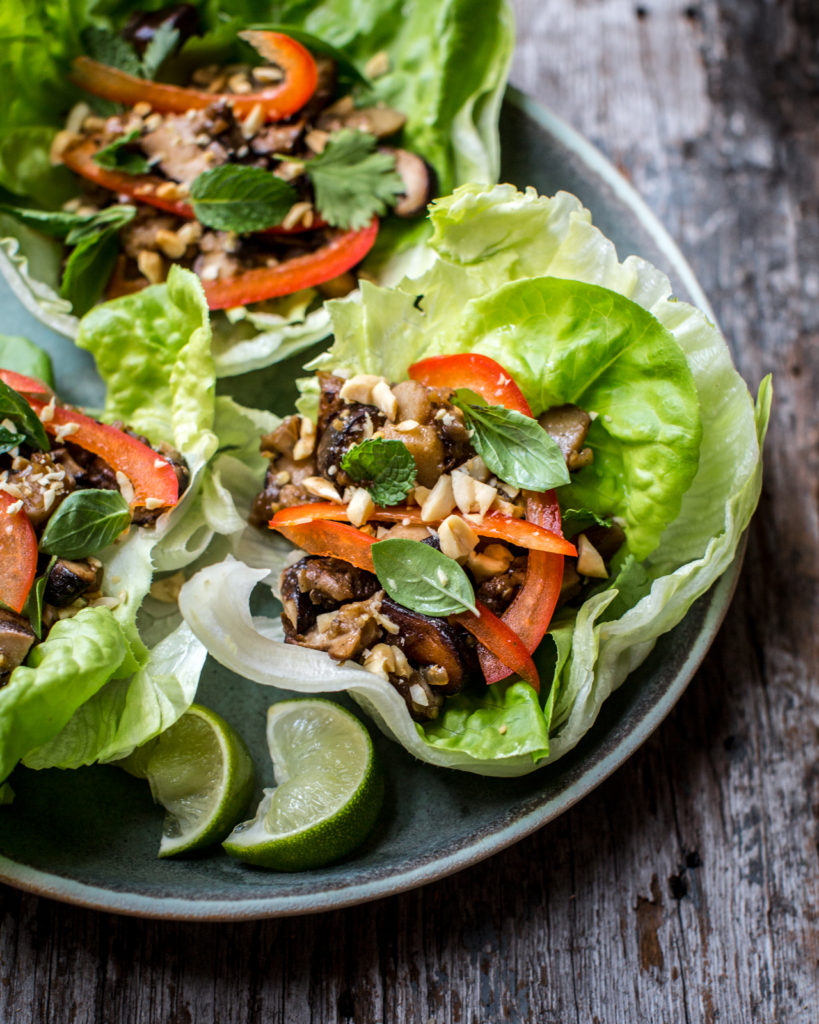 Lettuce wraps are giving me life these days y'all. Not only are these shiitake eggplant lettuce wraps incredibly easy to throw together, they are also intensely satisfying, refreshing, and delicious- all at once. Now when it comes to my inspiration for this recipe, I would be lying if I didn't tell you P.F. Changs had something to do with it. It did. That was probably the first time I ever had lettuce wraps. But I'm also pulling from my experience eating at one of my favorite Thai restaurants here in NOLA, Longchim. Their Mushroom Larb blew me away with flavor. Loads of Thai basil, fresh mint, and cilantro in a crisp piece of romaine. (They also have other vegan options so def show them some love if you are ever in town or live in the Big Easy!)
For the filling, I initially was going to use tofu as the main ingredient. Then it switched to mushrooms. Then one day I was in the garden and I saw a large eggplant, waiting to be picked. I screamed to myself, 'That!' Later that day I diced up the eggplant with some shiitake caps and cooked them until golden brown and caramelized. After one bite I knew that this would be the foundation of the shiitake eggplant lettuce wrap filling that I am sharing with you right now as you read this blog.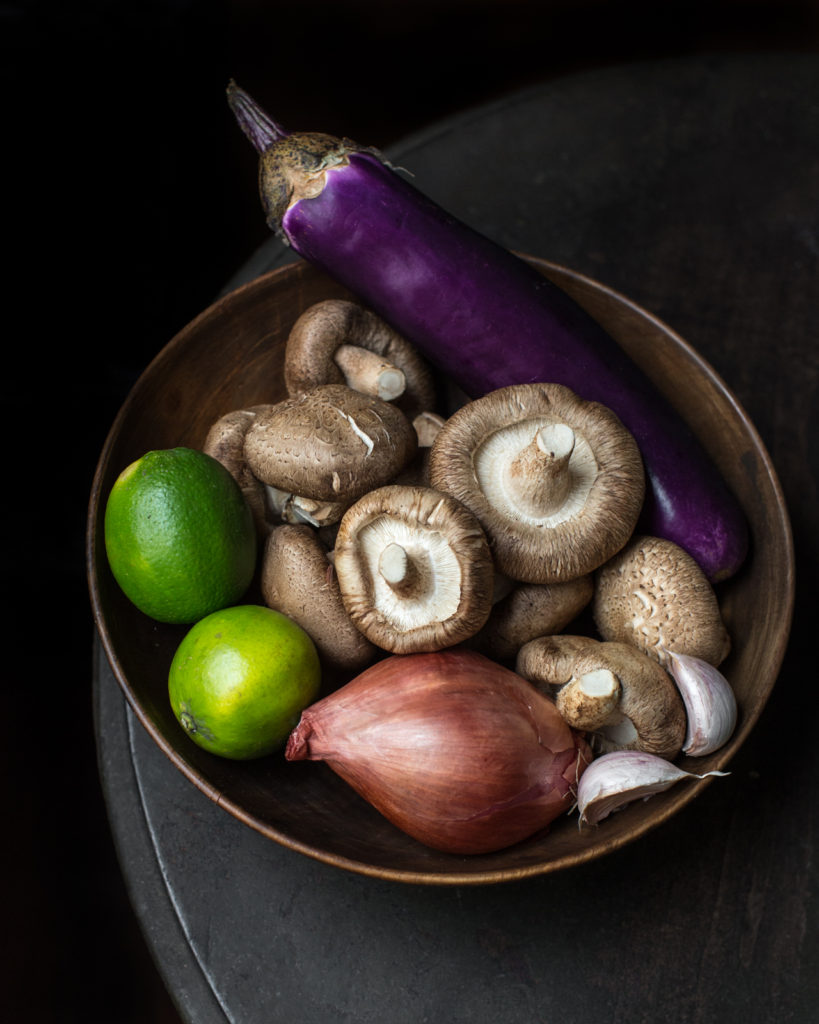 And if you don't like eggplant, don't have a hissy fit. You probably just haven't been cooking it right. Ok, that might come across as condescending. I'm sorry. Let's not fight. But really though, if you don't usually like eggplant, I strongly suggest that you try cooking it like this. By peeling off the bitter skin and chopping it up, you are creating lots of surface area that, if cooked long enough, becomes golden brown and caramelized. The flesh literally becomes so soft- it melts in your mouth. Similar to baba ganoush but better because you are mixing it with the best mushrooms in the world: shiitakes.
You might notice that these shiitakes look a little different than the pancake version we're used to here in the states. You know, the rounder, thinner caps? Those are awesome and work well, but these shiitakes I score at the Asian market in town and they are referred to as 'Chinese Shiitakes'. They are bigger, fatter, denser, and even more savory than traditional shiitakes. Once you slice one in half you'll see what I'm talking about. They smell outrageous. To help both the mushrooms and eggplant to brown, I add Country Crock Plant Butter as it provides a good source of richness plus it doesn't burn with a high smoking point so it's basically perfect to use.
After you scan the ingredient list, you might be wondering what mirin is. It's a delicious cooking wine that is buttery and rich in flavor. In a pinch, you could use sake. Either way, both of these will provide the perfect touch of sweetness that really balances the savory flavor of the filling.
Lastly, let's talk about lettuce cups and aromatics. For the cups, I like to use two different types of lettuce: bibb and iceberg. I love the softer texture of bibb lettuce with its buttery flavor. I am loving the crunch iceberg offers. But to be completely honest, I felt as though bibb lettuce was a little too soft to be the only vehicle for the filling so I thought why not line the bibb in a larger piece of iceberg? YES.
These shiitake eggplant lettuce wraps are simply not complete without the aromatic garnishes. You might think I'm wild, but I am calling for three fresh herbs which include mint, Thai basil, and cilantro. Trust me on this, they work beautifully together. For some color and crispness, I like to add thinly sliced red bell peppers but you don't have to. To help provide some extra crunch to these wraps, roasted peanuts and water chesnuts really elevate the wraps to excellent while fresh lime juice boosts the overall flavor making these wraps one of the most refreshing meals you'll ever have.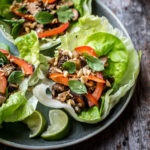 Ingredients
10 ounces shiitake mushrooms, washed and de-stemmed
1 large Japanese eggplant, peeled 
½ stick Country Crock Plant Butter
½ cup diced shallots 
3 cloves garlic, diced
3 tablespoons minced ginger
8 ounces water chestnuts, sliced 
1 tablespoon nutritional yeast 
2 tablespoons mirin 
3 tablespoons tamari 
1 tablespoon rice vinegar 
1 teaspoon toasted sesame seed oil 
1 small Thai chili (optional)
Salt and pepper, to taste 
1 head bibb lettuce
1 head iceberg lettuce

To garnish:

Salted peanuts, chopped
1 small red bell pepper,  de-seeded and thinly sliced
Cilantro, chopped
Thai basil, chopped
Mint leaves, chopped
Fresh lime juice
Instructions
Chop mushrooms and eggplant into small bite-size pieces. In a large skillet, add plant butter and melt over medium-high heat. Once sizzling, add mushrooms and eggplant with a sprinkling of salt. Cook for about 8 minutes, stirring halfway through with a wooden spatula until the mixture begins to brown. 
Add shallots, garlic, ginger, and chestnuts. Continue to cook for 5 minutes, stirring often, until the shallots are soft and tender. 
Add mirin to deglaze the bottom of the skillet, scraping the bottom as needed. Add nutritional yeast, tamari, and toasted sesame seed oil (and Thai chili, if using). Mix well and cook for a few more minutes. Give the mixture a taste and season with salt and pepper to your liking. The eggplant should be soft and caramelized. If not, continue to cook on medium heat until it is thoroughly cooked. 
Separate the lettuce leaves and stack one to two pieces of bibb lettuce inside a larger piece of iceberg. Fill each lettuce cup with a few tablespoons of the cooked mixture. Sprinkle a hefty amount of chopped peanuts, fresh cilantro, Thai basil, and mint over top and squeeze fresh lime juice over the wraps to complete the dish. Enjoy immediately!
notes
If you can't find a Japanese eggplant, you can use a traditional large black one but you'll only need to use half. 

If you can't access Thai basil, up the amount of cilantro and mint. Don't skimp on the aromatics- they really make these wraps shine.

Feel free to use romaine or cabbage leaves for these wraps.

If you'd like to bulk the filling up with more texture and protein, add chopped extra firm tofu to the mix of mushrooms and eggplant. I've done this before and it's quite nice!
Country Crock® Plant Butter sponsors this post. All opinions and recipes are my own.