Hello my lovely readers! It is officially time to start celebrating fall and I am coming at you with a fabulous recipe to try: Toasted Pumpkin Seed Spread. This recipe comes together rather quickly. Most of the work is done by a food processor. By blending up toasted pumpkin seeds with smoked paprika and fresh lime juice, some serious magic happens. For color and texture, I throw in some fresh kale. For added flavor, nutritional yeast and freshly cracked black pepper are in it as well. It also doesn't hurt that there are two heads of roasted garlic in mix. The results are a cheesy, savory, nutrient-dense spread that pairs gorgeously with crunchy sliced veggies and crispy crackers. Don't think that's where it stops either! I have been using this spread on sandwiches and wraps and it SLAPS.
Roasting A Head Of Garlic
I know what you might be thinking, two heads of garlic? Are you crazy, booger?? Hear me out. I'm sure you've seen this little trick that foodies love to do- roast whole heads of garlic until the cloves become golden brown and soft in texture and mild and sweet in flavor. I've used this technique in my cookbook and also on the blog, so this shouldn't be new to you. But if it is, don't fret. After the cloves are in a hot oven for about 45 minutes, it will surprise you how delicious they become.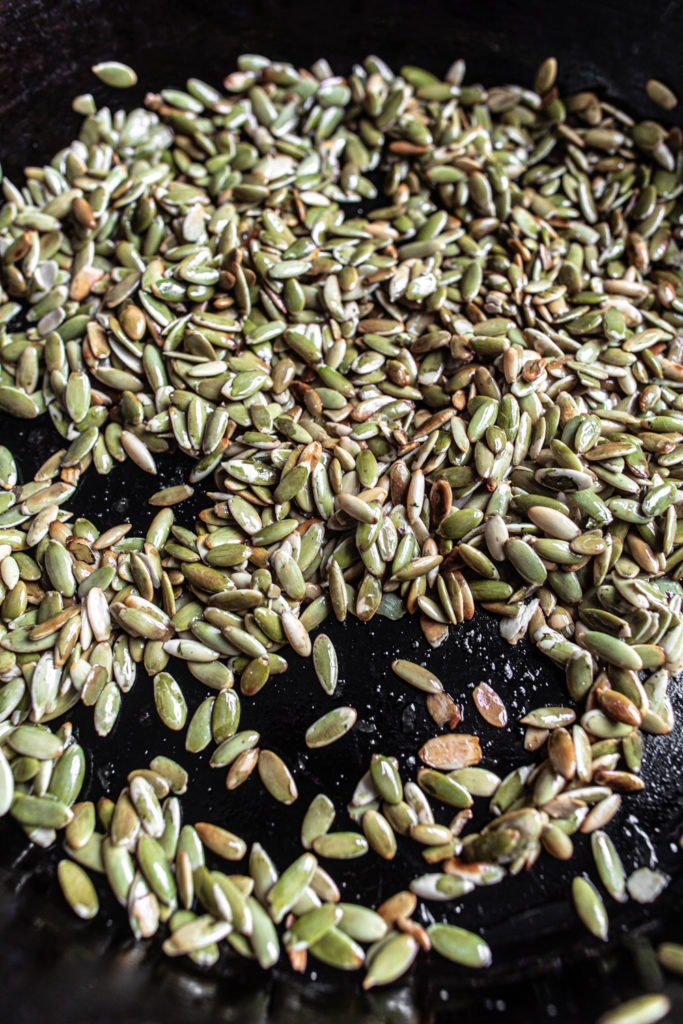 Toasting Pumpkin Seeds
I like to toast the pumpkin seeds in a large cast iron skillet with a drizzling of oil and some salt. You can definitely dry toast them (using no oil, just seeds in the skillet, which I do as well) but I find that with a little help from some extra fat, the seeds toast and crisp up nicely. You definitely want to get some color on the seeds as that's what makes them taste so damn good. If you think they need a little longer, they probably do. If you are worried about burning them, just move them around continually until you get the color you want.
Now for the easy part- throw everything into a food processor and blend until smooth and creamy. I like to scrape the sides down a few times to help to keep things moving. If you'd like to add some extra water at the end, you can always add a few splashes. The final results should be thick and creamy (like a spread!).
Let's dig in to this Toasted Pumpkin Seed Spread
As for dipping… use whatever you like! I think the best veggies for this are sliced carrots, cucumbers, and celery. Here's a little trick when slicing carrots- soak them in some cold water for 20-30 minutes before serving. This helps this to retain their color and also makes them super crispy and crunchy.
Ok, y'all! That's it for now. My toasted pumpkin seed spread. I hope that you enjoy the recipe. If you have any questions or you'd like to leave a review of this recipe, please do so below. I love hearing from you. Happy fall!
Ingredients
Roasted Garlic
2 heads of garlic
3 tablespoons vegetable oil or olive oil
A sprinkling of salt

Spread
2 cups raw, shelled pumpkin seeds
3 tablespoons nutritional yeast
½ teaspoon black pepper, freshly cracked
½ teaspoon sea salt
2 tablespoons tamari
1 ½ teaspoons smoked paprika, plus more to garnish
½ teaspoon lime zest
5 tablespoons lime juice, plus more to finish (3-4 limes)
2 teaspoons rice vinegar
¼ cup olive oil
¼ cup + 1-2 tablespoons water, if needed
2 large kale leaves, de-stemmed and chopped (about ⅔ cup)
Fresh cilantro, to garnish
Flaky salt, to garnish

To serve Crackers Sliced carrots, cucumbers, and/or celery
Instructions
Preheat your oven to 400 degrees F.
Using a sharp knife, slice the tops off the whole heads of garlic, leaving the skin on. (The goal here is to reveal the tops of the garlic cloves.) Drizzle the cloves with a good amount of olive oil and sprinkling of salt. Bake in a small casserole dish with a lid or tightly wrapped in foil at 400 degrees F for about 45 minutes or until golden brown and soft.
In a large skillet, toast the pumpkin seeds with a good drizzle of avocado oil (or olive oil) and a sprinkling of salt over medium-high heat for 7-8 minutes, stirring every so often. Set aside half a cup for garnish.
Add the roasted garlic (squeeze it out!), toasted pumpkin seeds, nutritional yeast, black pepper, sea salt, tamari, smoked paprika, lime zest, lime juice, rice vinegar, olive oil, and 1/4 cup water into a food processor. Blitz on high until a paste forms. Use a spatula to scrape down the sides, as needed. Once things are smooth, add the chopped kale and continue to blitz until it is broken down and creamy. At this point, if desired, you can add a few splashes of water until preferred consistency is reached.
To serve, transfer the spread into a beautiful bowl or plate and using a large spoon, spread and swirl it throughout the bottom of the dish. Drizzle with good olive oil, reserved toasted pumpkin seeds, a dusting of smoked paprika, freshly chopped cilantro, a final squeeze of fresh lime juice, and flaky salt, to taste. Enjoy with your favorite sliced veggies (carrots, cucumbers, or celery work great) and your favorite crunchy crackers. 
notes
You can keep this spread tightly sealed in the fridge for 2-3 days. I would hold off on adding the finishing touches/garnishes until right before serving.

Try adding this spread to a sandwich or a wrap. I've personally been doing this and I absolutely love it.