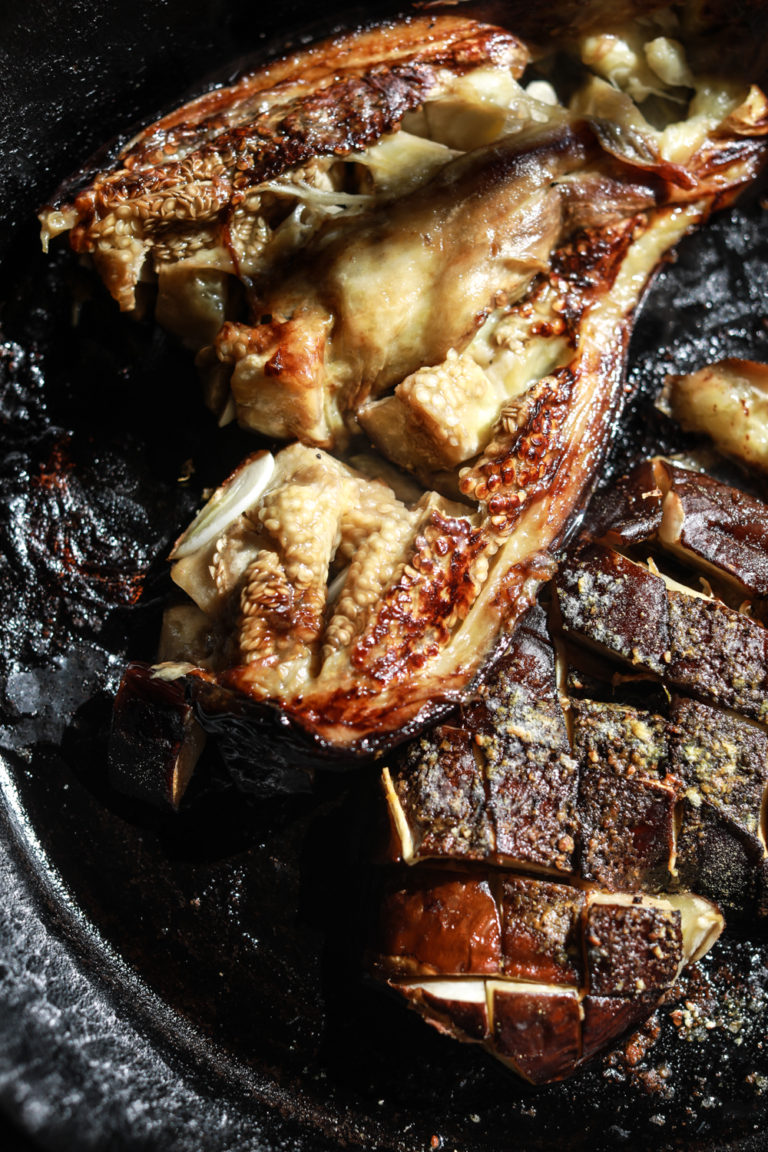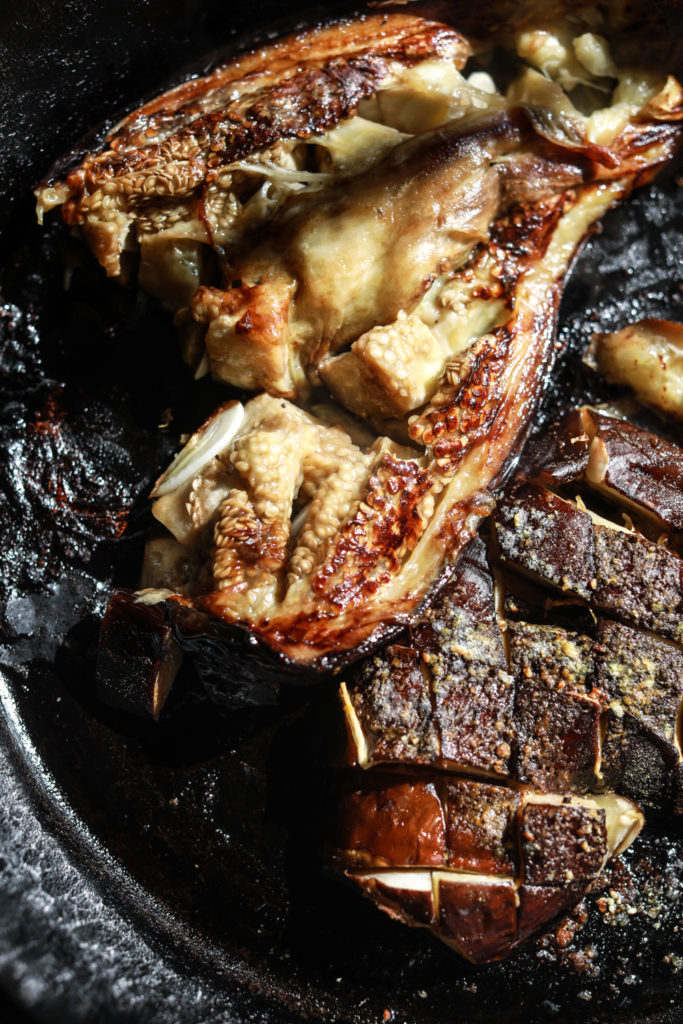 Hi friends! I'm here with a new recipe for you all. Garlic Roasted Eggplant. I know, I know, it's been a minute since I've posted on here. To be honest, I have been super busy with my cooking club and have been using most of my time creating and testing recipes for videos and such over there. It was a lot to take on at first (since I am doing everything in-house) but my amazing assistant Kyler and I have been working hard and have figured it all out! That said, now that we are in a groove, I am ready to start posting more recipes over here because I still love all of you! I truly appreciate you being patient with me. Sometimes you just have to press the pause button on some things to focus on others, ya know?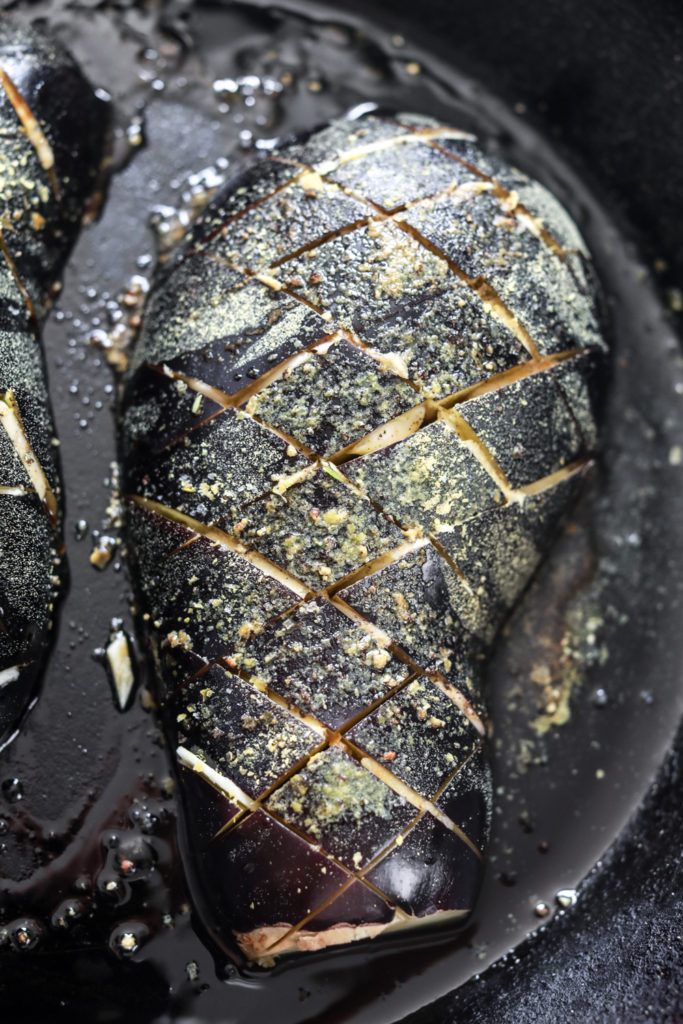 That said, I am coming in hot with a super fantastic summer recipe for all of you to try: Garlic Roasted Eggplant. This technique is super fun, easy and the results are absolutely divine. Like, this eggplant melts in your mouth people. No joke. All you have to do is halve a large eggplant and then score an 'X' shaped pattern into both halves. Next, stuff the halves with a ridiculous amount of thinly sliced garlic. Don't worry, it all cooks for a full hour in the oven so the garlic mellows out in flavor. It's a beautiful thing.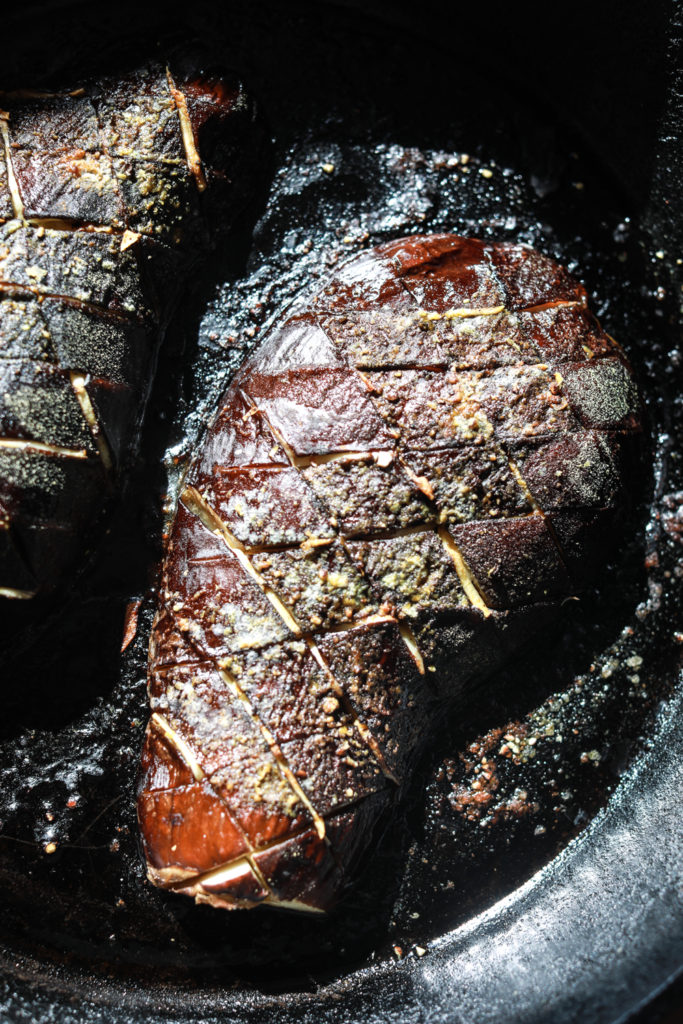 As for the seasonings? Super simple. Drizzle over a good amount of olive oil, a few splashes of tamari or soy sauce, a nice little drizzle of rice or plain vinegar (you could use red wine, too!), a dusting of nutritional yeast, and that is literally it. Bake in the oven for around 1 hour until soft and tender. When you stick it with a fork, it should give completely.
In regards to what type of eggplant to use, I tend to go for the big fat Italian variety but I've also used smaller and thinner ones and it worked beautifully as well. I guess for this, since you leave the skin on, the more meat the better, right? But also, use what you have- especially if you are growing some cool varieties in your garden.
Definitely give this one a go and let me know what you think! Once again, thank you for being patient with me. I haven't forgotten about y'all and I so appreciate you being here. I'll have some more recipes coming out soon!
Lots of love, t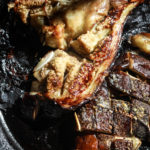 Ingredients
1 large Italian eggplant
5-6 cloves of garlic (depending on eggplant size), thinly sliced
⅓ cup olive oil
½ teaspoon freshly cracked black pepper
¼ teaspoon sea salt
1 teaspoon nutritional yeast (flakes are best!)
2 tablespoons tamari (or soy sauce or coconut aminos)
2 tablespoons vinegar (plain, white or red wine, or rice)
Instructions
Preheat the oven to 300° F. 
Using a sharp knife, halve a large eggplant. Deeply (but not all the way through!) score each half in an 'X' like pattern. Stuff with thinly sliced garlic. Transfer to a large skillet or baking sheet.
Drizzle with olive oil.
Drizzle with tamari (or soy sauce) and rice or white vinegar. Sprinkle with sea salt and black pepper. Dust with nutritional yeast.
Gently move around to get the bottom coated and roast in a 300 degree F oven for 60-75 minutes until soft, tender, and golden brown on the bottom. (The eggplant should fall apart!) Add more salt and pepper, to taste. Enjoy!
notes
In regards to measurements, I am more so trying to give you a guideline to use for inspiration. If the eggplant is super big- use a bit more of everything. If you are using smaller eggplants, pull back a bit. Of course, you can always add more salt at the end (and I often do because I like the crunch). This is now your recipe- have fun and go with the flow boogers.

I love eating this recipe straight out of the dish but you can certainly serve it with some rice, pasta, or incorporate it into a bowl of goodness. I've also had people tell me they spread it on toasted sourdough and it was amazing. I believe them.

Could you also throw in some cherry tomatoes to roast along with the eggplant? That's a fabulous idea.