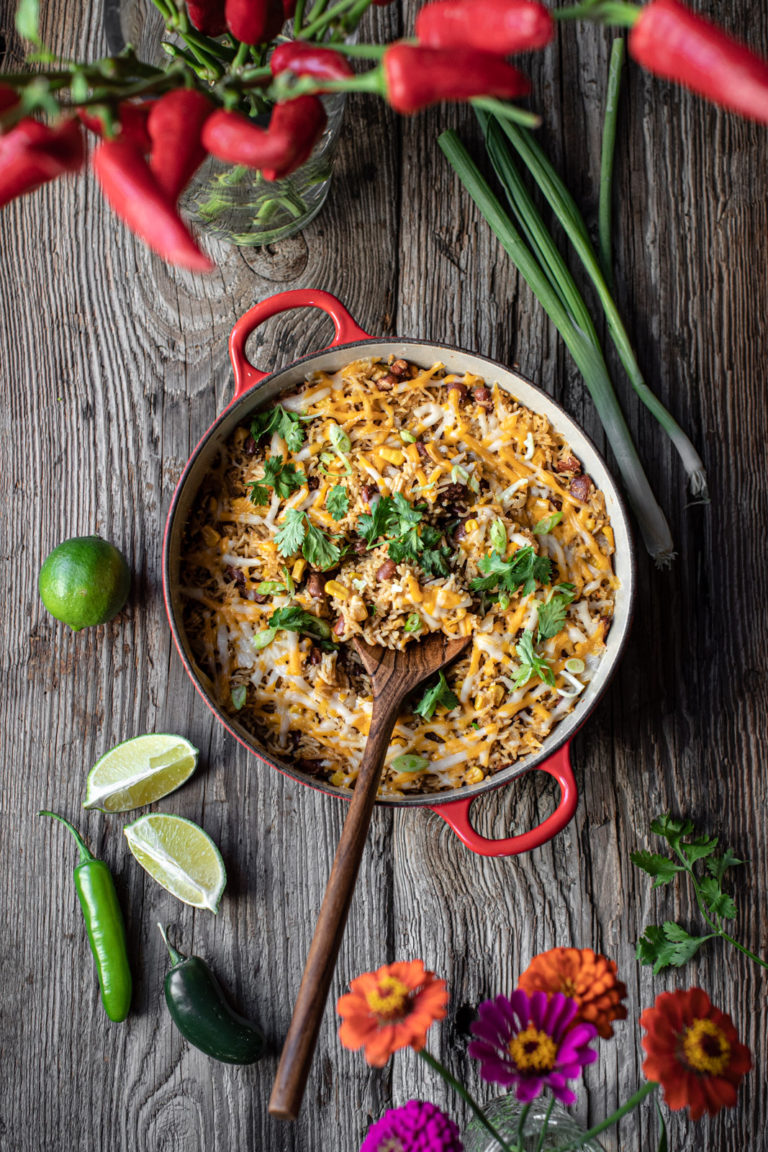 Hi friends! I am so excited to share with you today this fantastic recipe: A Vegan Cheesy Rice and Bean Bake. It is a game-changer for sure as it uses humble ingredients, comes together quickly, and it's all done in one pot. That's right, there is no cooking the rice on the stove-top or in a rice cooker- simply throw everything in a baking dish with a lid and pop it in the oven. After only 50 minutes, you will have the fluffiest, most delicious rice that is seasoned perfectly and studded with juicy corn and plump pinto beans. To finish the dish, a hefty sprinkling of vegan cheese is melts on top for ultimate comfort. The results? The perfect weeknight meal that makes for the best leftovers.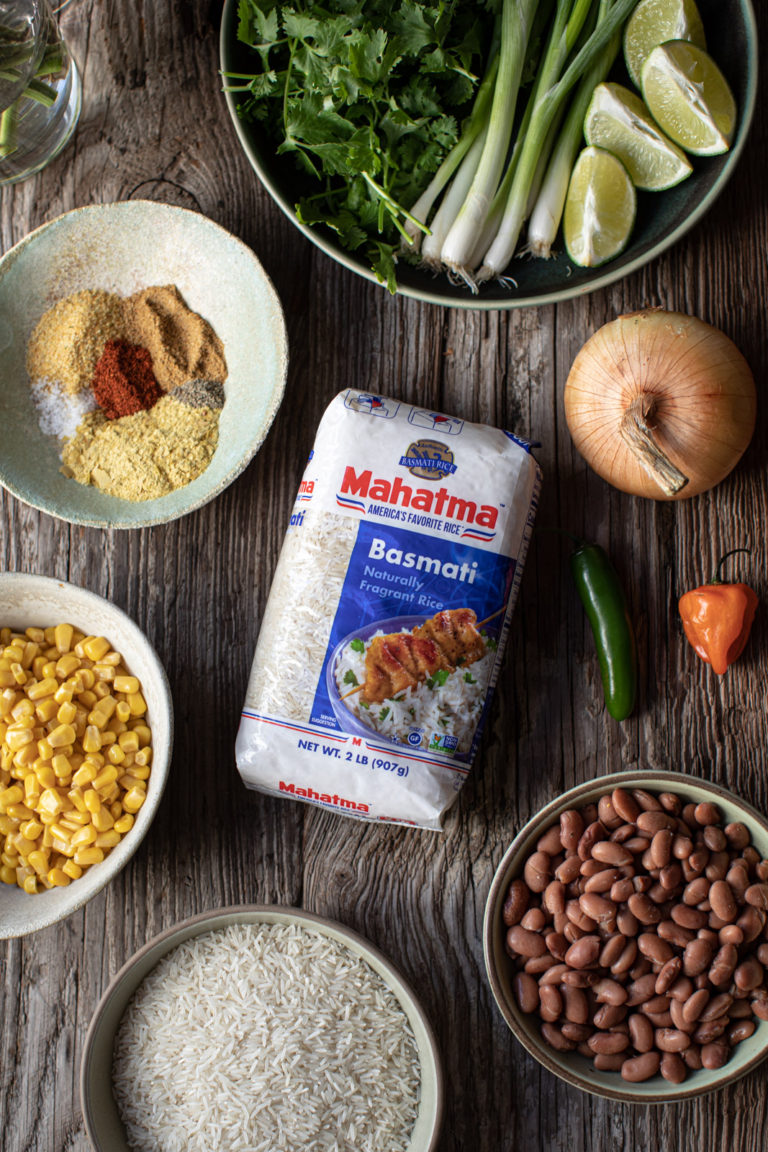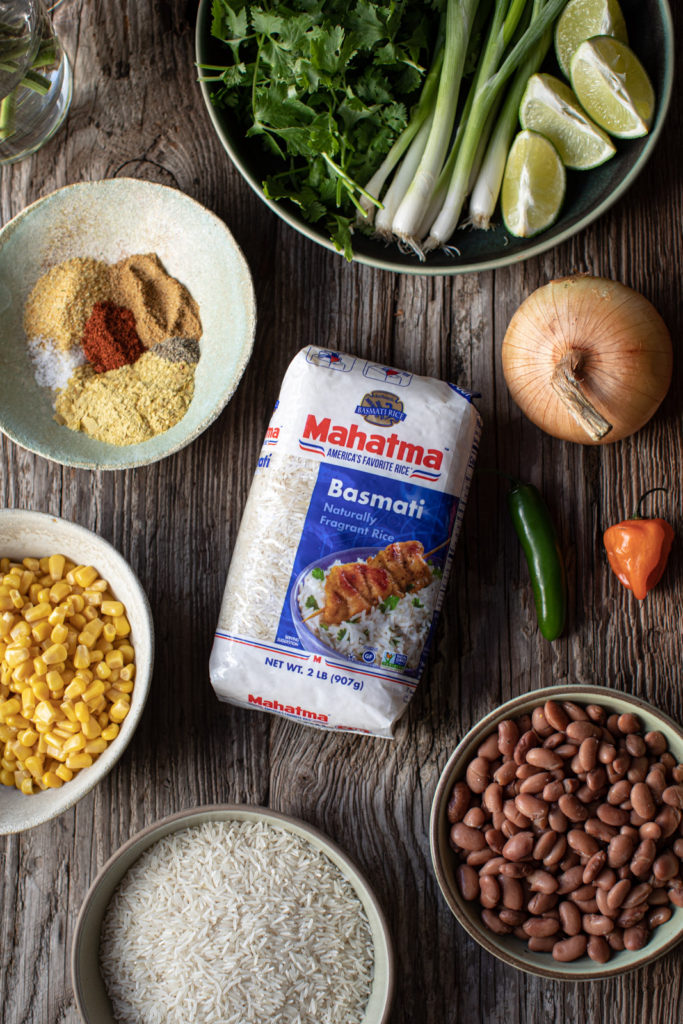 About the Cheesy Rice and Bean Bake
I'm also excited to share that this recipe and blog post is sponsored by one of my favorite rice companies: Mahatma Rice! I have been eating their rice ever since I was a little boy so it is very special to be teaming up with them today. As for the particular rice that we are using, I wanted to showcase their Basmati rice. I think it works exceptionally well for this kind of dish. Basmati rice cooks up larger and slightly longer than other rice varieties.
It also offers a lovely buttery and floral aroma. (You will notice this as it's cooking- trust!) It pairs beautifully with flavors like chipotle chili powder and fresh lime juice. It also mixes well with veggies like freshly chopped onions and spicy hot peppers. I also adore the firm yet tender texture this rice has once baked. It holds up nicely in the fridge for leftovers like savory fried rice or as the filling for a burrito or quesadilla.
For this recipe, I call for 2 cups of rice with 2 cups of water. I know what you might be thinking…is that enough water? Well, in combination with everything else, yes! Yes, yes it is! Because we are adding fresh veggies like onions and corn, juicy beans, and rice vinegar and tamari, there is plenty of liquid to go around. The rice will not only absorb all of the flavor but it will also steam and plump up the rice beautifully. (Your rice cooker will be so jelly.)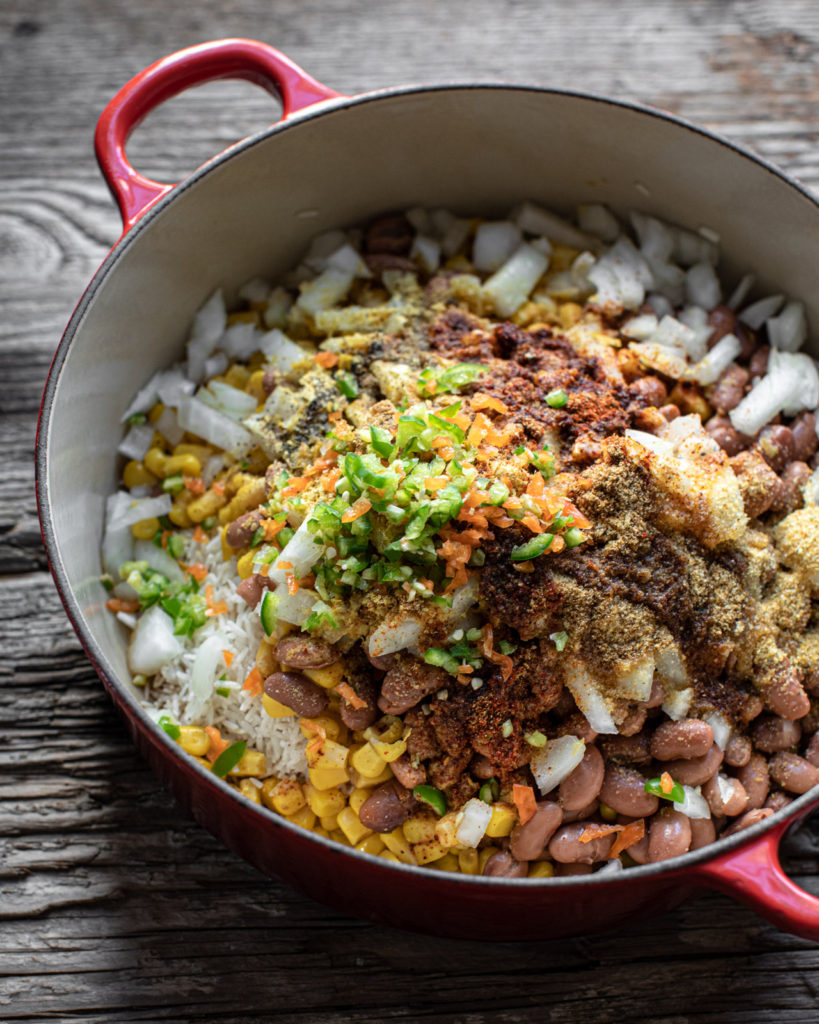 The foundation of seasonings in this Vegan Cheesy Rice and Bean Bake are pantry staples: garlic powder, nutritional yeast, chipotle chili powder (but you could use regular chili powder), rice vinegar, avocado oil (or any vegetable oil), and ground cumin. For heat, I like to add 2 different hot peppers. In this go-round, I used half a habanero and half a Serrano. You could totally use just one (like a small jalapeño or even a Thai chili) but I find that using two different types of peppers offers a complexity that I love. Remember each pepper has different characteristics and, by combining different ones, more fun is to be had! If you don't like spicy, try using a plain green pepper or any brightly colored sweet bell pepper instead.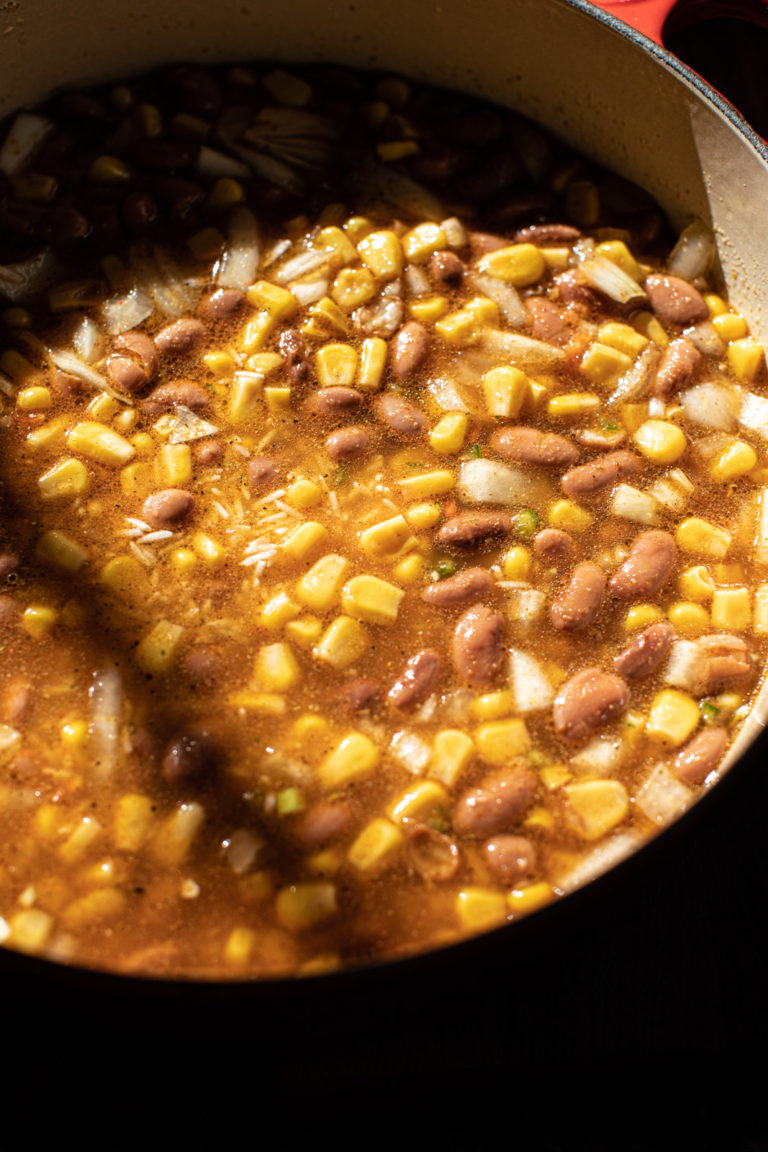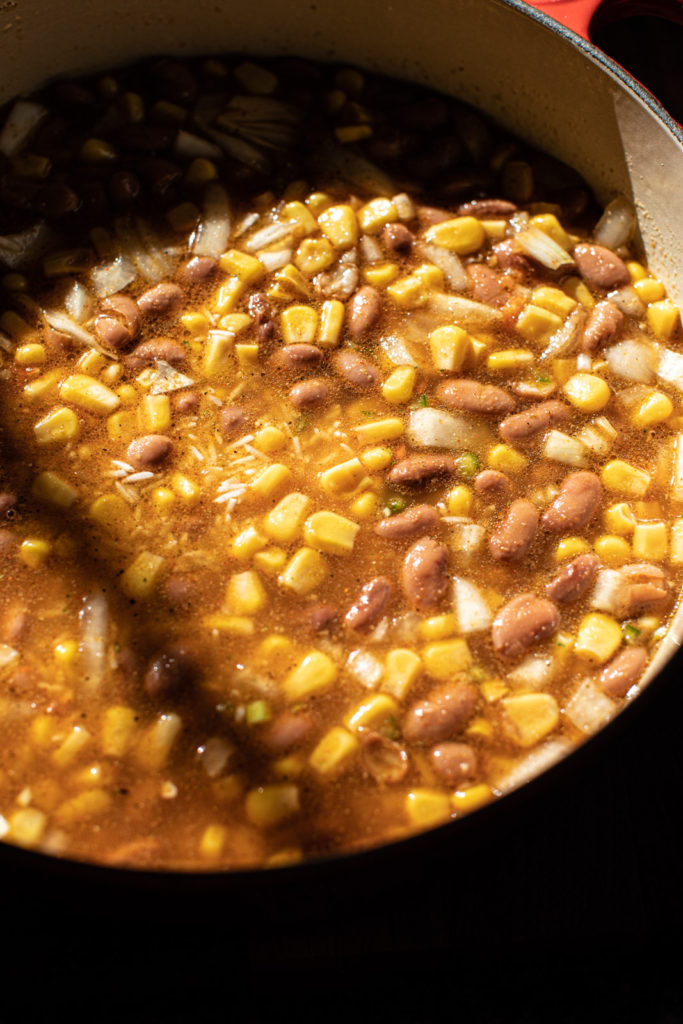 Once everything is thrown into your baking dish, simply mix well, level with your utensil. I like to use a wooden spoon. Place the lid on top, and bake in a 350 degree F oven for 50 minutes. When the time is up, simply remove from the oven. Fluff it up with a fork and add your favorite vegan cheese. I like to mix some *in* the rice as well sprinkling some on top. This provides those ultimate cheesy vibes that we are looking for here. Delicious and comforting is the name of the game people. Mix that cheese in!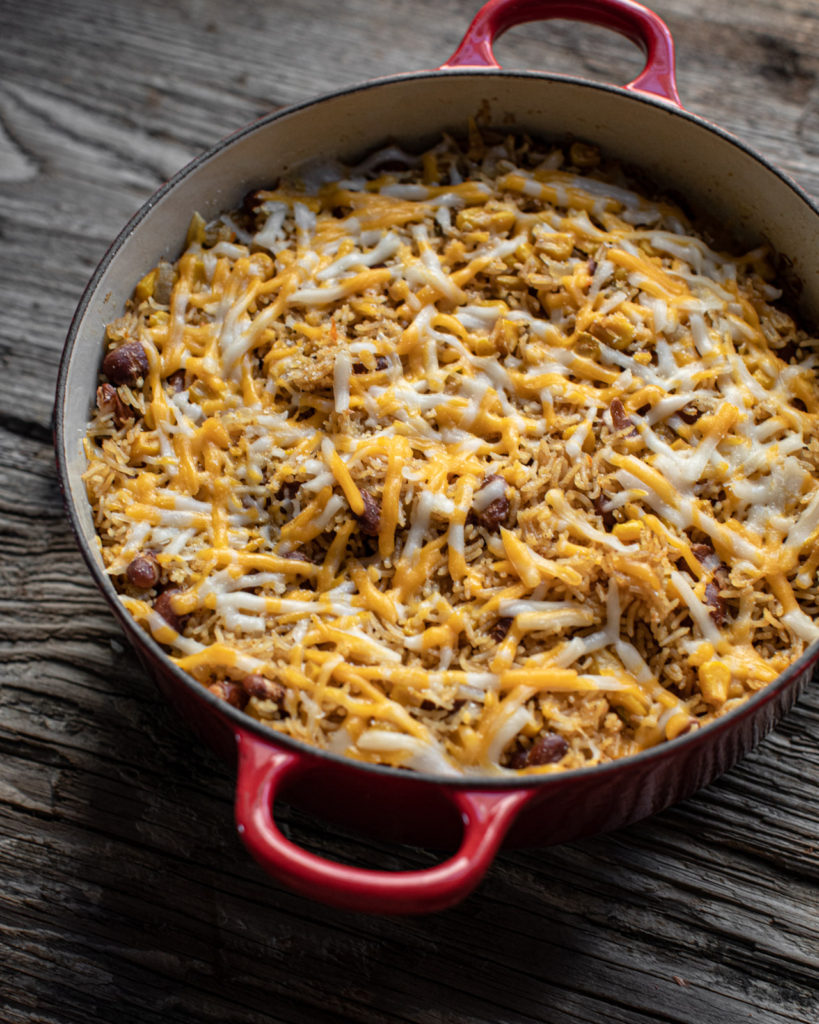 Isn't she a beaut? You could honestly eat this as is, out of the pot, with no toppings or garnishes at all. It's that good. But, of course, y'all know I like to push the envelope just a little bit. By adding some freshly chopped herbs like cilantro and green onions on top, a nice aromatic hit forms by squeezing over some fresh lime juice. You brighten up the whole dish while the acidity cuts through the richness of the melted cheese and balances out all of the flavors.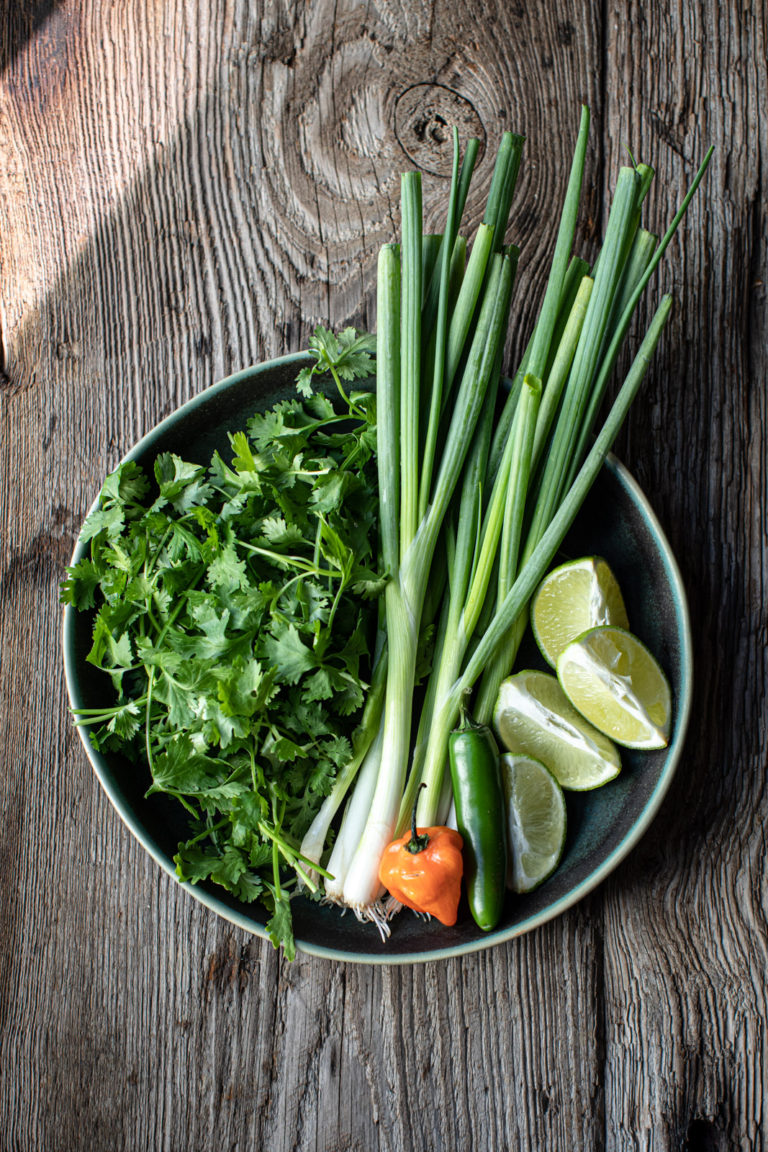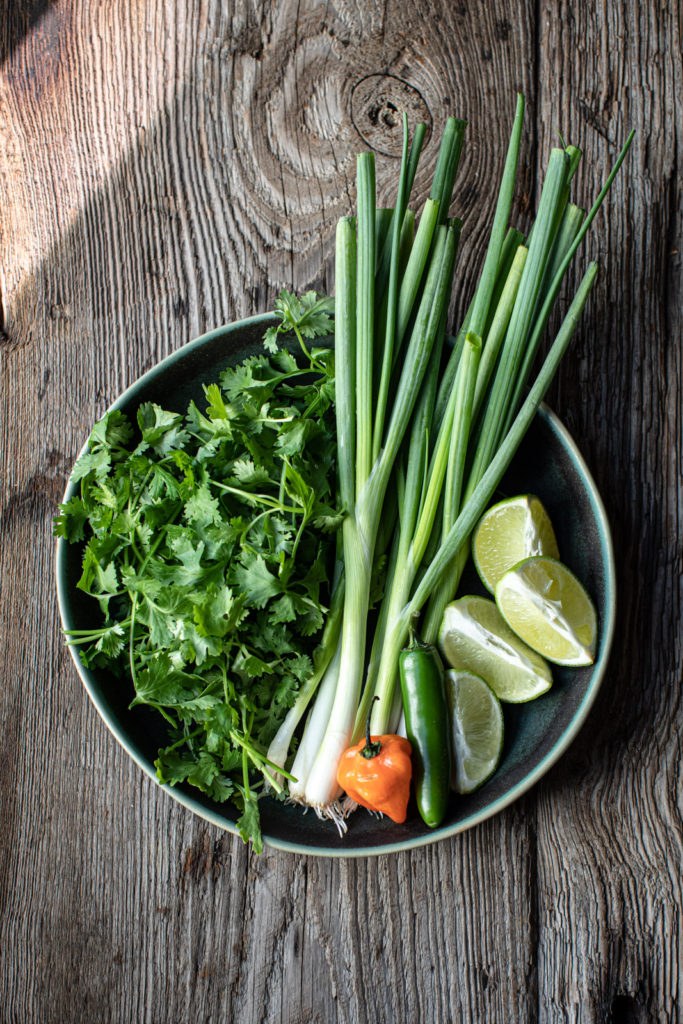 Let's Dig In!
Well, there you have it folks! Your new favorite weeknight dinner. A Vegan Cheesy Rice and Bean Bake. I hope that you all try this recipe out and love it as much as I do. If you have any questions, please let me know. And if you make it, drop me a comment down below or take a picture and tag me on Instagram. I'd also like to give a big thanks to Mahatma Rice for sponsoring this post and providing the world with such delicious rice. Until next time, happy cooking!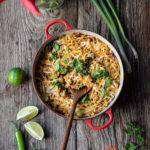 Ingredients
2 cups Mahatma basmati rice, thoroughly rinsed and drained
2 cups filtered water
1 (15 oz) can corn, drained
1 (15 oz) can pinto beans, drained
1 hot pepper (jalapeño, habanero, serrano, etc), diced
½ small onion, diced
1 teaspoon chipotle chili powder
1 teaspoon ground cumin
1 teaspoon sea salt
½ teaspoon freshly cracked black pepper
1 tablespoon garlic powder
2 tablespoons nutritional yeast
2 tablespoons rice vinegar (or plain)
2 tablespoons tamari (or soy sauce)
3 tablespoons avocado oil (or any vegetable oil)

Toppings

1 ½ cups plant-based cheese (ideally pepper jack or Colby jack, but any will do!)
Lime wedges, to squeeze
Freshly chopped cilantro, if desired
Freshly chopped green onions, if desired

Optional add-ons for serving

Sliced avocado or guacamole
Thick coconut yogurt or plant-based sour cream, to dollop
Tortilla chips (or any corn chips)
Warmed flour or corn tortillas
Salsa or pico de gallo
Hot sauce or minced hot peppers
Toasted pumpkin seeds
Instructions
1. Preheat oven to 350 degrees F.

2. Combine all ingredients (except toppings) into a medium-sized Dutch oven or a baking dish with a lid. Bake covered for 50 minutes. (If you do not have a baking dish with a lid, you can use a 9 x 12 baking dish and use two pieces of foil, tightly wrapped on top to cover.)

3. Remove dish from oven and take off the lid or foil (careful, it will be steamy!). Using a fork,  give the dish a fluff and gently mix. Sprinkle in ½  a cup of cheese and stir until incorporated. Sprinkle the rest on top and finish baking, uncovered, for an extra 10-15 minutes until the cheese is melted. 

4. Garnish with freshly chopped herbs and sprinkling of salt and pepper, to taste. Serve in bowls with a fresh lime wedge on the side to squeeze over top. Enjoy!
notes
You can use whatever canned beans you would like here. My top picks, other than pinto, would be black, kidney, or pink beans.

If you'd like to skip the store-bought vegan cheese and try out a more wholesome option, mix together a small bowl of tahini with a good amount of nutritional yeast, a sprinkling of chipotle chili powder, a generous squeeze of fresh lime juice, and salt + pepper to taste. You should be left with a thick and creamy sauce. Drizzle this on as you would the cheese and bake it off as you would normally.

If you'd like to bulk this up with some greens, try throwing in some fresh spinach, chopped kale, or arugula at the step where you mix it up before the final bake. The greens will wilt and mix in beautifully. You could also add some diced zucchini/squash or chopped tomatoes, as well.

This makes the most fantastic leftovers. You can heat it up as is, throw it in a burrito or quesadilla, or heat it up and add it to a salad.

If you are serving this for a crowd, set it up like a buffet with bowls, forks and napkins next to the dish with a big serving spoon. On the table, have plenty of fresh herbs beautifully displayed with lime slices, a bowl of vegan sour cream or coconut yogurt, a bowl of corn chips, warmed tortillas, sliced avocado or guacamole, salsa or pico de gallo, and/or your favorite hot sauce. This way your guests can serve themselves!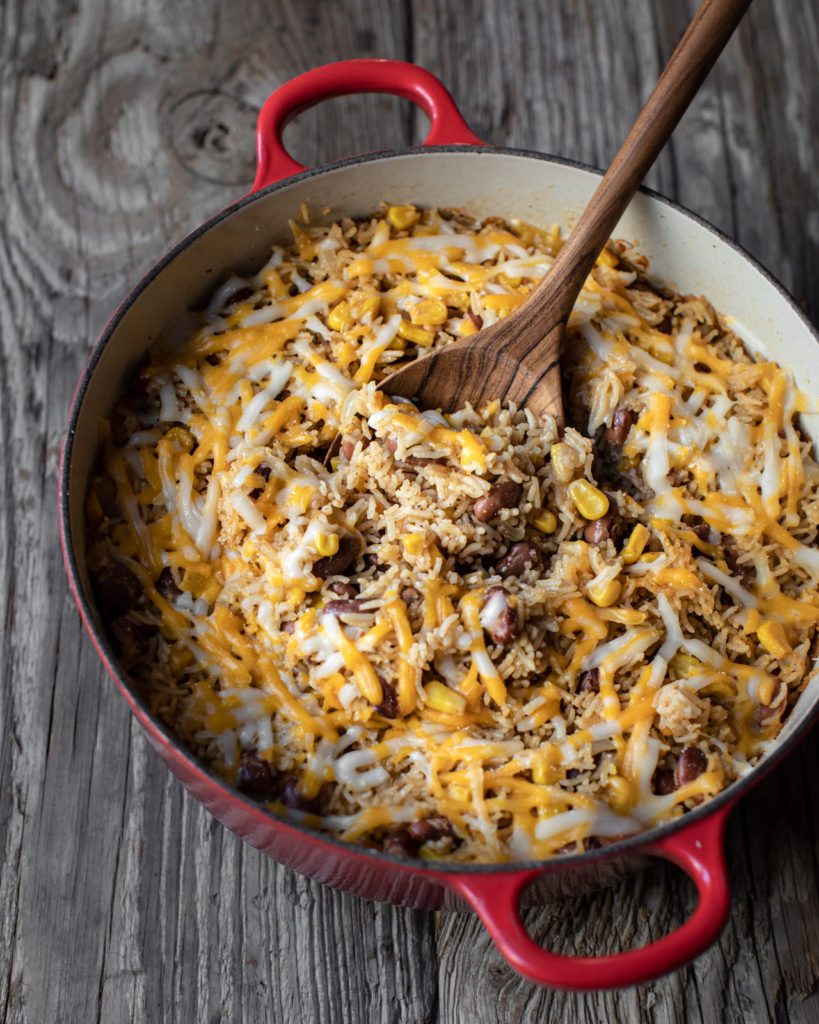 This post is sponsored by Mahatma Rice®
All comments, opinions and recipes are my own.