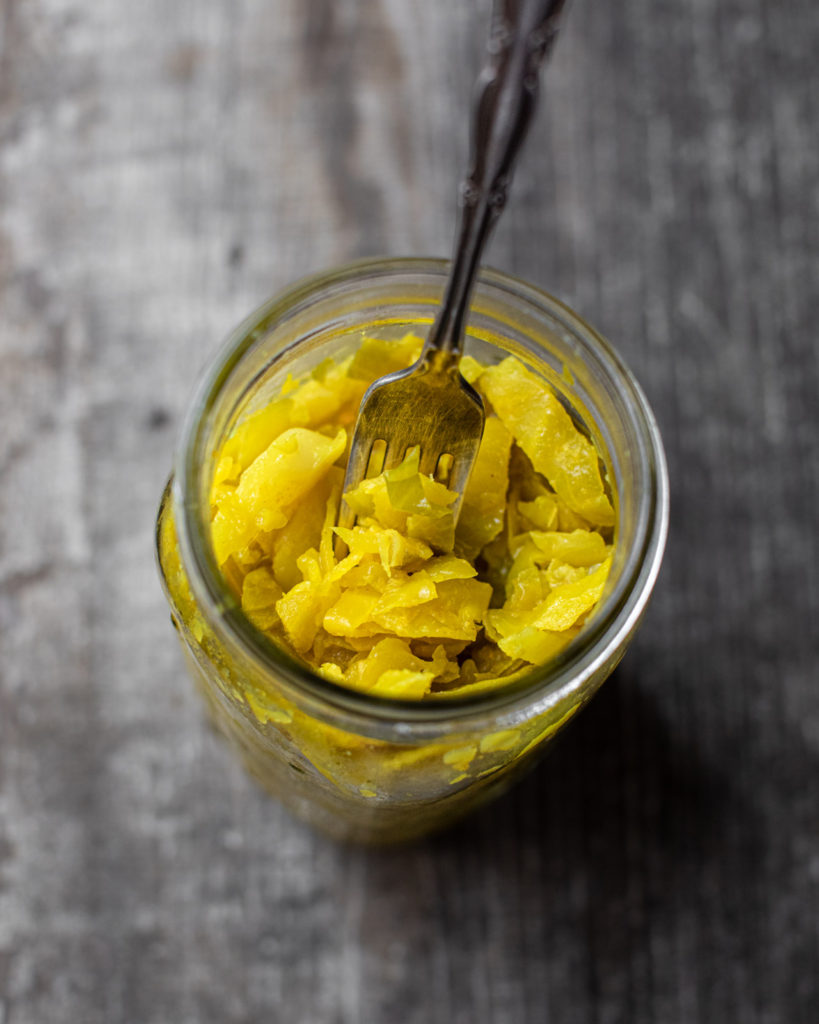 This turmeric-ginger sauerkraut is such a fantastic and healthy recipe! And you'll definitely be surprised at how easy it is to make. This recipe is based off of one from my cookbook but instead of using Napa cabbage, I wanted to use a a local head of traditional cabbage. The texture is quite different than the Napa cabbage, with a little more of a bouncy texture that I love, similar to traditional sauerkraut. All you have to do is slice the cabbage thinly and cover it with the dressing which is made from blended onions, garlic, cayenne pepper, sea salt, water, and lots of fresh turmeric and ginger.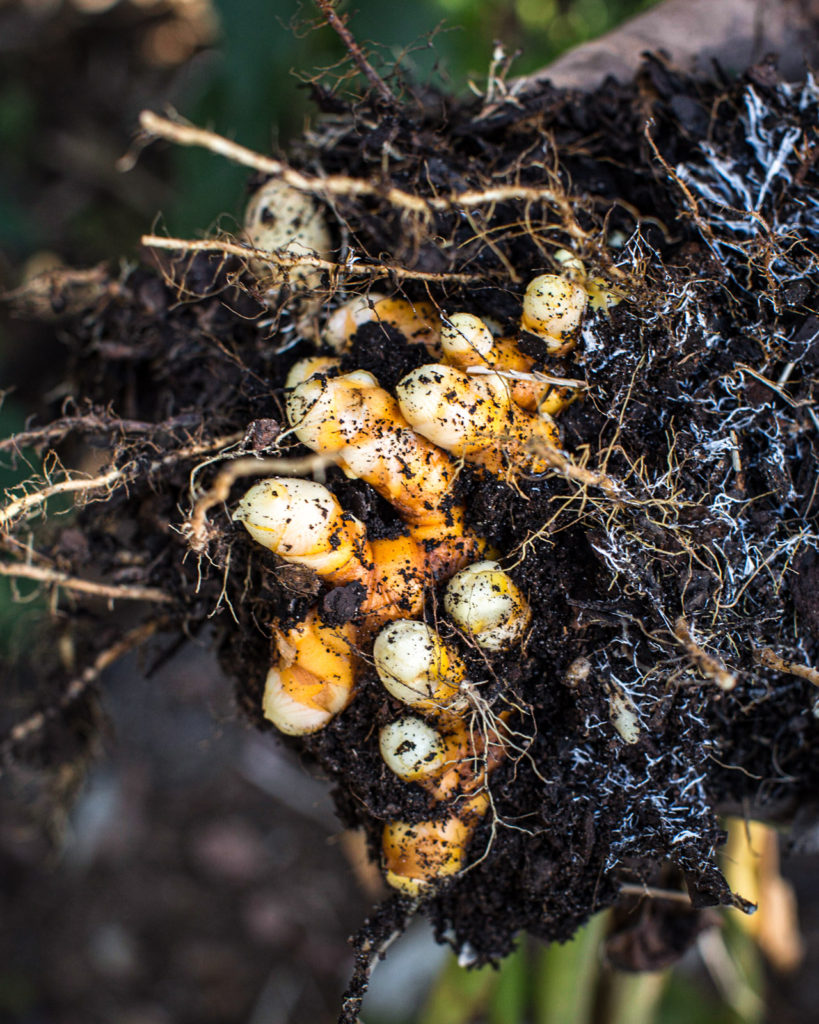 Here we have some fresh turmeric harvested from my very own garden! This root is super fun to grow. You could literally grab some from your local grocery store and plant it! You'll notice a bright green stalk bursting through the ground in the springtime and throughout the summer big green leaves will form. In the fall, the upper leaves will start to look sad and tired and begin to brown. This means it's time to harvest! I always leave a little nob in the dirt so it will continue to grow. You can then use the fresh root in recipes like curry, soups, dressings, and juices. You can also slice it, dehydrate it, and blitz it into a powder to use for whatever. But in this recipe, I wanted to utilize the fresh turmeric.
There is something so magical about placing a whole bunch of raw, plant-based ingredients into a jar and letting them ferment with sea salt. This not only preserves the veggies to make them last so much longer than if they were stored fresh, but it also makes them rich in probiotics while also offering an incredible depth of flavor and interesting texture.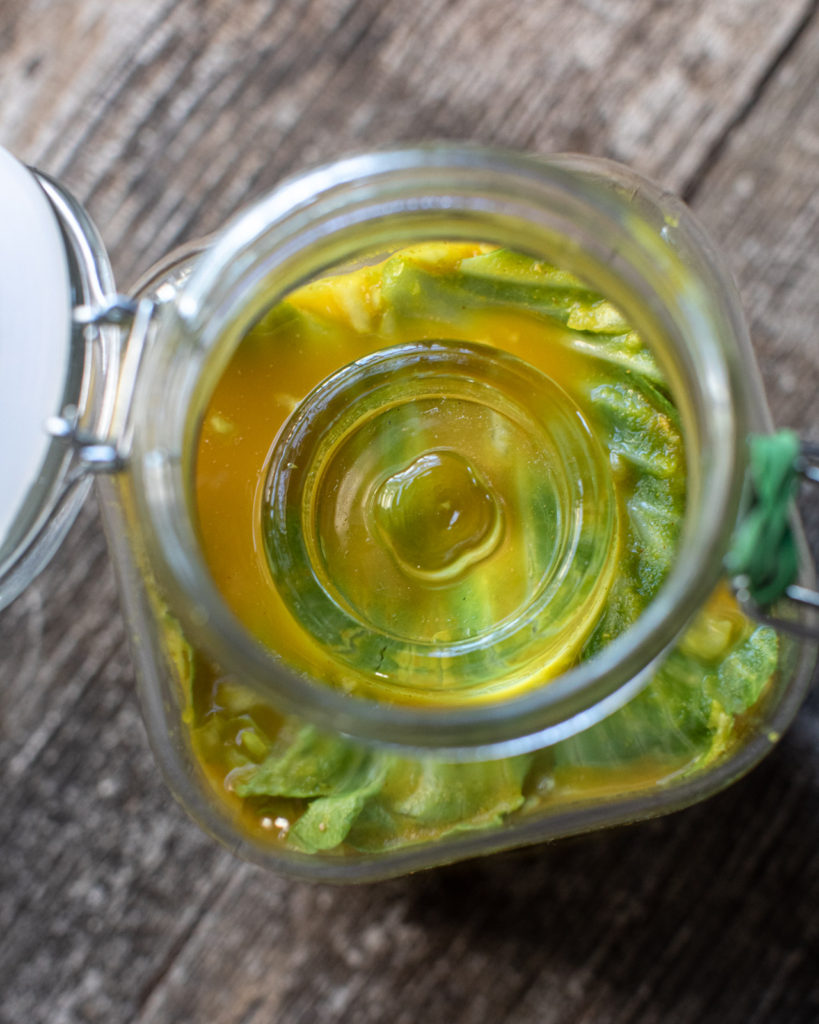 The most work involved with this recipe is squeezing everything together. You really want to go hard when mixing the dressing with the cabbage. The more bruising and squeezing the better.
After a few minutes, you will notice a bright yellow juice will begin to form. That's exactly what you want! When placing it all in a jar and pressing down, you want the liquid to come over the cabbage a cover it. I like to use a glass weight to help keep everything weighed down. Then you place the jar in a dark place for 7 days.
One thing to remember is you will need to 'burp' the jar to let the gas out. If the lid is on tightly without burping, you might run into a problem! In regards to burping, you have a few options. 1. You can simply take the lid off about once a day to release the gas. 2. (My favorite option) Use a jar with an attached lid and wrap a rubberband around the latch. This will keep the lid closed while also letting gas escape! 3. You can buy a special fermenting lid/vessel that's designed specifically for fermenting.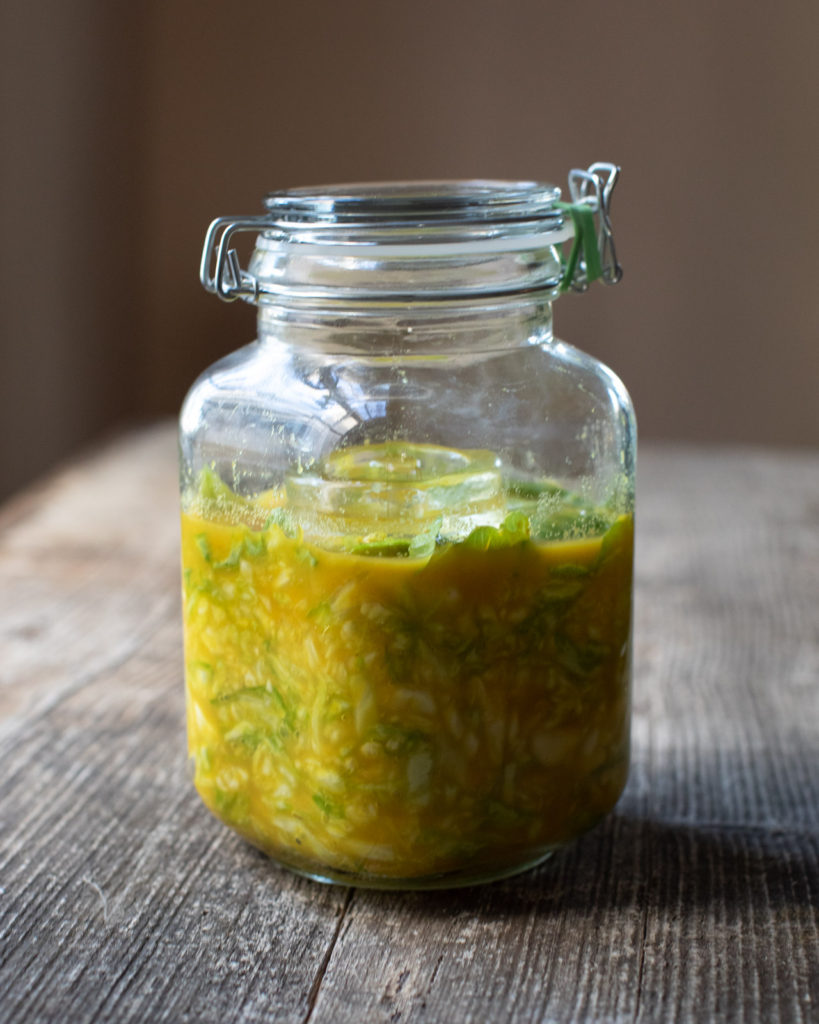 Finally, after a week, the results are a vibrant and beautiful fermented sauerkraut. This sour, salty and tangy condiment can really make a dish come to life. It's perfect for something like my 'Garden Tempeh Bowl' and it works beautifully on avocado toast, salads, or even in wraps. I'll even take a little bite during the day when I am craving something salty and need a hit. After 7 days, you should transfer it to the fridge and keep it cold. I find that this really brings out the flavor, as well. Store in the fridge for months! It lasts a very long time. (Do note, if it smells bad or becomes moldy- do not eat it! It should smell ripe and funky, but never bad. That means you have a problem.) Have fun, y'all!
Timothy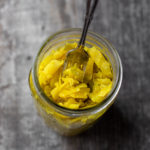 Ingredients
1 ½ pounds green cabbage (about one medium head- outer leaves removed), thinly sliced 
5 cloves garlic, peeled
¼ cup onion, chopped
3 teaspoons sea salt
½ teaspoon cayenne pepper
1 ½ tablespoons freshly chopped turmeric root
1 ½ tablespoons freshly chopped ginger root
½ cup filtered or spring water
Instructions
Add the sliced cabbage into a large bowl. 

In a blender, add the remaining ingredients and blend until you are left with a smooth paste. 

Pour the blended mixture over the cabbage, using a rubber spatula to help scrape out all of the paste. Thoroughly toss the mixture until combined. Then, using your hands, squeeze the cabbage aggressively for 5 minutes, until a juice begins to form at the bottom of the bowl. The cabbage should feel limp and soggy. 


Transfer the cabbage into a large jar and press down to where cabbage is mostly submerged in liquid. Gently tap the jar on the  counter to get rid of any oxygen bubbles. (I like to lay one large piece of cabbage over the top and place a glass weight on top, but this is optional!)

Place lid on top and place in a cool, dark place for 5-7 days (or longer if desired.. I've gone 9 days with mine).  If using a screw lid, remember to burp the jar once or twice a day for the first few days. (Burping means to unscrew the lid to let the carbon dioxide out so that the sauerkraut doesn't explode!). If you are using an attached lid, wrap a rubberband around the latch which will keep the lid closed while also letting gas escape- so no need to burp if using this method.
notes
I recommend using a very large jar leaving plenty of space at the top. If you are using a small jar that tightly fits the cabbage, once it begins to ferment it will most likely burst out of the top and make a very big (and stinky!) mess. If you MUST use a smaller jar, at least place it in a bowl before storing in a dark place. That way, if it overflows the bowl will catch it.