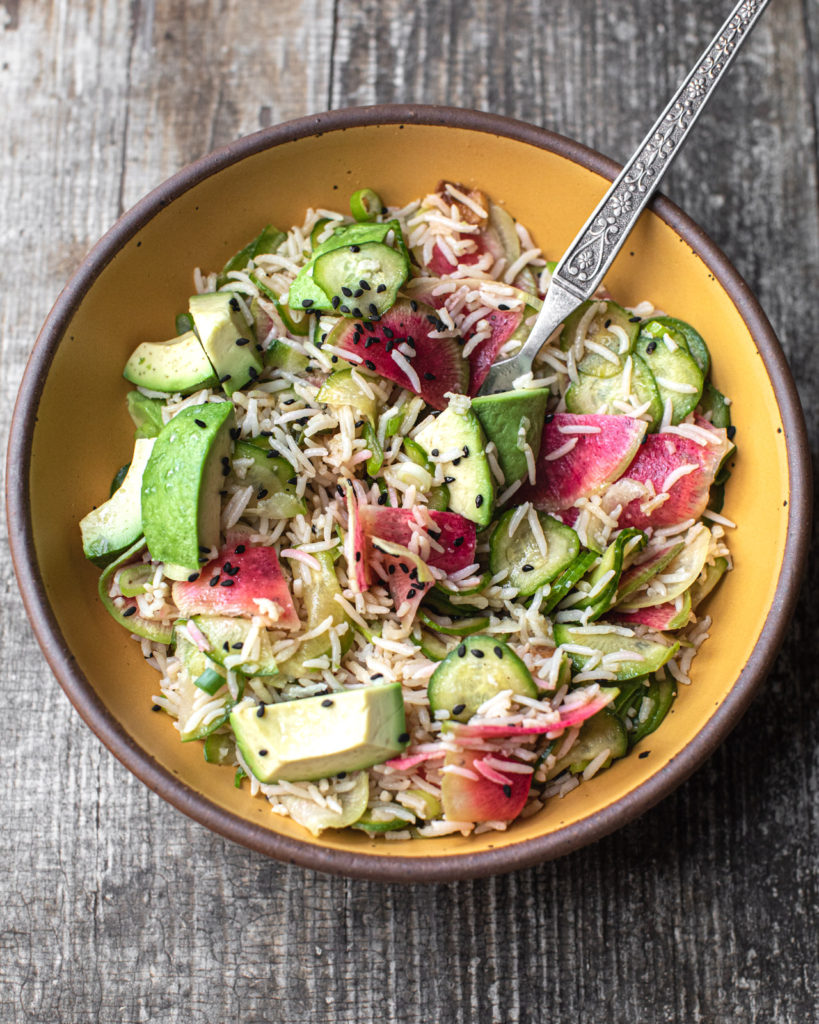 Welcome to the first blog recipe of 2022! Woohoo! I wanted to give y'all something bright and gorgeous to kick off this year right and get things moving in a positive direction. Here we have my super crunchy-munchy Radish & Avocado Rice. This works as a nice salad or a refreshing meal if you wanted to add some protein (like my Garden Tempeh). Thinly sliced radish and cucumbers are tossed with fluffy white rice that's mixed with an umami-rich dressing with a touch of sweetness. Then a sizzling hot garlic-chili butter is added to the mix with ripe avocado, flaky salt, and some toasted sesame seeds as the final additions. Thus, the effort is quite low and the results are incredibly satisfying.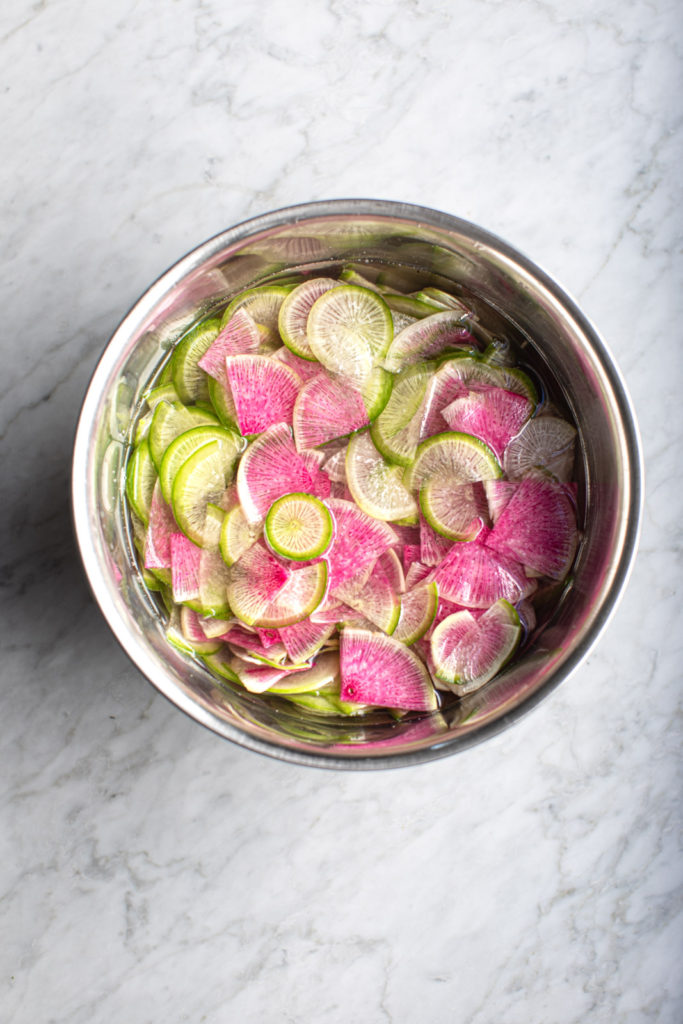 If you are like me, you might have some old radishes hanging around in the fridge. I feel like I always do! Luckily, they store well and they take very little effort to bring back to life. Simply rinse them well, thinly slice, and drop them in some very cold water. In just 10 minutes they will crisp up and become gorgeous! (These two varieties are watermelon and green meat radishes but you can use whatever you can find.) I highly suggest to use a mandoline to get the slices paper-thin but you can also do this by hand with a really sharp knife. Even if you can't get them as thin as the picture above, they will still be yummy. As for the rice, we will need 3 cups cooked and I recommend using my Easy Baked Rice.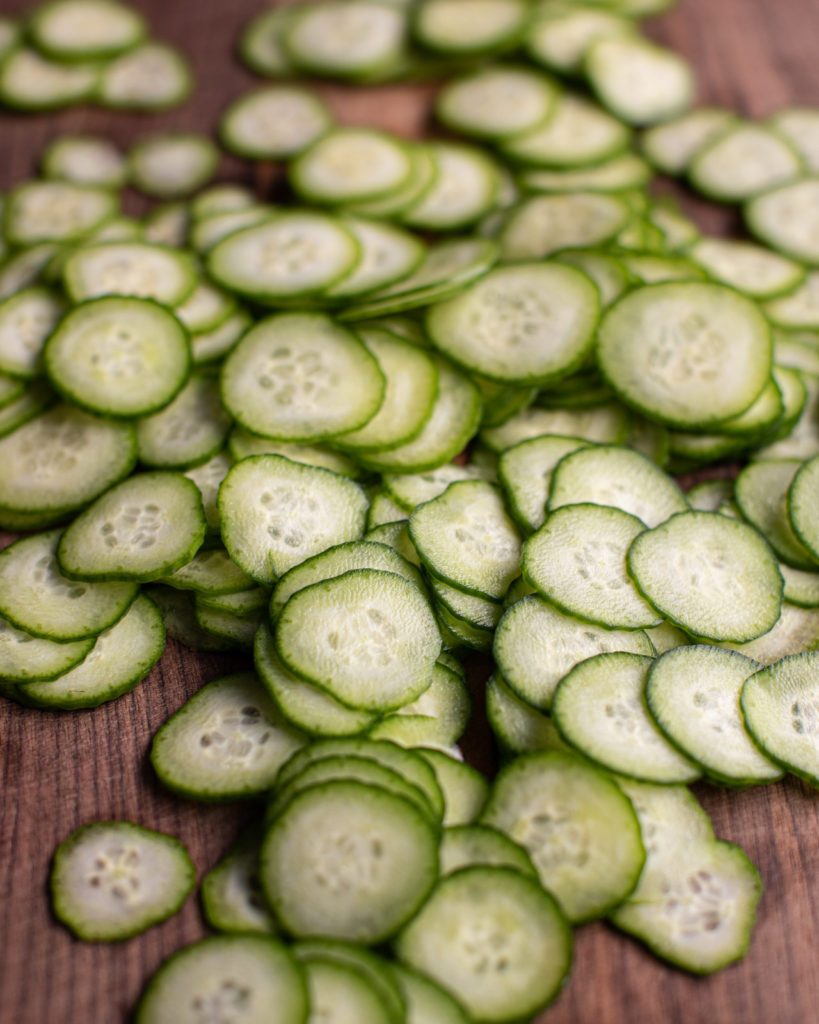 To echo the texture of the radishes, I like to add some thinly sliced cucumbers as well. I love how cool and refreshing they are while also providing some juiciness to the overall dish. Use whatever cucumbers you have access to but I particularly like these smaller Persian cucumbers for this particular recipe. They are not bitter and the skin is thin. If using a larger cucumber, I would peel off the skin (as I think it can be tough) but that's optional. I want you to be happy so do what feels best.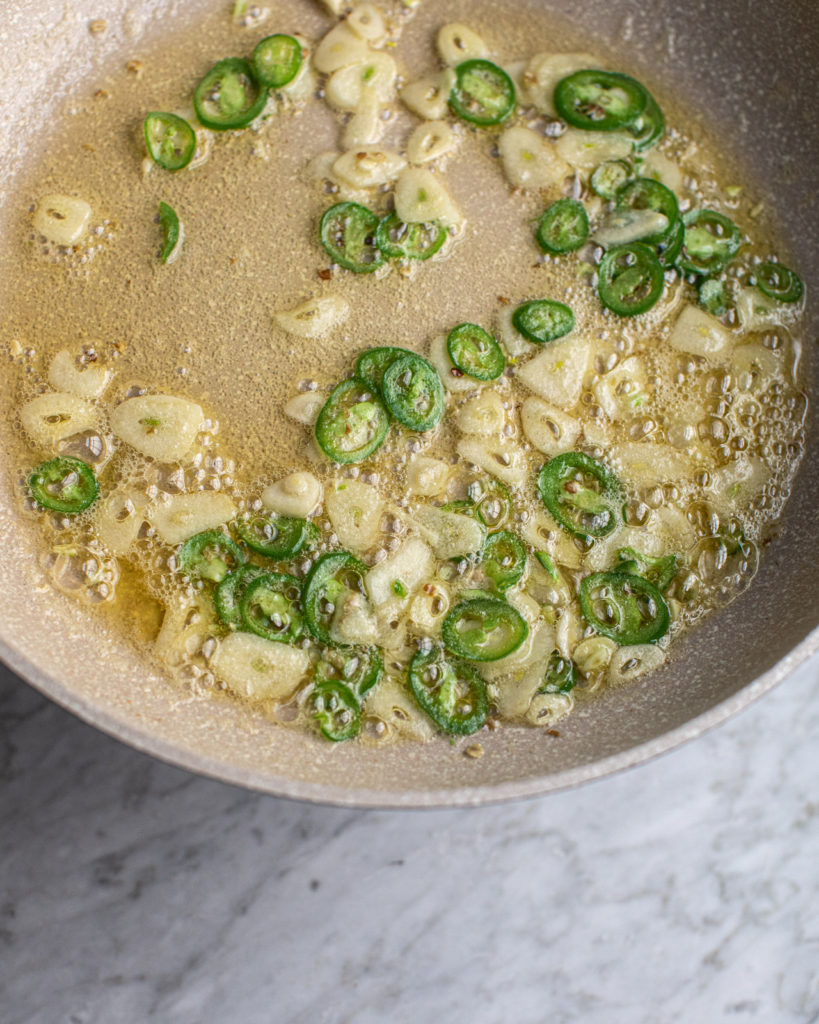 To give these humble ingredients a little Mississippi Vegan pizzazz, we're going to sizzle up some vegan butter (regular dairy butter won't work here so don't even think about it missy!) with loads of thinly sliced garlic and some fresh hot pepper. I used Serrano because that's what I had but any hot pepper will do. (You could even use crushed red pepper flakes if you don't have a fresh pepper.) Now, if you don't like spicy, you can skip this step and just fry up the garlic in the butter. If you don't like garlic, then I'm sorry for your loss.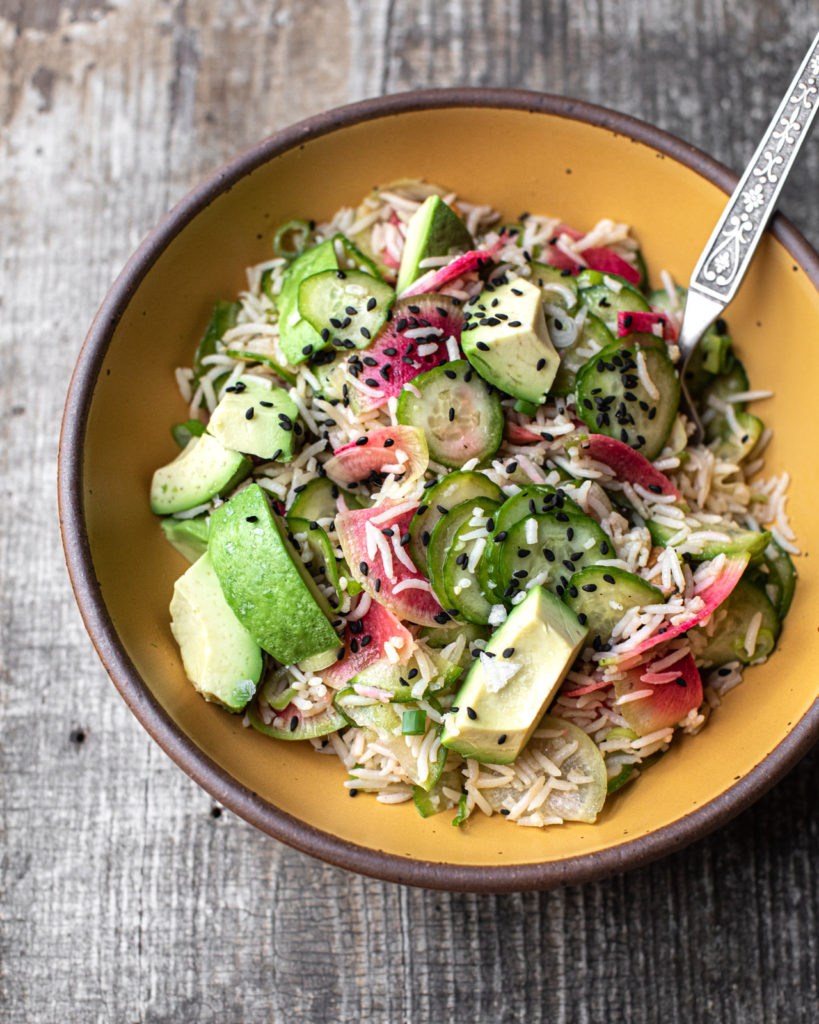 To finish the dish, I like to add a hefty amount of green onions, toasted black sesame seeds (or white is fine!), and large chunks of ripe avocado sprinkled with flaky salt. I recommend serving this salad immediately as that is when it is most crunchy but you can certainly eat it later or pop it in the fridge. The texture will not be as crisp but it will still be delicious. And there you have it. Radish & Avocado Rice! A brand new recipe from me to you. I hope that you love it. Let me know what you think in the comments below and tag me on the gram if you make it. Lots of love!
-Timothy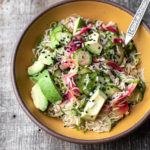 Ingredients
Salad 

5 cups of thinly sliced radish (paper-thin is ideal - about 2 bunches)
2 cups Persian cucumbers, thinly sliced (slightly thicker than paper-thin)
3 cups cooked, warm rice
2 large ripe avocados, cut into chunks
Flaky salt, for avocado
½ cup chopped green onion
½ cup toasted sesame seeds (black or white)
Lime slices, to garnish

Dressing

2 tablespoons rice vinegar
2 tablespoons tamari or soy sauce (or coconut aminos)
1 tablespoon mirin (or sake, agave, or maple syrup)
1 tablespoon toasted sesame seed oil
1 tablespoon fresh ginger, microplaned (or minced)
1 large lime, juiced (about 2 tablespoons)
¼ teaspoon black pepper
¼ teaspoon sea salt 

Garlic Chili Butter

3 tablespoons vegan butter
4 cloves garlic, thinly sliced
1 serrano pepper (or any hot pepper), sliced (optional)
Instructions
1.  With a mandolin or super sharp knife, thinly slice the radish and place in a bowl covered with ice-cold water. Let soak for 10-15 minutes until crisp. Make the dressing while they soak. When ready to make the salad, drain and shake out excess water. 

2. In a large bowl, add rice vinegar, tamari, mirin (or desired sweetener), sesame seed oil, ginger, lime juice, pepper, and salt. Whisk together. Then add the sliced radishes, cucumbers and rice. Toss well. In a small skillet, add butter and bring to medium heat. Throw in the sliced garlic and hot pepper slices. Sprinkle with salt, stir, and cook until the garlic is very lightly golden (going too dark will taste bitter so keep an eye out!). This should only take a few minutes. Immediately pour over the radish rice mixture. 

3. Toss in the green onions and sesame seeds. Transfer the mixture into individual serving bowls and add the ripe avocado over top to each bowl (this is only to be fair and to not squoosh the gorgeous avocado!). Sprinkle the avocado chunks with flaky salt and garnish each bowl with toasted sesame seeds. An extra squeeze of fresh lime juice is always welcome. Enjoy! 
notes
For the rice, you could use long-grain white, basmati, short-grain brown, or sushi rice. Whatever you like!

You could serve this on a large platter for people to serve themselves. I'd recommend using a platter/plate instead of a bowl so that you can showcase all of the ingredients in the salad (as opposed to being piled high on top of each other) and keep the chunks of avocado looking nice. Garnish with fresh lime slices for a pop of color.

Feel free to toss in some additional veggies you have lying around: sliced carrots, red bell pepper, chopped cauliflower all sound like a nice addition. As for fresh herbs, I could see a big bunch of freshly chopped cilantro pairing beautifully here. A little sriracha would also be a nice touch.