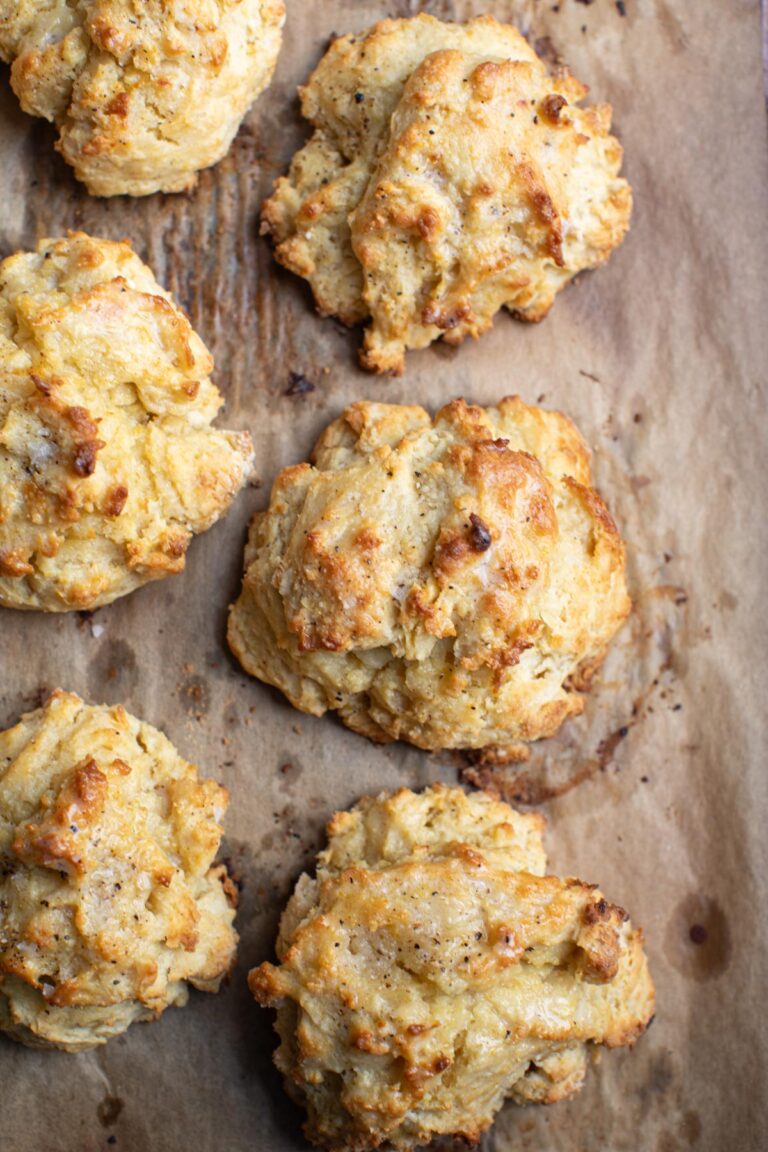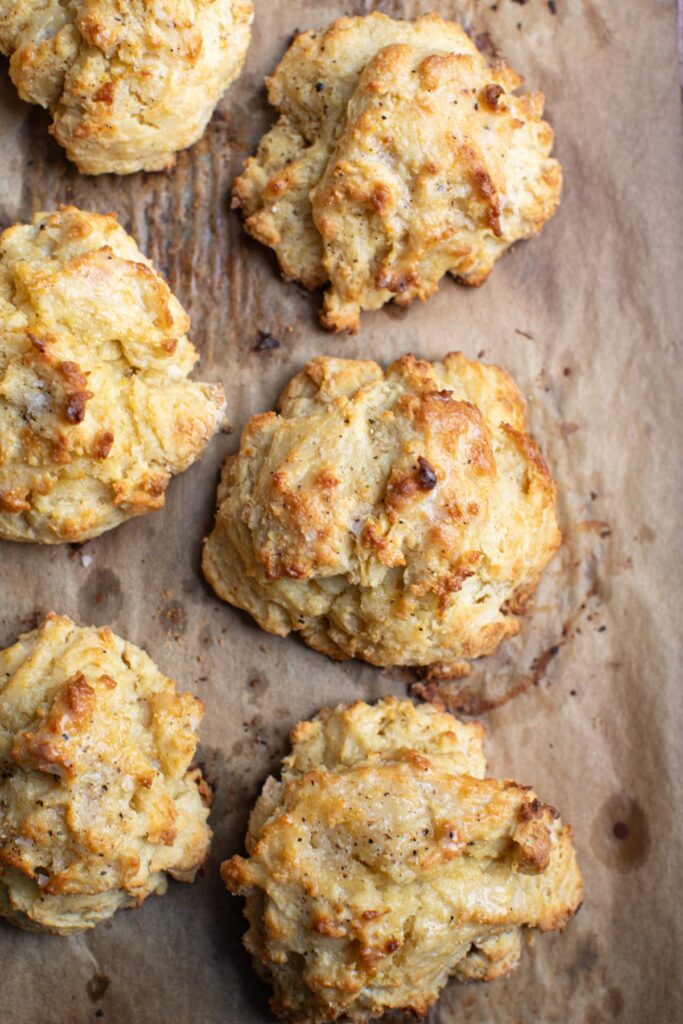 These vegan drop biscuits are going to make you a very happy person! First off, they couldn't be easier as they are all done in one bowl. Secondly, there is no transferring the dough to be pressed, rolled, shaped, and cut. No ma'am! These are simply dropped onto the baking sheet into little mounds which give you those yummy craggily bits that turn golden brown once baked.
The final results are moist, tender, and delightfully rich. Eaten warm out of the oven, to be used for an epic breakfast sandwich, or smothered in my mushroom gravy– these vegan drop biscuits are utterly delicious. I promise they will become your new go-to recipe.
---
---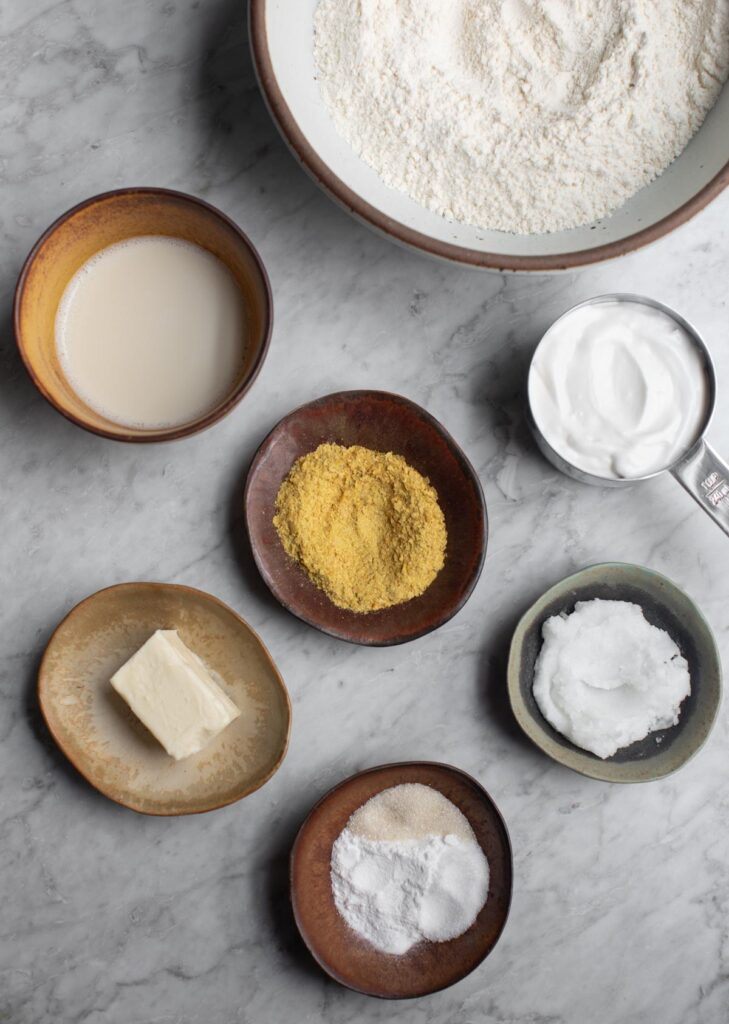 KEY INGREDIENTS FOR THE VEGAN DROP BISCUITS
The ingredients list for these vegan drop biscuits is short and sweet. The only trouble you might have is sourcing the best coconut yogurt to use but if that's the case you can omit the yogurt and only use just a plant milk with a touch of vinegar for tang.
For the batter you will need all-purpose flour, nutritional yeast (for flavor!), vegan butter and coconut oil, baking powder and baking soda, sea salt, and just a little bit of sugar. For the liquids, you can use your favorite plain, unflavored plant milk. And, for added richness and flavor, a thick and creamy coconut yogurt.
I recommend Cocojune or Culina. Both of these have plain flavors that are super thick and creamy with a beautiful tang that really make these biscuits. DO NOT try using other vegan yogurts. Many of them are terrible. As I mentioned before, if you can't find these two coconut yogurts, you can just use plant milk with a splash of vinegar. The exact measurements for this are below in the recipe card.
---
---
MIXING THE BATTER
Once you add all of the dry ingredients to a bowl, I like to use a fork to fluff the mixture, breaking up any clumps and incorporating the ingredients. Then you will add the vegan butter and coconut oil. The goal here is to break them up into the dry ingredients, creating a crumbly texture. Think mashed into the size of peas.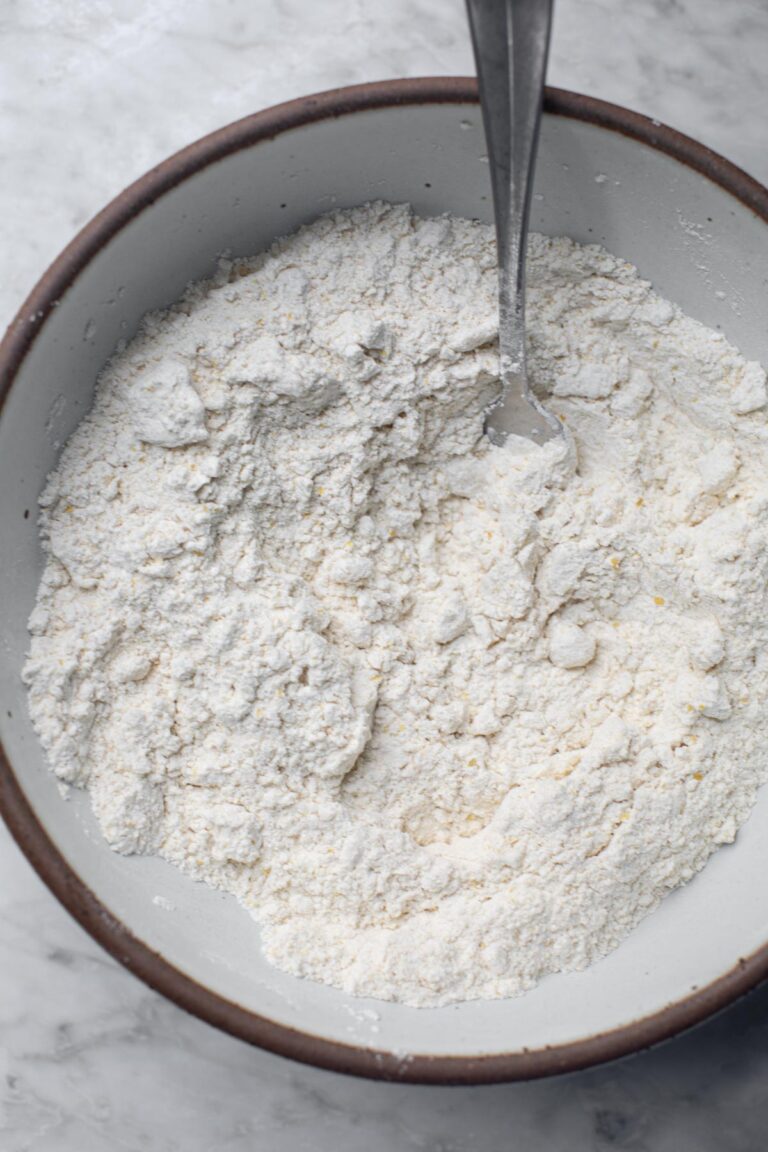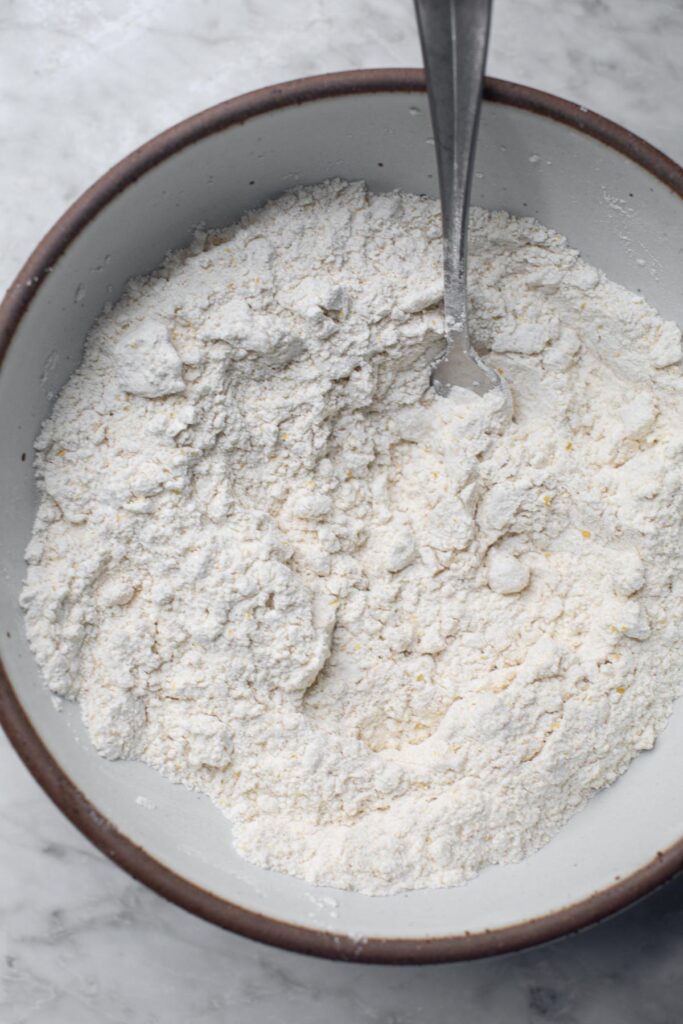 ADD THE WET INGREDIENTS
Now it's time to add the wet ingredients. The trick here is to NOT overmix. This will make the biscuits tough and I don't want that for you. You will only stir the batter with the fork until it feels just combined. It's OK if there are some dry bits here and there. You do not need to mix it until all the flour has absorbed the wet ingredients. This will give you light and fluffy biscuits.
---
---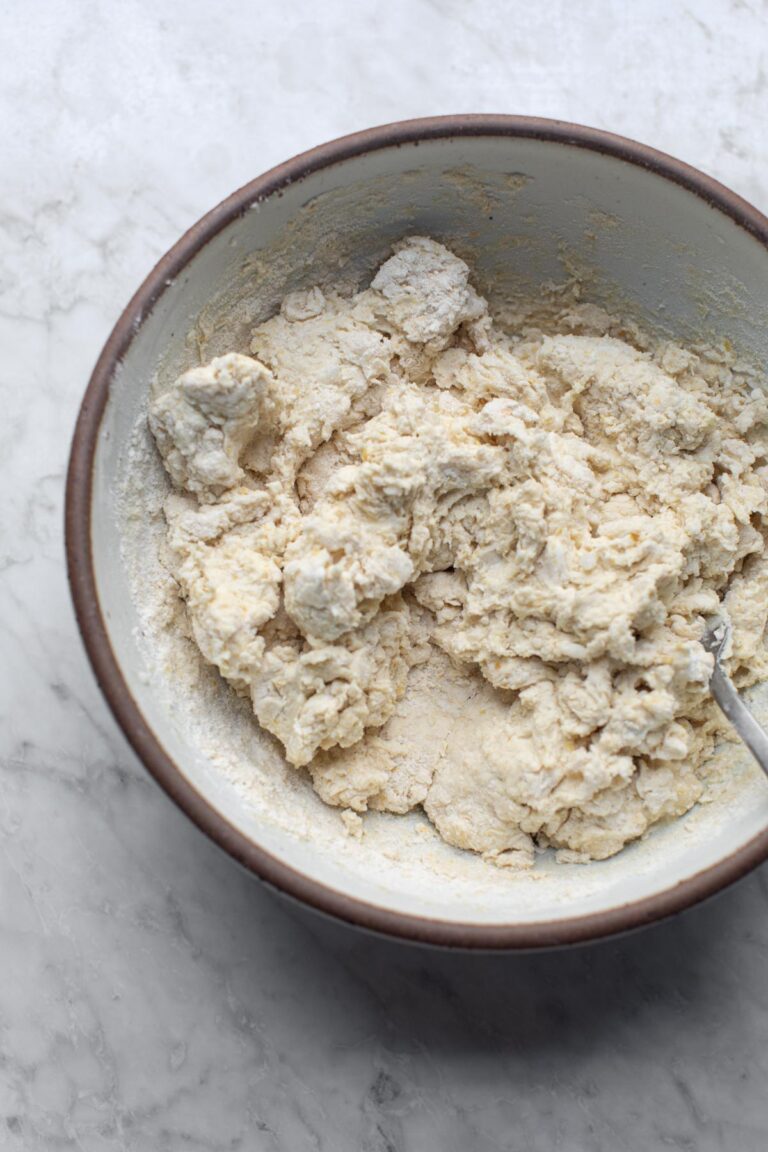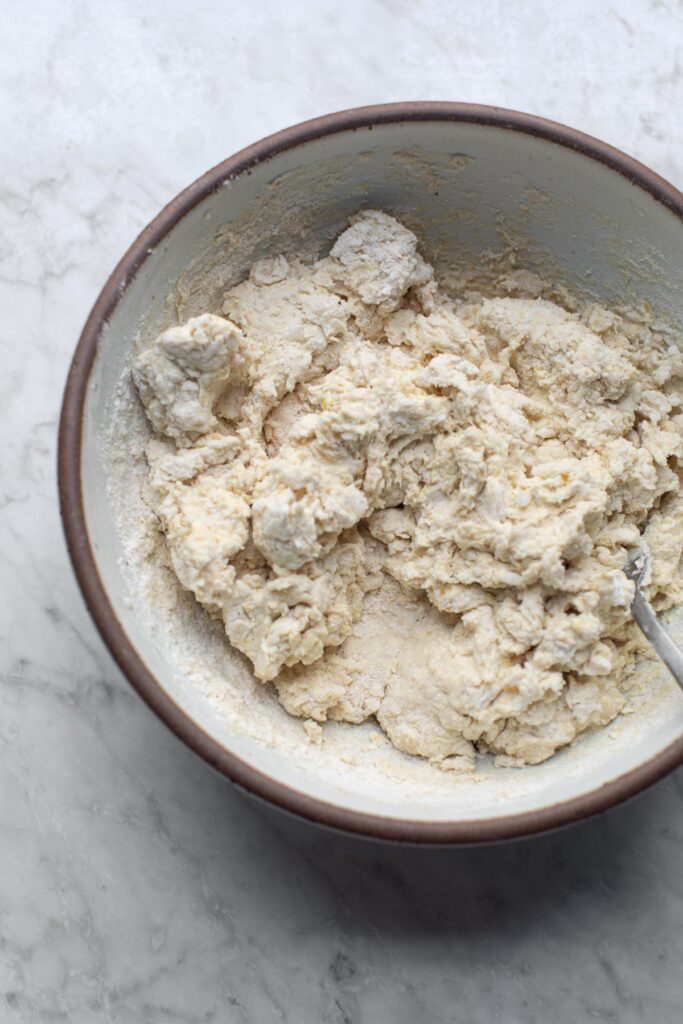 DROPPING THE DOUGH
Once the batter is ready, you can use the same fork you've been using, in addition to a spoon, to help drop mounds of dough onto the baking sheet. I like to make 8 biscuits using this dough. Once the mounds are in place, you will sprinkle them with flaky salt and add some freshly cracked black pepper. Lastly, you can use some wet fingers to help shape them just a bit if they are looking too much like amoebas. Then you bake until golden!
---
---
FINISH & SERVE THE VEGAN DROP BISCUITS
Once the biscuits are golden brown on top, you finish them by brushing the tops with some melted vegan butter. I wouldn't skip this step as this really makes them perfect. After that, let them cool for a few minutes and enjoy immediately!
These biscuits are best the same day they are baked. After this last batch, I tried storing them in the fridge in a container and toasting them the next day with ok results. Better to enjoy them while fresh, if you ask me!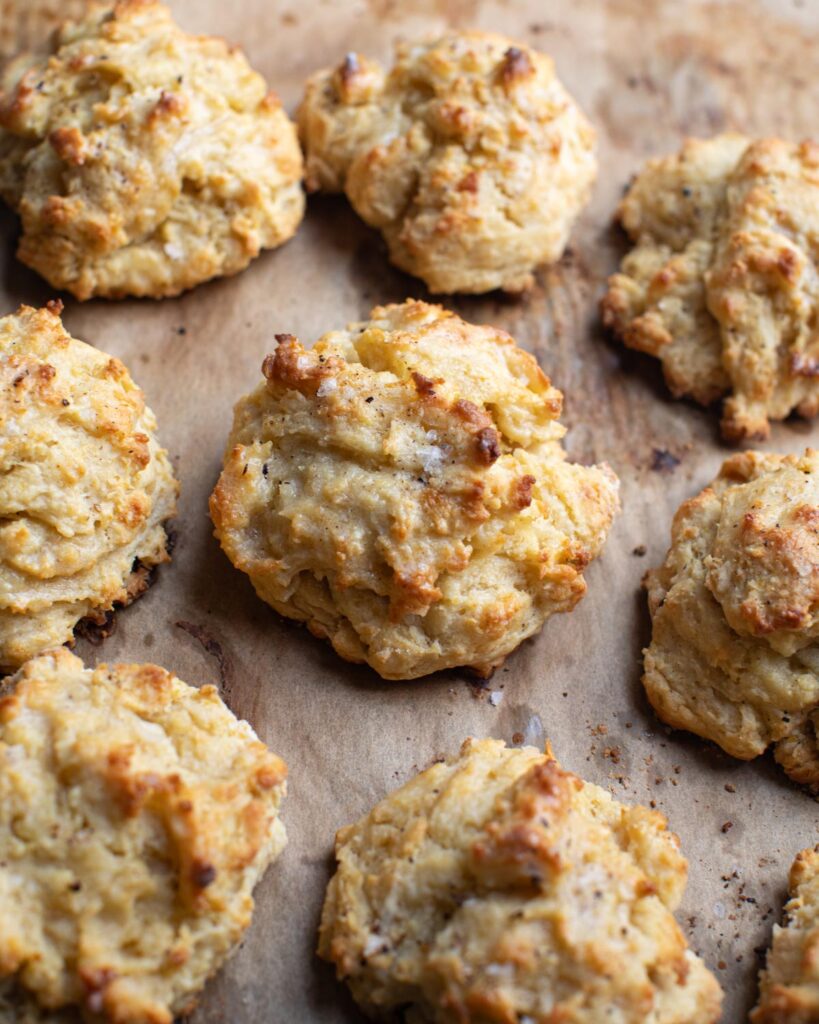 ---
---
RECIPES THAT PAIR WELL WITH THESE DROP BISCUITS
ENJOY!
And there you have my amazing vegan drop biscuits. I cannot wait to hear what y'all think. If you do make them, please leave a comment and a rating below as this greatly helps my recipes to be seen! Lastly, if you share it on social media, please tag me. I love to see it. Happy baking, y'all!
–Timothy
---
---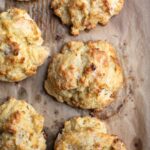 Ingredients
2 ¾ cups all-purpose flour
1 ½ tablespoons baking powder
¼ teaspoon baking soda
1 teaspoon sea salt
1 teaspoon sugar 
2 tablespoons nutritional yeast
3 tablespoons cold vegan butter
3 tablespoons melted vegan butter, for brushing
2 tablespoons unmelted refined coconut oil (hard)
1 cup thick, plain coconut yogurt (or labneh)
1 cup cold plain plant milk

 
Instructions
Preheat the oven to 475°F and line a baking sheet with parchment paper.
Combine the flour, baking powder, baking soda, salt, sugar, and nutritional yeast in a large bowl. Using a fork, vigorously mix the mixture, fluffing everything together, removing any clumps.
Add the cold butter and hard coconut oil. Using the same fork, cut in the butter and oil until you are left with a crumbly texture (the size of large peas). Pour in the milk and yogurt and mix until just combined, making sure to get the dry bits at the bottom of the bowl. The dough should be shaggy.
Using the fork and a spoon to help, transfer 8 mounds of dough onto the lined baking sheet, spacing them with a few inches in between. Bake for 15 minutes, or until golden on top, adding a few extra minutes if need be. Remove and brush with melted vegan butter and serve. 
notes
The coconut yogurt for this recipe needs to be thick and creamy and neutral in flavor. I recommend Culina or Cocojune. Please be warned, many plant-based yogurts have an odd flavor and are sweetened too much for a savory recipe like this. They will ruin the biscuits! If you cannot find a good quality thick and neutral coconut yogurt or labneh, you can omit the yogurt and use a total of 1 ¼ cups cold plain plant milk with 1 teaspoon of apple cider vinegar, rice vinegar, or plain vinegar for tang.

This can be done on one large baking sheet or if you have smaller baking sheets you can bake them in batches. They should be baked in the center of the oven.

For the milk, I like using full fat plain oat milk. Use whatever you like but for the life of me, please make sure it doesn't taste like vanilla.
---
---