Hey y'all! Today on the blog I am sharing a classic summer recipe: Macaroni Salad. About a month ago I had a craving for this squiggly bowl of noodles and mayo that somehow got named a salad. I could not get it out of my head. After watching a slew of home cooks share their version on YouTube I said, enough is enough! I made my own version.
All I knew is I need a garlicky and creamy dressing, perfectly cooked macaroni noodles, lots of diced veggies for a crunch, and crumbled tofu to recreate the boiled egg texture. I honestly wasn't sure if I would share the final recipe with you. The last time I had this nostalgic dish was when I was 12 or 13. Point is, I wasn't sure that this would be reason enough to share. But as it turns out, it made it to the finish line. I am excited to share my version of Macaroni Salad for you to try in your very own kitchens!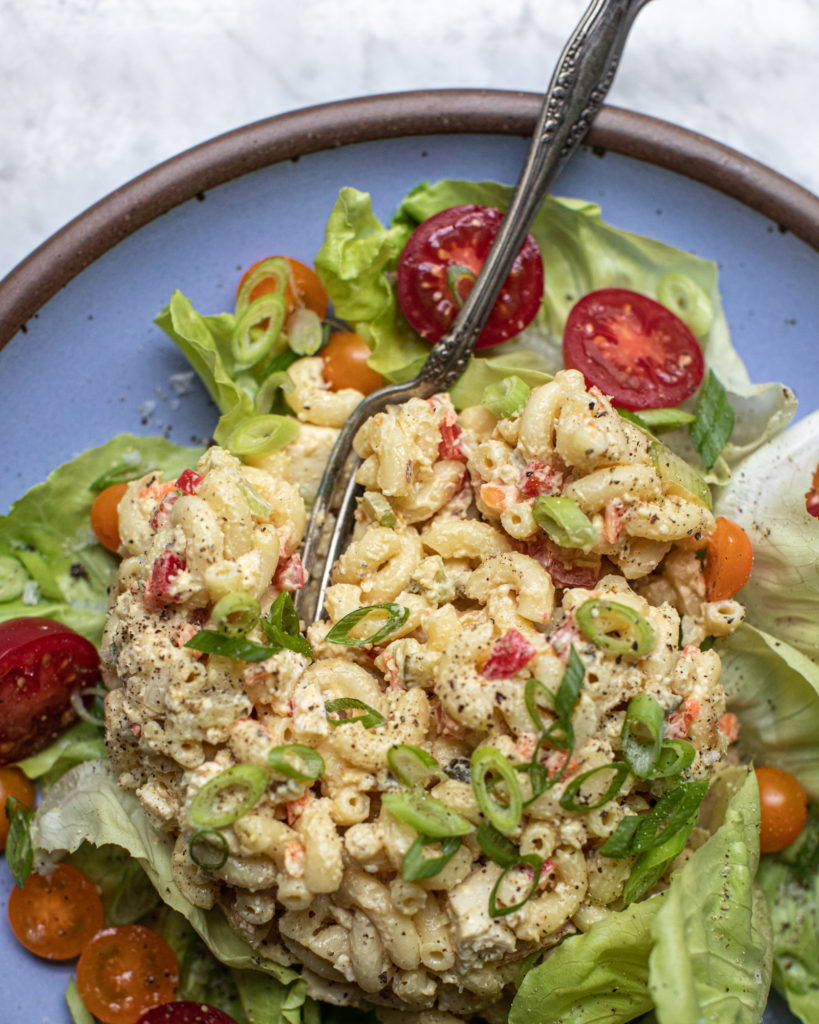 I don't have too many process shots for this recipe because, well, it's so damn easy! All you have to do is cube up some firm tofu into bite-sized pieces in a small bowl and sprinkle it with some kala namak, fresh garlic, and diced pickles. (Now you might be wondering what the heck kala namak is. Similarly, it's a powdery salt that has naturally occurring sulfur and it tastes like eggs! I like this brand.
Kala namak is commonly used in Indian cooking and I love sprinkling it over dal. But it's also fantastic to put on top of tofu scramble or avocado toast for a vegan eggy flavor. Ok- back to the recipe! This is set aside to marinate which helps remove the raw tofu taste. The texture of firm tofu happens to be the perfect egg replacement for this salad. You want fluffy, squooshy little bites mixed within the noodles for the delicious mouthfeel. When mixing, it will break down a bit and become craggily which is what you want.
While the tofu marinates, you can make the pasta. Further, one trick here is to drain the pasta without rinsing. Let it cool in an even layer in a baking dish or on a baking sheet. Moreover, the starch from the water will remain on the noodles making them super sticky and tacky. This will help the dressing stick to the noodles.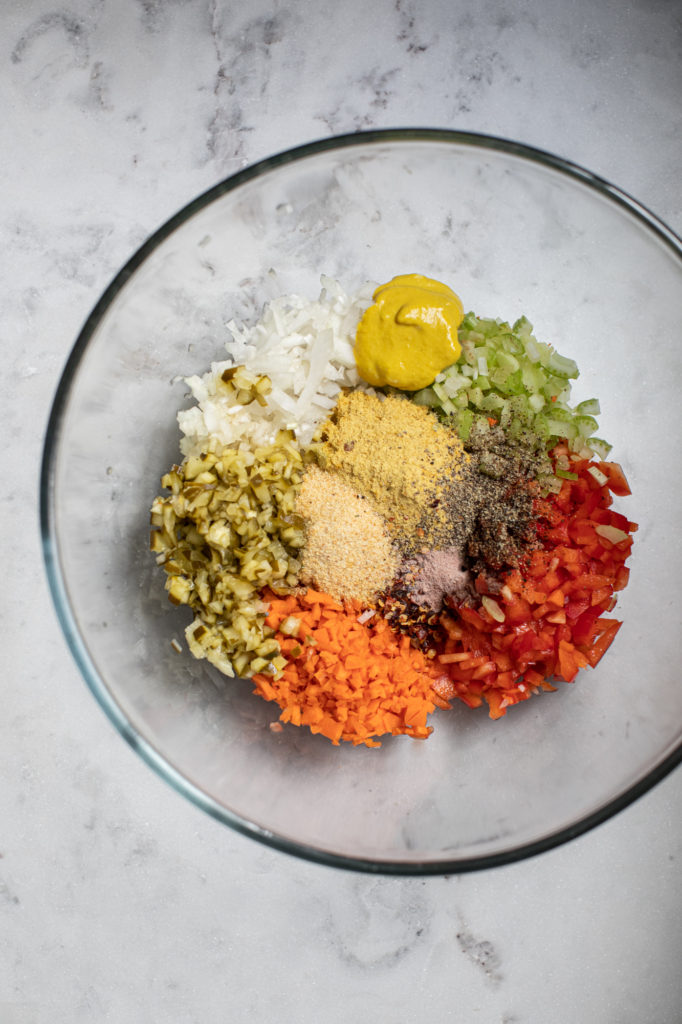 The last step is to mix the remaining ingredients into a large serving bowl to make the dressing. Think vegan mayo, diced peppers and carrots, celery, mustard, onions, and some spices. Once the noodles are completely cool, toss them in with the dressing along with the marinated tofu and mix, mix, mix. Now, for the best results, I like to chill this in the fridge overnight. But since you made it, you get to have a bowl immediately for yourself! Certainly a chef's treat.
To serve, I love piling this on a bed of butter lettuce and adding halved cherry tomatoes (and sliced cucumber is a lovely addition as well). To garnish, green onions and chives (and a little extra black pepper is always welcome) will finish the dish. Perfect for picnics, BBQs, or a day by the pool/lake. Enjoy!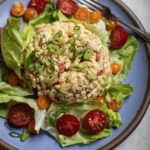 Ingredients
1 block firm tofu (14 or 16 oz), drained and cubed
1 teaspoon kala namak aka black salt
1 large garlic clove, microplaned or mashed with a knife
½ cup dill pickles, diced
1 pound elbow pasta noodles
¾ cup celery, diced
¾ cup red bell pepper, diced
¾ cup sweet onion, diced
¾ cup carrot, diced
3 tablespoons nutritional yeast
½ tablespoon crushed red pepper flakes
1 tablespoon garlic powder
1 ½ teaspoons black pepper
2 ½ heaping tablespoons yellow mustard
3 tablespoons white vinegar
1 ½ cups vegan mayo
½ teaspoon sea salt, plus more to taste
Green onions or chives, to garnish
Toasted sunflower seeds, to garnish (optional)
Instructions
In a small bowl, add the cubed tofu. Sprinkle over the kala namak, fresh garlic, and diced pickle. Mix well and let sit while preparing the rest of the ingredients.

Bring a large pot of salted water to boil. Cook the macaroni noodles according to the package instructions. Drain the noodles but do not rinse. Transfer the noodles to a baking dish or sheet and spread into an even layer. Let cool completely before mixing with the dressing.

For the dressing, choose a large bowl that you will combine all the ingredients in. (I like to choose one with a lid so I can pop it in the fridge!). In the bowl, combine the celery, bell pepper, onion, carrot, nutritional yeast, crushed red pepper flakes, garlic powder, black pepper, yellow mustard, white vinegar, mayo and salt. Mix well and combine with the pasta. (If the pasta is not cool at this point, cover and place in the fridge until the noodles are cool. If you combine the dressing with hot or warm pasta, the dressing will break and become gross. And that's not on me, missy!)

Combine the pasta and tofu with the dressing. Mix well and give it a taste. Add more black pepper and sea salt to your liking. For best results, chill in the fridge overnight but you can certainly enjoy immediately! Garnish with fresh green onions or chives.
notes
I love adding toasted sunflower seeds to this recipe as a final garnish. If I had to guess, this inspo comes from visiting the salad bar at restaurants growing up (Ruby Tuesday's anyone?). These salad bars would always have toasted sunflower seeds in a little bucket and some sort of a creamy pasta salad. Anyways, it works and I will not be convinced otherwise.