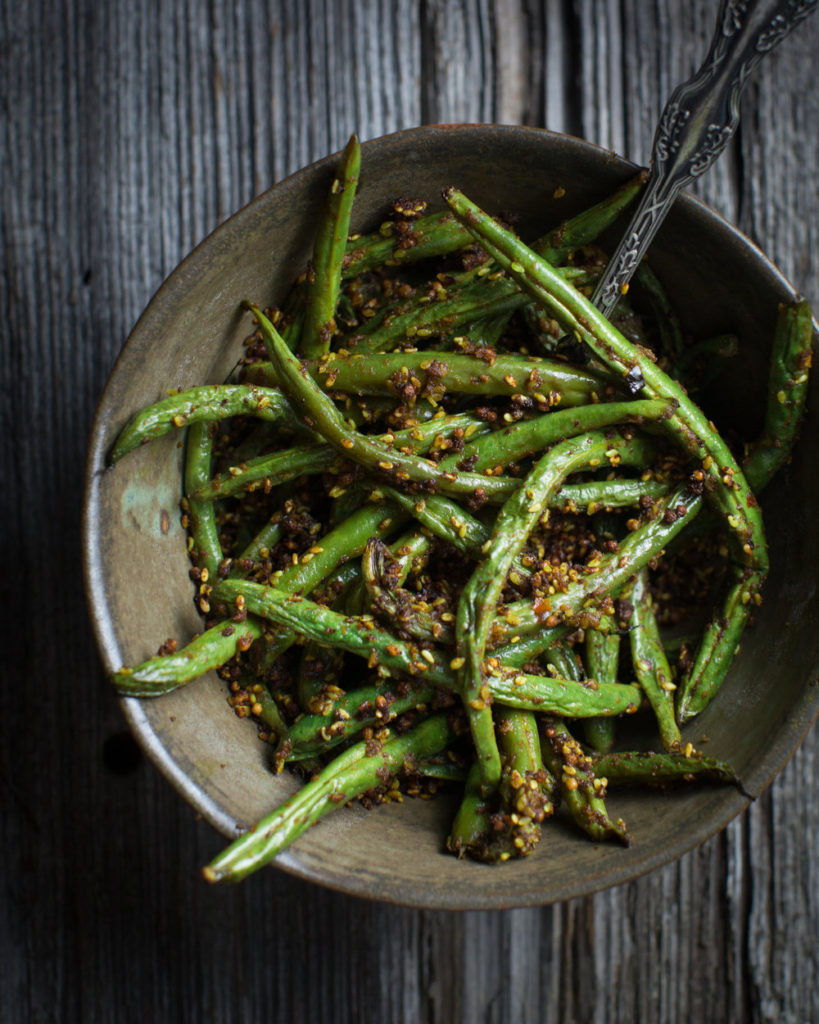 Ooooh, these firecracker green beans are a kick in the mouth! That's because they are loaded with stimulating seasonings like coriander, chili powder, crushed red pepper flakes, and curry powder. They are also coated with crunchy, buttery sesame seeds and spicy mustard seeds that provide a lovely pop. Savory and fantastically spicy, these beans are an explosion of flavor in the mouth. So I had to name them after firecrackers, right?
Feel free to play with the spice combination. If you don't have one or two, simply take them out and add a little more of the other stuff. And if you don't like spicy, maybe hold back on the red pepper flakes and chili powder. They will still be good. The trick to these firecracker green beans is to toss the green beans thoroughly so that they are coated with all of the seasonings. The other trick is to make sure the oven is preheated and piping hot. Green beans love to shrivel up when it's hot like that, becoming succulent and tender, while still having a slight crunch.
These green beans go great as any side dish. I like to add them to bowls of my Easy Baked Rice
Ingredients
1 lb green beans, tough ends removed
2 tablespoons refined coconut oil, melted
2 tablespoons tamari
1 teaspoon crushed red pepper flakes
1/2 teaspoon freshly cracked black pepper
1/2 teaspoon curry powder
1/2 teaspoon ground turmeric
1/2 teaspoon ground coriander
1/2 teaspoon ground cumin
1/2 teaspoon chili powder
2 tablespoons sesame seeds
1 tablespoon mustard seeds
2 tablespoons nutritional yeast
Instructions
1. Preheat the oven to 450 degrees F.
2. Rinse and dry the green beans thoroughly (if they are too wet, they won't hold the seasonings that well and you will look silly). Transfer the beans to a large cast iron skillet, baking dish, or baking sheet (use parchment paper if so). 
3. Throw on the coconut oil, tamari, red pepper flakes, black pepper, curry powder, turmeric, coriander, cumin, chili powder, sesame seeds, mustard seeds, and nutritional yeast. 
4. Place the skillet/dish in the oven and cook for 30 minutes, tossing once halfway through. Gobble up immediately!