Hello my lovely readers! The time has come for me to share my 'Guide to Austin' with all of you. Originally, this was only going to be a vegan food guide but after spending close to two weeks there, I realized that Austin really has it all. Beautiful nature, gorgeous hotels, an all natural cold spring smack dab in the middle of the city that is open to the public, delicious drinks, plenty of music and dancing, and more vegan food than I've ever experienced in my life.
I wanted to share a comprehensive vegan food guide for Austin, Texas with you that truly represented my time in this lovely city. And although the reason for my visit was because I was evacuating from a hurricane, I ended up having such an incredible time- it feels as though it was all meant to be. When I left the city to return home when all was safe, I was excited and inspired. I can't wait to go back.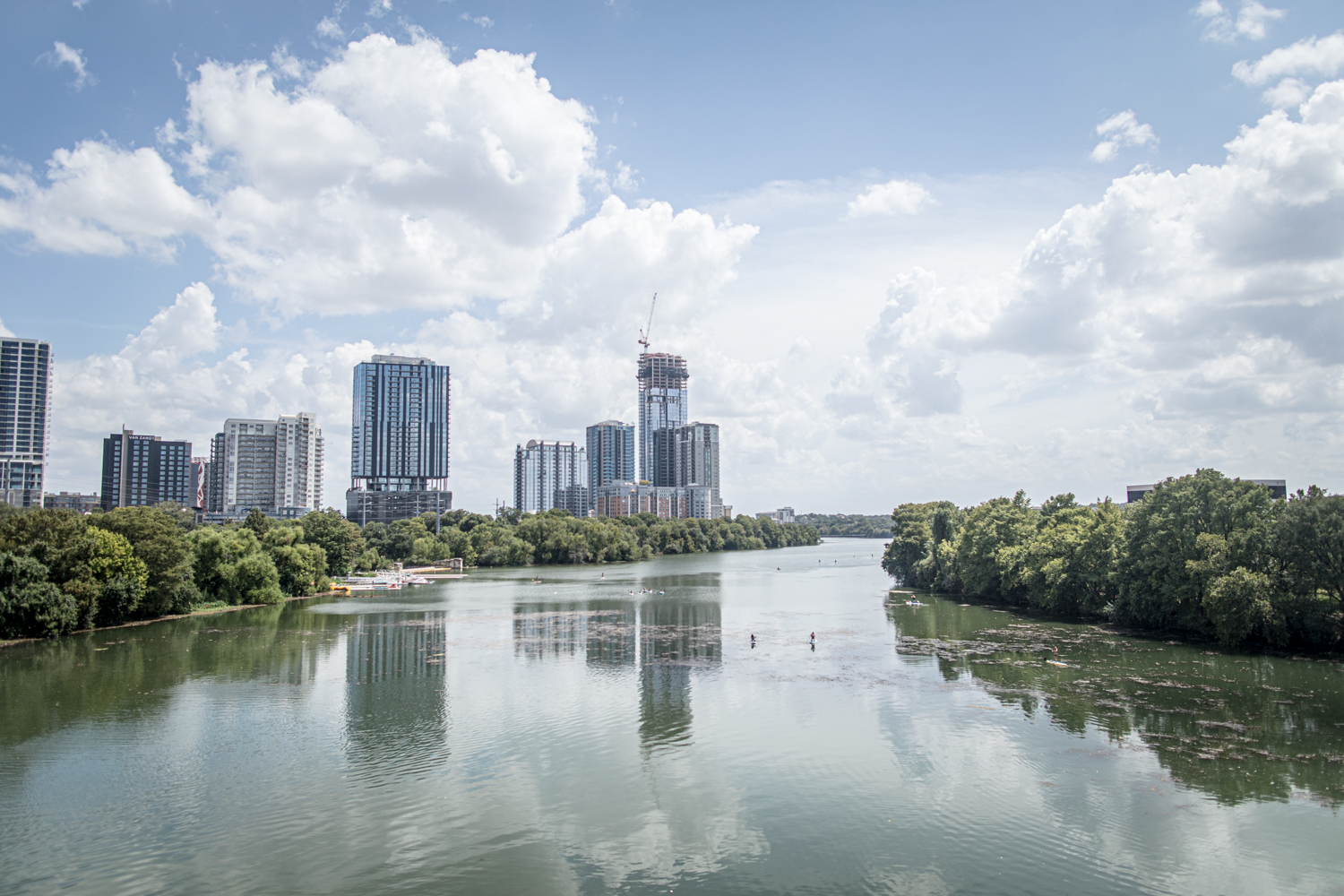 Now before we move forward, I want to let all of you know that this is my personal guide from my personal experience. OF COURSE there are so many other things to consider. But these are the things that I did and enjoyed and that I wanted to share with you for this guide. In regards to vegan food, as I said previously, there was more vegan food in this city than anywhere I have ever been.
I also think because it's not that spread out, it was easy for me to bebop around and try lots of things. (Unlike LA which probably does have more vegan food comparatively but it's such a trek sometimes it can make it difficult to try everything).
In Austin, I felt like I was on a fun scavenger hunt every day to find delicious vegan food and I usually didn't have to drive more than 15-20 minutes (and often times less) from one place to the other. And even though I tried my best to eat at as many places as possible, there were still dozens of other places to try that I probably would have loved as well!
Now I know that most of you are probably only here for the vegan food but before we dive into that, I wanted to provide a few additional recommendations of things that were special to me. (If you are looking for only food, keep scrolling- it's all at the bottom.)
This quaint hotel tucked in the heart of Austin is a fantastic place to stay if you are visiting. I was in Austin for almost two weeks so I ended up staying at an Airbnb most of my time, but for the first few nights, I stayed here. It was just lovely. The staff was friendly and attentive, the lobby sells divine incense and serves coffee in the mornings, parking is included (which can be quite tricky in this busy location), and you are literally steps away from dozens of fabulous restaurants and some excellent shopping. Overall the energy and vibe of Hotel San Jose is what makes it most special.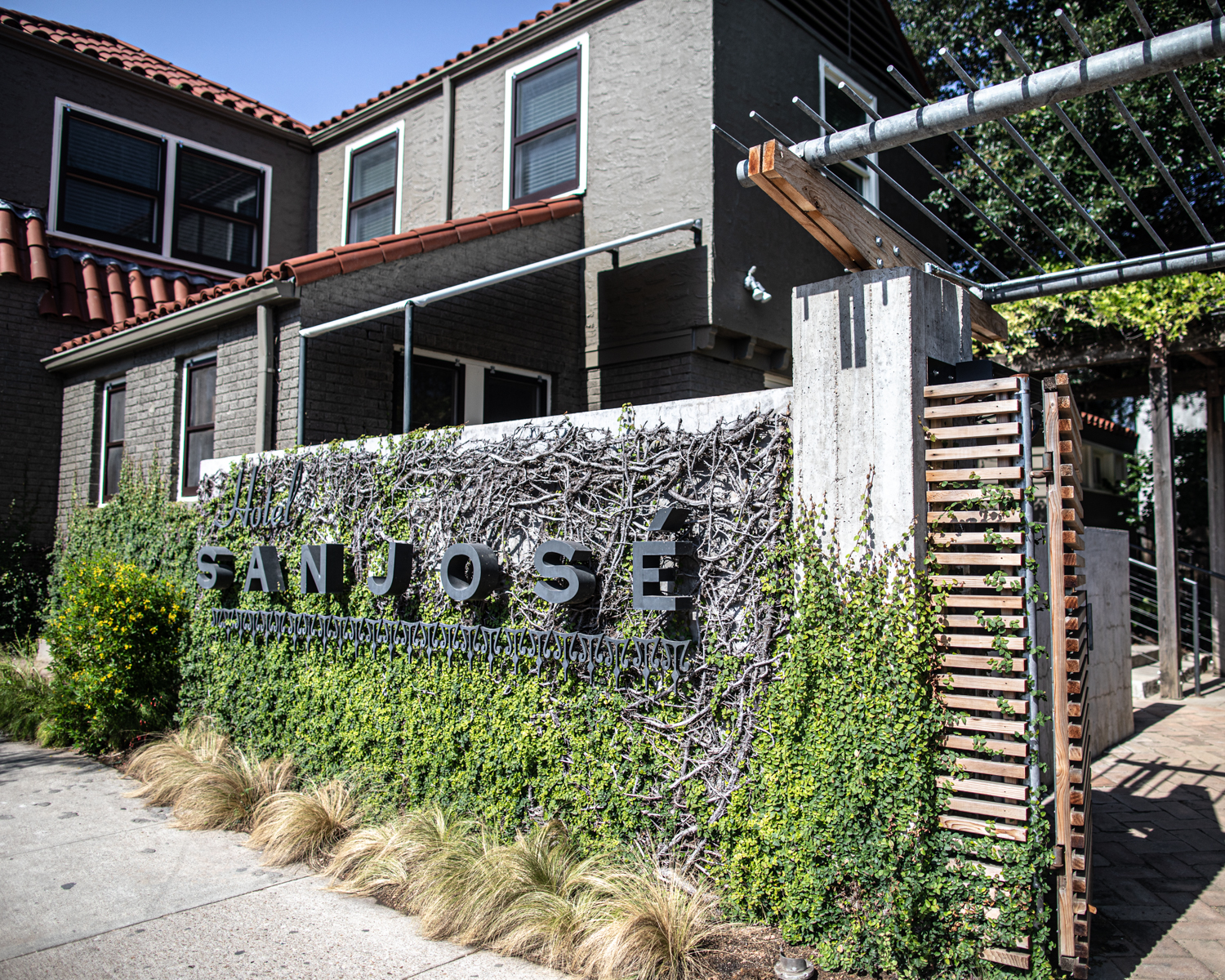 There's an incredibly cute pool in addition to plenty of areas to sit and relax. The rooms are set up more like a motel as you access all of them from the outside but it feels very much like a hotel when you are there, trust me. Each room has little areas where you can lounge about and the showers are stocked with fabulous bath products. The mini-fridges are also very tempting with plenty of delightful locally made beverages and fun snacks. The rates here can be quite high, especially if you are going at a busy time, so it might be a splurge but it's totally worth it. 100% recommend!
On a more personal note, when I told the staff that I was a NOLA evacuee from the storm, they comped my room for 3 nights (in addition to other guests who evacuated). They did not know that I was an influencer/blogger and they certainly did not know that I was doing a vegan guide to Austin (heck, at that point I didn't even know). It was honestly an incredibly stressful time as no one knew what was going to happen with hurricane Ida and the fact that they were so lovely and generous was touching to say the least. Anyways, just thought I'd mention that because it seems as though the owners' hearts are in the right place which is good to know!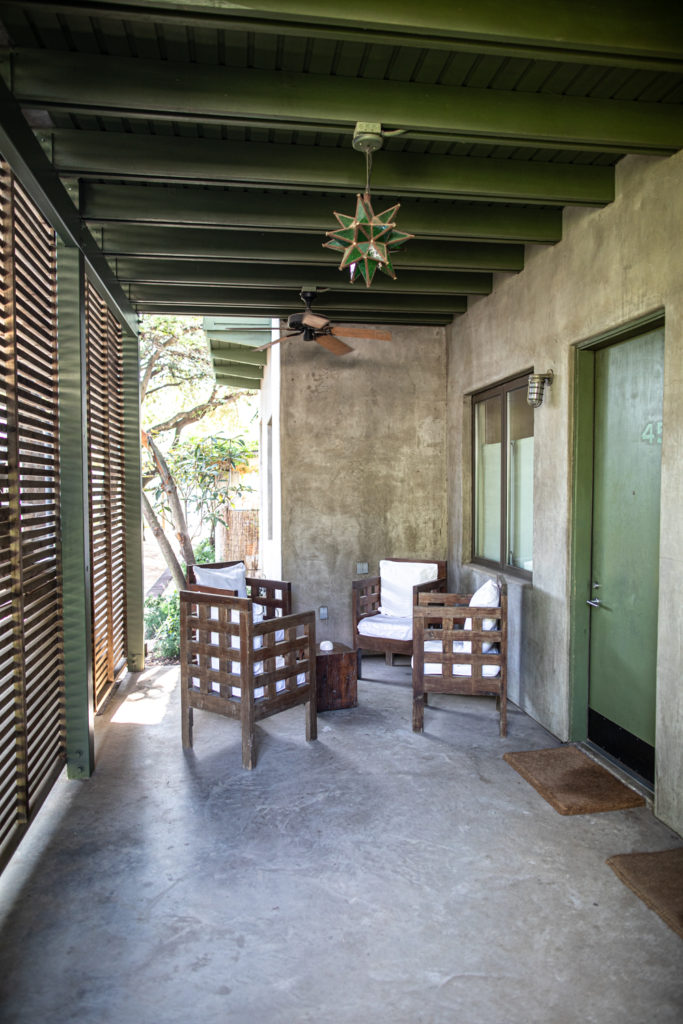 Barton Springs might just be the #1 reason why Austin,TX is so damn special. Sure there are countless restaurants to eat at, lots of fun shopping, live music and events, but Barton Springs? Well, it's just pure magic. Granted, this is coming from someone who was visiting during the HOTTEST time of the year.
The fact that I was able to go to a gorgeous pool that is filled with natural spring water that is crisp, cool, and incredibly refreshing was one of the most satisfying experiences of my life. And let me tell you, you don't know heat until you experience Texas heat. That place has got to be closer to the sun! Even for me, someone who grew up in the deep south and currently living in New Orleans- Austin was probably the hottest place I have ever been. But you see, this is precisely my point- if you are visiting when it's hot- you go to Barton Springs. It's just what you do. A true gift from nature.
My advice to anyone visiting would be to stay away from going on the weekends as it can be super busy and crowded (yes, there will be a line). I recommend going during the week, ideally on a Monday, Tuesday, or Wednesday (as long as it's not a holiday!) as it will be less busy. Also, heads up- this is an all natural pool. There is algae, salamanders, and fish living in the water. They are also very strict about not bringing in any food or drinks- only water (and no glass!). Side note: their website says the cold spring is 68-70 degrees but it felt colder to me… closer to like 65 in my opinion. Anyways, this place is a 100% must go, even if it's cooler.
Lady Bird Johnson Wildflower Center
Are you interested in pretty flowers? Do you like butterflies? Do you enjoy walking around in beautiful open spaces with plenty of fresh air, sunshine, and gorgeous plants? Then this might just be the place for you. As you could probably guess, it was my dream come true.
Not only is this place an incredible destination to view and learn about native wildflowers, they also have a very large assortment of native butterfly host plants. So if you go during the warmer months, plan to be greeted by lots and lots of butterflies! (Y'all know this is what makes me most happy!) Here's an assortment of pictures that I took while walking around this gorgeous place.
In regards to visiting, I would recommend going in the Spring, Summer, and Fall as this is the time when there is the most flowers blooming and wildlife activity. I do think it could be pretty in the winter but you probably won't see as many flowers and you definitely won't see any butterflies. Either way, this is a lovely place to support and visit.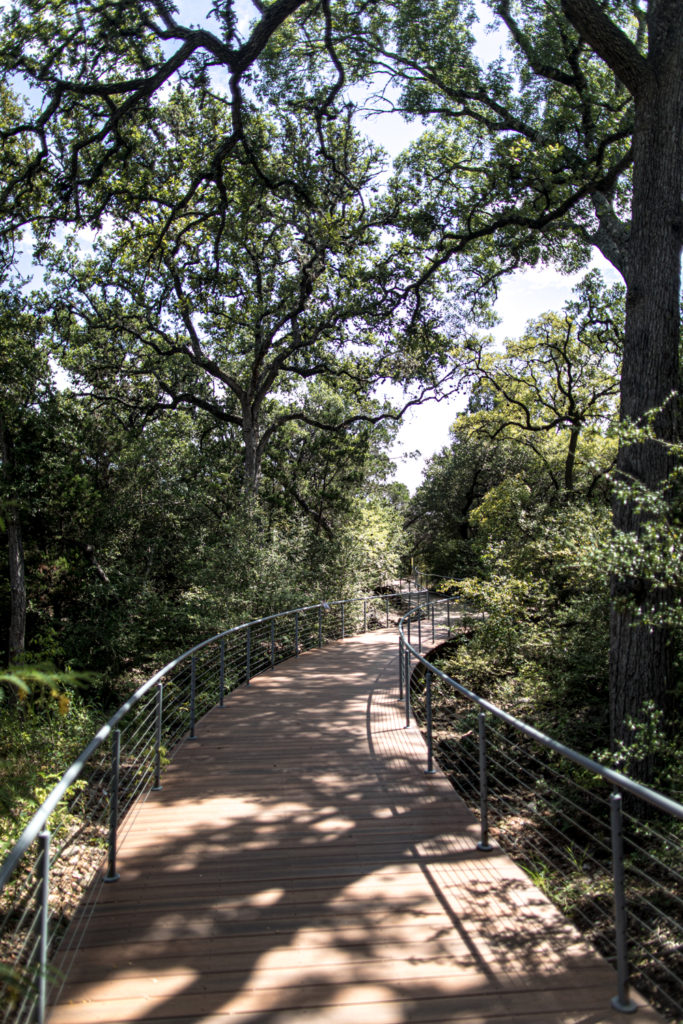 Where to eat? Here are my top vegan picks in Austin!
Brunch Bird is a super cute, counter service breakfast spot that is perfect for ordering sandwiches on the go! There is room to eat there but I would definitely recommend grabbing these sandwiches to be enjoyed outside somewhere for a picnic or if you are planning to drive somewhere (like Lady Bird Johnson Wildflower Center).
The whole menu is vegan and their sandwiches SLAP. For many of their breakfast items they use JUST Egg and let me tell you- they do it right! It's fluffy and folded just like I remember from McDonalds. It looks as though they have expanded their menu since I was last there, which is exciting, and they have great hours as they are open most of the day. I went in the late morning but I could totally see myself going for a late night snack as well. Such a must mention on this Vegan Guide to Austin.
When I first went to this restaurant, I almost started to cry. I know, it sounds dramatic but it's true. The reason for this is because it reminds me so much of one of my favorite restaurants in NYC, Angelica Kitchen. Sadly, AK closed its doors after serving organic, fresh, and wholesome food to the city for over 40 years.
They were known for their 'Dragon Bowls', a macrobiotic style plate of food. They also had seasonal soups and delicious daily specials. Casa de Luz is very similar in fashion. But instead of offering a large menu, they offer only a set daily menu. (Breakfast is slightly different and then it switches over to the lunch/dinner menu). Everything is gluten free and they use only organic and simple ingredients- no processed foods, no sugar, no oil. Just whole food, plant-based ingredients. After you order, they plate the food right in front of you, cafeteria style, and you can help yourself to water, tea, napkins, and cutlery. (They also have desserts available as additional add-ons!)
On the tables you will find gomasio (a blend of sesame seeds and sea salt) and tamari for drizzling. The also have kukicha tea (made from twigs!) which is a classic beverage served with macrobiotic food as it's supposed to help aid in the digestion of grains and beans. I will say that the meals here are not seasoned heavily (which I quite like) and you will leave feeling light and refreshed. This isn't heavy comfort food y'all- this is high vibrations eats, you feel? I would definitely recommend going there for breakfast or lunch, especially if you are going to Barton Springs which is very close by. Please note that they have a very large and gorgeous outdoor seating area. (I personally ate there 4 times during my visit and if I lived in Austin, I would eat there 2-3 a week. No joke.)
If you tell anyone that you are going to Austin, they will most likely bring up Veracruz. So this is a given on my vegan guide to Austin. They have a few locations and when I went by they were super busy with a long line. The location I went to was counter service where they give you a number. This restaurant is not completely vegan but they do have a few different options. I ordered the two different vegan tacos they had on the menu. They are very satisfying with perfect seasoning. My recommendation to you is to go during an off-time (mid afternoon?) so you don't have to wait in line. That would be ideal.
This place is pretty incredible. When you walk in, you are met with a wall of really cool, fancy vegan products. Think sauces, crackers, cookies, and candy. Then you will find a very large glass case offering a HUGE selection of plant-based cheeses! Like, wHa!? It literally looks like a fancy cheese shop and that's because, well, it is! I didn't get to try too many of their cheeses but I do remember the truffle one being delicious.
They also offer vegan deli meats. They use them for their menu items, in addition to their cheeses. I went during weekend brunch which was a bit chaotic. Personally, I really wanted to try the breakfast sandwiches which they only offer at that time. I don't regret my decision. My advice to you would be to go during the week and later in the day. In the evening, you can try some cheese and have a glass of wine without too much hustle and bustle.
I stumbled into this restaurant one night when I was staying at Hotel San Jose. It was very busy but the host was friendly. Since I was by myself, she found me a spot at the bar pretty quickly. I was greeted with a big basket of chips with a multitude of different salsas so I was immediately happy. I then noticed they had a dedicated vegan menu and I squealed with delight! Are you starting to understand why I love Austin so much? Everything I ordered was delicious. They have items like chalupas, enchiladas, tacos, and much more. If going with a group on a busy night, I would definitely recommend making a reservation if you can.
This food truck was one of my first experiences in Austin and I wasn't disappointed. The main thing that stuck out to me (and I still remember vividly) is asking which menu items were vegan. The employee told me that everything on the menu could be vegan by pressing a button. I looked at him in disbelief. 'You mean I can order biscuits with gravy, cheese, bacon, sausage, butter, and add on scramble and potatoes and it's completely vegan?' He said yes, I had a meltdown and then I ordered. Once again, this is a food truck so you have to sit outside at their picnic tables or take it to go.
So this is an outdoor food court with only vegan food trucks. What do we call this- food truck food court? I didn't get to try everything because I was on a mission to try the taco truck. I had a lot of people recommend this place in particular. Admittedly, I went twice. Once at night for nachos and then earlier in the day another time for the breakfast tacos, because duh. (I don't usually find myself in the position to be able to order vegan breakfast tacos, do you? Didn't think so.)
Here are some of the tacos I took a photo of while dining at one of their picnic tables. I also highly recommend the nachos- they were bomb. The cheese sauce they use was especially memorable. Heads up, this is all outdoor seating area. So you might want to plan on eating it elsewhere if the weather is acting up. As I mentioned before, there are other vegan food trucks in the same location so go hungry!
The picture below is Antigonon leptopus, commonly called coral vine, and it's native to Mexico. If you visit Austin (especially in the summer), you will see these hot pink flowers growing all over the city. The bees absolutely LOVE them. I'm contemplating growing some in my garden but I will definitely keep it in a pot as it is an aggressive grower (as you can see!).
This is not a fully vegan restaurant but they have a very large vegan selection of classic Thai dishes. I got the fried mushrooms, green curry, and coconut soup with tempeh and I was happy. I'm also pretty upset because I found out that this restaurant carries some amazing vegan ice cream options that I didn't get to try. But I heard they were really good so don't sleep on that if you go!
When I was there, the inside was closed to the public but there are tables outside. You order everything on your phone and they will serve it to you with a number. Or they will drop the bag off on a chair in front of your car if you are getting it to go. (This may change so just check their website when you are visiting.) Lots of fun menu items to try!
This was another spot that came up dozens and dozens of times when I asked for vegan recs in Austin. I think that is because A) they have some delicious food. B) They are an OG veggie spot in Austin. They've been there for a minute! I went one day for breakfast and it was lovely. I also ordered this broccoli and tofu salad another day and it was very satisfying. Everything is seasoned well and they have lots of fun options. Do note, this place is vegetarian, not vegan, so just tell your server and they will guide you accordingly. When I was there, you had to order everything through their website. They would bring it to your car but it looks like from their website that they have limited indoor dining now.
There are multiple locations of this popular ramen spot which has a fabulous vegan option with some very cool add-ons. It is a soy and mushroom broth, tofu, brussels sprouts, corn, menma, woodear mushroom, and greens. They also have a yuzu kosho bomb that is Japanese citrus, serrano and jalapeno peppers, and garlic. Uhhh, yes please! This place was quite busy with indoor and outdoor seating. The kitchen was fast in serving and I gobbled it up quickly as well. As a vegan, having a ramen option is hard to come by. So for the sheer fact that they have this option is reason enough to go, in my opinion.
This delicious food truck is tucked away in a quiet little spot. There are good amount of parking and plenty of space with some picnic tables. I went there for the corn dogs (everything is vegan BTW) and came back a second time for their pancake dog! Please read carefully: hand-dipped breakfast sausage in a house-made pancake batter topped with maple-butter syrup and powdered sugar served with a hash brown. Are you kidding me!? It has it all people!
I can honestly say that I haven't had a pancake dog since I was literally 12. They would actually serve them for breakfast at my elementary school (but not all the time so it was even special then). Little did I know that I would have to wait 2 decades to try them again. Anyways, yes this food truck has many delicious corndogs as well. Yes they have fully loaded waffle fries. And yes you should go there. I went 2x and I'll go back!
Ok, this one might be a bit of a reach because it is a French restaurant. Which means there is basically no vegan options on the menu. BUT… it's super duper cute and they have some incredible french fries (which are vegan- I checked!). They also have delicious cocktails. Plus it's open late and they have some fabulous outdoor seating.
My friends and I went after having dinner somewhere else and we enjoyed some cocktails (and the aforementioned fries) and we had a lovely time! If you are looking for a place to have a romantic night cap, this would be a good option. Do note, I did ask one server if they had anything else vegan on the menu. He seemed to think the ratatouille was but I would double check before ordering. (Sometimes I think it's good to check with a few different staff members if something is vegan because the answer isn't always the same- especially at non-vegan restaurants…ya know what I mean?)
Ok y'all. Now it's time to talk about my favorite restaurant in Austin. Uchi. Please note that there is a sister restaurant called Uchiko that I did not go to If I had to guess it's probably amazing because it's related to Uchi. So let's begin. If there was one type of food I could eat every day (aside from bread and potatoes…) it would be Uchi. They transform vegetables and mushrooms into gustatory delights. Everything is seasoned perfectly and prepped with care. The execution is memorable and the flavors are exceptional. (For those of you who have ever been to Vedge in Philly- very much that!)
I mean, just take a look at some of the amazing creations down below. They seriously do not hold back on flavor and, texturally, all of the dishes are interesting and fun. What I also love is how refreshing everything tastes. From appetizers to dessert, this place is a 10/10. Heads up- they are BUSY and you definitely need a reservation well in advance. I was lucky enough to be a walk-in earlier in the night. If you are planning a trip to Austin, I would book your reservation as soon as you know your trip dates. It is expensive but you could totally go in for 2-3 appetizers without spending too much. I did go one night with 2 friends and we ordered 1 of every vegan offering on the menu. It was spectacular and I would do it again in a heartbeat.
These little hand held lettuce bites were so utterly delicious and fun to eat! And the mushroom rice dish you see below was also particularly outstanding. It was served in a PIPING hot vessel that made the rice super crispy. Everything was seasoned beautifully and texturally the dish was just fantastic. Once again, this is the kind of food I could eat every damn day.
They offer a seasonal menu that changes often. I can't promise that they will have any of the dishes you see here but that's part of the fun! I also find it quite impressive when a kitchen can change things up to align with what's in season. Do note, this is not a full vegan restaurant but they do have a separate vegetarian menu. Most of these items can be made vegan. Also, the servers are very helpful and knowledgable. Just let them know you are vegan (if you are) and they will take great care of you.
Can you believe I took these shots as I was eating them? It almost looks like I had a full on photoshoot with the chefs. In actuality, I was sitting outside and the table happened to be the perfect background. The fact that everything is styled so beautifully during a busy service is telling of how exceptional the kitchen staff is. 10 out of 10 people.
Well there you have it folks! My guide to Austin, TX! I hope that you can gather from this blog post just how much I love this city. I'm definitely looking forward to going back very soon (luckily, New Orleans is not that far away!). I hope that you have enjoyed this guide and that you try out some of the spots. Please let me know if you do in the comments below. Thank you for being here and I'll talk to you soon!
Timothy