Today I am sharing with all of you a fabulous new one-pot meal idea straight from my kitchen to yours! My Pumpkin Sausage Pasta Bake! This super easy recipe checks off all of the boxes we are currently wanting to hit: cozy, warm, and fall vibes. Cheesy pasta is infused with pumpkin and sage, mixed with loads of garlic and herbs, and topped with crispy onions, breadcrumbs, and sausage bits. Basically, this one-pot wonder screams comfort and I am so excited for you to make it.
Let's talk ingredients!
Here is an overview of the ingredients you will need. I love using Field Roast Italian Sausage for this as the texture and flavor work beautifully. Feel free to use whatever vegan sausage you have on hand or like best. We will be putting sausage in AND on top. For the cheese, I love Field Roast's Chao Cheese, as well. I would without a doubt recommend using their Creamy Original slices (or the shreds) as the flavor is mild and buttery. You could also use any vegan cheese you love- but aim for one that you know melts really well. The cheese will be mixed with pumpkin puree, sautéed onions and garlic, herbs and spices, and a good amount of creamy oat milk to create a beautifully rich and savory sauce for the pasta to absorb.
All about the pasta
How absolutely adorable is this pumpkin pasta? It's organic, colored with veggies, and of course shaped like pumpkins! I thought it would be perfect for this recipe but please use whatever pasta you like. Ideally the shape should be bite-sized and hollow inside (for that lovely texture and to absorb the sauce!) so I would recommend penne, macaroni, rigatoni, or cavatappi. I wouldn't recommend using long noodles for this but I can't really tell you what to do so…
In this case, fresh sage is a must for this recipe. We will be putting some in and on top of the pasta. We will also be using dried sage, in addition to dried thyme and oregano, as well. I really wouldn't skip the fresh sage because it offers a more intense hit of flavor. And as you probably already know, sage is a classic pairing with pumpkin. They work famously well together and have never had any drama.
After the oat milk and water is added to the pot, the cheese is thrown in and mixed well. It doesn't have to melt entirely because it will bake with the pasta before the final topping bake. At that time the cheese will be really ooey gooey and easy to mix in with the pasta. The texture will be creamy and velvety.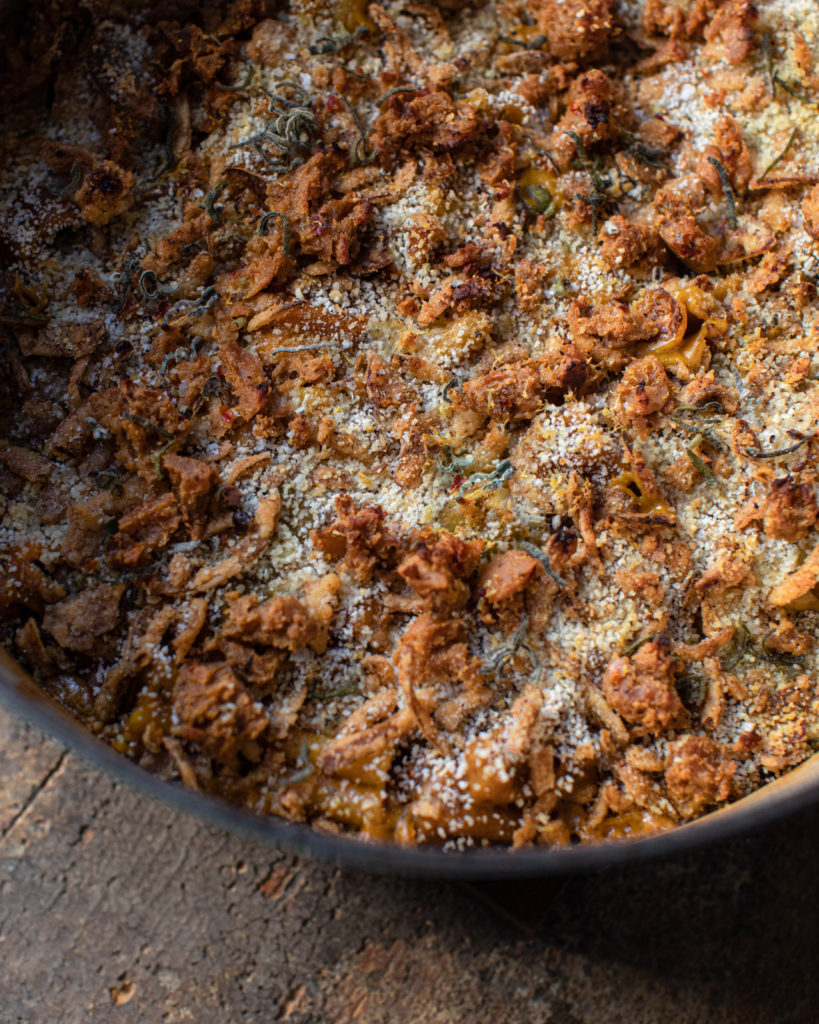 Lets top off this Pumpkin Sausage Bake
As for the topping? Well, y'all know I like to show off sometimes. Here we have crispy onions, breadcrumbs, fresh sage leaves sliced thinly, lemon zest in addition to lemon juice for a pop of brightness, and a drizzling of olive oil. To turn up the volume all the way, I finally add some crumbled sausage to the top as well. Bake it until everything gets crispy and utterly delicious. Just look at that pot of goodness! Don't you want to dive in?
So, I hope that you enjoy this Pumpkin Sausage Pasta Bake, y'all! Fall is such a magical time of year and I think this dish will make you very happy. Please let me know if you have any questions (or if you make it!) in the comments below. Happy cooking.
Timothy
Ingredients
1 onion, diced
4 tablespoons olive oil
4 Field Roast Italian Sausage links, 1 reserved for topping
2 tablespoons white vinegar
½ cup nutritional yeast
1 teaspoon dried thyme
1 teaspoon dried oregano
1 teaspoon dried sage
1 teaspoon garlic powder
1 teaspoon red pepper flakes
1 ½ teaspoons salt
½ teaspoon black pepper
4 fresh sage leaves, chopped
3 garlic cloves, minced
1 (15 oz) can pumpkin
1 tablespoon mustard
1 tablespoon miso
1 teaspoon veggie broth concentrate
4 cups oat milk
1 cup water
1 pound pasta
1 block Chao Creamy Original Slices or 7 ounces desired vegan cheese, chopped

Topping

½ cup bread crumbs, plain or Italian
3.5 oz crispy onions
1 tablespoon fresh sage leaves, thinly sliced
1 teaspoon lemon zest
2 teaspoons lemon juice
1 link Field Roast sausage, crumbled
Drizzle olive oil
Instructions
1.  Preheat oven to 350 degrees F.

2. In a large dutch oven, sauté onions over medium-high heat with a drizzle of olive oil. Add a bit of salt and pepper and cook, stirring every so often, for about 6-8 minutes or until translucent. Crumble in 3 Field Roast sausage links (or desired sausage) with the onions. (Reserve one link/some of the sausage to crumble on top!) Cook for about 10 minutes or until crispy around the edges, stirring every so often. Use a big splash of white vinegar to deglaze the bottom of the pot, about 2 tablespoons, and mix well.

3. Toss in the nutritional yeast, thyme, oregano, sage (fresh and dried), garlic powder, red pepper flakes, salt + pepper, and garlic. Mix well and cook for a few minutes. Once everything is toasted, add in the pumpkin, mustard, miso, and veggie broth concentrate. Mix well and pour in the oat milk, water, and cheese. Continue to mix and cook for a minute or two. Throw in the pasta and mix well. Place the lid tightly on top and bake for 30 minutes.

3. Take out of the oven, remove the lid, mix well, and add all of the topping ingredients evenly. Place back into the oven, uncovered, for 10-15 minutes, until crispy and browned and the pasta is fully cooked. (This may take longer depending on your oven.) Enjoy!
notes
If you don't have a dutch oven or baking dish with a lid, you can use a double layer of foil wrapped tightly on top.

This recipe stores well in the fridge. When reheating, you may need to add a splash of oat milk and water to get things moist and creamy again.

For a cute dinner party idea, you could follow this recipe up until the first bake. Then divide the cooked pasta into individual ramekins or mini-cast iron skillets. Add the topping mixture and bake off when ready to serve! That way no one has to fight over the topping.