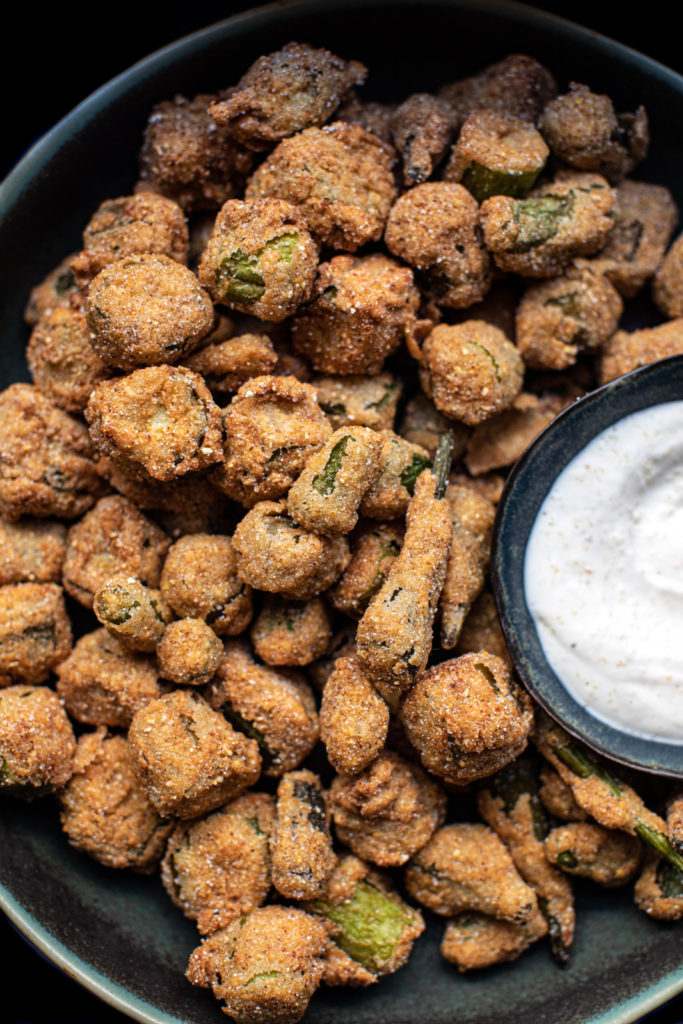 Welcome to the world of vegan fried okra! This is one of my all-time favorite recipes because I grew up eating it as a young southern boy. In fact, okra is one of the first foods I remember smelling and being cooked. This was happening by a little old lady who would babysit me from time to time. I remember staring up at Mrs. LaCuesta as she was hovering over a cast iron skillet with okra sizzling away. It's funny how certain things stick out in your brain, wouldn't you say?
I also remember going to restaurants with baskets of roasted and salted peanuts on the table. One of the appetizers you would often find was fried okra and my family always ordered it. It wasn't until I was an adult living in NYC that I realized, most people didn't grow up eating fried okra and it was quite rare to find outside of the south!
Traditionally, eggs and milk are often used in fried okra recipes which is quite frustrating but instead of complaining, I have taken matters into my own hand and created my very own recipe for the world to have. And because I am super sweet and want to include everyone in on the fun, this recipe is also gluten free and nut free! All you really need to do is get your hands on some fresh okra and you are ready to rock 'n roll. The results are succulent and tender morsels of okra covered in a savory cornmeal coating and fried until crispy and golden brown. Uh! Delicious. If you have never had okra or maybe you are just skeptical because you heard it's slimy- this would be the perfect introduction to this amazing vegetable.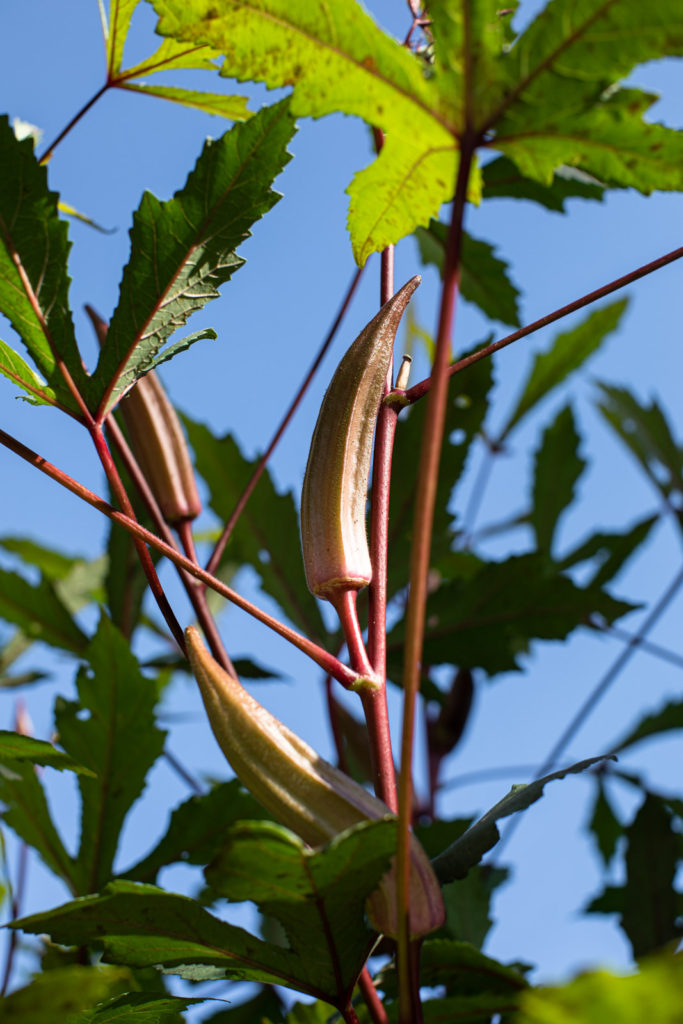 Fun fact: I love okra so much that I have been growing it for the past 3 years in my garden! The second I moved away from NYC to write my cookbook, I moved to a lovely house in Jackson, MS that I was renting. You best believe that I had okra growing in the back AND the front yard (it's actually quite easy to grow). My landlord did not like this because he thought it looked silly. But I didn't care. I was eating fresh okra and he wasn't- so who's silly now?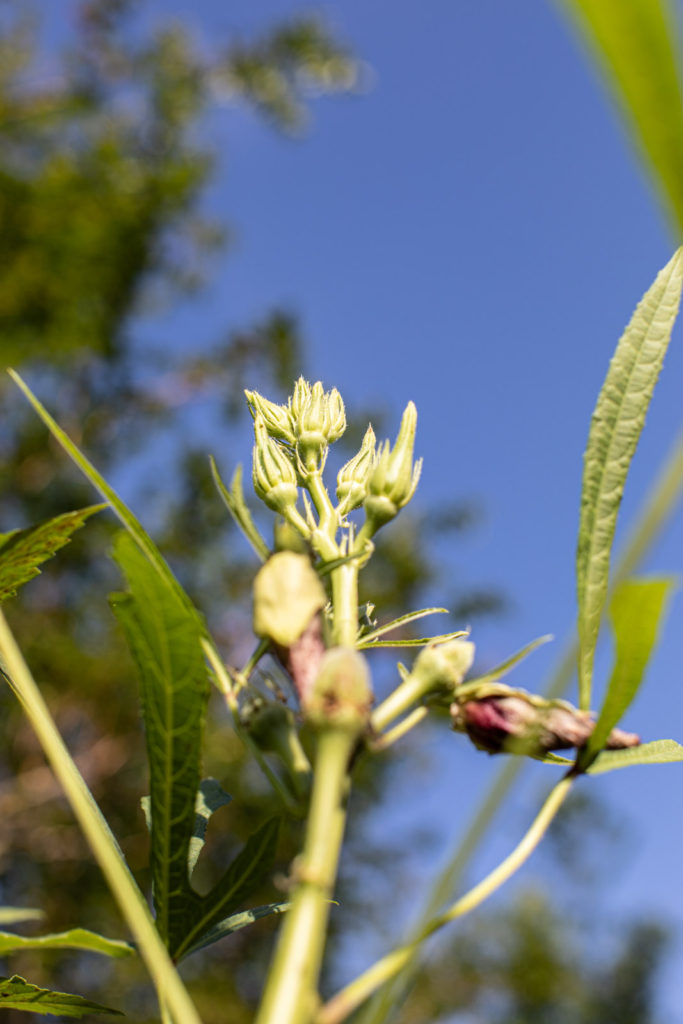 Now that I have my very own home and garden, I have over a dozen heirloom okra plants growing wild and free. I eat the pods as often as I can. I honestly find great comfort in having these beautiful plants towering tall with butterflies circling about.
What I find most interesting is that even though okra is not native to the south. It was brought here during the slave trade. There are many native wild hibiscus that grow in the South that look very similar to the okra plant. This is because they are related! And because okra is native to Africa, it loves heat which is why is grows so well in the South.
If you are a new gardener, I definitely recommend trying to grow some as it's super easy to sprout. It doesn't need much attention, and it's a prolific producer. The best tip I can give you is to harvest often and when the pods are young and tender. The pods grow very quickly so you should watch them like a hawk.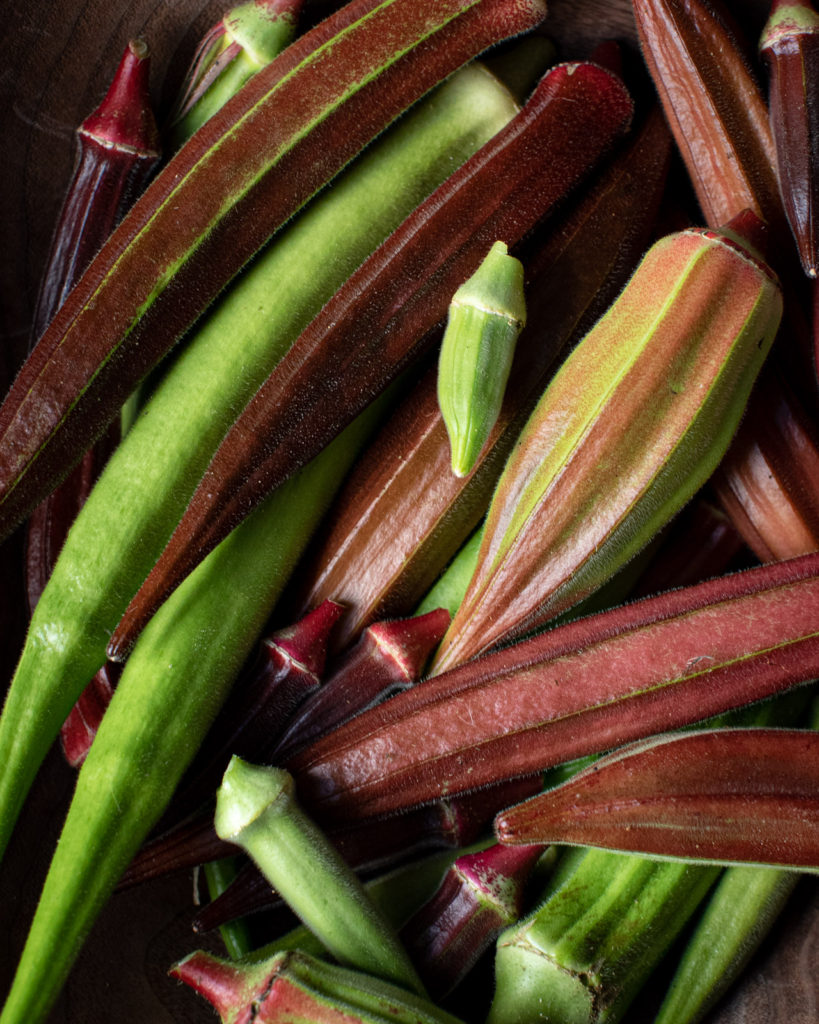 Look at these beautiful pods! These were picked fresh and I gave them a quick rinse. When you slice them open, you will notice that they are full of plump seeds (don't worry, they are tender and delicious). You will also notice a bit of a slimy texture. I know that this might be game over for some of you (not to fret, you could apply this method/recipe to any vegetable really! Squash or zucchini would be fantastic) but the reality is- okra is slimy and that's ok! I don't mind it all. In fact, it's good for you and your digestion.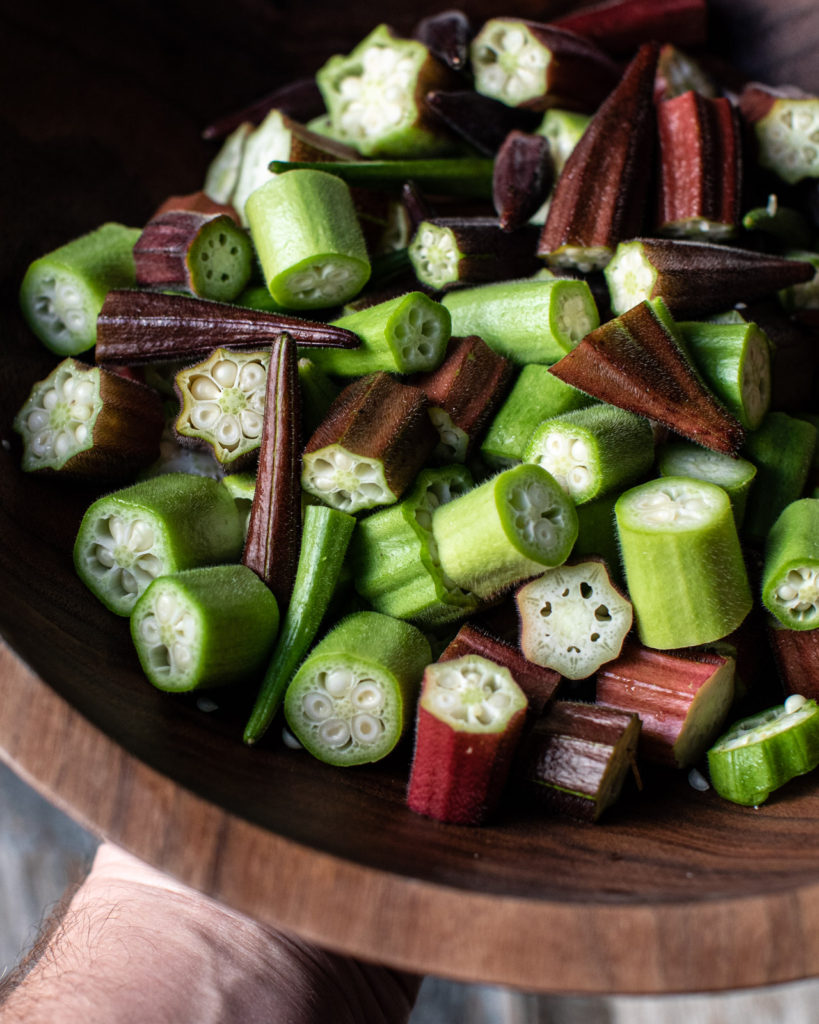 Do note that if the pods get too big, they will become fibrous and hard to cut. You should not use these (simply compost them). The rule of thumb should be if the knife cuts through easily, you are good to go. When you have fresh okra like this, you can eat it raw or sauté it in a hot skillet with some oil. It's a true delicacy in my opinion.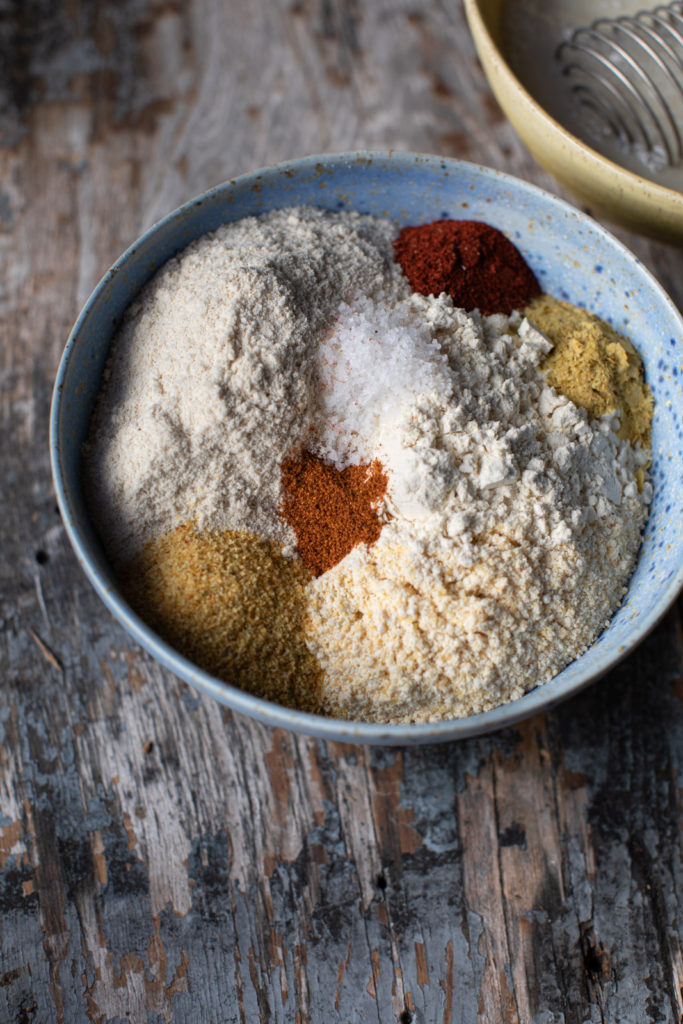 As for the batter, a few notes. For the dry ingredients, I wanted to make this recipe gluten free. Because I am already using corn meal and sorghum flour, I thought why not just use an all purpose GF flour blend to finish it off? (You could use regular flour if that's all you have.) The base of the dry ingredients is simply equal parts of all three flours with some spices. It works so well, you can't even tell that it's gluten free. The cornmeal and sorghum flour creates a beautiful crispy and crunchy texture. For flavor, I like to add some garlic powder, cayenne pepper, and nutritional yeast.
As for the wet ingredients, my secret weapon is pickle juice. (I also like to add some pickled jalapeño brine as well but that is optional if you don't have it or if you don't like spicy.) My milk of choice is oat milk because I think it tastes the best. You could use whatever plant milk you like as long as it is plain and unflavored.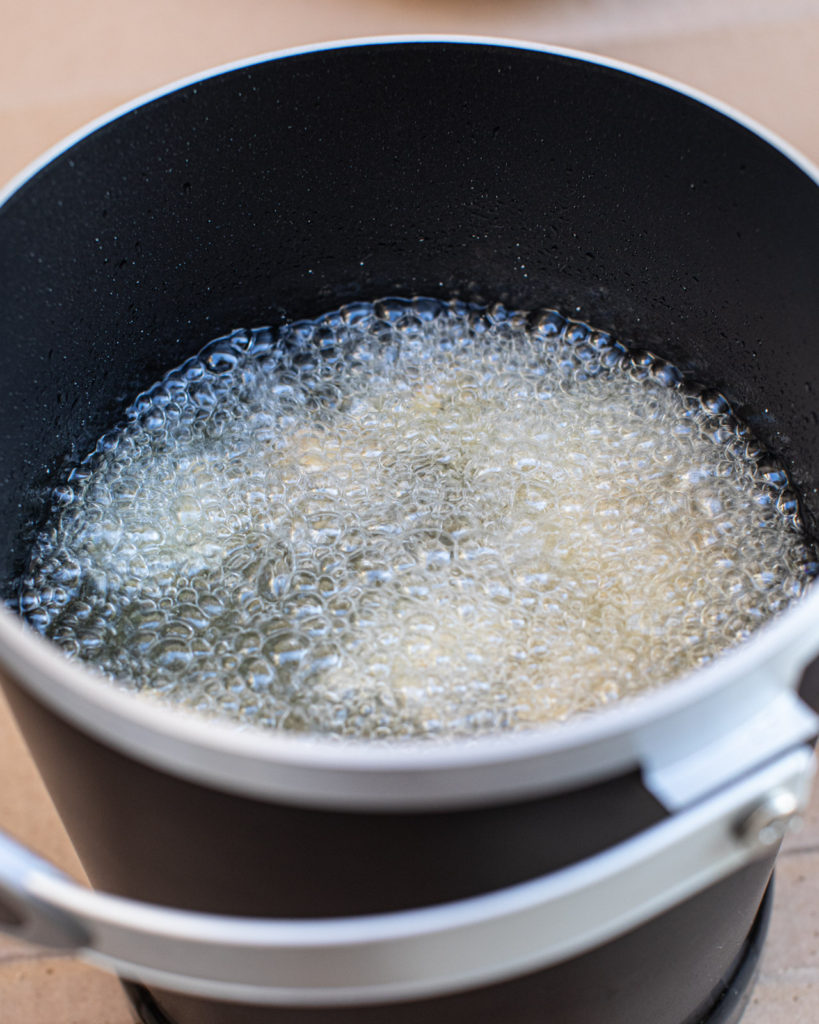 Let's get this okra fried
Now I know that frying things can be intimidating. Hot oil is a little scary, it creates a big ole mess, and it can really stink up your house. All of this is very true. The way that I make it more approachable and easier is by these two tricks:
1. I use a FryDaddy *OUTSIDE*. This way you don't have to use a pot inside which will stink up the house and create a mess in your kitchen. Another great thing about a FryDaddy is it is quite small so you only need 4 cups of oil to fry a big batch of okra. You could even fry more things if you'd like.

2. I like to lay cardboard down wherever I am setting up the FryDaddy. The truth is the oil will splatter and get everywhere, as hard as you try, it's just a part of deep frying. I like to lay down enough cardboard to cover a 3′ x 3′ area and I also place the serving platter lined with paper towels right next to the fryer. When you are done, you can compost or throw away the cardboard.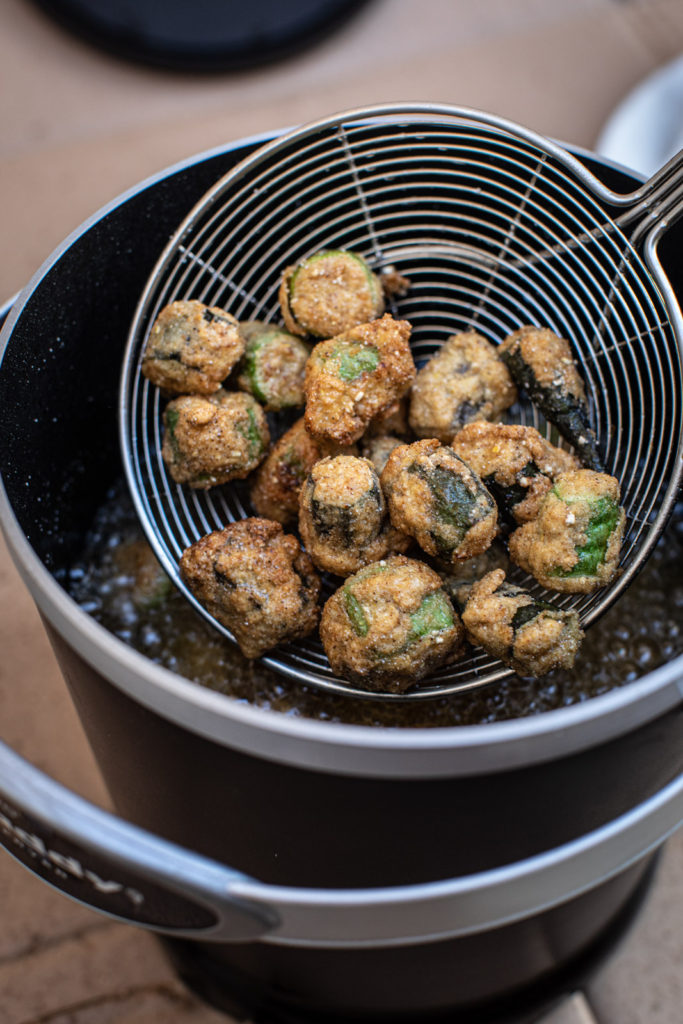 One tool that I find essential with frying is a metal slotted spoon or a spider strainer. This allows you to gently add the okra to the hot oil, move it around while it's frying so it doesn't stick and to retrieve the crispy okra once done frying. I like to have a serving platter lined with paper towels right next to the fryer and as soon as the okra comes out, sprinkle it with a good amount of sea salt. There is already some salt and pickle juice in the batter, but it's nice to add some when it's still piping hot. This should be done to taste. More pepper is always welcome.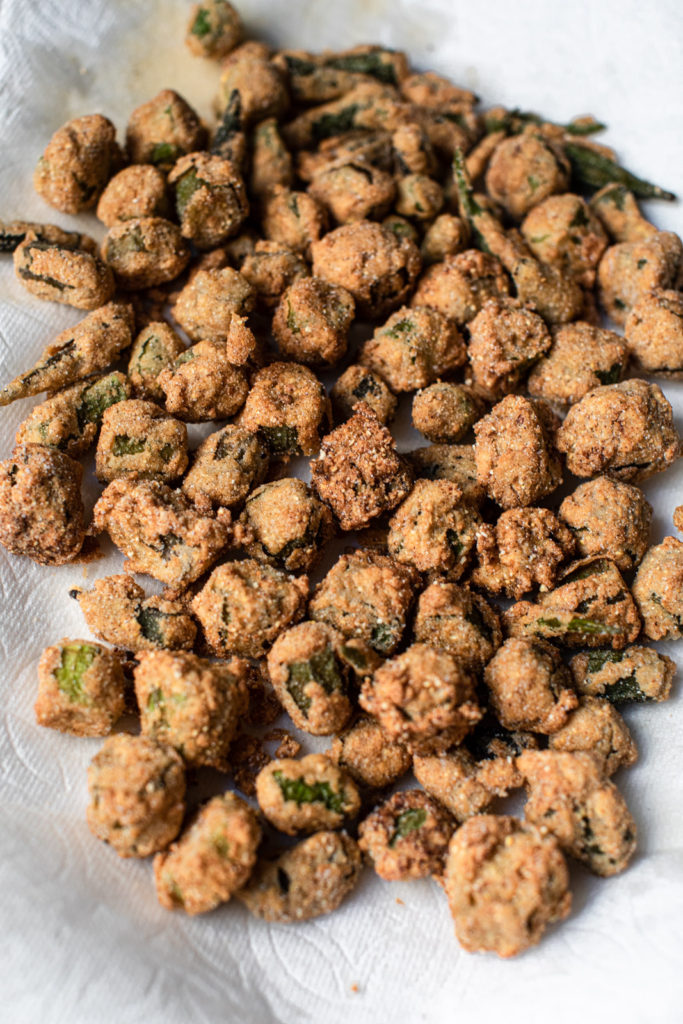 As for the dipping sauce, you have a few options. You could simply serve it alone with nothing (I do this often). You could also mix up some ketchup and sriracha for a spicy little dip. Or, a personal fave, you could make a little garlic aioli which is just vegan mayo mixed with garlic powder, lemon juice, and salt and pepper. Of course, if you had any roasted garlic cloves lying around, that would be a fabulous addition. Overall, I like to let the fried okra shine. The sauce should be an extra little kiss for the recipe, ya know?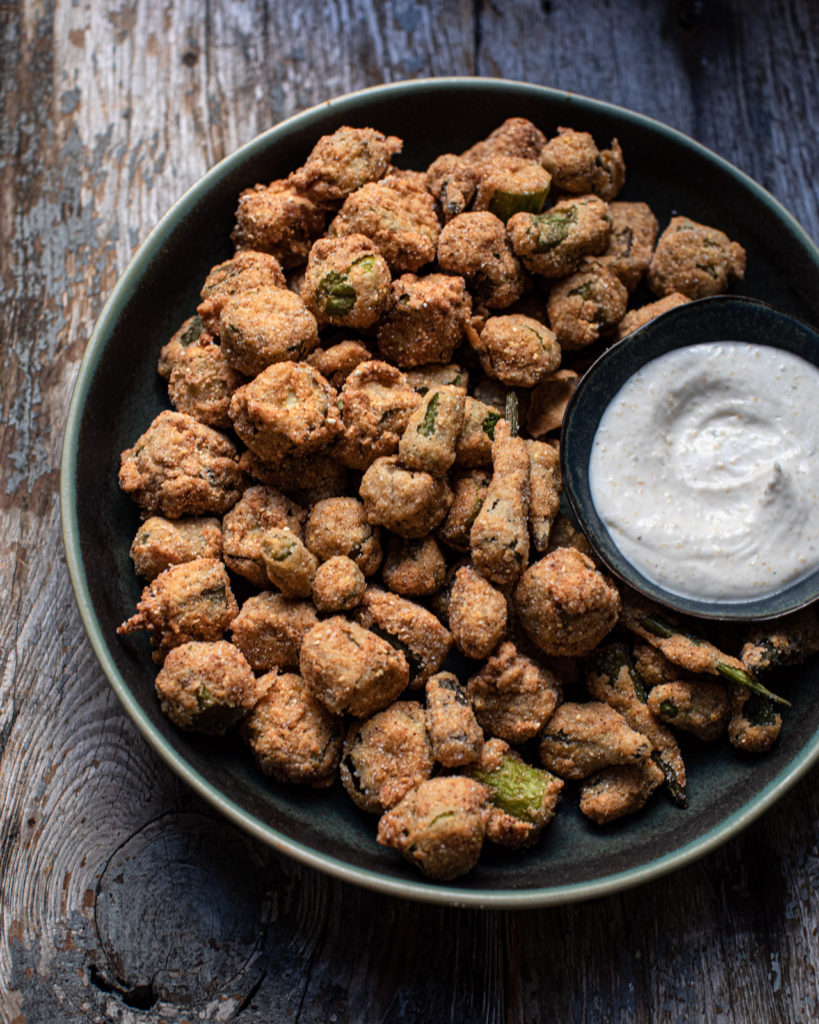 Let's dig in!
And there we have it! A gorgeous plate of piping hot fried okra. What a beautiful thing. I hope that you enjoy this very special recipe. Please let me know if you have any questions or comments below. And if you make it, please take a picture and tag me on the gram. I'd love to see it! Happy cooking, y'all.
Timothy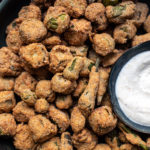 Ingredients
1 pound fresh okra, cut into ½ inch pieces (tops removed)
4 cups sunflower oil (or any other high heat oil like avocado, peanut, or safflower)

Dry ingredients

1 cup cornmeal
1 cup sweet rice sorghum flour 
1 cup all purpose gluten free flour
3 teaspoons garlic powder
2 teaspoons paprika
½-1 teaspoon cayenne
2 teaspoons sea salt
½ teaspoon black pepper
1 teaspoon nutritional yeast

Wet ingredients

1 cup full-fat oat milk
2 tablespoons rice vinegar
½ cup pickle juice
¼ cup jalapeño pickle brine (optional)
3 tablespoons gluten free flour

Garlic Aioli

4 tablespoons vegan mayonnaise
1 teaspoon garlic powder
2-3 cloves minced garlic, sautéed
1 tablespoon lemon juice
Salt and pepper, to taste
Instructions
1. Get your Frydaddy or small pot with oil ready to go. For the Frydaddy, simply turn on and it will heat. If using a stovetop, add oil and bring the heat to medium high. The goal is to get the oil around 350 degrees F. You can always test a piece of okra to make sure it's ready. It will bubble and sizzle when it's hot.

2. Combine all dry ingredients in a bowl. Set aside.

3. Combine all wet ingredients in a separate bowl and set aside.

4. Slice okra into bite-size pieces (tops removed). Place all the okra into the bowl of liquids. Sprinkle on a tablespoon or two of the dry ingredients and mix well. You want the batter to be thick and goopy like a glue so that the dry ingredients stick to the okra. Mix well using your hands or a mixing spoon.

5. Now it's time to coat and fry. In small batches, add a big handful of coated okra to the bowl of dry ingredients. Coat thoroughly and gently place in the hot oil using a fry spoon (or very carefully with your hands). If you need to test the oil, try throwing in one piece. It should bubble and sizzle and that's when you know it's ready.

6. Fry for about 2-3 minutes, gently stirring every so often to prevent the okra from sticking together. The batter should become golden brown and crispy. Once done, place them on a large platter lined with paper towels and immediately sprinkle with sea salt. For the dipping sauce, add all ingredients to a bowl and stir together. Enjoy while hot!
notes
Try using this exact method for frying sliced squash, zucchini, or pickles!