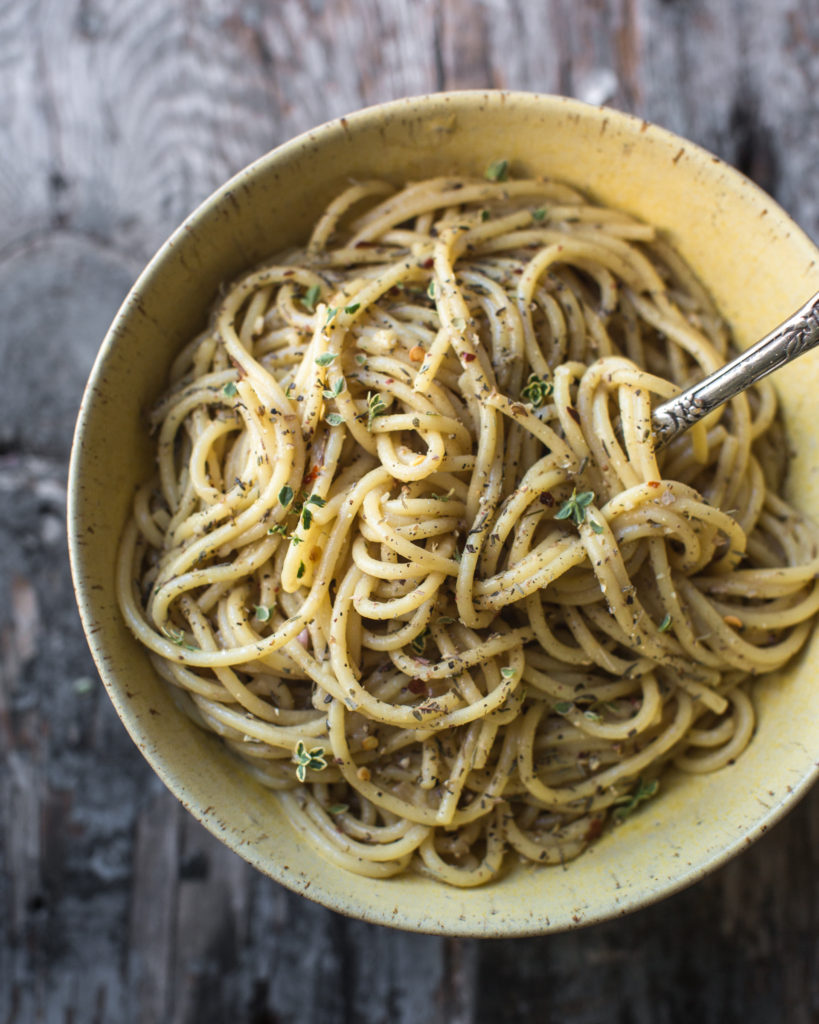 The time has come for me to share my 'Quick & Dirty Pasta' on the blog! Obviously, with everything going on, we could all use some more pantry friendly recipes. But funny story, I actually created this recipe a few years ago when I was living in NYC. It was the kind of recipe I could throw together after a big night out on the town. You know, that late-night moment when you've had a couple of drinks and there's not a significant amount of energy or effort that can be offered up in the kitchen. When you need something quick, super easy, and utterly delicious. That's how these noodles were born.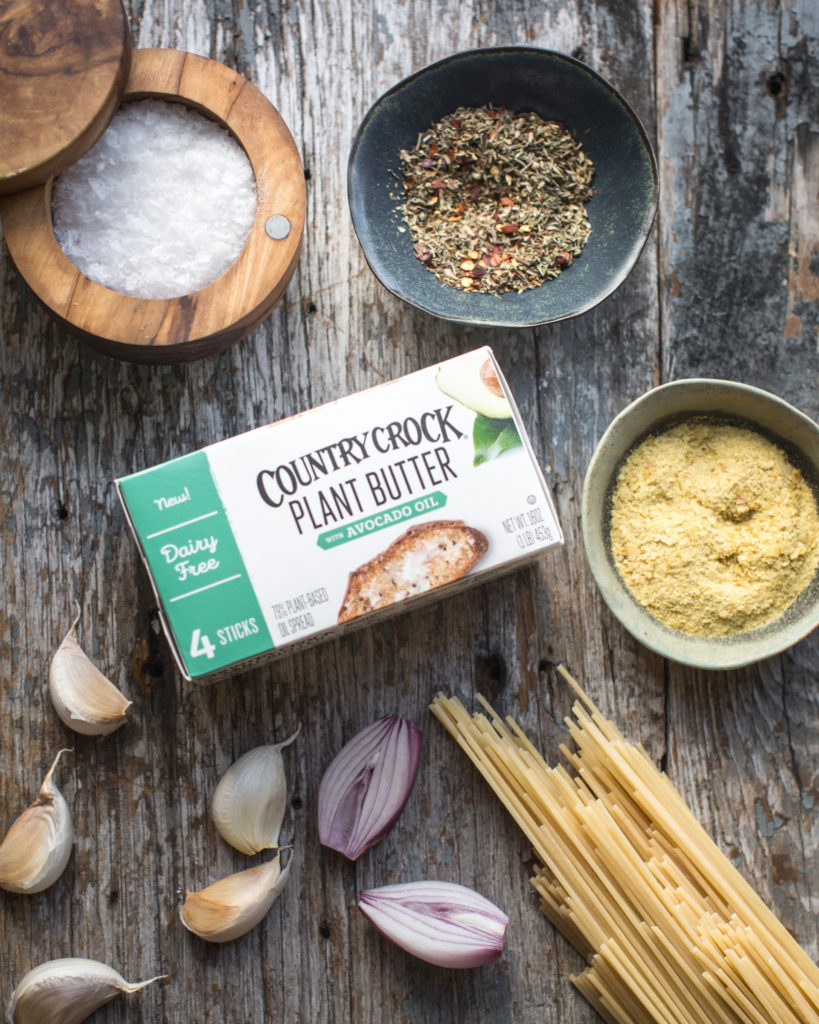 Now let's go over exactly what's going into this quick & dirty pasta. First up, noodles. I like to use spaghetti but linguini would work beautifully. You could opt for a different shape other than noodles (like macaroni or penne) if you don't have long noodles lying around but if do, definitely use those if you have them. We're looking for squiggly here. Next up we have garlic (lots of it!), shallots, nutritional yeast, dried herbs such as thyme, oregano, and red pepper flakes, and a few condiments like vinegar and mustard. Binding everything together is my favorite vegan butter on the market, Country Crock Plant Butter. This butter comes in the traditional stick form and they have the perfect flavor and consistency. 10/10 recommend!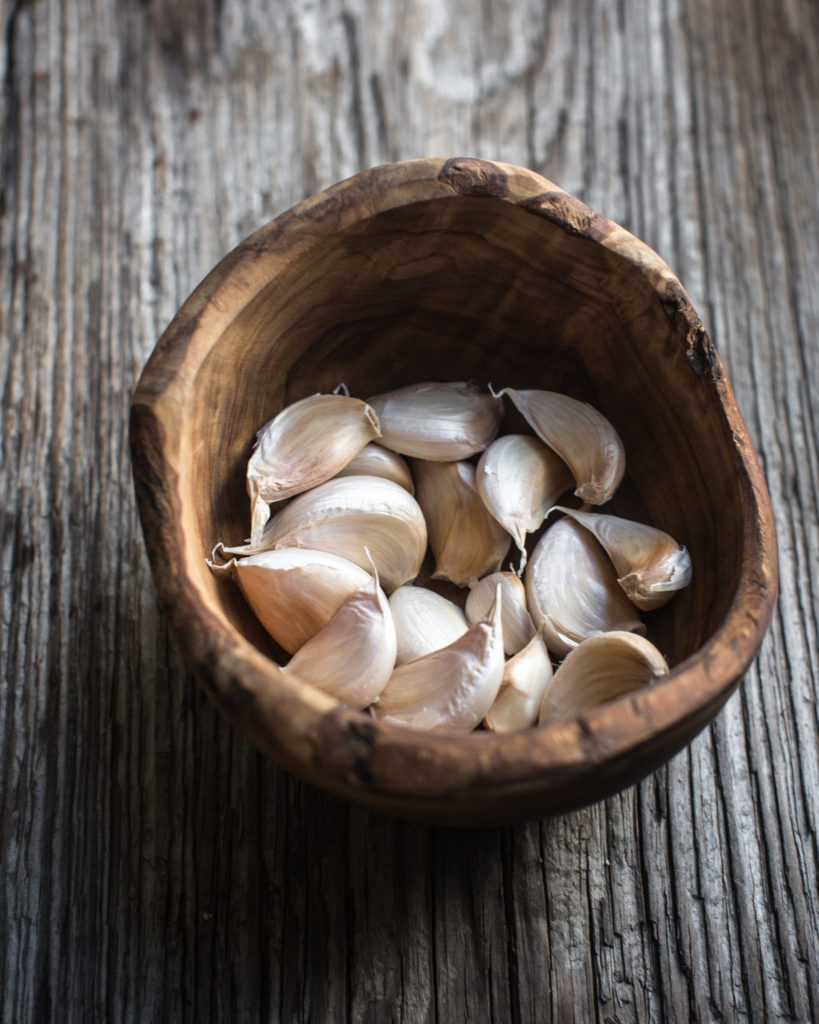 The best part of the whole process is mashing one whole stick of butter with a fork. I know it's a lot but this is for 1 pound of pasta!. Once mashed with all of the other ingredients, the goal here is to create a whipped consistency that is seasoned through the roof! When the hot noodles hit the bowl, the mixture will melt into the noodles. The heat from the pasta (and some of the reserved pasta water) will cook the raw garlic and shallots ever so slightly. Just enough to take the raw bite off but still letting the flavor shine through.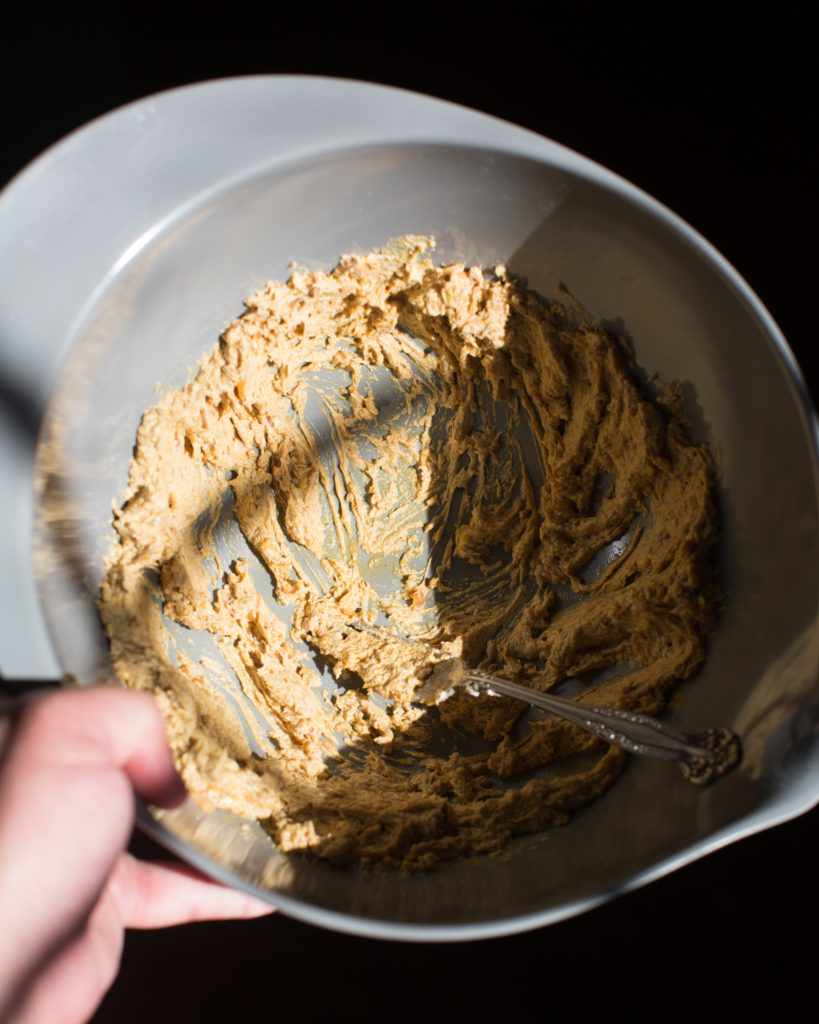 For the garnish, simply mix together some extra thyme, oregano, red pepper flakes, and nutritional yeast. This creates a flavorful dusting that pairs gloriously with the creamy, wet noodles. Don't let me stop you there! I've added a few extra ingredients (like fresh lemon juice or truffle oil) that you could throw in. Or if you have them in your pantry or if you're in the mood for an extra boost of flavor. Of course, fresh herbs are always welcome in my book. But I wanted to keep them optional just in case you don't have many fresh ingredients. Parsley, in particular, would be lovely for this, but I wouldn't turn down fresh basil or thyme either.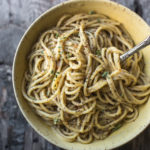 Ingredients
1 lb spaghetti noodles 
5 large cloves garlic
1 teaspoon dried thyme
1 teaspoon dried oregano
1 teaspoon crushed red pepper flakes
⅓ cup nutritional yeast, plus garnish 
¼ teaspoon black pepper
¼ teaspoon sea salt
1 stick Country Crock Plant Butter (8 tablespoons)
2 tablespoons minced shallots
2 tablespoons tamari or soy sauce
2 tablespoons rice vinegar or plain vinegar 
1 tablespoon dijon mustard or yellow mustard 

Garnish

1 teaspoon dried thyme
1 teaspoon dried oregano
1 teaspoon crushed red pepper flakes
1 tablespoon nutritional yeast 

Optional add-ons

1 to 2 tablespoons white truffle oil 
1 tablespoon fresh lemon juice 
A handful of freshly chopped herbs (parsley, basil or thyme)
Sprinkling of vegan cheese shreds 
Instructions
Bring a large pot of water to boil. Salt generously to season the noodles.
Using the side of your knife, smash the garlic cloves on a cutting board. Remove the papery skin and sprinkle with salt. Continue to smash and chop the garlic until you are left with a paste. Add that to a large mixing bowl. 
Add all remaining ingredients to the bowl. Using a fork, smoosh the butter down until it is soft. Aggressively stir until the mixture is light and fluffy. Spread around the sides of the bowl. 
Once the water is to a boil, add the spaghetti noodles. Stir well to prevent sticking. Cook for about 7 minutes and taste a noodle. If still not cooked enough, continue to boil for another minute or two. When ready, do no strain! Bring the bowl close to the pot and using tongs, carefully transfer the noodles. You want the water clinging to the noodles to go into the bowl. Add an additional ¾ cup of pasta water to help moisten the noodles. It will thicken up!
Using the tongs, mix the noodles into the seasoning blend until everything is combined. Cover with a plate and let sit for 5 minutes. For the garnish, combine the thyme, oregano, pepper flakes, and nutritional yeast in a small bowl and mix well. Crush with your fingers to release all of the flavors.
Serve noodles in desired bowls and sprinkle with garnish. Enjoy!
notes
If you don't have tongs, you can add a full cup of pasta water to the bowl and strain the noodles using a colander. But you should buy some tongs, too.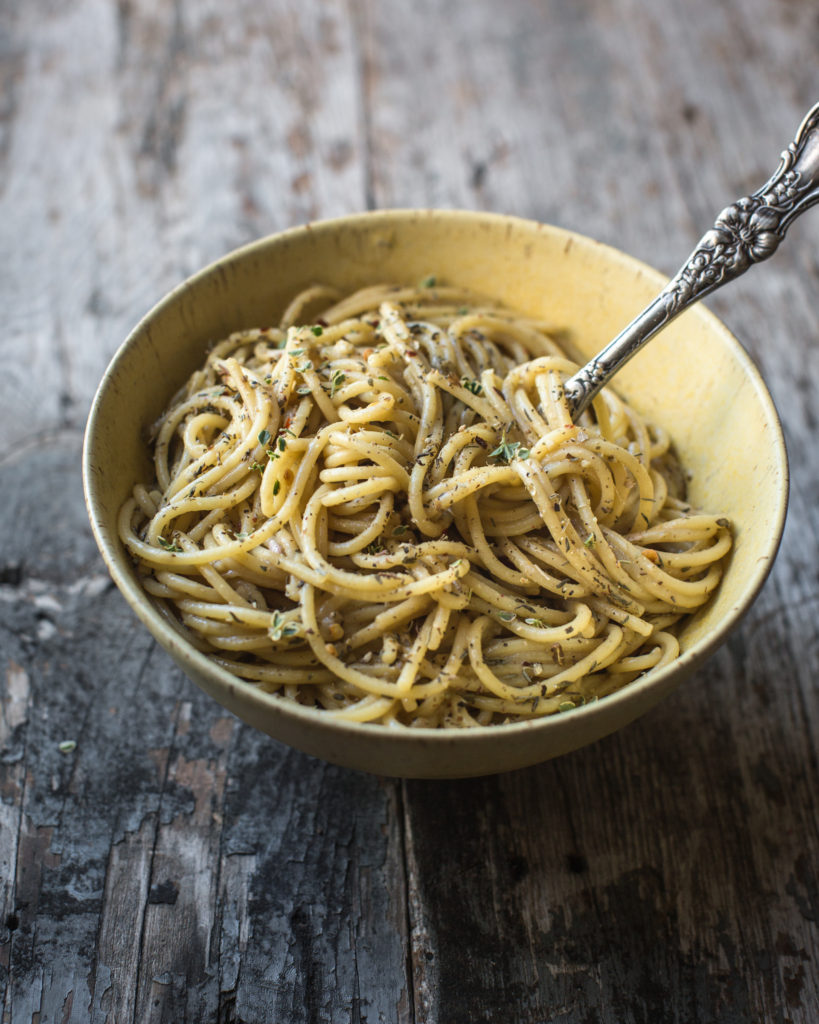 This post is sponsored by Country Crock® Plant Butter. All opinions and recipes are my own.