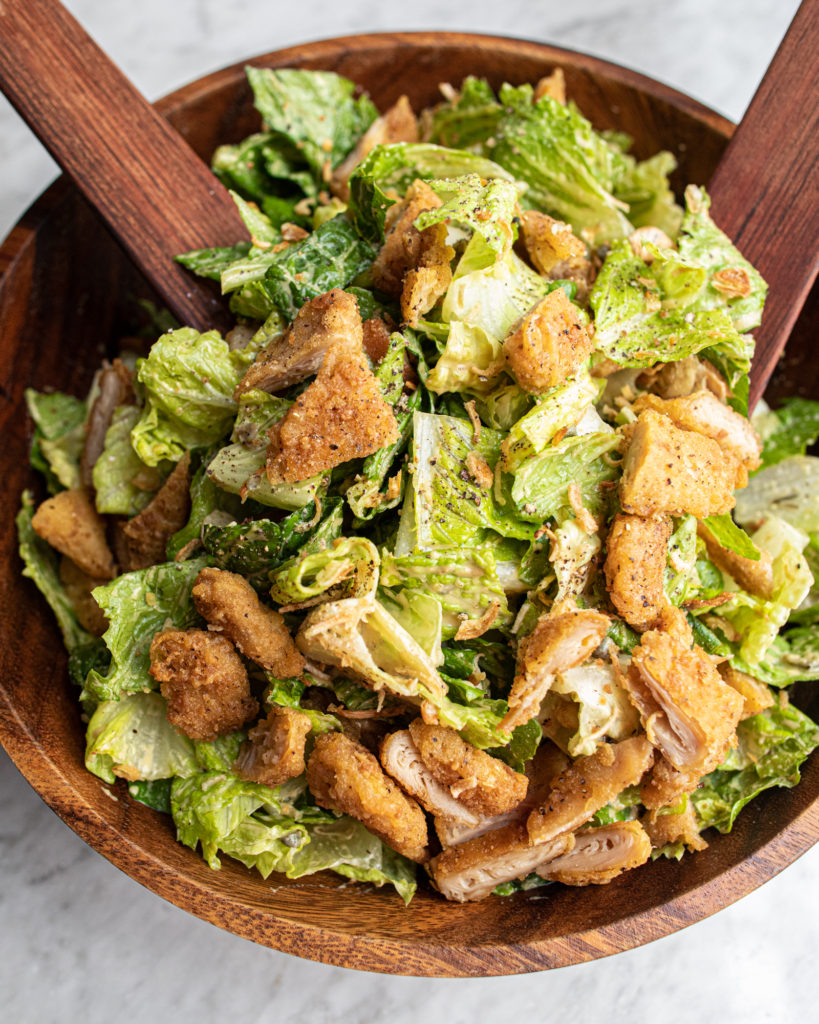 Hi friends! Welcome to the weirdest week of the year- a window of time in between the holidays and new years where you don't know what day it is and you're not sure if you should be working or relaxing (well, at least that's how it is for me!). And because most of you have been eating lots of rich holiday food, I wanted to offer a new Crispy Chicken Caesar Salad recipe for all of you that I have been loving! It's a hearty and delicious offering of chopped romaine tossed in a creamy dressing with some crispy vegan chicken on top. This recipe is a great way to get your greens in while also unlocking some chain restaurant vibes (O'Charley's fried chicken salad anyone?). Consider this a nice transitional recipe where we can can meet in the middle of a salad + comfort. Deal?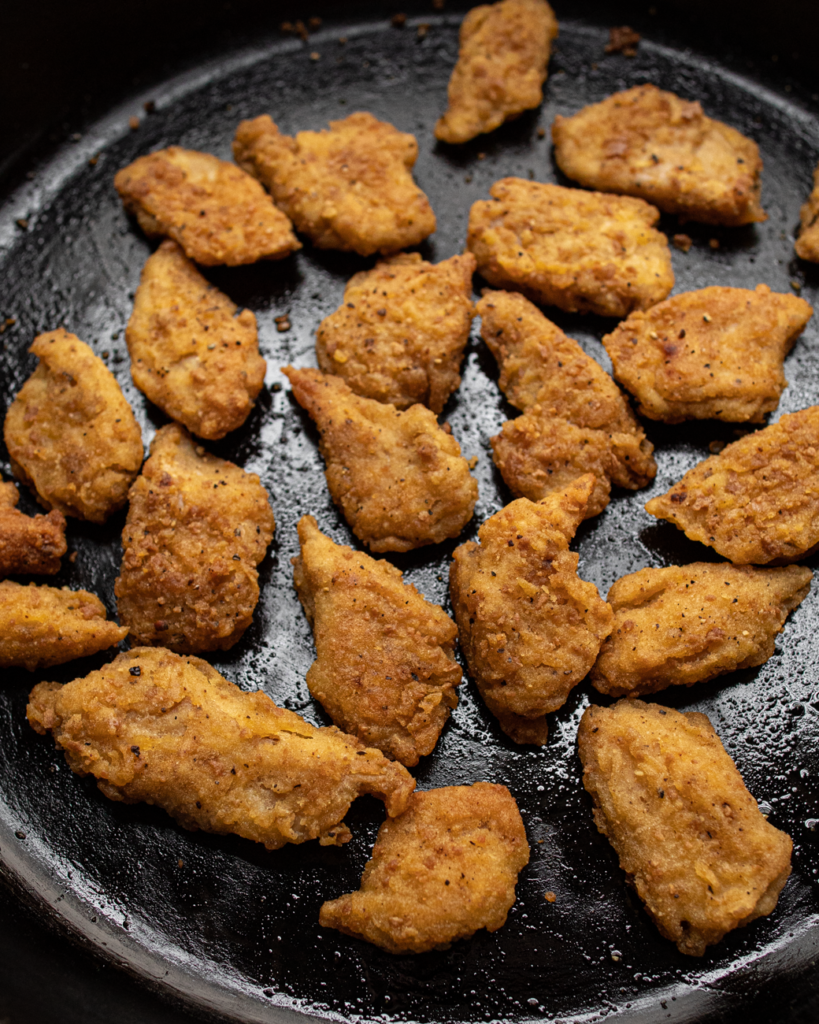 How to make the recipe
Before you do anything, go ahead and pop some of your favorite vegan chicky nuggies in a preheated oven. While they bake and become crispy, you can whip up the dressing and prep the greens. By the time the lettuce is coated and transferred to a pretty platter, the chicken will be ready to slice and place on top. You can certainly skip the vegan chicken and just use croutons if you'd like a lighter salad, btw. Totally up to you. That's what my assistant Kyler said she would do if she made this recipe at home although she GOBBLED up my version without hesitation so I am still skeptical about her statement. You could also sub the chicken for my Garden Herb Tempeh which would be delightful!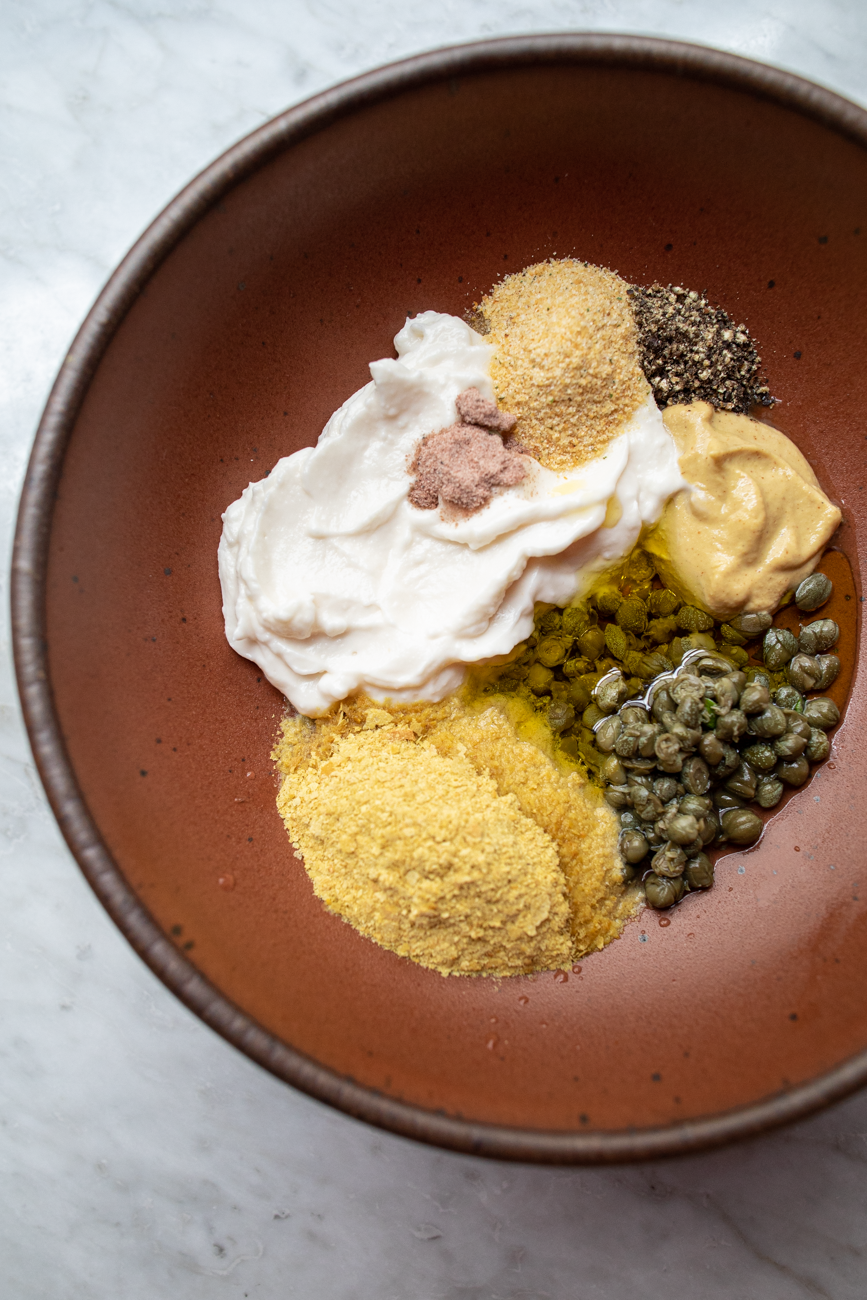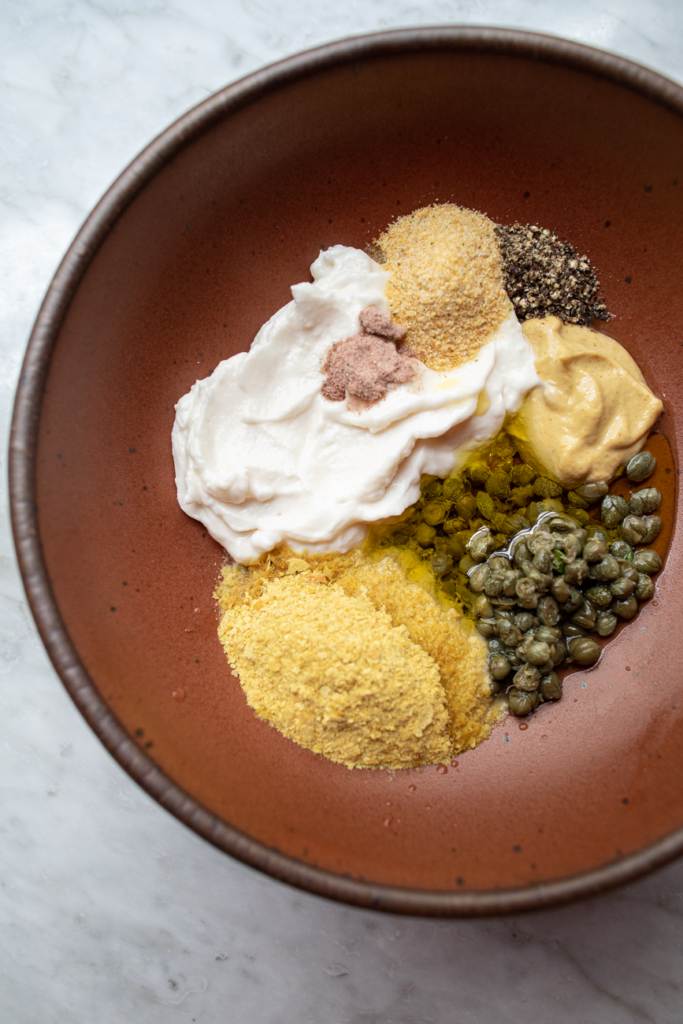 For the dressing
This dressing couldn't be easier as you probably already have everything in your kitchen and it comes together in one bowl. The usual suspects are vegan mayo, olive oil, dijon mustard, garlic powder, black pepper, nutritional yeast, and soy sauce. The only items you might need to pick up or order are some capers and kala namak (this is also known as 'black salt' which contains sulfur and therefore an eggy flavor. Because traditional caesar dressing uses egg yolks, this is the perfect vegan sub. You can omit if you'd like but the dressing won't be quite as good.) To round out the flavor, I like to add a splash of lemon juice which offers the perfect amount of tang.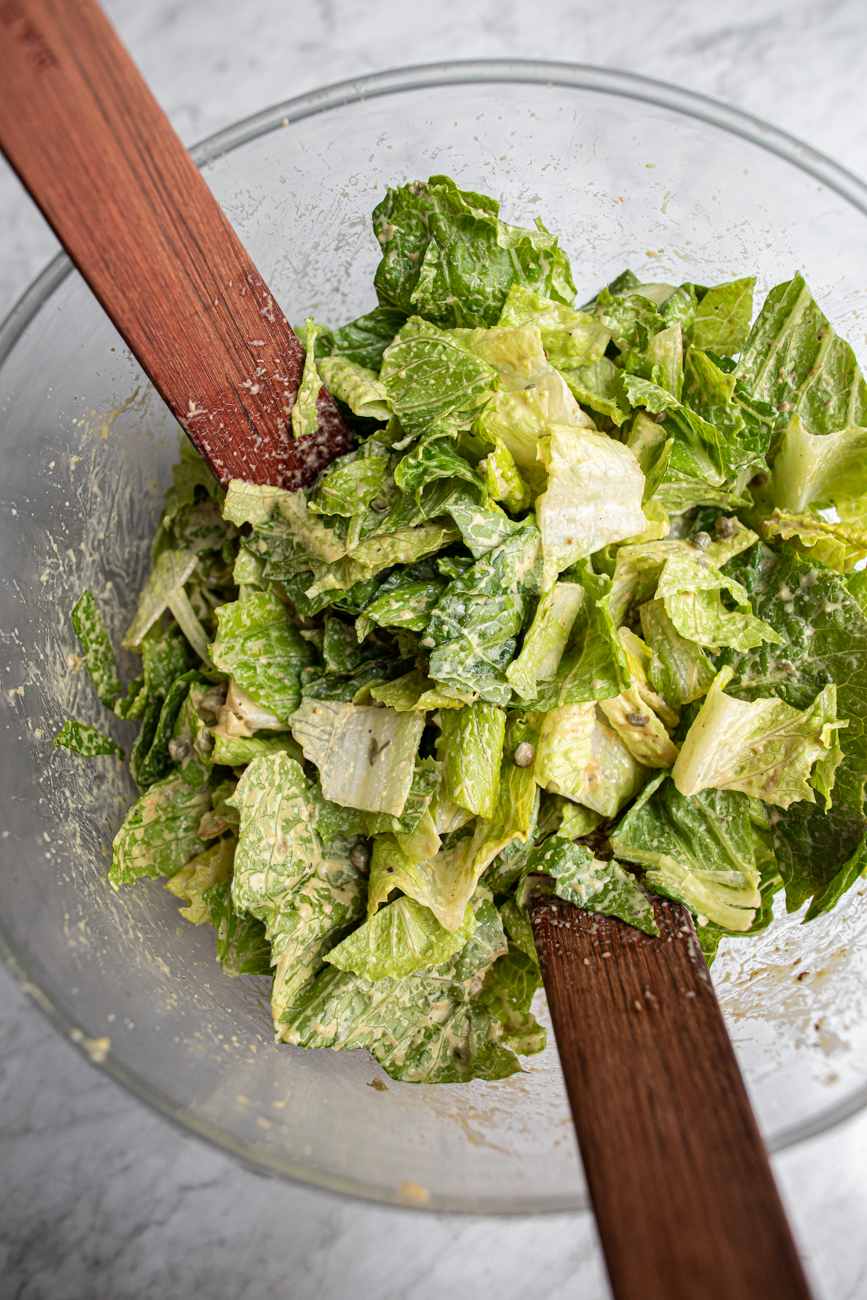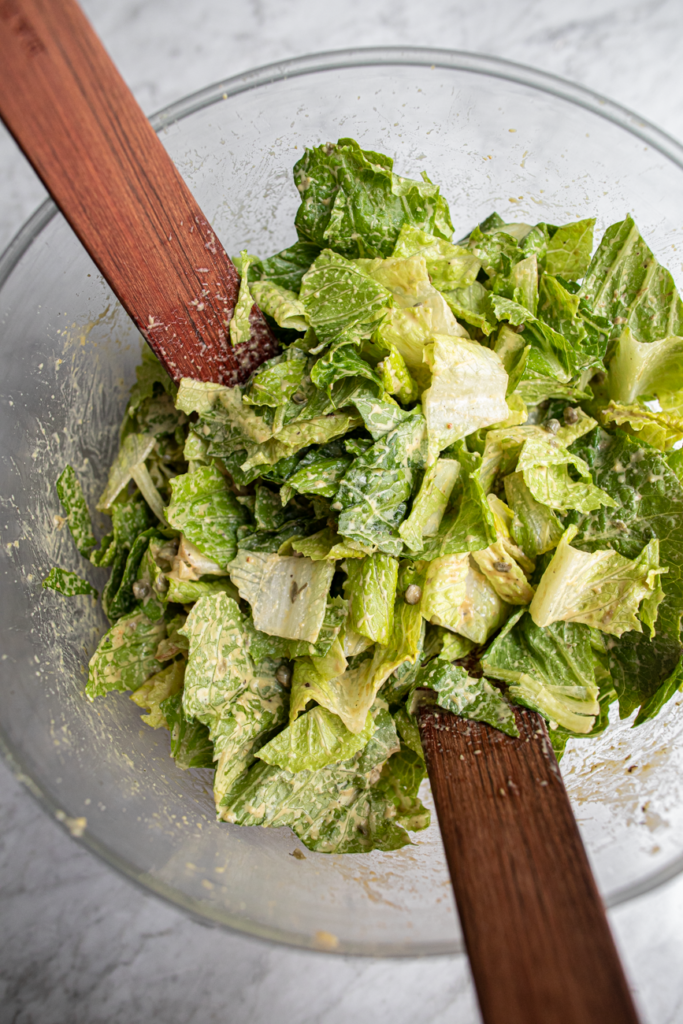 For the greens
I like to use romaine hearts for this recipe. Simply chop the hearts into big bite-sized pieces and run them through a salad spinner. You can then use the salad spinner bowl to toss the greens with the dressing. Make sure to do this right before serving so they don't get soggy which would make you look silly. Then transfer the greens to a pretty wooden bowl or platter and place the chicken on top!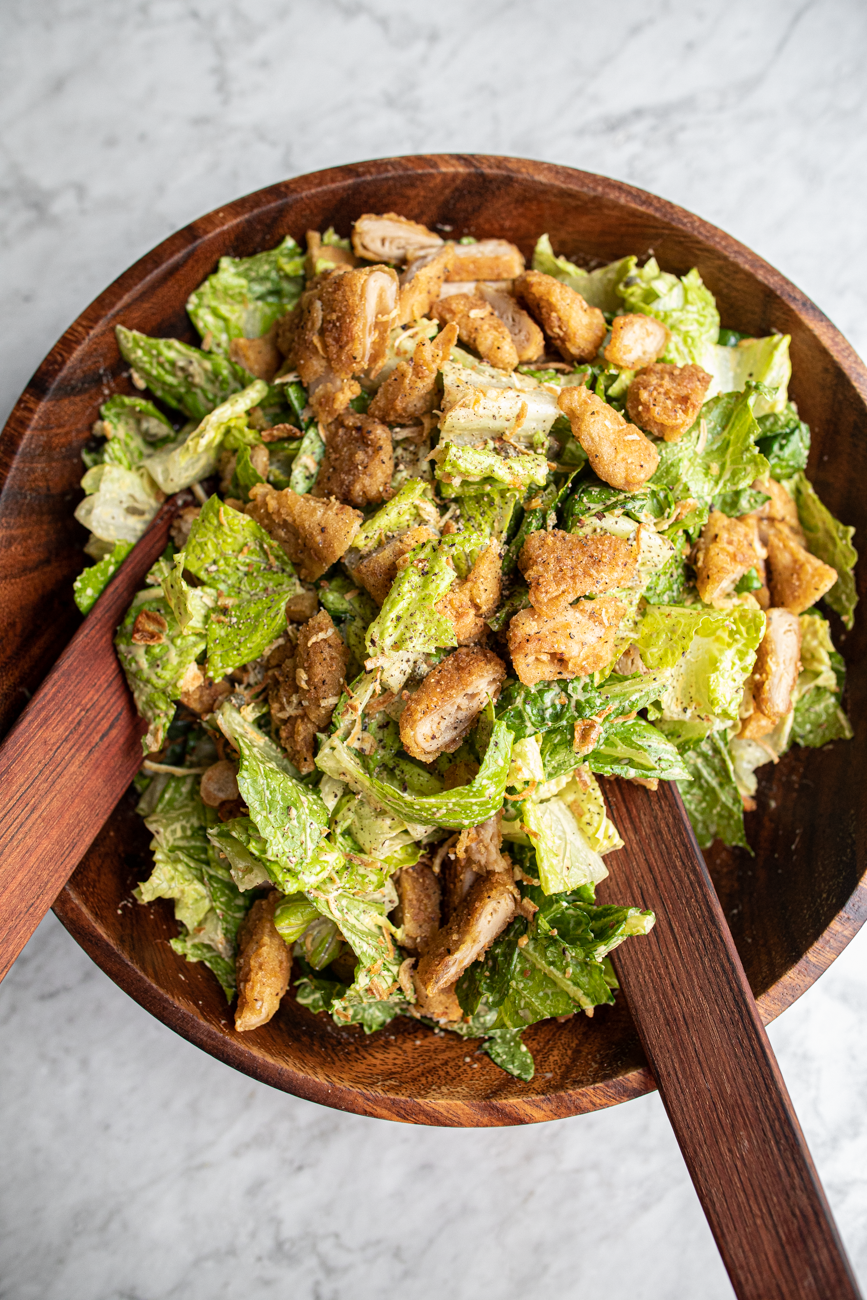 Finishing touches
To finish this salad, I love to add some additional black pepper (freshly cracked, of course), crispy shallots (you can find these at your local Asian market) or you could use crispy onions (you can find these by the store-bought croutons). Toasted sunflower seeds, almonds, or pecans are welcome, as well. Anything you have lying around that will provide some additional crunch. And that's it folks, my Crispy Chicken Caesar Salad. This salad would be amazing served with some freshly baked Sourdough Focaccia. And lastly, this recipe is enough for 3 people but if I am involved, only 2. Enjoy!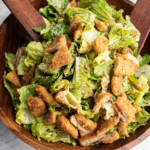 Ingredients
16 oz breaded vegan chicken nuggets or strips, baked & sliced 
3 romaine hearts, chopped, rinsed, dried (about 1.5 pounds)
3 heaping tablespoons vegan mayonnaise
1 tablespoon olive oil
1 tablespoon lemon juice
1 heaping tablespoon dijon mustard
1 tablespoon soy sauce or liquid aminos
1 ½ tablespoons capers, drained and chopped
2 tablespoons nutritional yeast
2 teaspoons garlic powder
1 scant teaspoon freshly cracked black pepper
¼ teaspoon kala namak, optional but please don't skip
Sea salt, to taste
Crispy shallots, to garnish
Instructions
Preheat oven to 425° F and place desired vegan chicken nuggets on a baking sheet or in a large skillet. Bake for 10-15 minutes, until golden and crispy, flipping halfway through. (Or according to package instructions!) Once baked, slice into bite-sized pieces.

While the nuggets bake, get started on the dressing. In a medium bowl, add mayonnaise, olive oil, lemon juice, dijon mustard, soy sauce (or liquid aminos or tamari), drained capers, nutritional yeast, garlic powder, black pepper, and kala namak (if using). Mix together well with a whisk and set aside. 

In a large salad spinner, dry the chopped and rinsed romaine hearts. Remove the basket, rinse and wipe out the salad spinner bowl, add the lettuce back in and pour over the dressing. Toss well to coat the leaves evenly. Add sea salt to taste.

Transfer to a large wooden bowl or serving platter and add the vegan chicken. Garnish with a hefty sprinkling of crispy shallots and freshly cracked black pepper. Add toasted nuts or seeds, if desired! 
notes
This note is not sponsored but these are the brands I like to use for the chicken: Breaded Daring Nuggets (my #1 pick and the one I used for the images above), Impossible Chicken Nuggets, Beyond Chicken Strips, 365 brand Chicken Nuggets, NUGGS (some batches are better than others I've noticed), Boca Chicken Nuggets (old school!) or Gardein Chicken Tenders (the older version, I don't love the new 'Ultimate' version... it has an odd taste to me). But you don't have to listen to me- use whatever you like!

If you'd prefer, you can skip the chicken and add lots of delicious croutons. I also think chopped chives or avocado would be lovely with this salad!