The first time I ever had chex mix was when I was a little kid growing up in Mississippi. It was around the holidays and family friends dropped some off as a gift that was still warm! It was at that moment I became hooked, and I've been making it ever since. Now, I know it is more popular around the holidays, but I urge you to make this all year long. I promise you, no one will think it is weird or complain! They will simply gobble it up with joy and thank you for being such an amazing human for making something so delicious.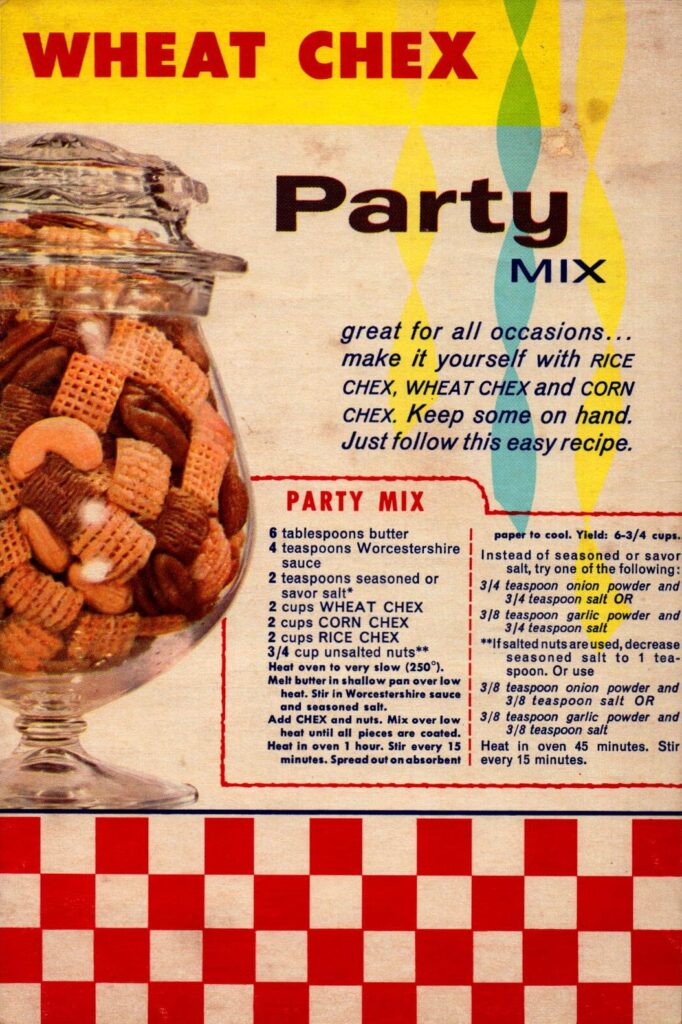 CREOLE CHEX MIX INSPIRATION
Now y'all know I didn't come up with this recipe. It's actually based off of the original one from the 1960s. Take a look at what it looked like on the back of a cereal box way back then! What's cool to note is that this recipe still stands strong and I bet if you were to follow it exactly as is, it would still be perfectly delightful. But if you've been a reader for some time, you know that I can't sit still and I have to put my own spin on things.
That's where my Creole Chex Mix comes in. I've turned up the volume to the max when it comes to seasonings and added both olive oil AND vegan butter for richness. In addition to cereal grains and nuts, I've also added some vegan mustard pretzels and crispy onions for an added crunch and boost of flavor. The results are literally addictive and make for the perfect holiday snack and gift. Warning! Once you make this for friends and family, they will request it every year. I'm not kidding!
A BIG THANKS TO OUR SPONSOR
For today's sponsor, I would like to give a big shoutout to the makers of Ball® home canning products! I am a huge advocate for the brand and highly recommend their products for many different reasons. First, I literally use their jars and lids every single day. This recipe is another great example of how useful and effective their jars can be for storage (and for gifting). I also use the jars you see here as drinking glasses. I love the look of them on the shelf and the feel when you sip out of them. Lastly, I am quite literally obsessed with any wide mouth jar Ball® offers. They are easy to use for storage and perfect daily use. For today's recipe, I will be using their Wide Mouth 16 oz. Pint Jars. To get your own set, tap the link here!
---
---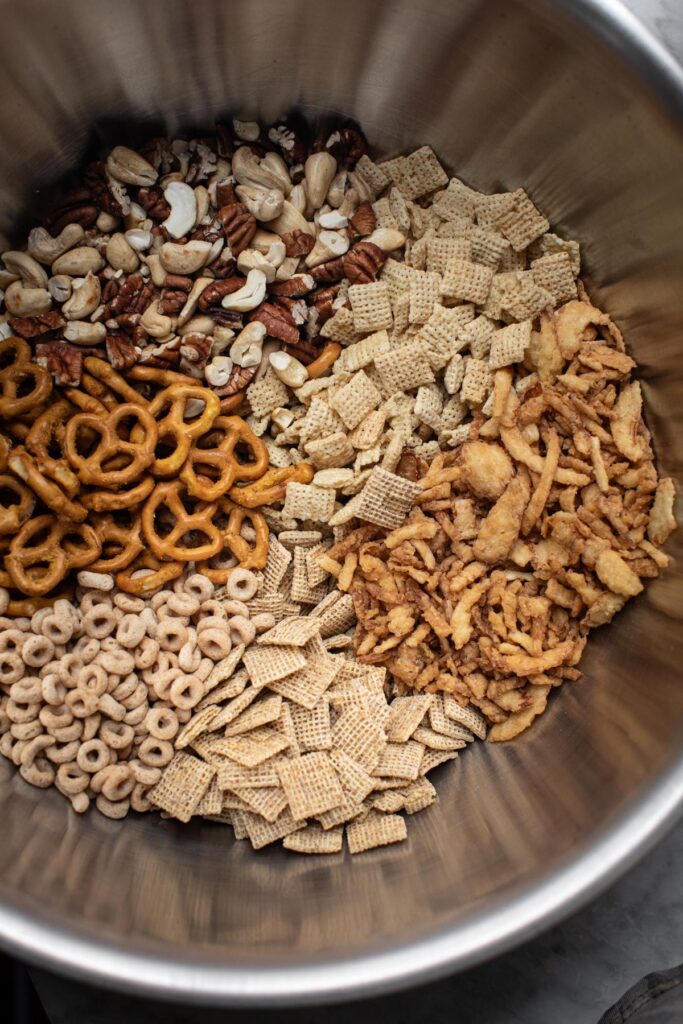 CREOLE CHEX MIX INGREDIENTS
I've streamlined this recipe as much as possible and here's how: I break the recipe down into 3 main bowls. One large bowl will hold all of the dry ingredients like cereal grains, toasted nuts, crispy onions, and pretzels. In a second smaller bowl, I like to mix all of the spices together. To make this mix 'creole' I am using paprika, cayenne pepper, onion powder, garlic powder, and dried oregano and thyme. Of course, I am adding nutritional yeast because it is bursting with umami and makes this mix really sing.
COMBINING THE WET INGREDIENTS
For the the third and last bowl, I like to mix together the wet ingredients. This includes melted vegan butter, olive oil, vegan Worcestershire sauce, tamari, and the littlest touch of toasted sesame seed oil for added flavor. Once these are mixed and combined, you are ready to toss everything together.
---
---
MIXING AND BAKING THE CREOLE CHEX MIX
For mixing, I like to do this in stages. First you need to stir together all of the dry ingredients. Then you drizzle over the wet and mix things immediately. You want to make sure that every single piece is coated with the wet mixture because that will be the glue to help the spice blend stick. Once everything is thoroughly coated, you sprinkle over the dry ingredients and toss the mixture until every piece is coated. Then all you have to do is spread out the mixture onto two large baking sheets and bake! If you only have small baking sheets, you may have to break this up into more batches (see the notes in the recipe card).
---
---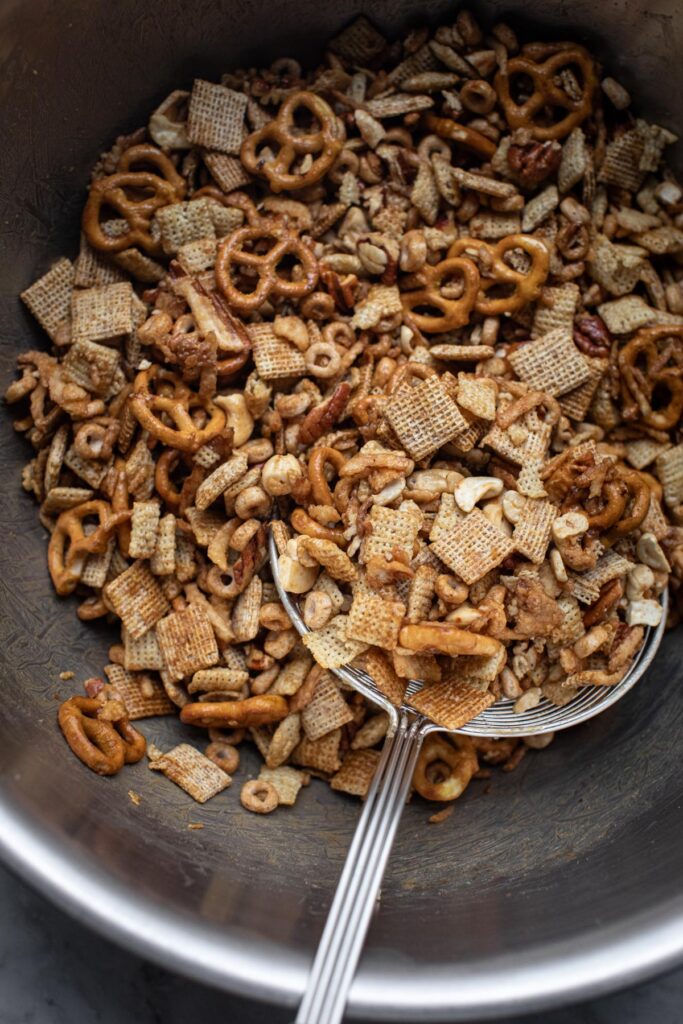 For baking, you want the oven at the low heat of 250°F. This allows you to toast the mix gently. I like to do an initial bake of 20 minutes. Then toss and rotate the pans (top to bottom and all around) and bake for another 20 minutes. Then, do one more mix and rotate and do a final bake of 10-15 minutes. We are looking for toasted until golden, not burnt! Feel free to take it out, let it cool, and give it a taste. If you need to bake it for more time, you can always pop it back in! Don't be so precious about it.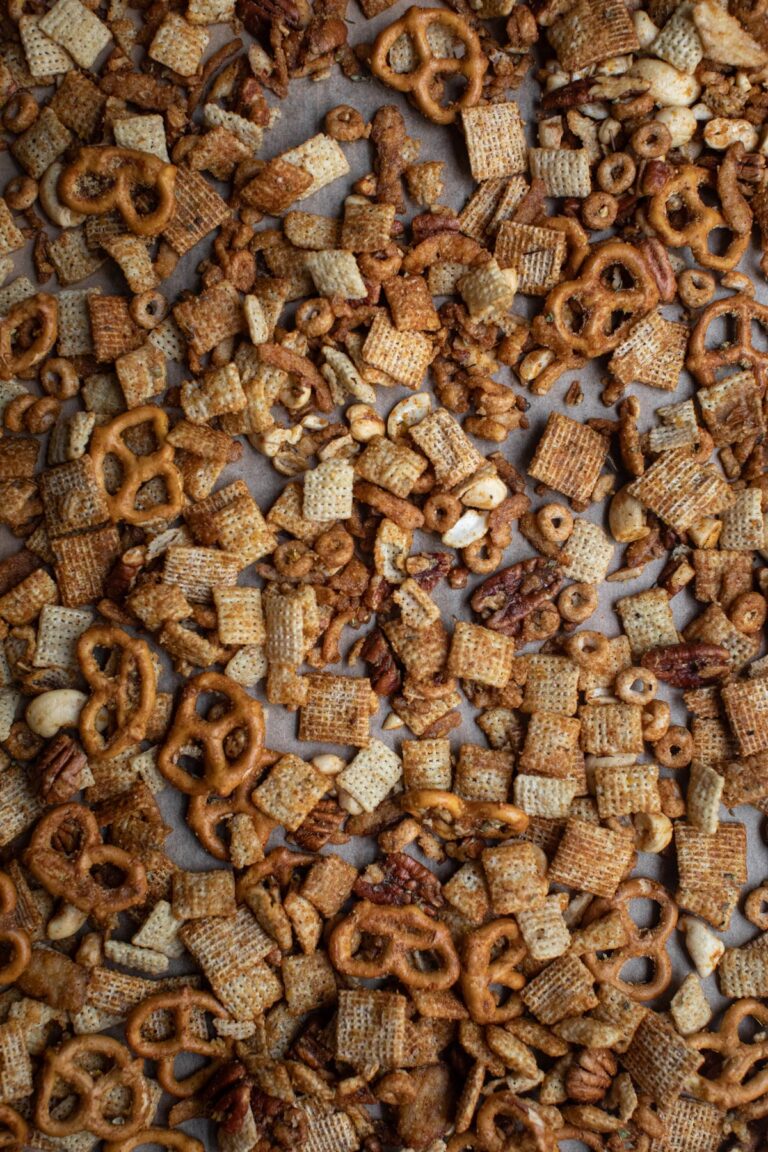 JARRING UP THE CREOLE CHEX MIX
The last and final step is transferring your beautiful Creole Chex Mix into your favorite Ball® jars! Once tightly sealed, this mix will stay fresh and crisp for weeks but I can't imagine it lasting that long. Enjoy some for yourself and gift some to friends and family. You can always tie a little string around the top with a note if you want to be cute about it.
---
---
ENJOY THIS CREOLE CHEX MIX
And there you have my Creole Chex Mix! I cannot wait to hear what y'all think. If you do make this, please leave a comment and a rating below as this greatly helps my recipes to be seen on the interwebs. Lastly, if you share it on social media, please tag me. I love to see it. Happy cooking, y'all!
–Timothy
OTHER SEASONAL RECIPES TO TRY
Pumpkin Spice Rice Krispie Treats
Salted Dark Chocolate Olive Oil Cookies
Ingredients
1 cup raw pecans
1 cup raw cashews
7 cups chex style cereal*
1 ½ cups mustard flavored mini pretzels
2 cups crispy onions
½ cup olive oil
1 stick vegan butter, melted
2 tablespoons vegan Worcestershire sauce
2 tablespoons tamari or soy sauce
1 teaspoon rice vinegar
1 teaspoon toasted sesame seed oil
⅓ cup nutritional yeast
1 tablespoon onion powder
1 tablespoon garlic powder
1 teaspoon dried oregano
1 teaspoon dried thyme
1 teaspoon sweet paprika
¼ teaspoon cayenne pepper
½ teaspoon black pepper
Sea salt, to taste

 
Instructions
Preheat the oven to 250 °F and line two large baking sheets with parchment paper.
In a small skillet over medium-high heat, lightly toast the pecans and cashews for 4 minutes, mixing every so often, until fragrant. Roughly chop and transfer to a very large mixing bowl.
In the same large bowl, combine cereal, pretzels, and crispy onions. Mix well and set aside. In a separate bowl, combine the olive oil, melted vegan butter, Worcestershire, tamari, rice vinegar, and sesame oil. Mix well.
In a third small bowl mix together the seasoning blend. Combine the nutritional yeast, onion powder, garlic powder, dried oregano, dried thyme, sweet paprika, cayenne pepper, and black pepper. Mix well.
Slowly drizzle ⅓ of the wet mixture over the bowl of dry cereal ingredients. Using a large spoon or spatula, delicately toss the mixture. Repeat drizzling and mixing until the wet ingredients are thoroughly incorporated with the dry. (Coating everything thoroughly will ensure that the dry seasonings stick to each and every piece.) Sprinkle about ¼ of the seasoning blend over top of the chex mix. Gently toss. Repeat this step until all of the seasoning blend is used.
At this point, taste a little bit to see if it needs any salt. If so, sprinkle a little bit on top, mix, and repeat until you are satisfied. Depending on the cereals and Worcestershire you use, you may not need any at all, so just taste to see.
Divide the chex mix onto the large baking sheets, creating an even thin layer of mix on each sheet (see notes below.) Bake for 20 minutes. Remove the baking sheets and mix it around with a spatula. Return the baking sheets into the oven, rotating the top sheet with the bottom sheet and spinning them around to encourage an even toasting. Continue to bake for another 20 minutes. Remove the baking sheets and mix the chex mix, once again. Return the baking sheets into the oven, rotating again, and bake for 10-15 minutes, depending on how toasty you like it. Remove from the oven and let cool on the baking sheets.
Once the chex mix is completely cool, about 1 hour, transfer the mix into jars and tightly seal with a lid. Enjoy!
notes
I like to do a mix of rice, wheat, and corn chex style cereals and also an "o"shaped cereal. Do what feels good to you!

If you don't have two large baking sheets and are using smaller ones, you will need to break this up into multiple batches. When baking the mix, you want to have a single layer that is spread out so it toasts nicely. If you put too much on one tray, it will not crisp up and cook properly. Then you will be upset and that's not the goal here.

This chex mix will keep for up to 2 months if tightly sealed.
*Disclosure: This is a sponsored post that is part of an ongoing partnership with the Fresh Preserving Division of Newell Brands. They have provided jars, equipment and monetary compensation. All thoughts and opinions expressed remain my own.
---
---